What We Know About AREA15, Las Vegas' Newest Entertainment Center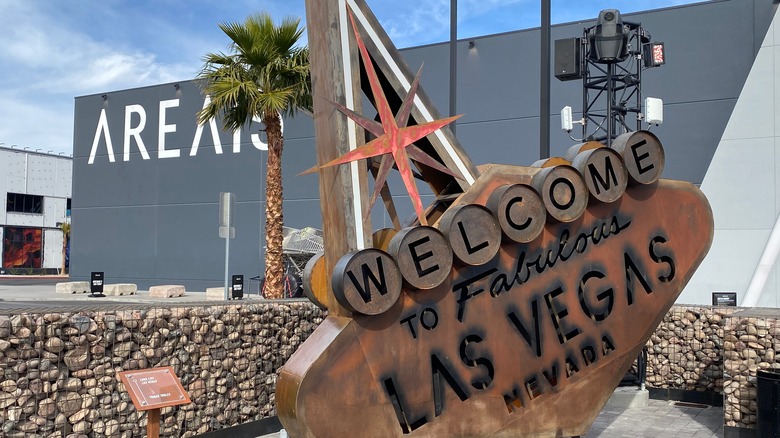 Roaming Panda Photos/Shutterstock
The mantra of Las Vegas is bigger, brighter, and more. If you take a Sin City vacation, you'll surely spend time in ritzy, over-the-top casinos and under the bright lights of the Las Vegas Strip. Given that Las Vegas is a flashing neon sign of a city, the design of AREA15 stands in stark contrast. However, the glitz-less building's square, bunker-styled construction only adds to its mystery.
Being asked to describe AREA15 is still a bit of a head-scratcher. It's not exactly a shopping bazaar, arcade, art installation, bar, or entertainment complex, and it's absolutely all of those things.
Overall, AREA15 is a fully immersive facility with larger-than-life art installations, alternative reality experiences, flight simulators, zip lines, and a whole lot more. Locating inside its plain, square exterior is an entire universe (or infinite universes) of arthouse fun, cutting-edge tech, and mind-bending experiences. Along with knowing we're still a bit confused, here's what else we know about AREA15.
Otherworldly art installations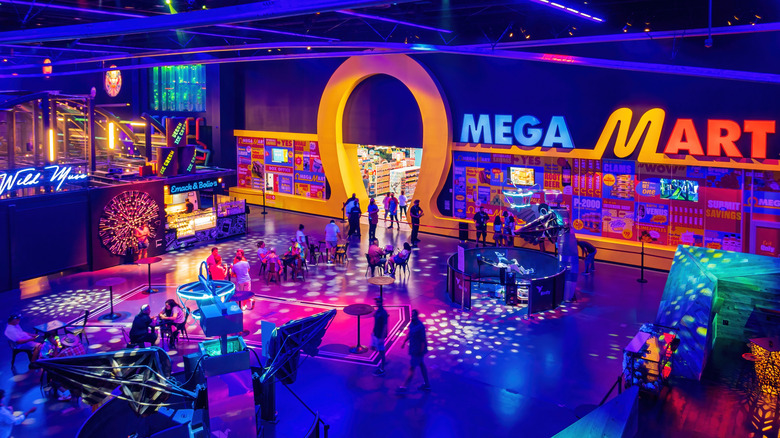 Kit Leong/Shutterstock
When you walk inside the 200,000-square-foot building, you'll be immediately struck by the sheer imagination of the interior. While it's still a bit difficult to categorize AREA15 (which we're still currently trying to do), it's like an immersive, futuristic shopping center and entertainment complex from someone's neon dreamscape. One of the most popular attractions in AREA15 is the latest art installation from Meow Wolf called Omega Mart.
Omega Mart is a supermarket from another dimension. In Omega Mart, you'll find mind-bending retail products, interactive with weird devices, and stumble upon secret portals that transport you to new realms. One of AREA15's main attractions, Omega Mart is fully immersive and sets the tone of the facility's overall surreality.
Another popular art installation, Wink World is smaller but similarly psychedelic. Wink World is the creation of Chris Wink, one of the three founders of the Blue Man Group. The immersive arthouse features some of Wink's art pieces, as well as six rooms full of infinity mirrors that envelop visitors in a cosmic world of lights, sounds, and kaleidoscopes of color.
Alternative realities in dining and entertainment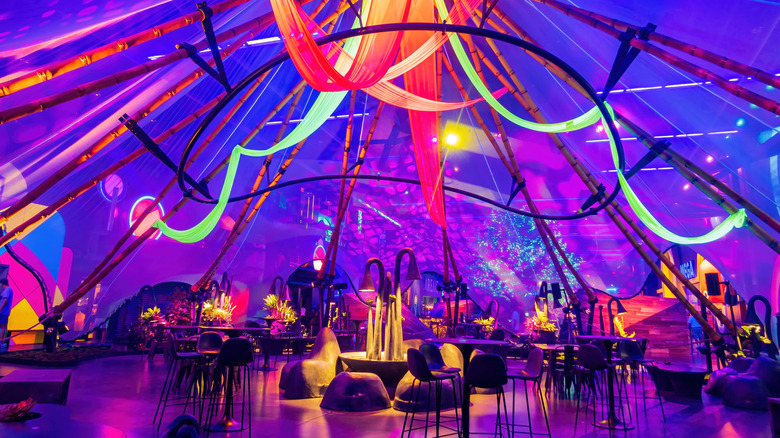 Kit Leong/Shutterstock
Along with its art installations, AREA15 also pushes the boundary in virtual and real-world reality. The entertainment complex features VR rides that simulate flight, immerse you in cinematic universes, and upend your perceptions of reality. Back in this world, guests can zip line through the facility, throw axes, or lift off from a rooftop lounge to enjoy panoramic views of Las Vegas's skyline.
Area15 is also home to a popular distillery, innovative dining options, and full-sensory lounges. Created by four-time James Beard Award winner, Todd English, The Beast is one of Area15's most popular restaurants, serving specialty cocktails and a meat-forward menu. For younger otherworld explorers, Area15 also offers plenty of sweet treats, including ice cream and cyberpunk-inspired candies.
Since its opening, Area15 has welcomed around four million visitors and was named the "Best Immersive Art Experience" by USA Today. Reflecting its success, Area15 plans to expand its innovative reach by incorporating the Universal Parks & Resorts Horror Experience into its vision and host more immersive, reality-altering experiences, retailers, and restaurants within the next few years.