Solo Travel: Your Guide To Exploring Dublin Alone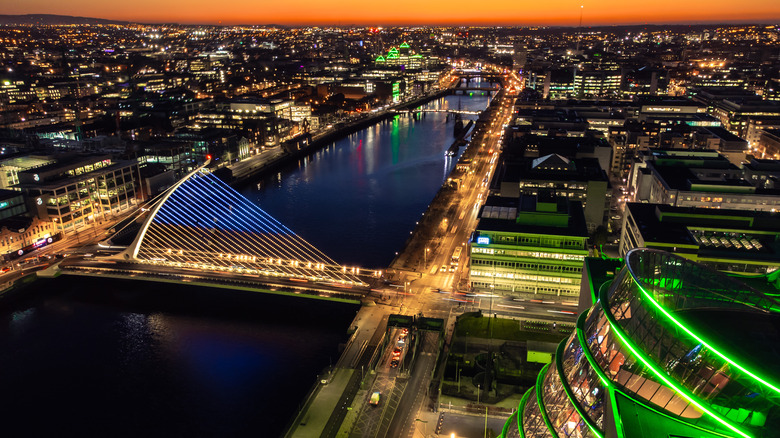 Airfilmdrone/Getty Images
There are countless reasons why solo globetrotters should make their way to Ireland, and being able to experience all that Dublin has to offer is one of the most compelling. Like many popular European destinations, this vibrant city is full of incredible things to see and do. But the fun definitely does not stop there — not only is Dublin a thrilling destination with a rich history, enchanting castles, ample lore, breathtaking scenery, riveting culture, strong drinks, and more, but it is also a great place for first-time solo travelers to break out of their comfort zone. 
In fact, Dublin is a wonderful option for anyone searching for a fun-filled and solo travel-friendly spot on the map. Visitors of the Pale can cultivate the perfect itinerary, be embraced by some of the friendliest locals in the world, and create memories that will last a lifetime. So, to ensure that your solo adventure in the capital city of Ireland is nothing short of amazing, here is a helpful guide for exploring Dublin as a party of one.
Solo traveling in Dublin safely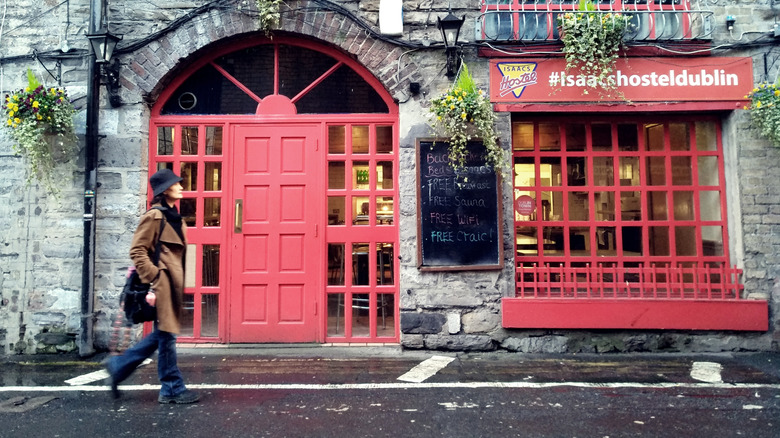 Ariya J/Shutterstock
Ireland is currently ranked as the 10th safest country in the world, making its capital city far from a dangerous place to visit. Solo wanderers, especially, are in good hands in Dublin, thanks to the low crime rate, stellar public transportation, and lack of a language barrier (English is widely spoken here). Dublin is also extremely easy to navigate on foot, by bike, or via a rental car. Likewise, several main attractions are located in or close to the city center and are within walking distance of many accommodations that cater to solo travelers. Still, the standard solo travel safety rules apply. 
Unfortunately, most travel destinations have some form of petty crime, and getting pickpocketed is still a major concern for tourists in larger European cities like Dublin. So, for your safety, be aware of your surroundings, mind your belongings, and opt for an anti-theft bag or a money belt (while keeping important documents and items locked away in a safe back at your accommodations). It also pays to blend in as much as possible and remain alert when out solo at night. To avoid being a target for muggers when out and about in Dublin during the day, use extra caution near major landmarks, popular attractions, or overly touristy areas. Busy railway stations (such as Heuston and Connolly) and dimly lit areas or dark sections of the city are also some prime places where pickpocketing occurs — so stay alert (via Pilot Plans).
Dublin hostels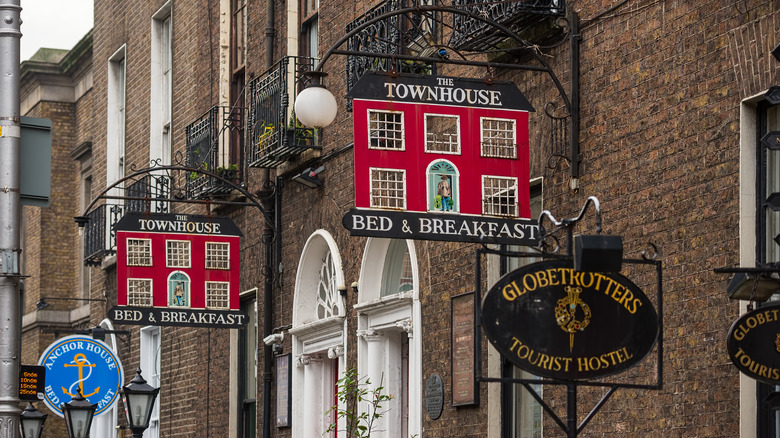 LesPalenik/Shutterstock
Solo travelers looking to make the most of their experience in Dublin should absolutely stay in a hostel. Not only is opting for a hostel the more affordable option that can help you stay on a budget, but it is also one of the easiest ways to meet other solo wanderers. There is actually a rather large network of hostels in the Pale (over 50 budget-friendly hostels), with some of the best including the Times Hostel College Street, Abbey Court Hostel, the Garden Lane Backpackers, and Jacobs Inn.
These accommodations offer the standard amenities (free Wi-Fi, breakfast, and more), are conveniently located in the center of it all, and will cost around $30 to $50 per night. As an alternative, there is also a wealth of hotels, inns, and B&Bs in the city center of Dublin. Here, the Dergvale  Hotel,  the Temple Bar Inn, Lesson Lodge, and Harvey's Guesthouse are all excellent choices in very safe neighborhoods. With prices starting at $30 a night and going up from there, these alternatives are also unsurprisingly very popular with solo travelers. 
Book a walking or hop-on bus tour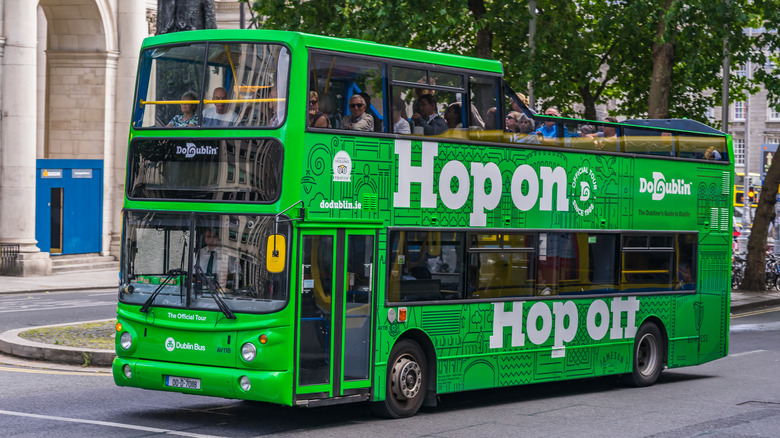 John And Penny/Shutterstock
Once you have arrived in Dublin, getting the lay of the land is important to ensure the rest of your trip goes smoothly. So first things first, solo explorers should book a walking or hop-on bus tour. By booking a city excursion at the start of a getaway, visitors in any destination can quickly familiarize themselves with the city, see some major attractions, plus get all kinds of tips and recommendations from a local or their tour guide.
With free guided, self-guided, various themed walking, and hop-on and off-bus tours, solo wanderers should have no trouble navigating the streets of Dublin after their city excursion. Here, guided city tours generally cover the most ground and are the better option for new destinations. So, even if you are not too keen on mingling with others as soon as you have dropped off your bags at your hotel or hostel, book a guided walkabout or bus outing — it will make the remainder of your vacation so much easier and carefree.
Delve deep into Dublin's history and castles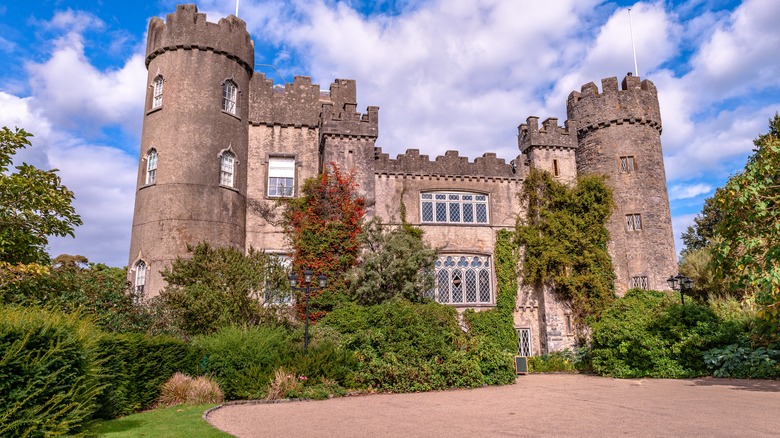 Apostolis Giontzis/Shutterstock
After an informative and helpful guided city excursion, solo explorers can delve a little deeper into Dublin's history. After all, this destination is brimming with history, lore, legends, and fascinating figures from yesteryear. Whether you sign up for a classic history tour, a day trip to popular historical sites, a self-guided museum walkthrough, or some other activity, practically every inch of Dublin has a story to tell. So if you happen to be a history lover, then get ready to be impressed, dazzled, and wildly entertained here.
Of course, one of the most exciting ways to learn all about this city's past, myths, and legendary figures is by setting out on a castle quest. Since Ireland is home to over 30,000 stately homes, fortresses, castle ruins, and fully restored ramparts — visitors can expect to see at least a handful of these medieval structures in or near Dublin. In fact, solo explorers can easily check out the 14 or so ancient abodes located within the city limits, including Clontarf Castle, Malahide Castle, Marderley Castle, Ashtown Castle, and Dublin Castle — just to name a few.
Hit Dublin's pub and grub scene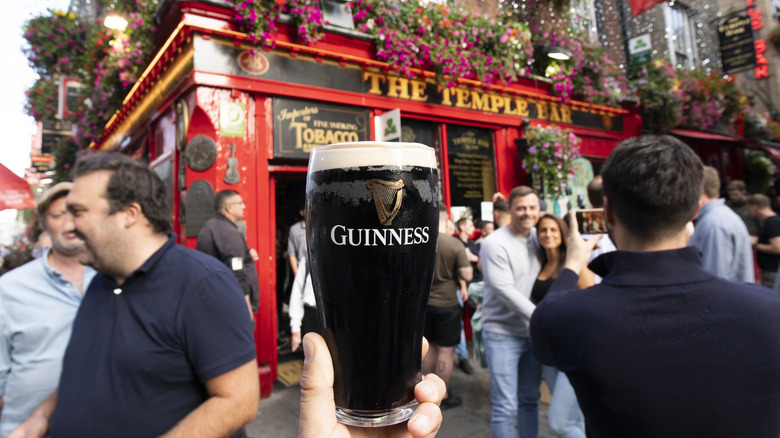 Stefano Guidi/Getty Images
In addition to its rich history and phenomenal castles, Ireland's capital city is widely known for its lively pubs, distinctive whiskeys, and beloved Guinness beer (or a Pint of the Black). As a solo wanderer, you should always watch your alcohol intake. But you can still delight in the pub scene, a Pint of the Black, and learn the art of appreciating a good Irish whiskey during the day via a guided small group tasting. Dublin visitors can also tour where the magic happens and stop by the Jameson Distillery Bow St. and the Guinness Storehouse.
Small group beer and whiskey experiences like the Dublin Coastal Craft Beer and Seafood Trail with a local guide, the Dublin Sights and Pints tour, and the Classic Irish Pubs Private Tour of Dublin: Live Music & Beer Night tour are all great solo options as well. Alternatively, for travelers who are not big drinkers, Dublin's grub scene is a must. With countless coffeehouses, cafés, and food tours, you won't go hungry when exploring this city. Even the pub fare is delicious, and grabbing a bite to eat solo is standard practice. What's more, if you opt for a guided pub or grub excursion, then you do not have to go at it alone. Any way you slice it — this is a great way to cross the legendary Temple Bar off your solo travel bucket list, be it for a pint, a doughnut, or both (book the Dublin Downtown & Temple Bar Doughnut Tour if it's both).
Take a day trip to nearby major attractions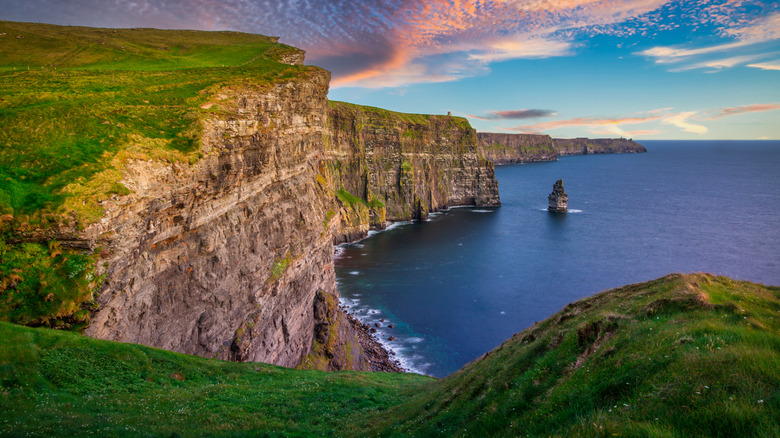 Patryk Kosmider/Shutterstock
Speaking of your solo travel bucket list, no trip to Dublin would be complete without visiting several or all of the nearby major attractions. Many must-see wonders are only a few hours away from the city center, and most guided full-day activities cover multiple points of interest. So, interested visitors can check the Cliffs of Moher, the Wild Atlantic Way, and the city of Galway off their list in a single day.
Solo explorers can also book the Blarney Castle & Gardens (which includes the Blarney Stone), the Rock of Cashel, and Cork City one-day excursion. Other multi-attraction adventures like the Wicklow Mountains, Glendalough, and Kilkenny day trip or the Titanic Belfast Experience, Giant's Causeway, and Dunluce day excursion are definitely worth considering as well, especially if you are on an extended solo getaway. Overall, with a plethora of tour options and great public transportation, solo wanderers can easily marvel at all of these breathtaking sights and then some.
Go on a filming locations tour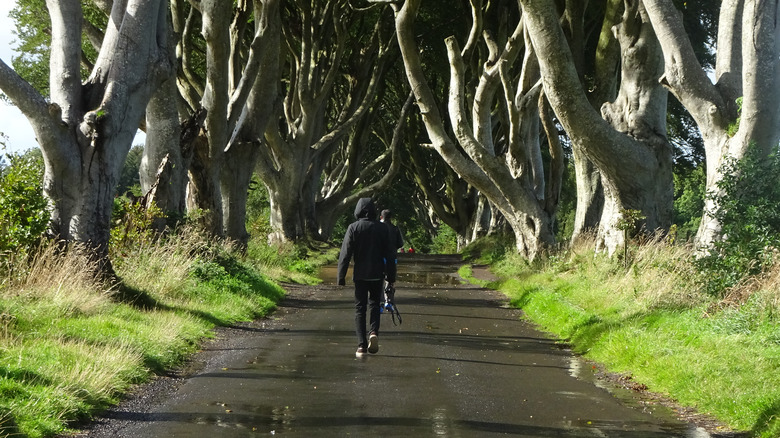 Casa nayafana/Shutterstock
Yet another fun day trip from Dublin that combines major attractions, historical sites, and often the realm of fantasy is a filming locations tour. More than a few movies and television series have taken advantage of Ireland's simply stunning landscape and medieval structures. However, there is no denying that "Game of Thrones" continues to attract countless visitors to the lush Irish Countryside and its picture-perfect coastal areas. So if you are a Game of Thrones (GoT) fan, do yourself a favor and book a GoT movie tour.
Not only can you fangirl or boy out for a while here, but you can also marvel at several of the other must-see points of interest along the way, including Ballintoy Harbor, Dunluce Castle, The Dark Hedges, Tollymore Forest Park, and Old Castle Ward. That said, if you never got into GoT, there are still various other filming locations to check out. Particularly in Glendalough and near the Powerscourt Gardens, solo travelers can visit filming sites for the following movies — "Braveheart," "PS I Love You," "Leap Year," "Ella Enchanted," and "Mary Shelley." The History Channel's breakout drama series "Vikings" was also filmed in this area, so you definitely have more than a few other options to consider when booking your cinematic tour.
Cross the local attractions off the list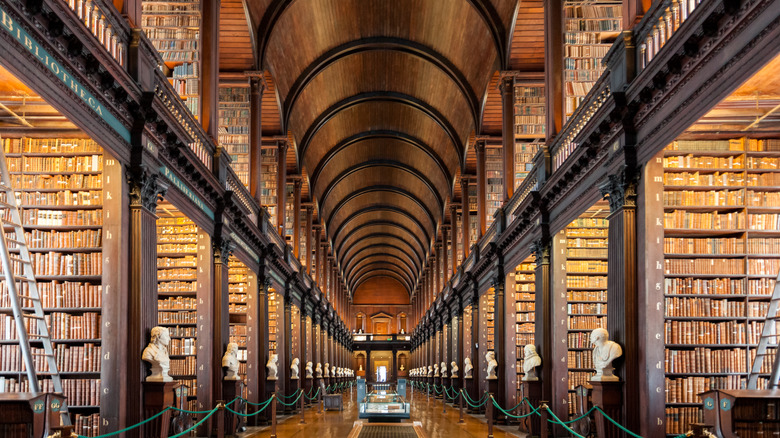 Salvador Maniquiz/Shutterstock
Solo explorers should also make it a point to check out the countless local attractions while visiting. Of course, one could easily spend several days sightseeing around Dublin. So if you are running short on time, then at the very least, try to cross the top picks off your to-do list — Trinity University, Dublinia Viking Museum, Christ Church Cathedral, and St. Patrick's Cathedral. While wandering about one of the world's oldest universities, stop by the renowned Trinity Library to appreciate its incredible design and to take a gander at the 9th-century Book of Kells.
After a tour of the Long Room at Trinity, you can make your way over to Dublinia, a house of worship with a heritage dating back to the Vikings and Christ Church, a fully restored 19th-century architectural wonder (originally founded in 1028). St. Patrick's is also a must-see medieval structure and church that has existed since the 13th century. In addition to checking out these particular attractions, solo explorers can opt to follow the Dublin Trail, a self-guided walking tour highlighting various city sections. And for more leisure activities, visitors can go shopping on Grafton Street, stroll around St. Stephens Green, marvel at the Great South Wall, or enjoy a sporting event at Croke Park.
Peruse the museums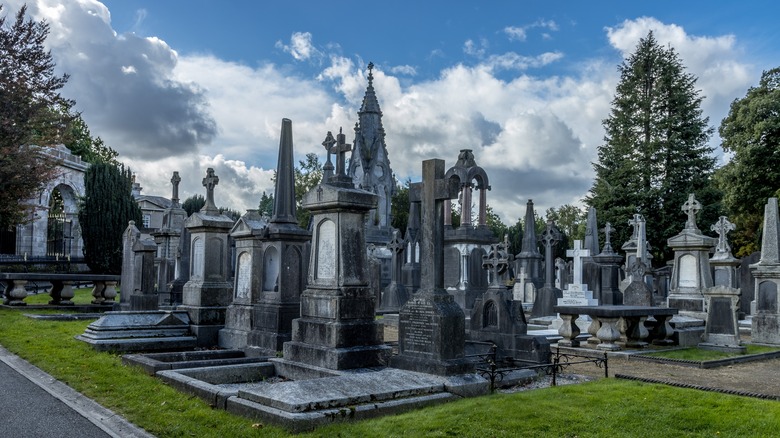 jksz.photography/Shutterstock
Undoubtedly, the city of Dublin is chock full of culture, historical sites, awe-inspiring architecture, and nearby gorgeous landscapes. Yet, somehow, there is still so much more to marvel at here, especially its wealth of museums. With over 40 museums to check out, visitors can delve deeper into Irish heritage, the arts, various forms of literature, maritime history, Irish whiskey, and even Irish Rock 'N' Roll.                                                                                         
As previously mentioned, interested wanderers can opt for self-guided walkthroughs or join any of the available museum tours. So if you have room in your schedule, why not make an afternoon of it and peruse as many renowned museums in the city as possible? If your itinerary is already jam-packed, consider limiting your cultural walkthroughs to some of the best — the National Leprechaun exhibition center, the Little Museum of Dublin, the National Museum of Ireland, Kilmainham Gaol, and the Irish Museum of Modern Art. The Glasnevin Cemetery Museum is also a must for solo travelers who love history, cemeteries, and dark tourism.
Sign up for a workshop or class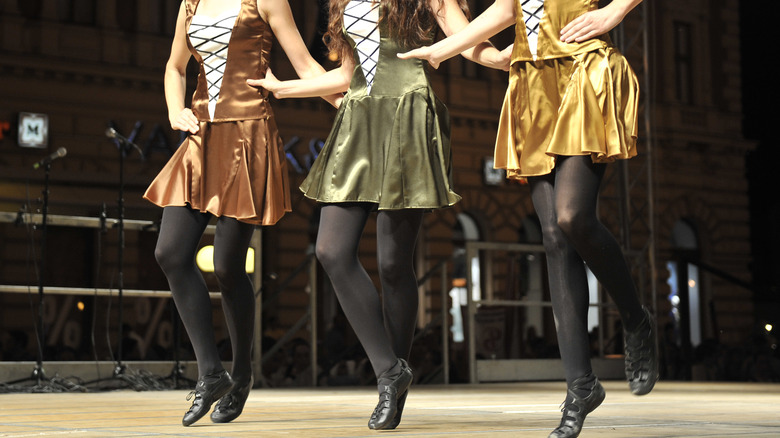 Zvonimir Atletic/Shutterstock
For solo travelers looking for even more interesting ways to explore this capital city, signing up for a workshop or class is an excellent choice. Booking a mini-course is yet another rainy-day activity that allows solo wanders the chance to explore Dublin's inner workings from a different perspective and meet other travelers with similar interests. With a variety of mini-course options available in Dublin, you can delight in just about everything from silver ring-making to traditional Irish dancing. 
Plus, workshops and classes that teach you a new skill or allow you to further embrace Irish heritage are both educational and entertaining. So, why not come home from your solo adventure in Dublin with a newly acquired talent, fond memories, and possibly a silver souvenir you crafted with your own two hands? And if neither silver-making nor Irish dancing piques your interest, that is perfectly okay. There are a plethora of other mini-courses to try your hand at, so peruse the workshop and class lineup to see what fantastic skillset awaits you.
Experience how the Irish celebrate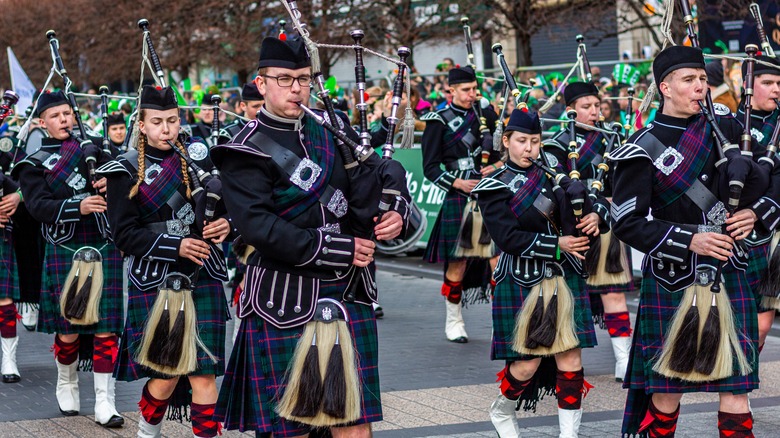 LiamMurphyPics/Shutterstock
Whether you are off to the local pubs, Irish Cabaret, dance halls, or music and concert venues, one thing is certain — the people of Ireland know how to drink, be merry, and have a great time. So, even though it may be tempting as a solo wanderer to avoid joining in on all the fun (particularly at night), do yourself a favor and experience how the Irish celebrate. With more than a few opportunities to join the festivities or merriment at any given moment in Dublin, don't be surprised if you happen on an impromptu parade, a serendipitous party in the streets, a group of celebratory sports fans, or a vibrant festival in honor of the holidays.
In fact, solo explorers will likely have the chance to experience how the Irish celebrate, possibly when they least expect it. But that is precisely when they should embrace it, be spontaneous, and enjoy the moment. The truth is that there is always something magical going on in the city of Dublin — be it a holiday or your average dose of nightlife. So, just because you arrived as a party of one does not mean you have to stay that way. Instead, you can celebrate alongside the locals and maybe have one of the best times of your life. Plus, solo explorers who do opt to take that Irish dancing class can test out their new dance moves here or maybe not.
Plan a well-balanced solo adventure
Dawid Kalisinski Photography/Getty Images
With no shortage of things to see and do in the city of Dublin, solo wanderers will be anything but bored here. All travelers vacationing in this incredible European city will have their work cut out for them with tours galore, museums and castles a plenty, mini-courses, pubs, grubs, partying with locals, and more. Chances are you will need to create two itineraries for your time spent here — one for this amazing solo adventure and another for your follow-up visit.
Even if you plan on staying for more than a few days, it is still in your best interest to avoid overdoing it or overbooking yourself. Remember, the best solo getaway is a well-balanced one that allows you to try something new or step outside your comfort zone while still having ample room for self-care, downtime, and spontaneity. So as long as you keep that in mind, then get ready for an exciting solo holiday that you will likely never forget. And with that said, Dublin awaits.