Take In Stunning Views With A Beginner-Friendly Coastal Hike In Cork, Ireland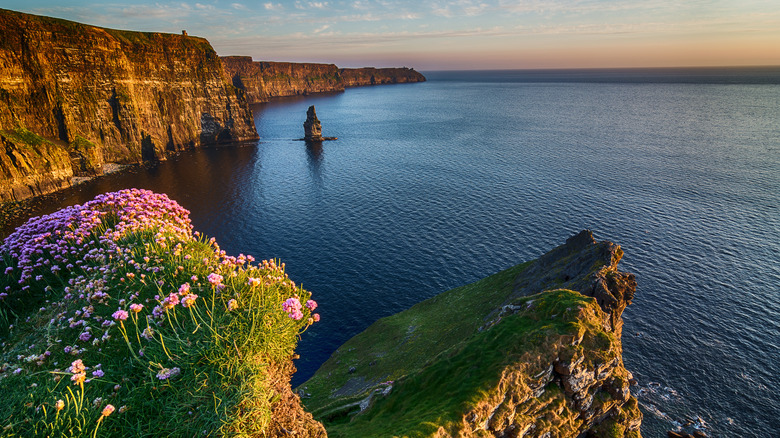 shutterupeire/Shutterstock
Ireland is a gem that offers travelers gorgeous views, fascinating history, and a rich, exciting culture. Nearly everyone can find something that fits their niche while visiting the Emerald Isle. Beer lovers can get tickets to the Guinness Storehouse, where the story of Ireland's beloved dark ale comes to life. Not in the mood for a pint? Imagine yourself in a land far away long ago while exploring one of Ireland's many breathtaking castles. You could see the 800-year-old structures of Kilkenny Castle and Parklands or the medieval Blarney Castle and Gardens. 
With so many museums, festivals, and natural landscapes to check off your Irish itinerary, figuring out the best strategy for getting the most out of your trip can be mentally exhausting. Fortunately, hiking is a great way to see as much as you can while fully immersing yourself in the country and its natural wonders. And there's one Ireland hike that deserves to be put on your bucket list.
Beginner-friendly Ballycotton Cliff Walk is a must-see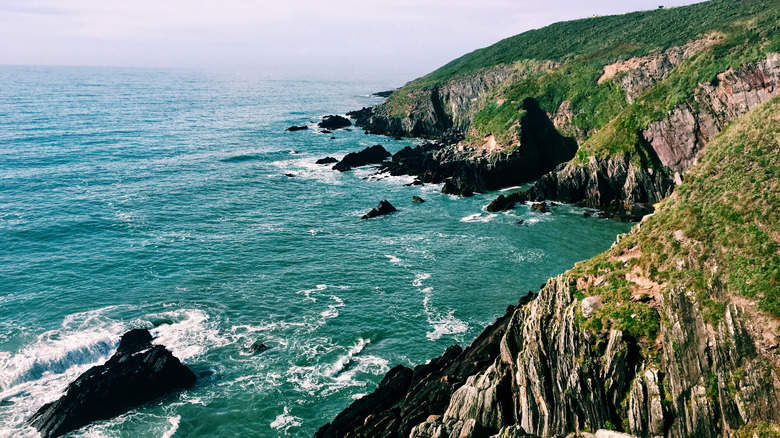 Hope Lutteringer/Shutterstock
Ballycotton Cliff Walk is one of the most stunning views you can see in Ireland. Located 40 minutes from Cork, Ireland, this coastline hike is host to an eclectic variety of sights and activities: dolphins in the water, a shipwreck, rugged coastlines, and plenty of restaurants and pubs in the village of Ballycotton (per HiiKER). According to The World Pursuit, Ballycotton Cliff Walk is beginner-friendly, so you don't have to be an expert or experienced hiker to appreciate what this 7.2-kilometer, or just under 4.5-mile, path has to offer. 
While the hike is easy enough for almost any age, plan on leaving any strollers or bicycles behind as there are stiles placed along the trail to prevent animals from ambling onto it (per The World Pursuit). The trail can also become quite muddy depending on the season but as long as you have sturdy, comfortable shoes, you can traverse the landscape quite easily, per HiiKER. Regardless of the season, Ballycotton Cliff Walk is a must for anyone visiting this part of Ireland.
Other beautiful hikes to take in Ireland's natural landscapes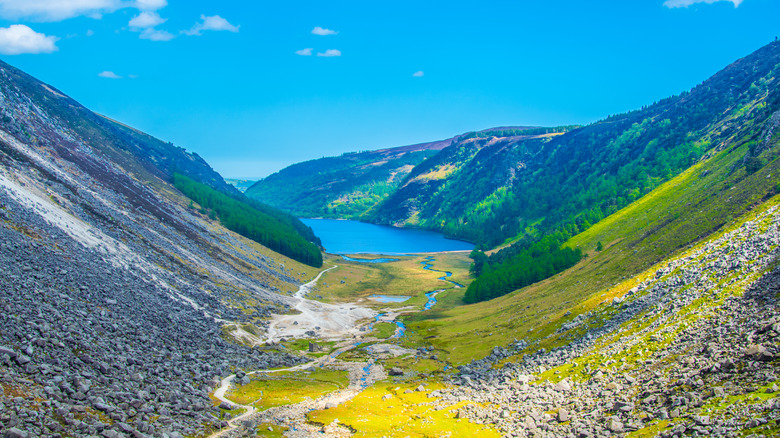 Trabantos/Getty Images
While Ballycotton Cliff Walk is regarded as a must for both novice and experienced hikers visiting Ireland, the country has many trails that pass by some unforgettable scenery. An hour from Dublin you'll find Glendalough, according to Outsider. Before starting on this mountain hike, you can park alongside the Glendalough Medieval Monastic site and take in some beautiful medieval ruins. Before you hit the ground running, however, keep in mind that the trail reportedly includes some rocky steps and quite a few stairs. But your efforts will be rewarded when you reach the stunning lake views and waterfalls along the path.
Another great opportunity to learn about Ireland's history while witnessing incomparable landscapes is the Famine Walk. Per Irish Central, the Famine Walk is a 16-kilometer or just under 10-mile walk in County Galway. Its relative remoteness and the solitude provided serve as a big plus for this historic trail. "This trail is known by locals for its unspoiled, raw beauty, along with its peacefulness since it's never crowded, giving hikers peace and quiet as they walk," writer Harrison Howe explained to Irish Central. "Plus, you'll be too busy taking in the scenery, rather than the walk itself, as the path itself winds along the fjord coastline, passing old cottages and, eventually, winds through a little marina that leads back to the start." You'll see the best that Ireland has to offer on any of these breathtaking hikes.