Why We Think Hogsmeade Is A Better Pick Than Diagon Alley At Universal Orlando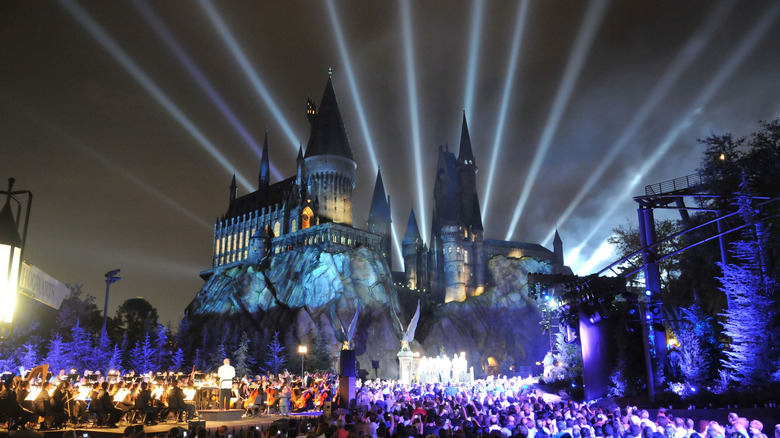 Handout/Getty Images
Although we've yet to receive an official letter from Hogwarts, our aspirations for wizarding and witchcraft are alive and well in Orlando. Spanning two parks in Universal Orlando Resort, The Wizarding World of Harry Potter allows us to ditch our mundane Muggle life for something a bit more magical.
Since opening in 2010, Hogsmeade Village has welcomed legions of wand-waving, robe-adorned wizards and witches onto its cobblestone streets and into Hogwarts itself. When Diagon Alley opened in 2014, the district introduced visitors to a more realistic, daily-life bustle of the magical world.
Both Hogsmeade and Diagon Alley are incredibly immersive, imaginative, and expansive, with their own particular spell-casting charms. However, The Wizarding World of Harry Potter is split between two Universal Orlando Resort parks. Hogsmeade is located in Islands of Adventure, while you'll need to visit Universal Studios to explore Diagon Alley.
To experience the entire Wizarding World, you'd need either a park-to-park ticket or two single-day tickets to visit both Universal Studios and Islands of Adventure. If your limited Muggle abilities can't magically budget the time and/or money to visit both parks, then we'd recommend visiting Hogsmeade over Diagon Alley. Before you threaten our house points, take a trip aboard our decision-making Knight Train.
Magical, rustic, and incredibly immersive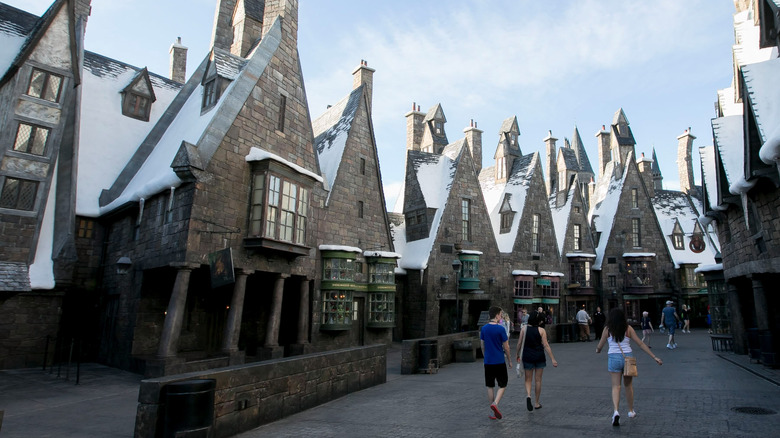 Scott Legato/Getty Images
It brings us no joy to choose one Potter park over the other. Both Hogsmeade and Diagon Alley are terrific, but in the less-than-magical world of prioritizing itineraries, sometimes making hard decisions creates better, more practical vacations. While both parks are incredibly immersive, Hogsmeade is more quintessential Harry Potter.
Atmospherically, Hogsmeade is both mystical and peaceful, welcoming visitors to a rustic village of snow-capped rooftops and cobblestone streets, with magic bubbling underneath its seemingly normal veneer. Set atop a hill, iconic Hogwarts Castle also towers and looms over Hogsmeade Village.
Diagon Alley is almost the opposite of Hogsmeade. Bustling with commerce and daily life, Diagon Alley is similar to a London street — and for good reason. It's actually located in the London part of Universal Studios, but as you know, the alleyway isn't visible to Muggles. However, using your magical vision, you're quickly transported to Diagon Alley from the Muggle World. It really is cool, but when deciding between the two parks, how could you enter The Wizarding World without visiting Hogwarts?
The Three Broomsticks and Butterbeer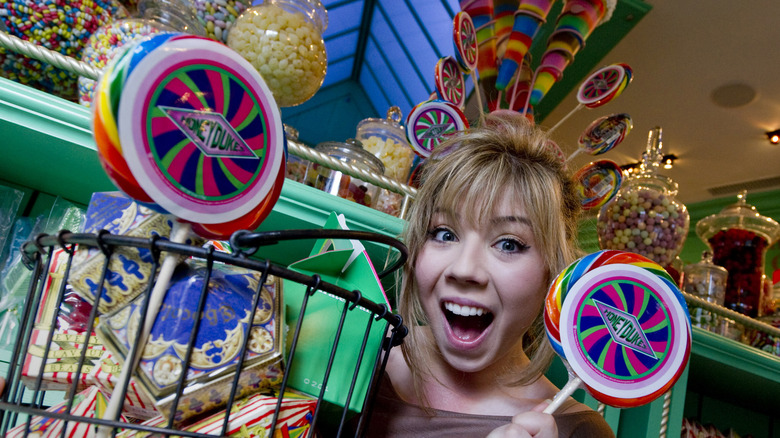 Handout/Getty Images
When it comes to dining in The Wizarding World of Harry Potter, both Hogsmeade and Diagon Alley boast their own flagship establishments. In Hogsmeade, you can sit down for a meal and Butterbeer at The Three Broomsticks, while Diagon Alley is home to The Leaky Cauldron, a popular wizard pub and inn. (Harry Potter spent a few weeks living above The Leaky Cauldron before his third year at Hogwarts.)
Serving traditional British fare, both restaurants offer similar menus, which include fish and chips, turkey legs, bangers and mash, shepherd's pie, and of course, Butterbeer, but The Three Broomsticks' atmosphere is pretty incredible.
While dining, you may hear the muffled voices of wizards and witches lodging in the inn's (fictitious) upper level or spot the darting shadows of house-elves on the wall. Also, movie set designers actually integrated The Three Broomsticks into the movies, meaning you can sit exactly where Harry, Ron, and Hermione did.
After a magical meal in Hogsmeade, you can then visit Honeydukes for dessert. Here, you can try iconic treats from the legendary sweets shop, including exploding bonbons, fizzing whizzbees, chocolate frogs, and if you're brave enough, Bertie Bott's Every Flavour Beans.
A wizard world tour of Hogwarts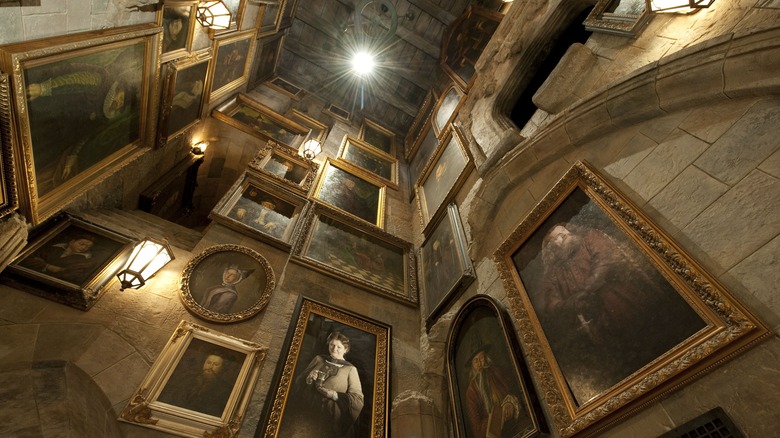 Handout/Getty Images
As we mentioned earlier, what's a trip to The Wizarding World of Harry Potter without visiting Hogwarts? Dominating Hogsmeade's skyline, the castle is much more than a prop. To truly experience The Wizarding World, you'll need to uncover the world's hidden secrets.
The castle is home to the Harry Potter and the Forbidden Journey ride, but the line for the popular ride doubles as a tour of the Hogwarts School of Witchcraft and Wizardry. During the tour, you're surrounded by recreated movie sets, enhanced by the inclusion of Potter characters, conversing wall portraits, and plenty of hidden details to delight fervent Potter fans. The interior of Hogwarts is the full and complete immersion into The Wizarding World.  
In Hogsmeade, you'll also have the chance to view The Nighttime Lights at Hogwarts Castle, which transform the castle into a multicolored canvas to showcase the colors of Slytherin, Hufflepuff, Ravenclaw, and Gryffindor. The Sorting Hat narrates the five-minute light show, which is accompanied by movie musical score and a firework finale. If visiting during the holiday season, you'll have the added bonus of experiencing The Magic of Christmas at Hogwarts Castle, which includes its own impressive light show. 
While Diagon Alley also features great entertainment, such as the fire-breathing dragon on Gringotts Bank and stage shows performed by the Wizarding Academy of Dramatic Arts, the light show at Hogwarts Castle is hard to wave a wand at.
Riding with Hagrid through Forbidden Forest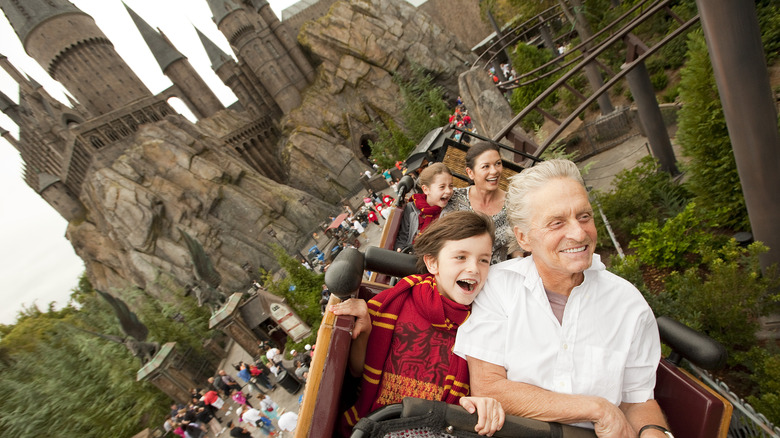 Handout/Getty Images
When comparing the two wizarding parks, there's probably a Diagon Alley counterpoint to each of our reasons for preferring Hogsmeade. For instance, Diagon Alley features a more immersive and varied shopping experience. You can buy a pygmy puff from Weasleys' Wizard Wheezes or shop at Ollivanders Wand Shop to purchase the perfect wand. However, there's one aspect of Hogsmeade that undeniably bests Diagon Alley — the rides.
Diagon Alley features one main ride called Harry Potter and the Escape from Gringotts, which is a terrific 3-D simulator ride inside a detailed replica of Gringotts, the bank of the goblins. However, Hogsmeade boasts three rides. Along with the 3-D Harry Potter and the Forbidden Journey ride, located inside Hogwarts Castle, the village also features two traditional roller coaster experiences.
For younger wizards and witches, the Flight of the Hippogriff weaves through the Forbidden Journey and past Hagrid's hut on a short but fun, kid-friendly ride. During the ride, you're treated to awesome views of Hogwarts and Hogsmeade Village. But Hogsmeade is also home to the newest ride of The Wizarding World, which is also one of Universal Orlando Resort's best.
Topping out at 50 mph, Hagrid's Magical Creatures Motorbike Adventure features a one-mile track, making it the longest roller coaster in Florida. Riding in either Hagrid's motorbike or sidecar, you'll twist and turn through the Forbidden Forest to meet some of The Wizarding World's most elusive magical creatures. For adrenaline junkies, the roller coaster may be a standalone reason to choose Hogsmeade over Diagon Alley.
Early passes and Muggle magic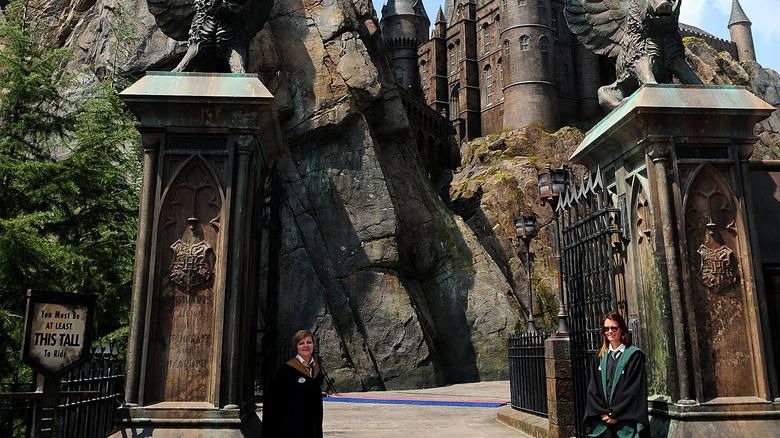 Gustavo Caballero/Getty Images
While choosing Hogsmeade over Diagon Valley isn't easy, as they're both incredible, time and budget restraints can force hard vacation decisions. As we mentioned, in an ideal world, a park-to-park pass or two single-day tickets to both Islands of Adventure and Universal Studios allow you to explore The Wizarding World of Harry Potter in its entirety (and ride the Hogwarts Express between parks.) But if only choosing one park, then we recommend Hogsmeade for its atmospheric charm, Hogwarts Castle, and the roller coasters.
However, if you do choose to visit Hogsmeade, then it's probably wise to purchase early park admission, which grants you an extra hour in the park before regular park guests arrive. Hagrid's Magical Creatures Motorbike Adventure and Harry Potter and the Forbidden Journey are two of Universal Orlando Resort's most popular rides, and that extra hour will help you avoid super-long lines. It isn't exactly magic, but in the world of Muggles, it's pretty close.