Your Complete Guide To All The Airline Classes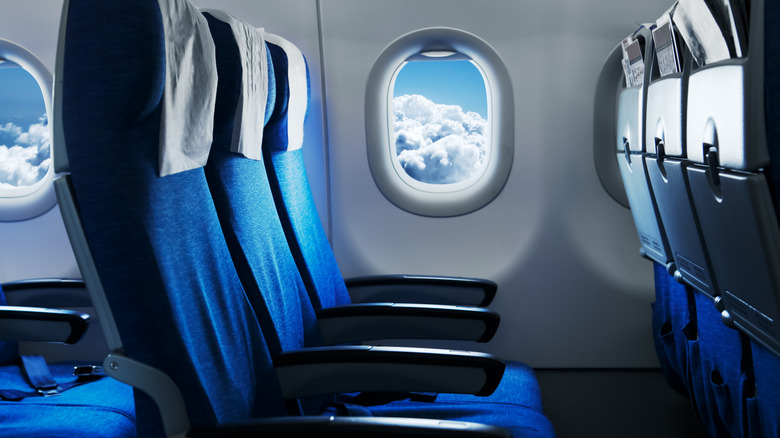 Kurmyshov/Getty Images
Air travel is very much impacted by the type of class and fare a traveler is paying. Though the kinds of service across the classes can differ wildly from one airline to another, there are four types of airline classes: economy, premium economy, business, and first class. Unless you are well-versed in airline booking hacks or a frequent flyer with airline status, you'll most likely spend most of your time in economy — unless you want to shell out a lot of money for a better seat.
What class you're in will impact not just your seat and position in the plane itself, but it will also dictate what kind of service you receive on the plane. Higher classes have larger seats, more room in between the seats, and complimentary services like better food, snacks, and beverage options. You may even be lucky enough to fly with an international airline in a class with private suites for the ultimate flight experience. But what are the biggest differences between the airline classes and what do you need to know before booking your next flight?
Basic economy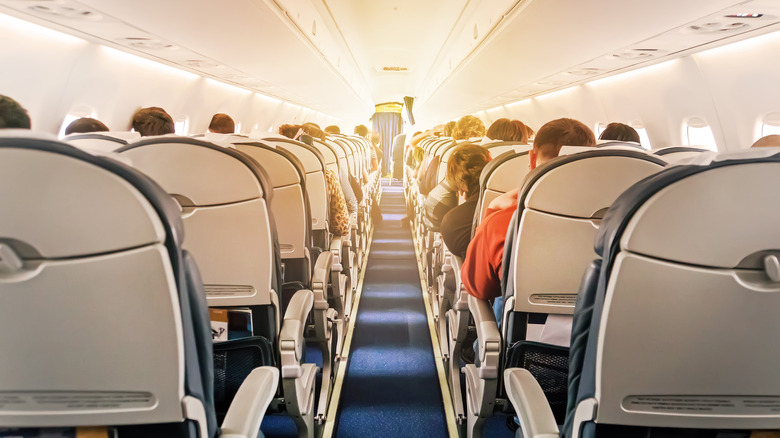 Diy13/Getty Images
The seats in basic economy are often the same as those in regular economy, though the ticket itself is more restricted. These are usually the cheapest tickets offered by an airline. However, with cost savings come restrictions on changing your flight dates or times, a limited amount of baggage you can bring, the inability to select seats, boarding last, and several other limitations depending on the airline. The reason folks buy basic economy tickets is to save money, though with additional fees, the cost of the ticket may very well add up to more than the price of a regular economy ticket.
Some of the other terms you may encounter in purchasing tickets under a basic economy fare can include economy light, saver fare, economy basic, and bare fare. Each airline can have its own terminology for the flight classes, so be sure to read the fine print when purchasing your ticket. Try comparing the cost of the amenities you need like a free carry-on bag with what you'd pay with a basic fare. You may be better off with a regular economy ticket.
Economy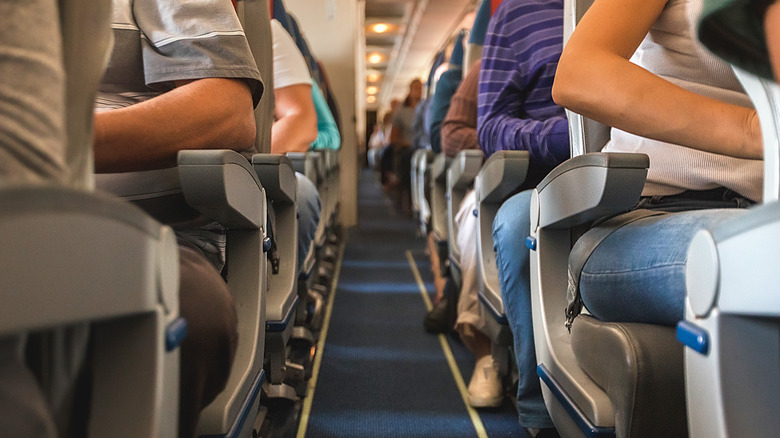 Demkat/Getty Images
Regardless of the kind of plane or airline you're flying with, the economy section is pretty much the same across the board. These tickets are not as cheap as basic economy tickets, though they usually still afford a pretty average travel experience. Generally, an economy experience in a legacy airline like Delta, United, or American Airlines will be more comfortable than in a budget airline like Spirit or Frontier.
In regular economy, you may or may not get complimentary snacks and drinks or even meals if your flight is long enough. Choosing your seat is usually included with an economy fare, though if you try to choose a seat in certain parts of the cabin you may have to pay extra. Exit row seats are often more expensive, as are seats that are closer to the front, or any that provide additional perks like more legroom or more space to recline.
Premium economy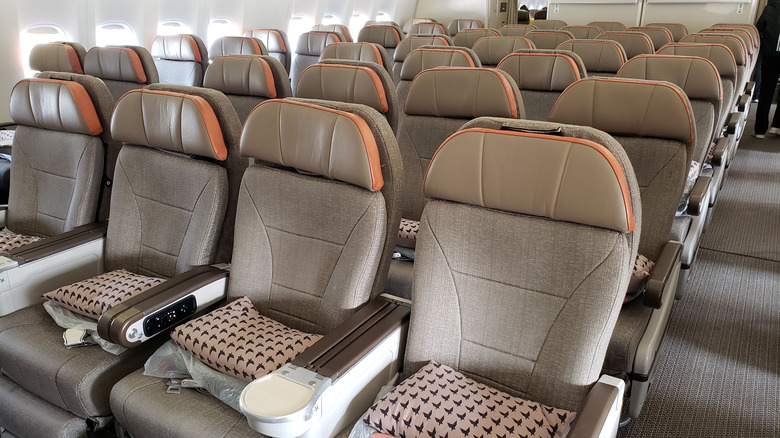 Emerson Gomes/Shutterstock
Like the differences between basic and regular economy, premium economy can either be a significant upgrade from regular economy or basically the same. What is true for premium economy seats is that there is more legroom and potentially more recline pitch in the seat back. Some airlines also provide premium economy passengers with amenity kits, better food, and sometimes even the free alcoholic offerings you'd find in first or business class.
The few inches of extra room can vary widely between carriers. Japan Airlines, for example, can have 10 inches more space in their premium economy seats whereas the average for carriers is between 5 and 6 inches of additional space. Premium economy seats are also often in more favorable parts of the cabin like the front of the economy section. You may also be in a better boarding group with a premium economy ticket than others in the economy cabin. Again, it really depends on the airline you're flying with.
First class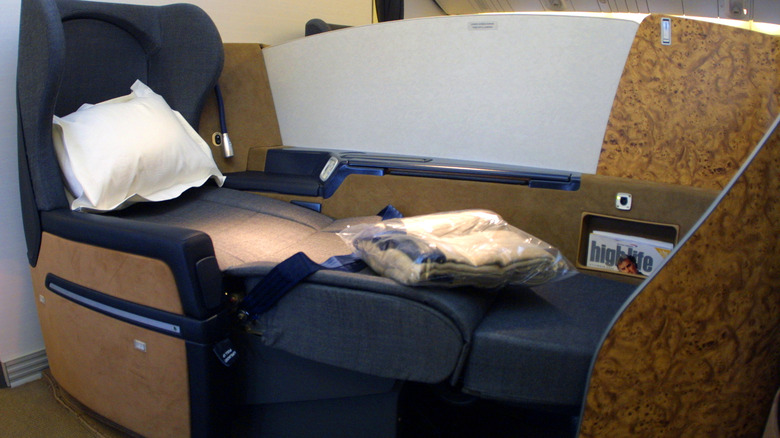 Tim Boyle/Getty Images
In general, a lot of travelers use business and first-class cabins interchangeably. It's easy to do since they can be pretty close together in their amenity offerings. Planes generally don't have both business and first-class seating options, they'll have one or the other. First class, like premium economy, can mean a lot of things depending on which airline and route you're flying. For example, domestic flights generally have first-class seating rather than business.
Domestic first class usually includes more comfortable seats, more room around seats, a more favorable seating arrangement, and food and drink inclusions. They're generally not the seats you see all over luxury planes on Instagram. These are not lie-flat seats, though they are still much more comfortable than economy seats. You'll probably get hot food even on shorter flights and your choice of alcoholic and non-alcoholic beverages.
International first class on the other hand is easily confused with business class. They can include private or semi-private suites, lie-flat beds, gourmet dining, and lots of drinks to keep you cozy in the sky. You may have turn-down service, complimentary pajamas, and luxury amenity kits with posh items. A first-class international ticket can also more than likely get you into an international airport lounge before takeoff.
Business class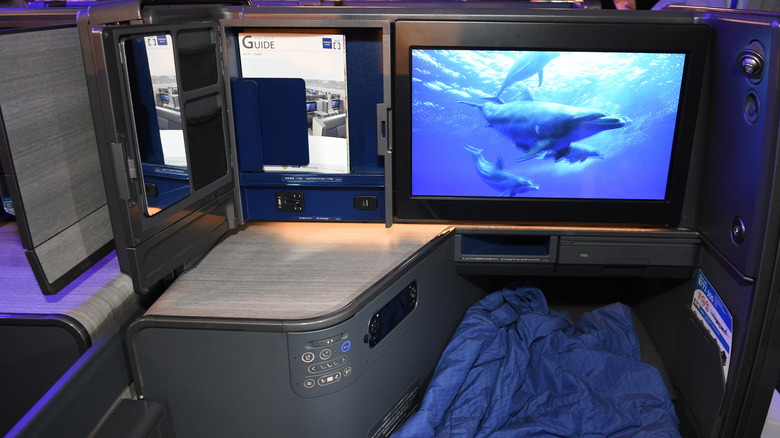 Bryan Bedder/Getty Images
Although even airlines use first and business class interchangeably, generally the experiences folks hope to one day attain are designated to business class. Lie-flat seats, complimentary meals and snacks, unlimited drink selections, and other amenities can be linked to first class, though more often than not it's business. In some cases, business class is considered a step down from first class and can offer a premium experience for more than economy but less than a first class ticket.
Like with first class, the kinds of service and amenities travelers receive with a business class ticket depend on whether you are flying domestically or internationally. International flights by and large are going to be the most luxurious version of a business class experience, not that a domestic business class flight isn't considered a posh experience.
Business class flights also often come with airport lounge access. That's true for most domestic and international flights on a business class ticket, though international lounges like the United Polaris Lounge tend to offer a more luxurious experience than their United Club domestic counterparts.
Why airline classes vary so much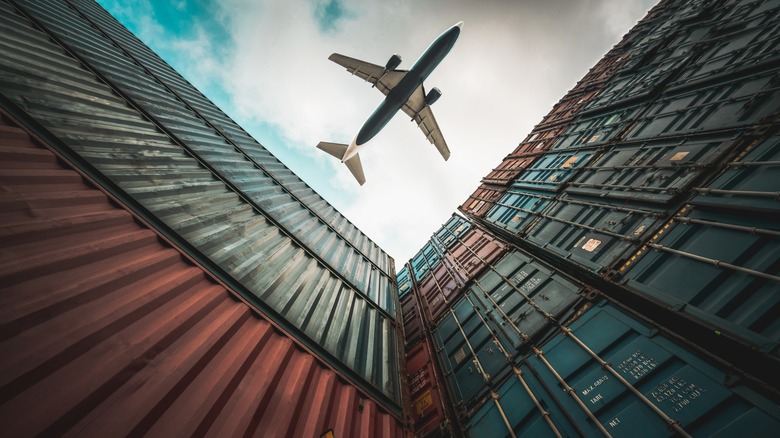 Blue Planet Studio/Shutterstock
Air travel was a much more luxurious experience for everyone in the mid-20th century. But the big reason why airline classes have gotten so competitive, seats have gotten smaller, and amenities have started to disappear is because of deregulation. The federal government in the United States deregulated the airline industry in 1978 which meant airlines could do even more to increase their revenue per passenger.
Because of that deregulation, and the fact that planes have become more advanced to get people where they're going faster, ticket prices continue to rise. That is regardless of the fuel price trends because there is a wider profit margin for airlines to take advantage of. While it's easy to assume that the widest profit margin is in the higher classes, it actually isn't. Per square foot of space, first class and economy are pretty close because the airlines want to fill their planes as much as possible. It's in the addition of premium economy and business class sections that the airlines make more money per square foot.
Domestic versus international destinations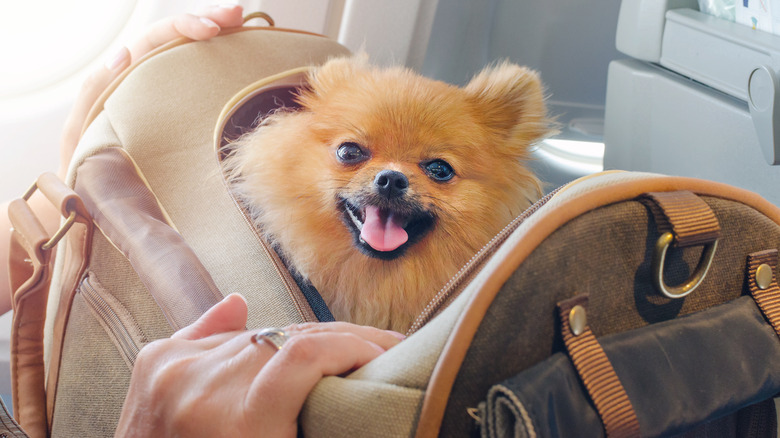 nadisja/Shutterstock
When it comes to airline classes, domestic flights have much less variety in the kinds of experiences you'll receive. Even if the plane has economy, premium economy, and first class, the service you'll get on a domestic flight is usually far less than you would on an international flight. Long-haul flights have the most variety of classes and amenities. For example, domestic first class (the best class on that plane) will have better seats but they don't lie flat. At the same time, that same class on an international flight will have lie-flat seating.
Different lengths of travel also offer passengers of all classes more amenities all around. Most international journeys will provide even economy passengers with some kind of meal and comfort items like pillows and blankets. Economy might not be the most comfortable way to travel internationally, though it can be more comfortable than domestic flights. Jumping from economy to premium economy on a long-haul flight may also be a significant difference in an in-flight experience as well.