Are Airport Lounge Passes Worth It?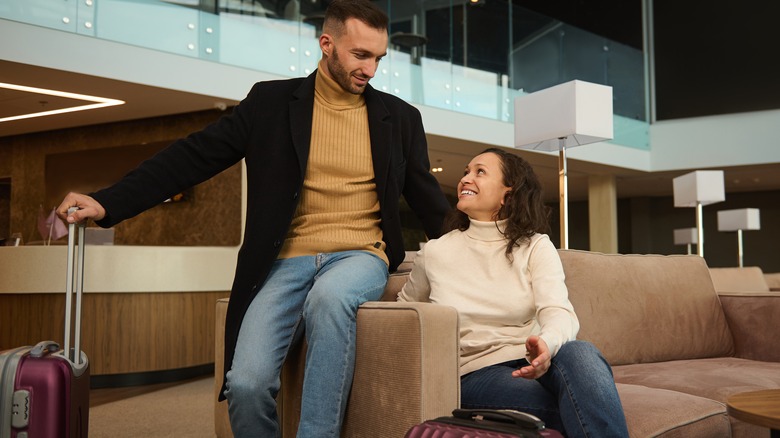 Taras Grebinets/Shutterstock
Airport lounges are airline-affiliated private rest areas within airport terminals that are usually exclusive to passengers of certain airlines. They are a great way for travelers to upgrade their travel experience when they're at the airport and provide access to amenities such as complimentary food and drinks, comfortable seating areas, quiet workstations, and more. Airport lounge passes may be worth it for travelers who want to make the most of their time while waiting for flights or during layovers. And CNN writes, they're not just for frequent flyers. If you're on your annual trip to Mexico or to see distant family, you can grab a lounge pass very easily.
Ultimately, airport lounge passes provide travelers the opportunity to escape the hustle and bustle of the airport terminal. And with access to special services like free Wi-Fi connection and — in some lounges — showers and sleeping areas, travelers can get some work done and feel refreshed and ready for their next flight. While getting access to some lounges may not come cheap, there are some very good reasons why it may be worth it (and ways to get in without emptying your wallet).
Reasons why an airport lounge pass is worth it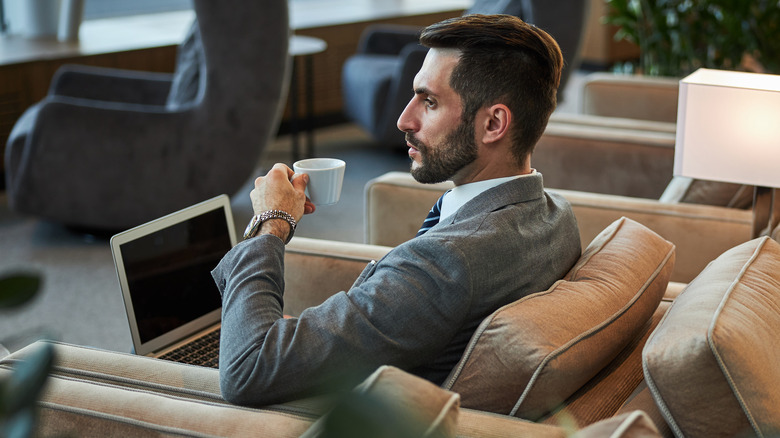 YAKOBCHUK VIACHESLAV/Shutterstock
On layovers longer than three to four hours, it's a good idea to grab a lounge pass as it will make the wait far more bearable and can actually save you money in the long run, according to Simple Flying. This is because airport lounges include complimentary food and drinks. Depending on your airport habits, you can definitely save a lot with a lounge pass as airport food — and especially drinks — is notoriously expensive. Simple Flying reports that lounge access can cost between $20-$50, with some areas charging more.
For workers on the go, lounges are essential for those who need a comfortable, quiet workspace with free Wi-Fi, according to Nerdwallet. It's likely you'll be in good company as well since many travelers flying business class will be taking advantage of their lounge perks. Nerdwallet also suggests that lounges may be more family-friendly — especially if you're traveling with a baby — as some even have rooms dedicated to young children, keeping them occupied and engaged during the long wait.
HuffPost writes that most of all, airport lounges provide travelers with a quiet place to escape from the chaos of the main area of the terminal. For this reason, lounges have become more popular as of late. However, since nearly everyone there is looking for the same thing, you'll still find them to be a quiet and enjoyable experience.
How to get an airport lounge pass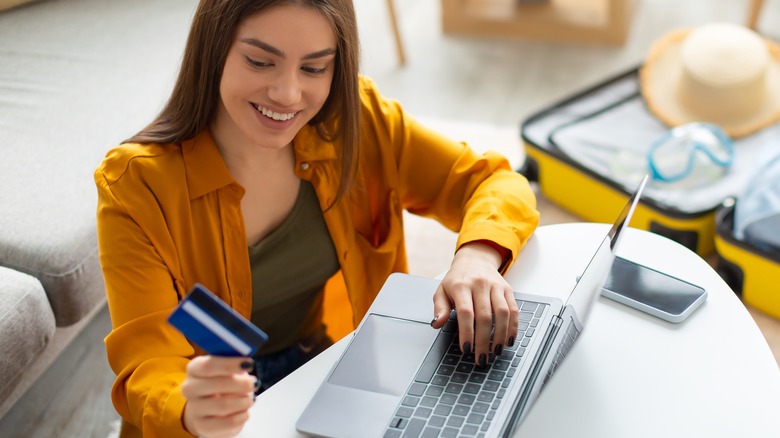 Prostock-studio/Shutterstock
While airport lounges still retain some air of exclusivity, they are no longer as difficult to acquire. You don't need to purchase a business or first-class ticket and it can be as easy as walking up to the lounge's front desk, showing your ticket, and paying a small fee to enter.
However, CNN writes that one of the easiest ways to get airport lounge access is with a credit card. Consider signing up with American Express or Chase, which are widely regarded to have some of the best travel perks and provide access to many lounges in the U.S. and abroad.
If you don't like the idea of opening a credit card just to take advantage of travel perks but you still want to hit up the lounge when you travel, sign up for Priority Pass. This is one way you can circumvent opening new credit cards while getting access to over 1,300 lounges worldwide.
Whether you've got the credit card travel perks, the day pass, or you booked a ticket with lounge access, you had better follow the Points Guy's advice. Do your research and make sure the lounge is open when you arrive, and that you can take advantage of the amenities with enough time to get to your gate at a leisurely pace.