Universal Studios Hollywood Or Universal Orlando: Which Has The Better Harry Potter World?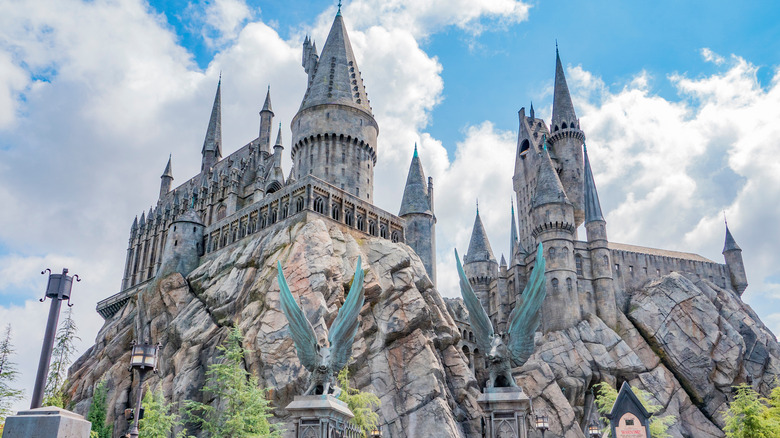 Mossaab Shuraih/Shutterstock
Universal Orlando is home to two Wizarding World of Harry Potter attractions: Diagon Alley at Universal Studios Florida and Hogsmeade at Universal's Islands of Adventure. Universal Studios Hollywood also boasts a Wizarding World of Harry Potter. In both Hollywood and Florida, the Wizarding World of Harry Potter immerses visitors in the Hogwarts School of Witchcraft and Wizardry. Universal Studios in both locations continues to see increasing numbers of fans heading in for the Harry Potter experience. Universal Studios Florida records more than 10 million visitors annually while Universal Studios Hollywood sees over 9 million guests walk through the front gates each year.
The whimsical appeal of each destination is hard to deny. Whether in Hollywood or Orlando, you'll find a collection of thrilling Harry Potter-themed rides, impressive attractions, and savory food items to enjoy. When a magical world is reflected so authentically, how should travelers decide where to visit? The answer often comes down to how much time guests can dedicate to exploring.
It's also a question of what visitors are ultimately hoping to gain from their getaway experience. Universal Orlando offers guests a comprehensive experience with added options for fun and flavor. In Hollywood, there's plenty of magic to go around in a more concise setting.
For the full Harry Potter experience, head to Florida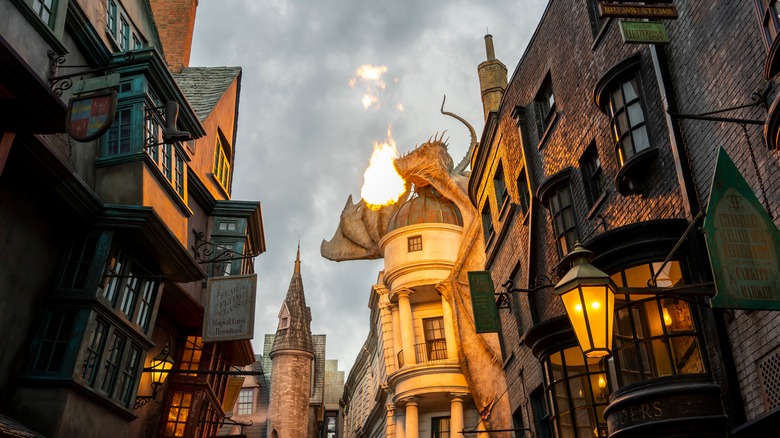 Yobab/Shutterstock
Both Orlando and Hollywood offer guests an engaging Wizarding World experience. However, Universal Orlando logistically has more to provide in the way of themed options for visitors to explore. Thus, travelers with time to spare wanting a comprehensive Harry Potter experience will find it at Universal Orlando.
In Orlando, Diagon Alley and Hogsmeade are conveniently connected by the Hogwarts Express train. At Diagon Alley in Universal Studios Florida, visitors can enjoy dining at the Leaky Cauldron, picking out a wand at Ollivanders, and savoring the thrills of rides like the Escape from Gringotts, just to name a few.
Escape from Gringotts isn't the only added thrill visitors can find in Orlando that they can't access in Hollywood. Hogsmeade at Universal's Islands of Adventure in Orlando is home to Hagrid's Magical Creatures Motorbike Adventure, which isn't available in California. The option to ride between the two Wizarding Worlds by train is unique to Orlando as well.
There are also noticeable differences when it comes to on-site dining. While Hollywood and Orlando both host the Three Broomsticks tavern and the Hog's Head pub, Universal Orlando provides more in the way of savory options for guests. Here, visitors can enjoy a stop at Florean Fortescue's Ice-Cream Parlour, the Hopping Pot, or the Fountain of Fair Fortune for butterbeer.
Enjoy a more concise magical moment in California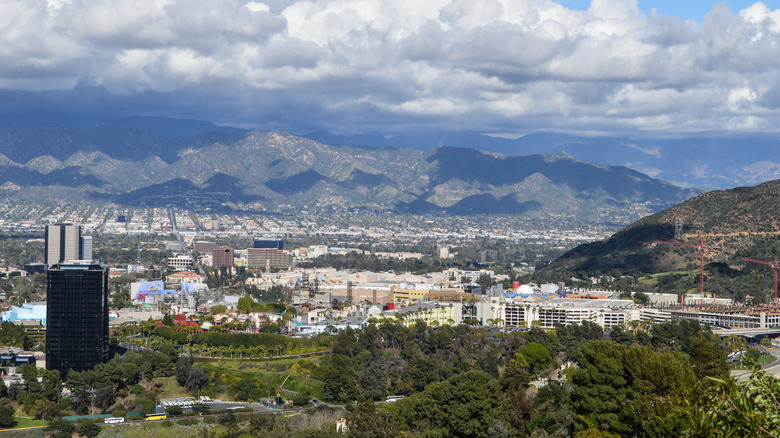 Lisa Bronitt/Shutterstock
Orlando has more to explore, but the Hollywood experience still has plenty of magical fun to offer. Here, guests can enjoy time in Hogsmeade with Hogwarts towering overhead. The area also has many themed shops to check out including the Owl Post, Zonko's Joke Shop, Filch's Emporium of Confiscated Goods, and Gladrags Wizardwear, just to name a few.
In California, Harry Potter fans can enjoy access to two of the rides that are most popular in Orlando. These include Harry Potter and the Forbidden Journey as well as Flight of the Hippogriff. The Wizarding World of Harry Potter at Universal Studios Hollywood offers guests a chance to pick out a wand at Ollivanders and listen to Hogwarts students perform as part of the Frog Choir during a visit too.
Travelers heading to Hollywood to enjoy time at the Wizarding World of Harry Potter could find a cost advantage waiting. Access to only one magical land means there's no need to purchase an additional ticket to move between Hogsmeade and Diagon Alley like in Orlando. Instead, time and funds can be spent focused on a single location.
The Wizarding World of Harry Potter in Universal Studios Hollywood is great for a concise getaway, but ultimately, nothing beats Universal Orlando when it comes to the full magical experience. Those looking to enjoy the best of all the flavor, fun, and attractions will want to head to Orlando to find it. Of course, exploring both destinations only doubles the magic, and there's nothing wrong with that.