The Best Ways To Save On Airport Parking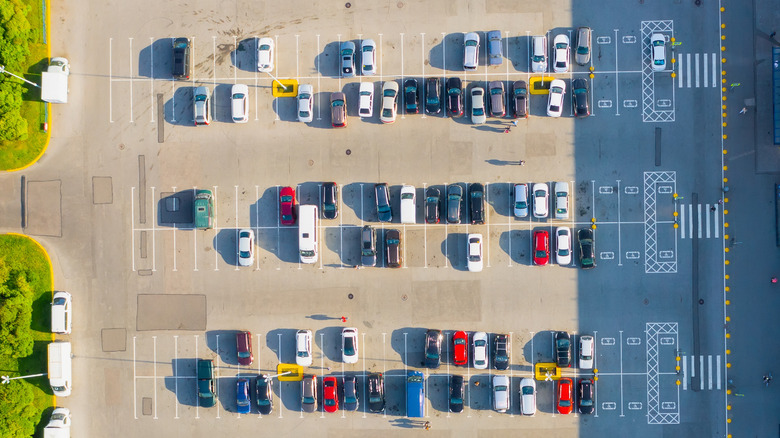 Aapsky/Getty Images
Looking at the calendar and realizing an upcoming trip is right around the corner can be exciting. However, planning for transportation to and from the airport can be less thrilling (especially when deliberating the pros and cons of ride-shares versus taxis). A certain amount of this unpleasantness also stems from prospects around airport parking. Many travelers have come to expect that leaving a vehicle at the airport is a less-than-stress-free experience. First, there's a definite risk of damage to a personal vehicle anytime travelers park at the airport. Spending time while you're away worrying about whether or not the vehicle you left behind is secure can certainly take the shine off a getaway experience. Second, there's a significant cost factor to consider.
The Federal Aviation Administration services nearly 20,000 airports across the country, and airports across the U.S. earn around 41% of their non-aviation income through parking and car rental services alone. That accounts for nearly $3.7 billion in annual revenue. Fortunately, astronomical parking prices at the airport don't have to be something travelers simply accept and endure. There are plenty of ways to save on airport parking if you're willing to put in a bit of pre-travel work. Doing so can save you money and stress while freeing up the budget for more fun on a getaway. If that all sounds inviting, the following six options are well worth considering.
Dig into the pricing and discount details before you travel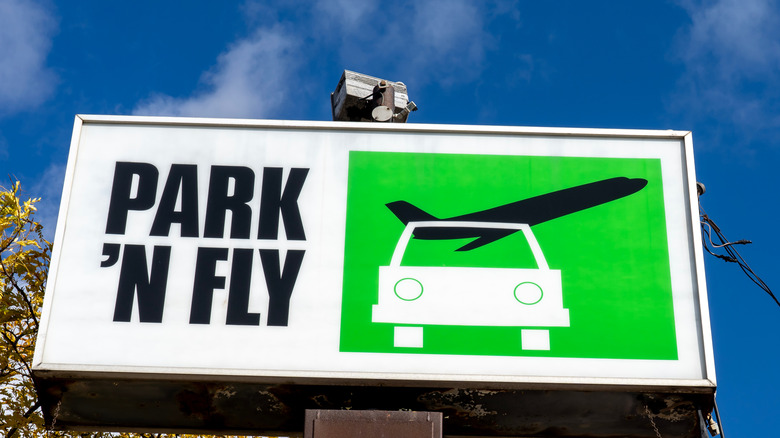 JHVEPhoto/Shutterstock
Taking time to price out various airport parking options at different airports near your departure point can lead to significant savings. Some travelers aren't aware that not every airport prices parking the same. Even if you've locked in a great low-budget airfare at a specific departure point, the high cost of parking could offset the savings in the end. If you have the flexibility to pick and choose which airport you leave from or the airline you fly with, it generally gives you a refreshing amount of flexibility when it comes to total parking costs.
If you're absolutely determined to utilize on-site airport parking, do keep in mind that booking in advance is always a money saver. Throughout the year, airports typically offer special parking rates through their websites that vary by the day, month, or length of your parking stay. In addition to these discounts, booking prepaid parking well in advance of your trip can save travelers nearly 30% on their overall parking costs.
When you're looking into airport parking during a time when the airport isn't offering significant online discounts, opting for park-and-ride services instead is typically the next best choice for savings. You'll have the option to leave your vehicle in a parking lot further out from the airport within this program at a discounted rate. Complimentary shuttle service to the terminal is included in this cost as well. 
Consider those unexpected parking incentives and perks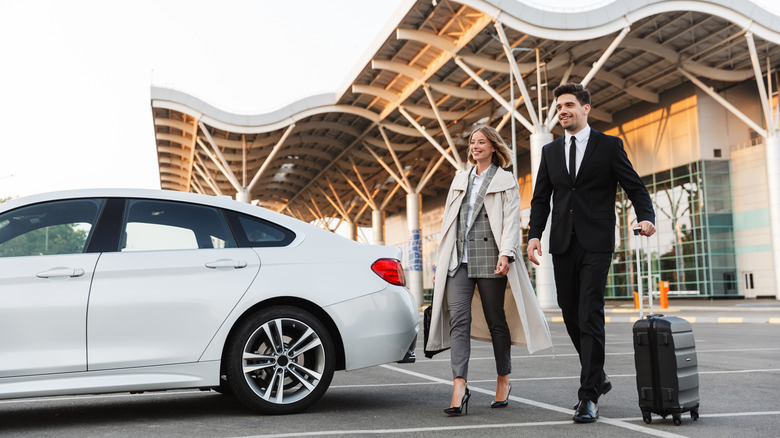 Dean Drobot/Shutterstock
Accessing discounted rates on airport parking might be available through unexpected channels. Depending on the bank you work with, parking rate discounts could potentially be available at local airports upon request thanks to business partnerships. Parking discounts can also be linked to debit or credit card usage through your bank. It's simply a matter of taking time to ask for those perks that are already in place.
Another option to consider when you're on the hunt for savings on airport parking is to look into potential incentives offered by nearby hotels. Oftentimes, those hotels located near major airports provide travelers with access to customized parking discounts when they book a stay. Reserving your place at a hotel for a single evening in exchange for airport parking discounts could lead to great savings overall.
Joining travel programs like The Spot Club can be particularly beneficial and cost-saving for travelers who frequently fly and are looking to save on airport parking. There's no cost to join and over time, participants can earn free airport parking and upgrades. Some of the club incentives include touchless entry and exit, waived reservation fees, and exclusive parking deals at participating airports.
It's fair to say that airport parking is expensive. The good news is it doesn't have to stay that way. Travelers willing to dig into pricing details early, compare options, and ask unexpected discount providers for perks could find amazing savings waiting.