The Complete Guide To Packing For A Ski Trip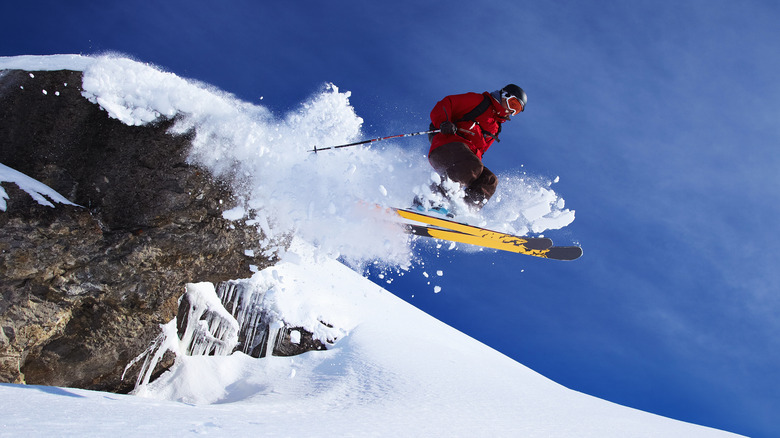 Jakob Helbig/Getty Images
Preparing for a ski holiday involves extra planning and packing — and trust us, all the prep is absolutely worth it. Whether you are off to nearby places or catching flights, there are just certain items all skiers should have, especially if they want a ski trip that is one for the books. Still, the goal, like with any getaway, is to pack light while being properly prepared for your destination.
Of course, when packing for colder weather and outdoor recreation, it can be tempting to throw your warmest attire in your suitcase and be done with it. Excited travelers also tend to pack all their ski equipment separately to check it at the airport or fit it all in their vehicle when they shouldn't. So, why not save yourself some time and money by utilizing a few ski adventure tips and a comprehensive packing list? Doing so will not only help streamline your entire ski vacation and prevent damage to your snow gear, but it will also help you avoid possible injury (caused by overpacking or lugging around heavy ski gear). 
That said, for cold-weather sports enthusiasts getting ready to hit the slopes, here is a complete guide that removes some, if not all, of the guesswork when packing for a ski trip.
Ski vacation luggage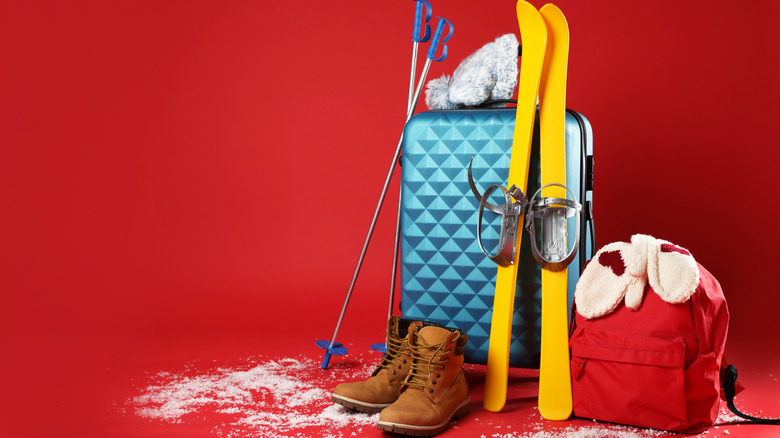 New Africa/Shutterstock
Before reaching for their ski vacation attire and cozy sweaters, travelers should make sure they have the right kind of luggage for the journey ahead. For this particular cold-weather getaway, yes, you will need a durable, waterproof suitcase or carry-on for your clothes, toiletries, and other everyday items. Here, the Daking Concourse Hardside luggage or the Osprey Fairpoint/Fairview Wheeled Travel Pack 65 are fan favorites and work well with standard packing organizers (per Ski Magazine). Likewise, a backcountry-approved daypack like the RMU Core Pack 35L is a familiar must-have with a cold-weather adventure twist. A travel bag such as this is perfect for your smaller gear, travel documents, wallet, extra articles of clothing, electronics, and more.
Since this is a full-on ski getaway, however, the fun does not stop there — a few additional pieces of luggage are also necessary, such as a ski or snowboard bag, a duffle bag, and possibly even a recreational boot bag. For instance, the Thule RoundTrip Ski Roller (for your skis) and the Eddie Bauer Expedition 22 Duffel 2.0 (think rolling carry-on meets duffel bag) are highly-rated game changers. And having a Sportube Toaster Elite Heated Boot Bag with room for your helmet, goggles, and gloves and a Flylow Remnant bottomless tote (for slope extras) will definitely help take your ski getaway to the next level. Not only will these extras help you keep your gear organized or even heated, but they also make packing for a winter sports vacation effortless, regardless of your mode of transportation.
Ski equipment and snow gear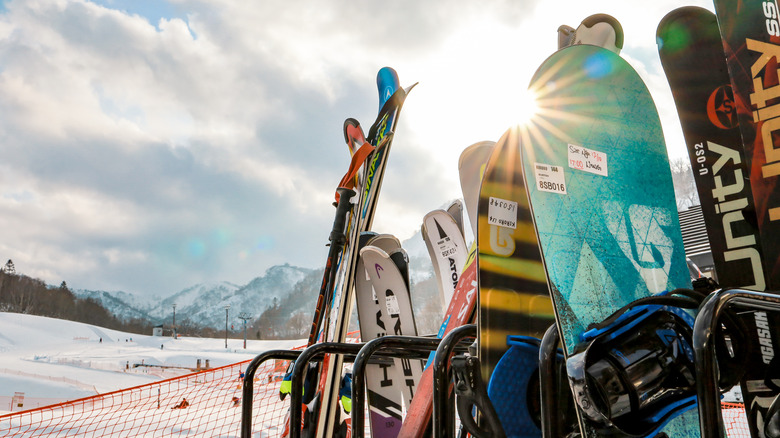 Mai.Chayakorn/Shutterstock
As suggested, having your ski equipment and snow gear in tow makes sense for domestic destinations and ski resorts that are only a few hours away from your home base. Where things tend to get tricky is when you are off to faraway places. Ultimately, it is up to you to decide if the benefits of bringing all your equipment and gear from home truly outweigh the costs. But, if you do not have room in your car or are already dreading the idea of carrying all your heavy equipment through the airport, then you may want to consider shipping most of your gear to your ski resort or trip location.
In addition to shipping bulky ski-trip-related items ahead of time, travelers can opt to keep their gear requirements to a minimum. This definitely comes in handy if you have planned an international or European ski trip. In these instances, it is highly recommended that you figure out what your must-haves are and what would be easier to rent once you arrive at your intended destination. Most skiers' non-negotiables include goggles, gloves, helmets, ski locks, and ski boots. If this scenario sounds more like your upcoming adventure, then pack your ski equipment and gear essentials only. Once your must-haves are ready to go, you can make the necessary arrangements for your skis, poles, or snowboard.
Must-have slope wear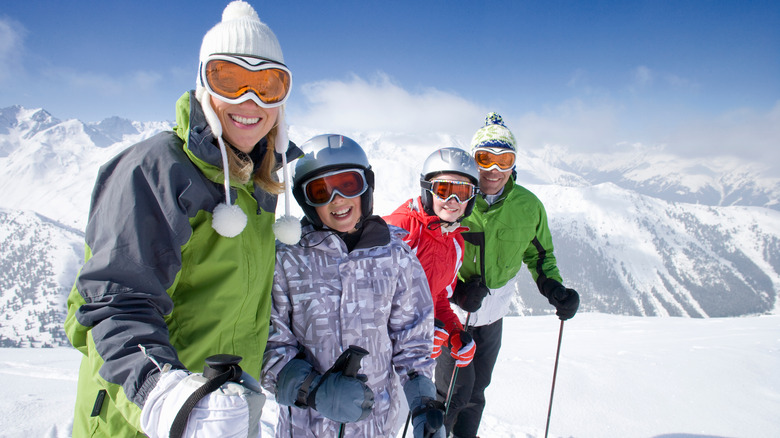 Juice Verve/Shutterstock
Winter sports enthusiasts need specific clothing and outerwear to enjoy quality time on the slopes. Here, being properly dressed and protected from the elements starts with a non-cotton base or thermal layer for both the top and bottom. Depending on the length of your getaway, you may need several pairs of breathable and moisture-wicking thermals — as this is the layer closest to you. But, usually, one to two sets will do you just fine. Your next layer (or middle layer) can be worn more than once and does not need to be anything special — a fleece, long-sleeve shirt, a Patagonia Insulated Powder Town Jacket, or some other kind of top is all you need.
If you do opt for long sleeve shirts or a non-jacket style mid-layer, then roughly three shirts or tops should be enough for a week of skiing. After your warm and comfortable mid-layer, you will need a nice waterproof outer layer (for both the top and bottom). A standard waterproof ski jacket and ski pants (salopettes) or ski suit will work — one to two pairs of salopettes or two ski suits should suffice. Finally, other items like ski socks, a wooly hat, UV protection goggles, waterproof gloves, sunscreen, and your helmet should all be worn when skiing. An optional backpack (a tote or some other easy-to-carry bag for snacks and more) will also make your life a little easier on the slopes.
Boots and other footwear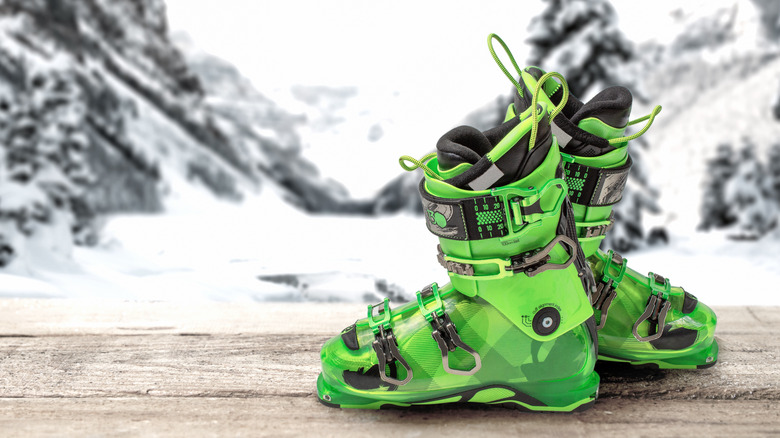 CeltStudio/Shutterstock
Besides a pair of ski or snowboarding boots, travelers bound for the slopes should also pack additional footgear — a winter walking boot, a slightly dressy boot, and a comfy slip-on boot. A helpful winter sports tip here — try on all your footwear with ski socks to ensure that all your boots comfortably fit. If you find any footgear less than comfortable, consider renting boots (if applicable) when you arrive or purchase roomier snow shoes for your trip.
For cold-weather travelers with limited space in their luggage, a durable pair of winter boots made by Sorel, Columbia, or another reputable recreational brand can be worn just about anywhere — at the resort, out and about, to dinner, and on the way to the slopes. If you opt to go this route, you only need two pairs of boots instead of the three mentioned above. Ideally, you want all your snow shoes to have a good grip and decent traction to prevent slips or falls. Other footwear, like flip-flops and slippers, are also ski trip essentials that should be on your packing list.
Casual clothing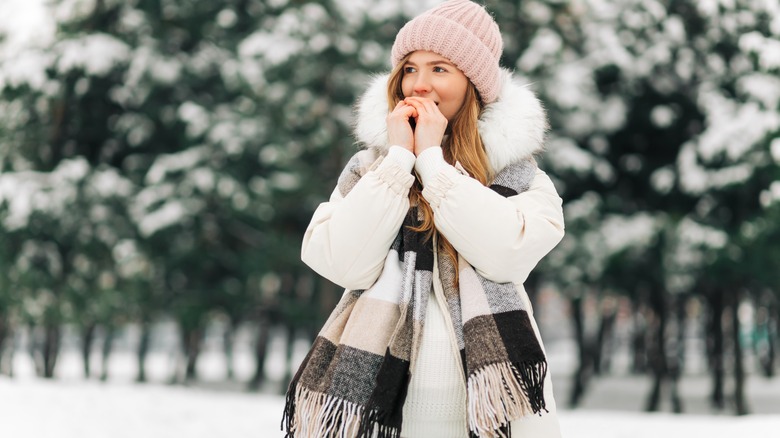 Shopping King Louie/Shutterstock
After your slope wear and footgear are sorted, it is time to tackle the basics. Casual clothing and basic items like undergarments, regular socks, lined leggings, jeans, or athleisure wear should be packed in your bags. You will also need a standard, packable winter coat for the non-recreational portions of your trip.
The nice thing here is you do not have to go overboard with your casual clothing since your focus is mainly on the slopes. Minimalistic packers can even have their ski attire double as their everyday wear. So if you are not overly concerned with what you will be wearing in your downtime, then you do not need to pack a separate wardrobe for casual clothing. Just make sure you have one to two extra tops or a couple of layer-friendly t-shirts (warm flannels and more), two pairs of leggings or jogging bottoms, at least two pairs of warm pajamas, and enough underwear for each day of your ski adventure.
After the slopes wear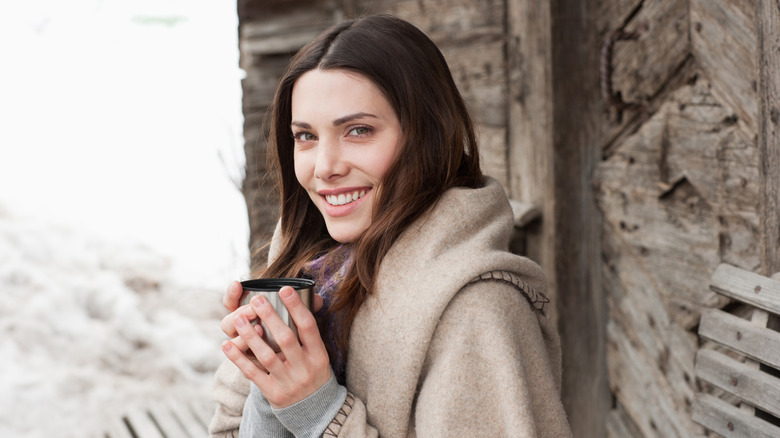 Sam Edwards/Getty Images
In addition to your slope wear and everyday clothing items, winter sports enthusiasts also need to pack a few apres-ski (after-ski) goodies for when they are no longer on the slopes. If this is your first time packing for a ski trip, it can be easy to confuse casual wear with your apres-ski wear, and the truth is some pieces of clothing can easily double as your loungewear. However, there are several essentials here that should make your list.
Typically after a long day on the slopes, most skiers want to enjoy other amenities at their resort and relax. Thus, items like swimwear, trainers (or travel snowshoes), a travel bathrobe, one to two heavy sweaters, a hoodie or cardigan, and warm loungewear (yoga pants or joggers and a sweatshirt) are must-haves. Packing these things will allow you to unwind properly in the sauna, the closest hot tub, or when sipping hot cocoa by the fire after a long, action-packed day outdoors.
Ski trip essentials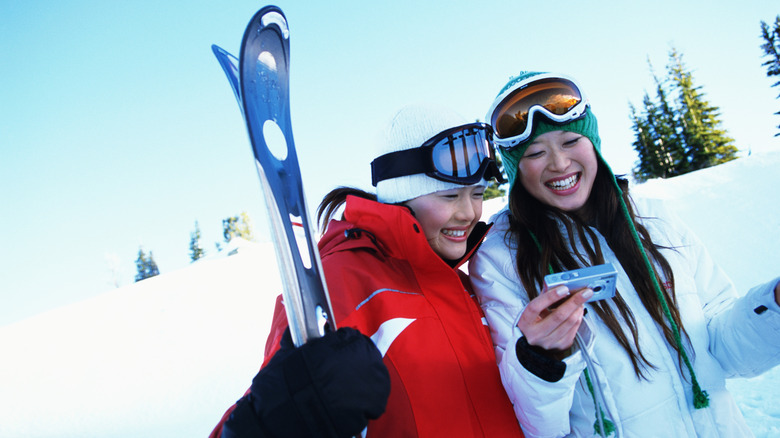 Digital Vision/Getty Images
Once your attire is packed and ready to go, you can turn your focus to the ski trip essentials. Items like a beanie or other winter hats and an extra pair of gloves (waterproof mittens are your friends here) will ensure that you are protected from the elements whether you are skiing or not. Likewise, having one to two pairs of sunglasses, an ear warmer headband, a neck gaiter, face coverings, and warmers (for both your hands and feet) does not hurt either. Though this may seem a bit much, it is important to have extras like these on hand so that you can stay nice and toasty throughout your trip. 
Travelers off on a ski or snowboarding adventure should also have foam rollers for post-skiing stretches and buttpads (for snowboarders). Other essentials like a fanny pack, a fun inflatable snow tube, luggage-friendly games, a hydration pack or collapsible water bottle, and Kleenex for your runny nose are highly recommended during your powdery getaway as well. So excited travelers should not forget to pack these important items.
Travel and ski accessories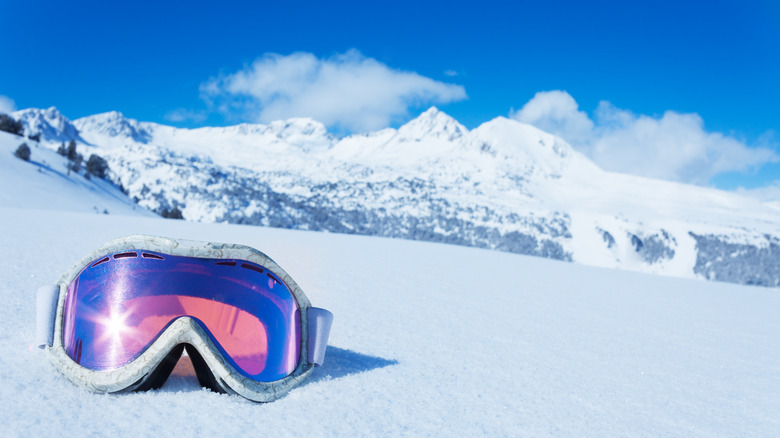 Serrnovik/Getty Images
The standard travel accessories should also have a home among your belongings. So don't forget to pack your headphones, travel wallet, neck pillow, eye mask, multi-bag stacker, insulated travel mug, and more. Not only will the standard travel accessories make taking to the skies easier, but they will also come in handy even if you are road-tripping it to the slopes.
Since this is a ski trip, travelers will likely need several other accessories. Whether you are planning to ski or snowboard, a few must-haves such as a multi-tool, no-fog cloth, mini lock, ski and pole carrier (ski bat), goggle covers, ski wax, binders, and even booster straps will allow you to enjoy your adventure without any hiccups. If you have room in one of your bags, you can add these extras — if space is already limited, however, you can purchase these items when you arrive at the resort. Shoe chains, a Swiss army knife, and a sewing kit are also worth investing in if you don't own them already. That said, if you are flying to your ski destination, pack your sharp items in your checked bag instead of your carry-on or allotted personal item to avoid any issues when going through security.
Cold weather toiletries and first aid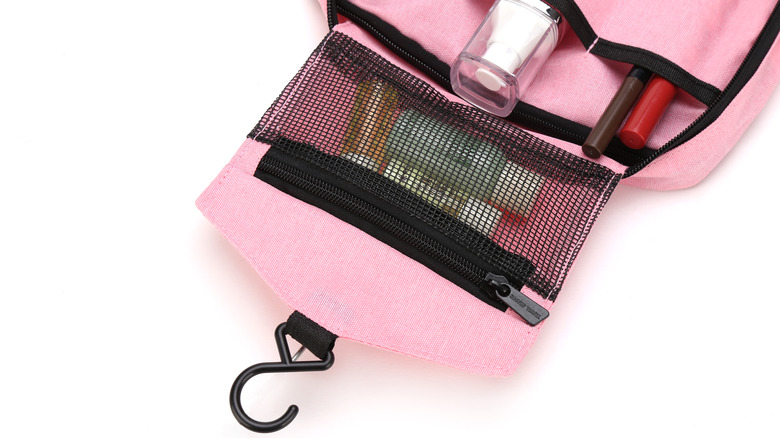 livingpitty/Shutterstock
Here, travelers should have the regular getaway toiletries (in travel-size or bar form), cosmetics, prescription meds, and hygiene products — all of which you can easily stow in your sleek, hanging toiletry bag. However, travelers should keep their toiletries to a minimum as their accommodations will likely provide them with most of the essentials. Thus, when deciding what products are needs and not wants here, travelers shouldn't overlook the cold-weather must-haves like sunscreen, chapstick or SPF lip balm, winter-weather-approved conditioner, Vaseline or face moisturizer, and hydrating body lotions.
Besides having the necessary items to protect you from all the elements, it is highly recommended that all soon-to-be skiers pack a travel-sized first aid kit that fits in their daypack or tote for the slopes. A quick-dry towel, travel scissors, nail clippers, a razor or electric shaver, tweezers, and any items you use daily should also make the list here. And don't forget to add laundry soap (bar, sheet, or pod) and a laundry bag to your luggage while you are at it, especially if you are packing light.
Electronics, cameras, and other tech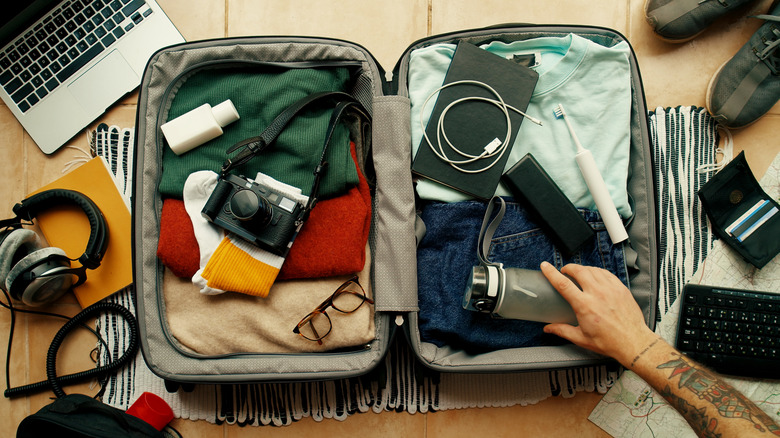 BublikHaus/Shutterstock
After getting all your toiletries together, your electronics and other travel-related tech should be next. Important items like your camera, GoPro, video equipment, smartphone, tablet, laptop, and smartwatch are good to have in tow on a ski holiday — whether it is for entertainment purposes, easy-to-read directions, access to tracker apps, or capturing amazing trip moments. Travelers can stow these things in an electronic case when en route and then transfer them to a portable safe when not in use.
A digital scale, travel adapters (if applicable), a portable charger, and Smith Outdoor Tech Wired Audio Chips (for hands-free, reliable access to your phone and music while skiing) are also travel tech essentials for your ski trip. Charging cords for all these devices, memory cards for your camera, a SIM card (for international destinations), AirTags, and more will ensure that all-tech-related fun is not short-lived. So don't forget to pack all of these things as well as double-check to make sure you have everything you need before heading off to the slopes.
Travel docs, insurance, and lift passes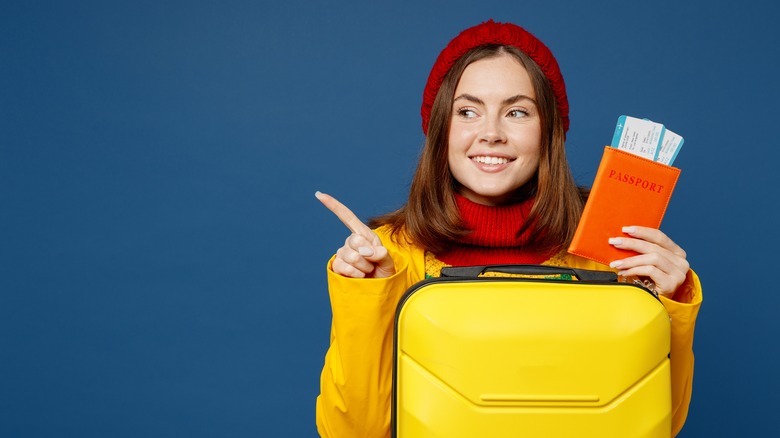 ViDI Studio/Shutterstock
Now that you are almost packed and ready for your incredible ski getaway, it is time to get down to the business side of things. Your passport (if applicable), plane ticket, ID, insurance card, copies of your lodging confirmation, and more should be placed in your daypack for easy access when traveling through the airport. And though it may be tempting to skip the trip insurance for this ski outing, possibly in the interest of saving some vacation dollars, don't do it. Winter sports can be dangerous for a variety of reasons, so having travel insurance is wise.
Alternatively, if you are road-tripping it to the slopes, then just make sure you have the necessary documents (ID, medical insurance card, confirmation for lodgings, and more) on your person. That said, a good number of ski resorts, though not all, allow soon-to-be skiers and snowboarders to purchase their lift passes online in advance. So if your ski destination offers this, then get ahead of the crowds and save money by securing your tickets ahead of time. For travelers who cannot purchase their lift passes early or have electronic copies of them, make sure your slope wear or ski jacket has a convenient, easy-to-reach, zip-up pocket for your ticket, so you have it when you need it.
Extras and miscellaneous items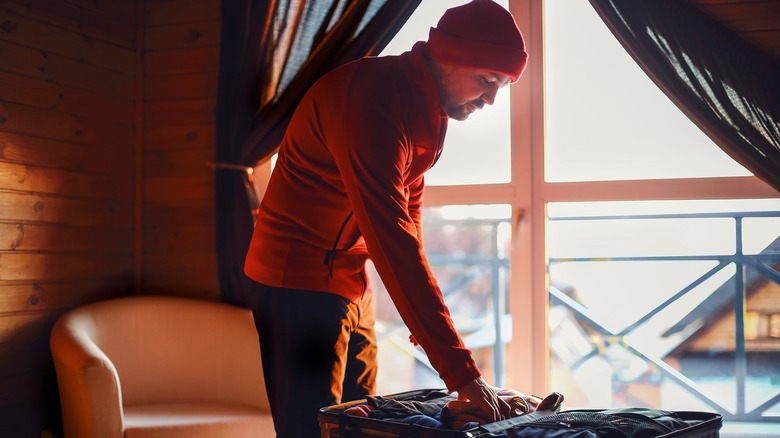 Dasha Petrenko/Shutterstock
Last but not least, there are a handful of extras and miscellaneous items that can make your ski holiday a little safer and more stress-free. So do yourself a favor and pack the following things — a safety whistle, tiger balm for muscle aches, painkillers, sports tape, and ginger chews for altitude sickness. Travelers should also get their hands on some easy-to-carry candy and/or protein (peppermints, Starbursts, protein bars, mints, or some other kind of sweet treat) just in case they get a little hangry on the slopes.
Ultimately, packing for a seamless and relaxing ski experience takes a little forethought. But, regardless of whether or not this is your first time or you're a ski pro, getting ready for a ski trip does not have to be overly complicated. As long as you give yourself enough time to get everything together and make use of the various tips, hacks, and packing suggestions mentioned above, there is no reason you cannot have an amazing ski adventure on and off the hill.