Take A Day Trip To Indiana's Modern Architecture Mecca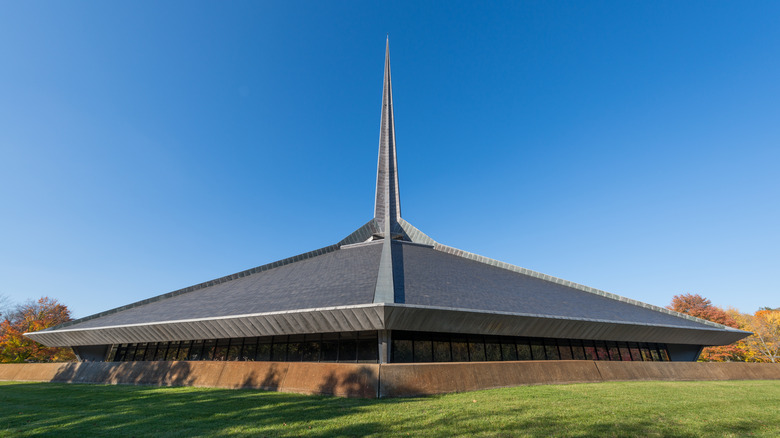 Nagel Photography/Shutterstock
Small-town Indiana might not be the first place you'd think to look for some of America's most stunning examples of modern architecture. However, Columbus, Indiana, isn't your average small Midwestern town. In fact, in 1991, Columbus got sixth place on the American Institute of Architects' list of the top-ten American cities for the quality of its architecture. Around an hour from Indianapolis and Louisville, and 1.5 hours from Cincinnati, Columbus is a perfect day trip destination for architecture buffs.
Many of the town's celebrated buildings were designed by big names in architecture, including Eliel Saarinen, Kevin Roche, Deborah Berke, I.M. Pei, Eero Saarinen, and Harry Weese. A large proportion of the glass and steel structures are public buildings and churches, seven of which have been recognized by the National Historic Landmarks program. These modern constructions are nestled among art displays by world-famous artists and more traditional-looking buildings throughout the city.
The architecture of Columbus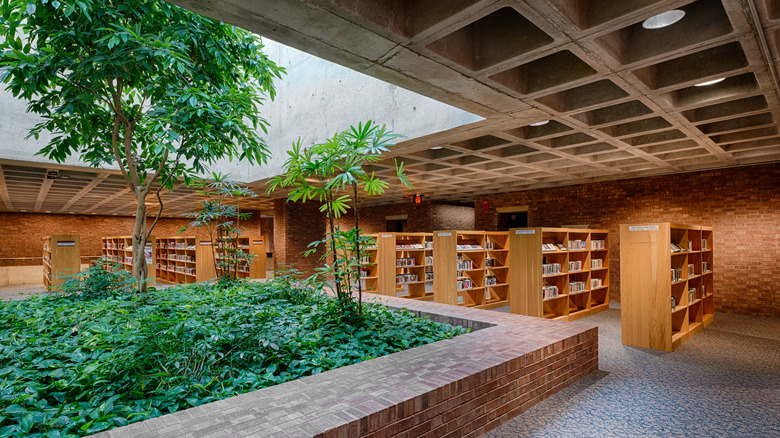 Nagel Photography/Shutterstock
The town's official website lists over 70 architectural sites that make up some of the best of the city. You might want to start with the seven National Historic Landmarks, which include Eero Saarinen's 1954 Irwin Conference Center, built of glass in a landscaped area; the striking First Baptist Church built by Harry Weese in 1965; and Myron Goldsmith's incredibly open glass and steel building, The Republic, erected in 1971.
And there is so much more to discover: fire stations, commercial and industrial buildings, and the Cleo Rogers Memorial Library with its large bronze Henry Moore sculpture outside. Opposite this is the first modern building that was built in the city: the First Christian Church by Eliel Saarinen, which was built in 1942. Even the ice arena looks like a modern Swiss chalet.
There are lots of tours available, including guided and self-guided, which are listed on the town site. The tours will also help to the question, how did all of this architecture and art appear in a town of just 50,000 residents? In short, it's thanks to a man named J. Irwin Miller, who was the head of Cummins Engine Co. and was based in the city. Wanting to attract workers to his company, in the 1950s, he started working with the city to create high-quality and attractive public buildings.
Discover more in Columbus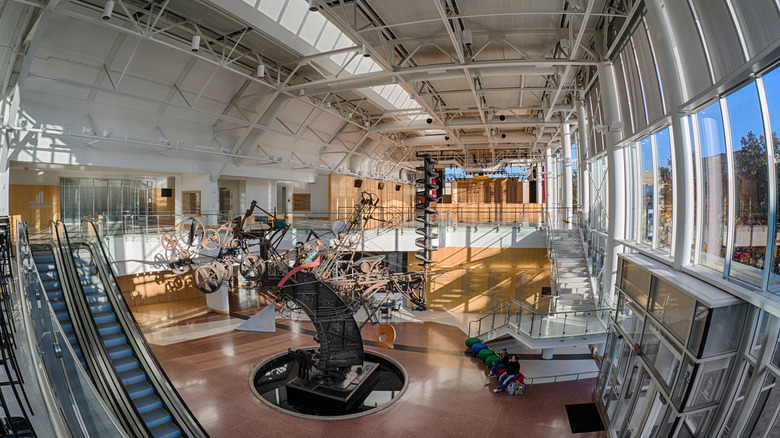 Nagel Photography/Shutterstock
The tours won't just show you the architecture as there's so much more to take in here. You'll also be treated to a viewing of some of Columbus' first-rate public art, from a seven-ton sculpture called "Chaos I" in the fantastic The Commons building, to the more subtle charms of Friendship Way.
You may also want to check out Exit 76 Antique Mall just north of the city during your trip to Columbus. Inside you'll find over 600 vendors selling a huge range of antiques, furniture, and jewelry. Finally, the town is full of historical and delicious places to eat and drink. You might want to check out the Columbus Bar (one of Indiana's oldest restaurants), the Pump House brewery, which sits in a stunning building dating back to 1903, or, of course, Zaharakos Ice Cream Parlor, in operation since 1900. A stop at any of these places is a wonderful way to finish off a day exploring this curious town.