Honeymooners Should Look Into These 5 Alternatives To Oia, Santorini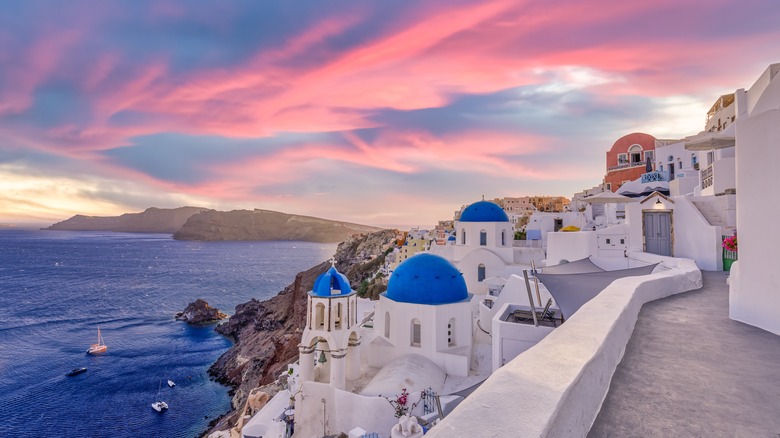 icemanphotos/Shutterstock
Picturesque Oia on Santorini attracts visitors from all over the world with its white-washed houses, blue-domed buildings, and magical sunsets. You might have dreamed of spending your honeymoon here, just you and your love. What you likely haven't been dreaming of are the thousands of strangers watching the same beautiful sunset, heading to the same dreamy restaurants, and wandering the same charming streets. How romantic. 
There's no getting away from the fact that Oia can be exceptionally crowded, especially in the summer high season. A quick look on Tripadvisor and you'll see talk of the crowds that include phrases like "felt like sardines" and adjectives like "brutal." All of this doesn't exactly conjure up the image of a romantic vacation. Luckily, there are several alternative places on Santorini where you can soak up the island's unique atmosphere without the crowds. And, because the island's small, you'll be able to visit Oia from wherever you stay. 
5. Fira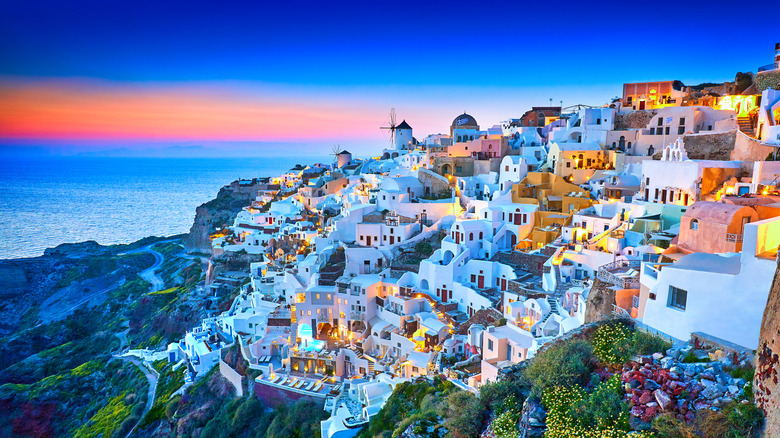 Zebra-Studio/Shutterstock
Our first pick as an alternative to Oia is Santorini's capital, Fira. It sits on the edge of the island's caldera, and its whitewashed houses tumble down a cliff toward the sea. There's plenty to do in Fira from morning till night: Boutique stores, restaurants, bars, and museums line the pretty streets. The sunset views out over the two volcanic islands in the bay are spectacular from here too. Fira also has the bonus of being closer to the airport than Oia and at the center of the island's bus system. If you want to explore the island without renting a car, this is the place for you. 
If Fira is too busy, consider staying in the nearby village of Firostefani. It's become more of a suburb of Fira but remains quieter than the capital. Here you'll also find accommodations, bars, and restaurants, and you'll have picturesque views over the volcano.
4. Finikia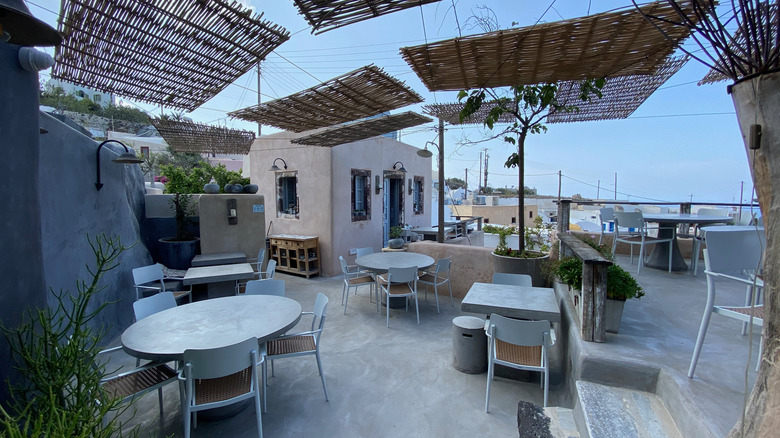 fivetonine/Shutterstock
For those who want to be close to Oia but not in the very thick of its crowds, nearby Finikia might be a perfect choice. It's about a 20-minute walk to Oia, so has almost identical views and majestic sunsets, but is far calmer than its neighbor. The village is surrounded by vineyards and its traditional character has been preserved. You won't find super luxury accommodations here, but the tavernas and narrow streets lined with pastel-colored buildings are incredibly charming. You'll also be able to save money versus how much you would spend in Oia.
A bonus of staying in Finikia is that you are also close to the beaches on the northern shore of the island. The beach resort of Baxedes is nearby, which has volcanic sand and shallow water perfect for paddling or swimming, as is Cape Columbo, where you'll find a wild and unspoiled stretch of sand.
3. Kamari and Perissa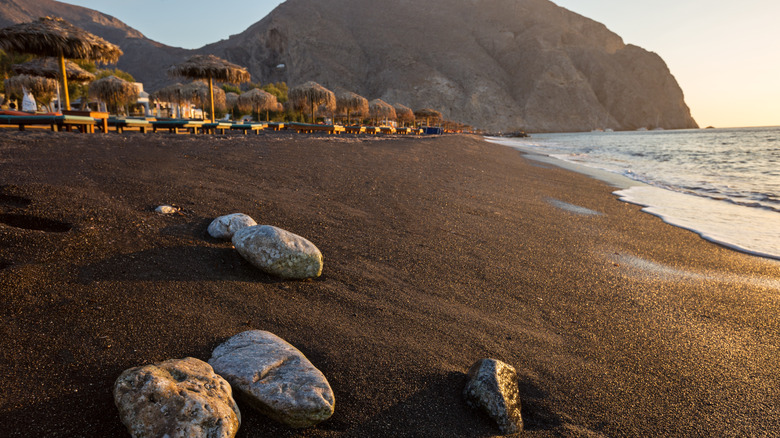 Lukas Gojda/Shutterstock
For more beaches, consider staying in Kamari or Perissa. However, you'll need to be on the opposite side of the island to Oia. On the southeast coast, Kamari and Perissa are two particularly lovely beach areas with different characters. Kamari offers a wide, safe beach lined with tavernas, shops, and restaurants. It's a good choice for families or couples who want a lively daytime atmosphere.
Meanwhile, in Perissa, you'll find one of the island's famous black sand beaches plus lively beach bars, and the opportunity to party. Between the two villages, you'll be able to visit the ruins of Ancient Thera, where you can see the remains of buildings from the Hellenistic and Roman periods. Another bonus of staying on this side of the island is the sunrise views; there's a viewpoint between the two villages that you can hike up to. Both areas are cheaper places to stay than Oia, though you'll easily be able to visit the famous village for sunset.
2. Akrotiri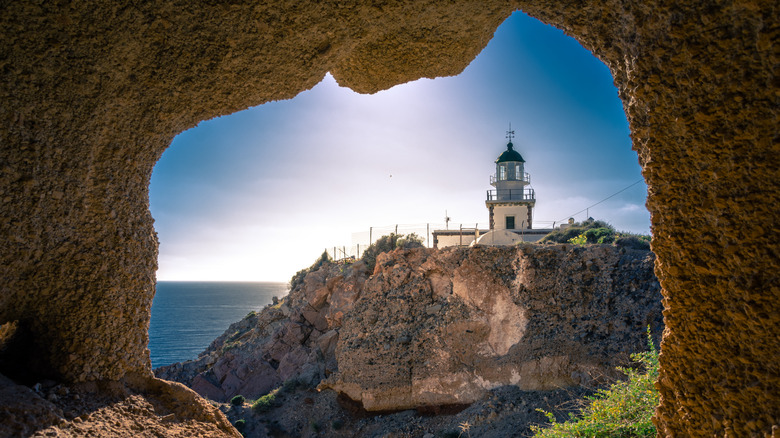 Gatsi/Getty Images
On the other hand, if you're looking for a more budget-friendly option on the caldera side of the island, take a look at Akrotiri. It's a 20-minute drive from Fira, so it's been spared the hordes of cruise ship visitors who usually land in the capital and then immediately head north. Regular buses run from Fira, so you don't need to hire a car if you don't want to.
From Akrotiri, you'll enjoy views of the volcano and even across to Oia, and you'll find plenty to do in the village itself. At the Akrotiri Excavations, you can visit a site that dates back to the Neolithic Age (4500 B.C.), while Akrotiri Castle is a well-preserved Venetian-era fortification. There is also the Akrotiri Lighthouse, which is a fantastic place to watch the sunset. Red Beach, with its red cliffs and red and black sand, is nearby and is a captivating sight.
1. Imerovigli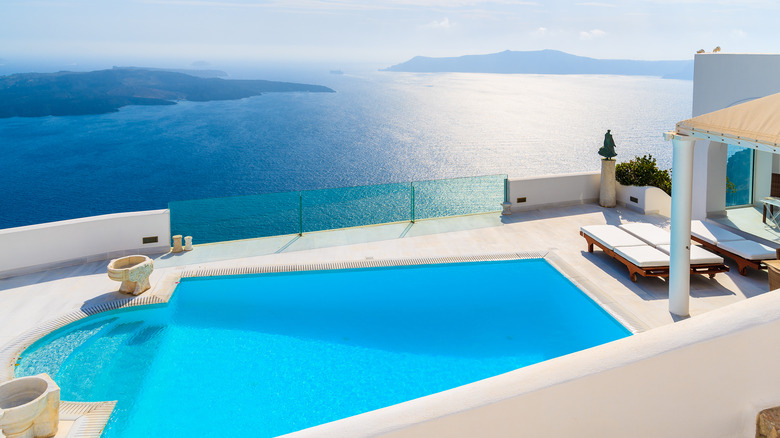 Pawel Kazmierczak/Shutterstock
This might be the last place on our list, but it's actually our number-one pick for the best alternative to Oia for honeymooners. Lovely Imerovigli boasts the same incredible caldera and volcano views as Oia and has a host of luxury hotels that make perfect honeymoon accommodations. All of this, combined with its typical white-washed, blue-domed Cycladic architecture and the fact that it's much quieter than Oia, means it's a very romantic place to stay.
Imerovigli doesn't lack entertainment, though: There are lots of restaurants and one of Santorini's best hiking trails heading out to Skaros Rock. On the edge of the cliff here, you'll find the chapel of Panagia Theoskepasti, from where you'll have stunning views over the Aegean. A little further towards Firostefani, you can visit the Monastery of Agios Nikolaos, which also offers mesmerizing views out to sea and has an interesting folklore museum.