The Ultimate Guide To Disney World For Adults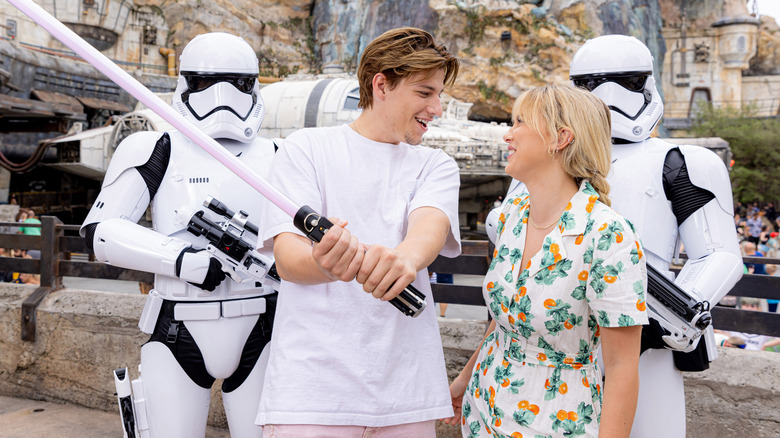 Handout/Getty Images
Adults enjoying Disney World has been hotly debated online for years. Is it weird for adults to enjoy the parks on their own terms without kids? Absolutely not. The whole reason Walt Disney wanted to open theme parks in the first place is that he felt like there wasn't enough fun for adults at the amusement parks he was taking his daughters to. So to say that the parks aren't welcoming for adults is a truly ridiculous notion.
The fact is, adults going to Disney World without kids is actually the resort's largest demographic as of 2022. Childless folks wouldn't be going in droves if there wasn't a lot for them to do. Other than feeling like a kid again, there are tons of ways to enjoy Walt Disney World without kiddos in tow. Whether you want a chill, spa-like experience, 12-hour park days, or a little bit of both, there's a way to experience Disney on your terms.
Enjoy an After Hours event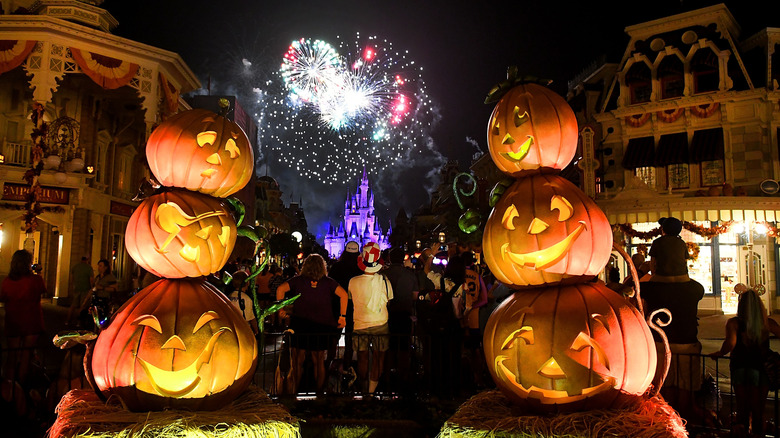 Gerardo Mora/Getty Images
Besides the holiday parties like Mickey's Not-So-Scary Halloween Party, the After Hours events are the best way to enjoy the parks. Parks close early for everyone else, while After Hours guests get to hang in a nearly empty park. Drastically reduced wait times for rides (many are walk-ons), free snacks, and special experiences make these events well worth the extra ticket prices. Plus, these events are generally in three-hour increments from 9 p.m. to 1 a.m., meaning the parks are largely occupied by adults.
After Hours events take place at Magic Kingdom, Hollywood Studios, and Typhoon Lagoon – one of Disney World's two water parks. Each has unique elements to it, like different character interactions, snacks, activities, and entertainment. So someone who is a "Star Wars" super fan might like the Hollywood Studios After Hours so they can ride Rise of the Resistance a dozen times while a Disney princess fan could go to Magic Kingdom After Hours to avoid waiting 90 minutes to meet Princess Tiana.
Hang out at Scat Cat's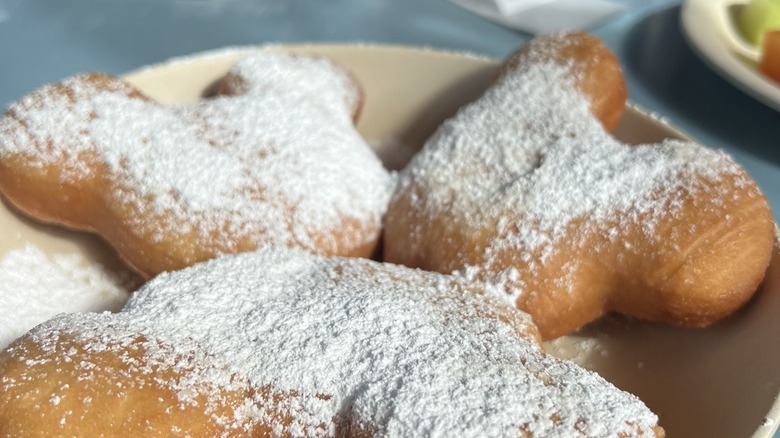 Amanda Finn
Port Orleans French Quarter is one of the best-themed hotels on Disney World property. Other than being able to eat your weight in Mickey-shaped beignets, the hotel is also home to Scat Cat's Club Lounge. There's live music, tasty cocktail options, and a jazzy vibe that you'd expect from the French Quarter. You can even get an oyster po'boy on a beignet — don't knock it until you try it! Or you can go with the safe option of the Baton Rouge Beignets, which are boozy beignets with Baileys, Kahlua, or RumChata.
Five days a week the live entertainment starts at 7:30 p.m. but Scat Cat's keeps the lights on until midnight. It's a great location, especially if you're staying at one of the Port Orleans resorts. You can go there after the parks close for a jazzy wind down to your day before hitting the hay for another long day of theme park adventures.
Indulge in some spa time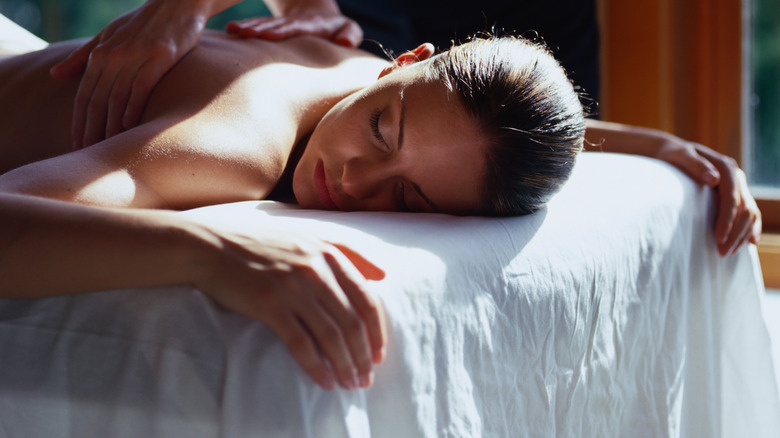 Ryan Mcvay/Getty Images
Disney World has this reputation for being overly expensive. While bottled water might be erroneously priced, activities don't have to be. Obviously, the Grand Floridian Spa is going to be more expensive than the others, but you can still reach your zen without breaking the bank. 
The resort locations that have some kind of massage or spa services on the property are Grand Floridian, the Dolphin Hotel, Animal Kingdom Lodge, Coronado Springs, Wilderness Lodge, and Disney's Yacht Club Resort. What's great about each of these locations is that they're found scattered around the Disney World property. So even if you aren't staying at one of these locations, there are spa services in the same vicinity.
Hotel locations are determined by which of the Walt Disney World theme parks they are closest to. Animal Kingdom Lodge, for example, is closest to Animal Kingdom, the Grand Floridian is closest to Magic Kingdom, and so on. Depending on which area of the property your resort is located on will determine how long it'll take to commute to your chosen spa location. Hotels in similar areas are much easier to get to. Some are even close enough that you can walk, like The Boardwalk area near EPCOT.
Go drinking around the world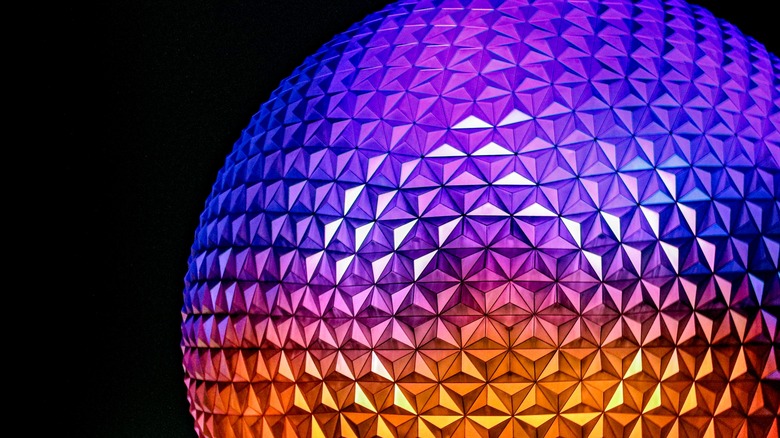 Wirestock Creators/Shutterstock
This isn't a dare. You absolutely don't have to drink eleven drinks (one from each of the eleven countries) around the world at EPCOT, but as an adult visitor, you totally could if you wanted. Many visitors take it as a personal challenge to complete the drink-fille journey, but it can be expensive and nauseating in the Florida heat. Your best bet is to pick and choose what sounds tasty to you at different pavilions and enjoy the drinks – at a safe pace.
If you're traveling with a companion, consider sharing each of the drinks for your drinking around-the-world excursion so you're both only downing five and a half drinks instead of eleven. Don't forget that World Showcase at EPCOT is also renowned for its vast selection of food, so be sure to eat as you're drinking to avoid making yourself sick.
Some of the best drinks at the pavilions include the Wild Strawberry frozen margarita at Choza de Margarita in Mexico, a Habibi Daiquiri at the Juice Bar in Morocco, a Citron Grey Goose slush at Les Vins des Chefs de France in France, and sake from the Kabuki Cafe in Japan. The pavilions also have festival-specific, limited-time drinks available throughout the year when EPCOT hosts its various festivals. They don't always return year after year, so if something sounds tasty and it's in a limited run, give it a try while you can.
Splurge on some indulgent food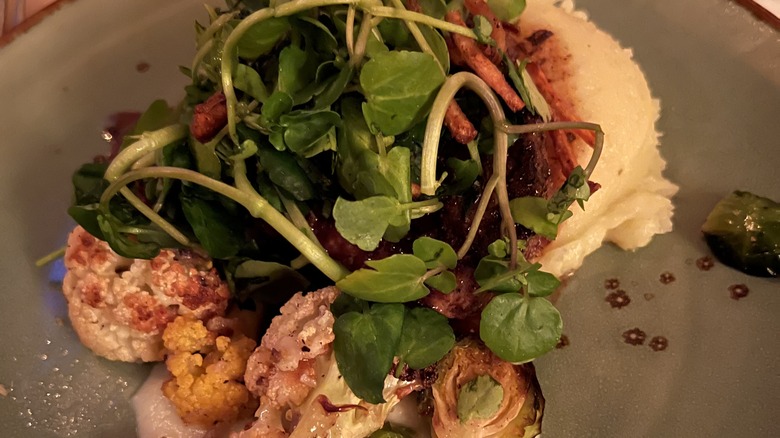 Amanda Finn
As much as we love the corn dog bites at Casey's, Disney World food doesn't have to be diner adjacent. There are plenty of places around the parks and Disney Springs that serves incredible food. From the very expensive to the unique, there are tons of cuisine options to try at every turn at Disney.
Folks who love nostalgic '90s Disney will adore the themes at the Be Our Guest restaurant. Three distinct dining rooms, including the castle ballroom from "Beauty and the Beast," are an experience in themselves, but the food is incredible, too. The three-course meal is prix fixe and absolutely divine for the price. You'll be impressed with how flavorful the filet mignon is and get the vanilla cake with lemon curd if you can in addition to the offered dessert. It's better than the Grey Stuff (sorry, not sorry).
A similarly priced but non-fixed price menu can be found at Tiffins in Animal Kingdom. Named for a luncheon meal often carried in a metal lunch box in India, Tiffins is an amalgamation of African, Latin, and Asian-inspired dishes. Their specialty cocktails are particularly incredible and can be purchased at the restaurant or their connected lounge, The Nomad Lounge. The Lamu Libation with two kinds of rum and four kinds of fruit will turn even the worst day around.
Visit after Christmas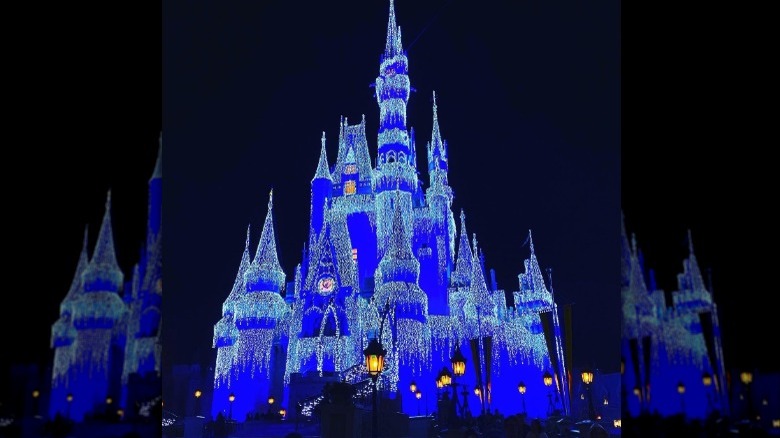 Amanda Finn
Holidays like Christmas and Halloween are major visitor times at Disney World. In part because guests want to see the parks decorated for the holidays, but also because there are special events going on. Obviously, the holiday season is the busiest time of year besides the summer months and spring break. That's why the best time to go is in mid-January and early to mid-February when crowds are some of the smallest of the year. If you happen to go before the middle of January, you'll probably even still catch the holiday decor. The parks often leave up their holiday decorations until the middle of the month.
Temperatures in the winter months can be a bit cooler than the rest of the year, though if you're from anywhere with cold winters, it'll still feel like tank-top weather. Evenings and nighttime can both be in the 50s, so make sure to pack at least a light sweater or sweatshirt to throw on if you need it. You could always buy one at the park if you forget to pack it, not that we need an excuse to buy more Disney merch.
Spend time resort hopping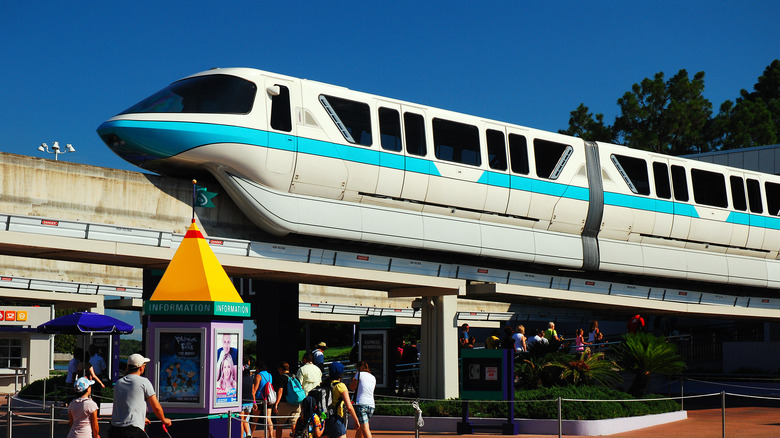 James Kirkikis/Shutterstock
Resort hopping is a special skill that Disney World guests hone over time. You don't have to stay at a certain hotel to check out the property. In fact, that's part of the fun of resort hopping. Taking the Skyliner from Pop Century over to Caribbean Beach just to take a walk in a different aesthetic? Yes, please.
Resort hopping from one of the theme parks is a great excuse to take advantage of some of Disney's most iconic transportation — the monorail. Several of Disney World's coolest hotels are connected to Magic Kingdom via the monorail system, including Contemporary Resort, Grand Floridian, and Polynesian Village. Not only will you get a zippy ride over to these incredible hotels, but you'll also get some prime aerial views, too.
One of the easiest ways to resort hop is to walk to the Boardwalk area from EPCOT. It's quite a bit of walking, especially if you've spent a whole day at EPCOT, but there are several resorts to check out along the Boardwalk. It's also a great excuse to stop by the Beaches & Cream Soda Shop at Disney's Beach Club Resort. It's the cutest ice cream parlor ever with all the tasty ice cream concoctions you could imagine, including the Kitchen Sink ice cream treat, which comes in an adorable Mickey or Minnie plastic sink bowl to take home.
Upgrade your fireworks experience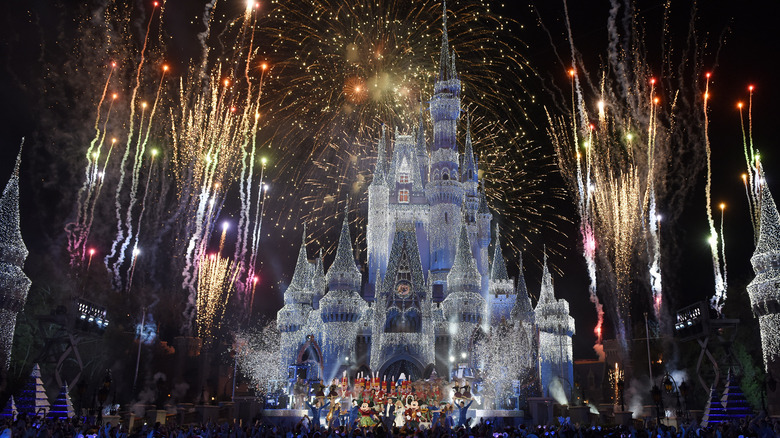 Handout/Getty Images
At the end of a long park day, the Magic Kingdom fireworks are a beautiful sight, but your aching feet might tend to disagree. If you're a hardcore visitor, you'll camp out hours in advance to get a good viewing spot, missing out on valuable park adventure time. One way to avoid wasting precious time and score the best viewing spots is to sign up for a dessert party.
There are several types of dessert parties offered at the different parks. Since Magic Kingdom always has fireworks –- it's iconic, so they have to -– there's always a dessert party in place. The pre-party and after-party dessert options include reserved viewing areas for the fireworks show. The Treats & Seats dessert party takes place during the fireworks and guests have seats at Tomorrowland Terrace to view the show.
Other party options include dessert party cruises in the harbor outside of Magic Kingdom and a party on top of the nearby Contemporary Resort. Each of the parties has slightly different offerings. The parties inside Magic Kingdom will have free beer and wine with desserts and some cheese and crackers. Whereas the party on top of Contemporary will have more small plate options in addition to desserts.
Take a class or take a tour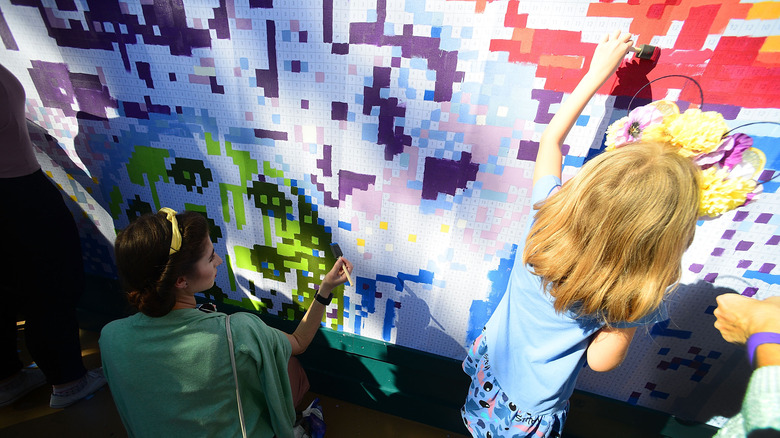 Gerardo Mora/Getty Images
While visiting Disney solo, you could learn to sketch a favorite character, decorate a cake or maybe even take some fishing lessons. There are a bunch of Enchanting Extras offered at Disney World that will expand your horizons. You can go home with a special souvenir or memory. Maybe you'll even discover a new passion for a hobby you didn't know you had!
Decorating a dome cake at Amorette's Patisserie in Disney Springs or painting a picture or attending a sangria class at Coronado Springs resort are all part of the class options offered around the Disney World property.
Similarly, behind-the-scenes tours will take you through areas of the parks you wouldn't otherwise see. You can get the VIP treatment for a day with the VIP Tour, where you'll receive your own personal park concierge, skip the lines, and get a taste of how celebs experience Disney. The Behind the Seeds tour at Living with the Land at EPCOT teaches you all about how Disney grows so much plant life to use all around the property. You'll come away with a deeper understanding and appreciation for the amount of magic (and science) that takes place every day around Walt Disney World.
Get some one-of-a-kind souvenirs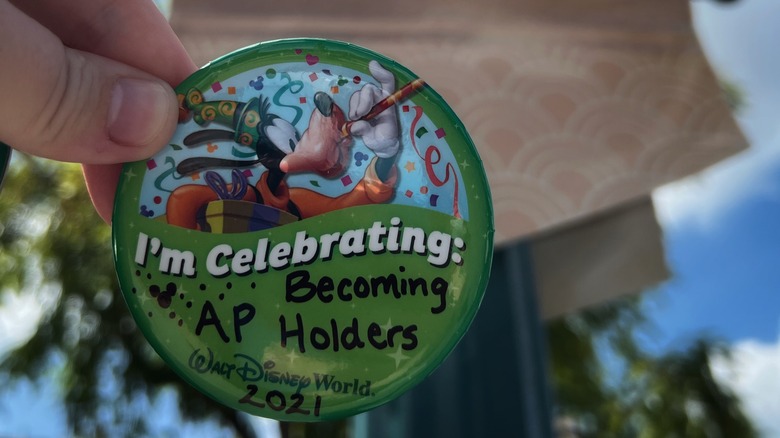 Amanda Finn
Buying souvenirs isn't a difficult task at Disney. What can be hard is finding something truly unique – unless you know where to look. Get a personalized perfume bottle at the France pavilion in EPCOT, a profile cutout in Magic Kingdom or one-of-a-kind works of art in Disney Springs are among the dozens of incredible souvenirs you can take home.
You can take things like the free celebration buttons or a pair of plain Mickey ears to Ye Olde Christmas Shoppe to get some gorgeous personalization. The shop even customizes its own ornaments! Calligraphy by the cast members there is beyond incredible to watch in action. If only we could all be so talented.
Something that doesn't involve spending extra money in the parks is bringing something you care about for characters to sign during meet and greets. A plain journal, a picture to be framed, a mug, a wallet, a purse ... the possibilities are truly endless. Particularly if you're going to a special event like one of the Halloween or Christmas parties where unusual or rare characters will be, collecting autographs is a beloved Disney parks tradition. Kids aren't the only ones who can cherish a special moment with their favorite character.
Avoid school holidays and competitions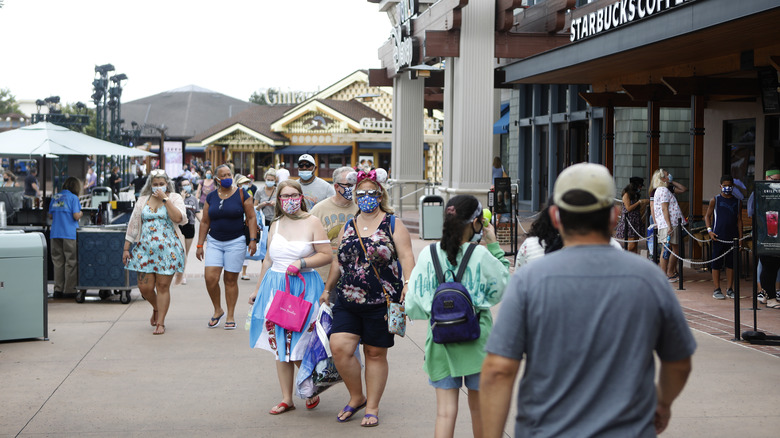 Octavio Jones/Getty Images
If you have ever been to Disney World during cheerleading or dance competition season, you will never make that mistake again. Not only are the parks packed with people, but groups of matching preteens and teens make wait times unbearable. If you aren't a fan of crowds, those groups won't make your discomfort any better.
Generally, you'll want to avoid school holidays like spring or summer break as well as any weeks that have competitions nearby or on the premises. Wait times can be just as bad as the busiest days at the parks and you will not have as much fun. Not only that, but transportation becomes absolute chaos. As convenient as Disney World's transportation systems are, waiting 90 minutes for a bus back to a value resort during competition season isn't unheard of. It's the worst. You will probably get stuck seeing two or three buses fill up if you're unlucky enough to be leaving a park after mobs of school or team groups. After a long day of walking through the parks, it can be painful to stand around waiting to go back to the hotel again.
Check out the seasonal festival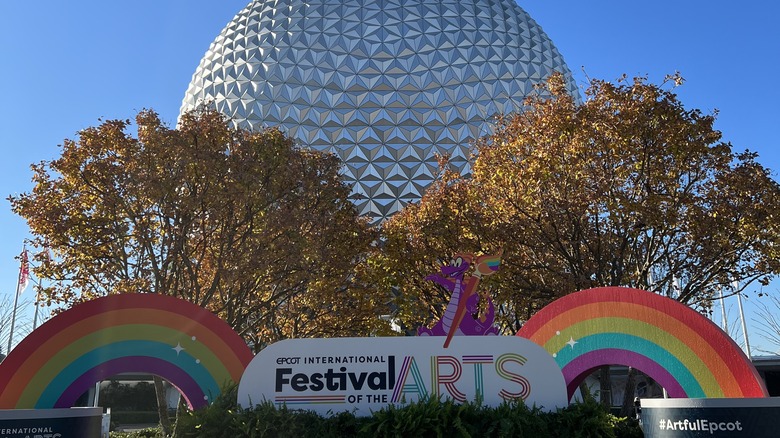 Amanda Finn
Every season at EPCOT, there is a new festival to celebrate. Festivals bring different live entertainment options, specialty food, drinks, and activities to do. Events like the Spring Flower and Garden Show bring back gorgeous, hand-pruned topiaries all over the park for photo ops.
For musical theater fans, the wintertime Festival of the Arts has a Broadway showcase at the America pavilion. Different musical theater performers, many with Broadway resumes, will belt out show tunes at these events that are free after park entry. There are often dinner packages with reserved seating so you don't have to wait around holding spots, but even from afar, the performances are phenomenal.
Plus Festival of the Arts is a great time to get more unique Disney-themed art for your home. Booths are set up all over EPCOT with all kinds of artists, so there is bound to be something for everyone. From massive, expensive paintings to little souvenir-sized postcards, there's also something for every budget too.
Pick a resort based on your park day itineraries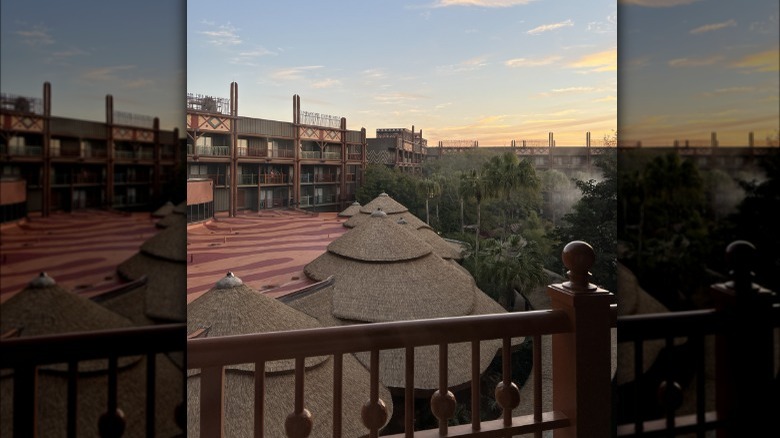 Amanda Finn
There's no reason you, as an adult without a kid going to Disney World, can't stay at All-Star Movies or Art of Animation. These resorts are larger than life, heavily influenced by Disney films and let you feel like a kid again. Plus, if you plan on spending most of the days at the parks, it doesn't really matter that there aren't a lot of amenities outside of some food options and a pool. But if you plan on spending a lot of time at the resort, it's worth considering upgrading your experience to a property with more amenities to keep you occupied.
If you plan on splitting your time between the parks and your home resort, consider an upgrade to a moderate or deluxe resort instead. These hotels are still beaming with Disney magic, just on a more luxurious scale. You can go on safaris at Animal Kingdom Lodge before being pampered at the on-site spa, indulge in some relaxation in your own over-water bungalow at Polynesian, or hit up a hotel along the Boardwalk for easy access to lots of activities and eateries. No matter what level of hotel you pick, Disney hotels are just a special kind of place.
Embrace your inner child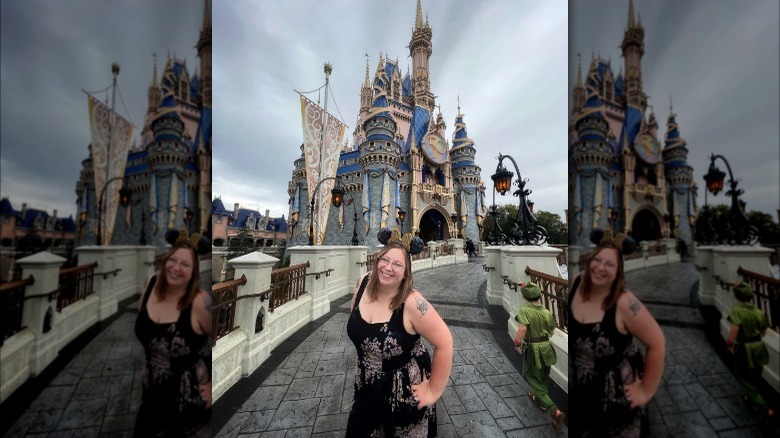 Haggerty Photography
One of the reasons why Disney World is beloved by countless people is because we are free to be ourselves. You don't have to be afraid to be silly, embrace your inner child or cry during a fireworks show. Wearing mouse ears, matching t-shirts, eating character-shaped ice cream, or hugging it out with your favorite cartoon characters is part of the magic. Even if you cringe at the thought of doing any of those things, having fun is the whole point of Disney World.
It's okay to take goofy pictures standing with the massive character statues at All Star Movies or deck yourself out in Disney gear every single day. There is no one right way to have fun at Disney World. The single wrong way is to not let yourself enjoy the magical moments. It's called The Most Magical Place on Earth for a reason -– just embrace it.