Immerse Yourself In Spanish Culture With An Incredible Food Tour Of Marbella, Spain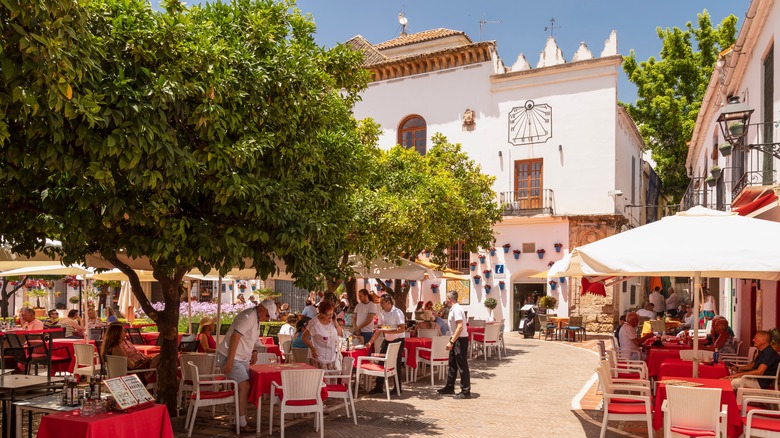 Jan van der Wolf/Shutterstock
One of the best ways to experience the culture of Marbella, Spain is by tasting the local cuisine, and there's no better way to do it than taking a food tour with a local. Marbella is a beautiful and sunny coastal city in southern Spain in the Costa del Sol territory. No doubt Spain has some of the best weather in the world, but Marbella boasts more than just good weather. It has a rich and diverse food culture, from delicious tapas to traditional pescaito frito.
An unforgettable food tour of Marbella also gives you the perfect way to explore the city's culinary offerings while learning about the local culture. Your local food guide will take you through the streets of Marbella to visit some of the best restaurants to enjoy various different dishes before you finish with dessert. Not only will you get to sample a variety of dishes but you will also learn about the history and culture of the area, and make new friends along the way.
An overview of the Marbella food tour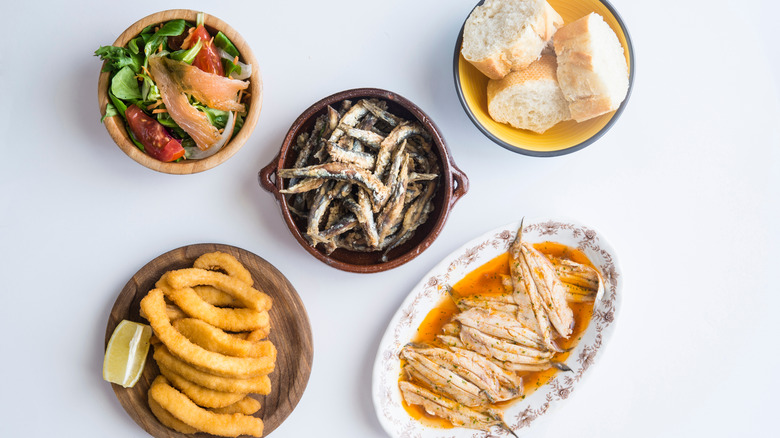 Dalaifood/Shutterstock
Spanish food culture is a blend of traditional and modern influences, but since Marbella is located on the southern coast of Spain, it has also received influences from both Mediterranean and Andalusian cuisines. During your Marbella food tour, you will meet with your local guide at the Marbella Lighthouse to start your walk to the different restaurants for a variety of tastings. Your food tastings will also include water, wine, beer, or soft drinks. If you decide to choose wine or beer, ask for good pairing recommendations for an even better tasting experience.
Pescaito frito (roughly translated to "fried little fish") has its roots in Andalusian cuisine. It features fish covered in flour and fried in olive oil, then served with a sprinkling of salt or lemon. It is a perfect appetizer. To cleanse your palate, you can go for the salmorejo, the Andalusian equivalent of gazpacho. It is a cold soup made using tomatoes, vinegar, olive oil, and salt. There are also many other tasty dishes for you to sample on this culinary journey, so make sure to bring an appetite for this food tour.
The benefits of a food tour and what to expect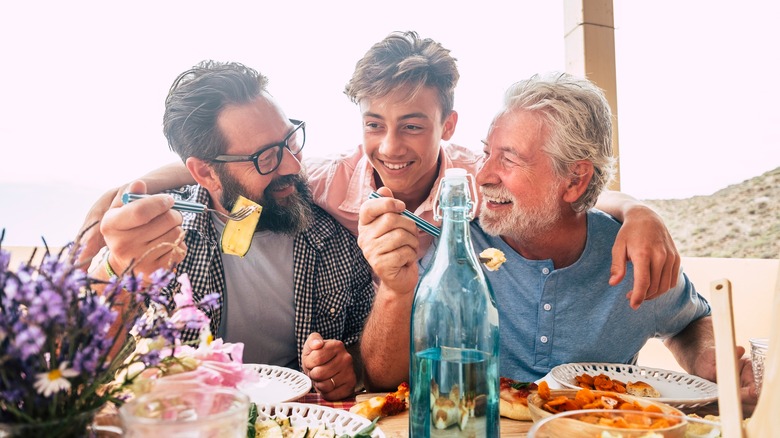 simona pilolla 2/Shutterstock
There are many benefits of getting to know Marbella through a food tour with a local guide. First, it allows you to explore the city and the buildings where restaurants are located while gaining new insights into the local culture and cuisine that you would not get if you were exploring the area independently. In addition, locals know their city best and can provide you with further recommendations of places you shouldn't miss and things to experience, all while you get to sample a variety of dishes and drinks. The Marbella food tour is also a great way to meet a small group of like-minded people and even have the opportunity to make new friends while enjoying delicious meals.
The Marbella food tour starts in the early evening and takes about three and a half hours to complete. Participants should wear comfortable shoes since there will be a lot of walking toward different restaurants. The food tour is offered either on Wednesdays or Sundays, and children under five years are free of charge, so the food tour makes for a great mini-family adventure.