How To Make The Most Of Your Ride On The London Eye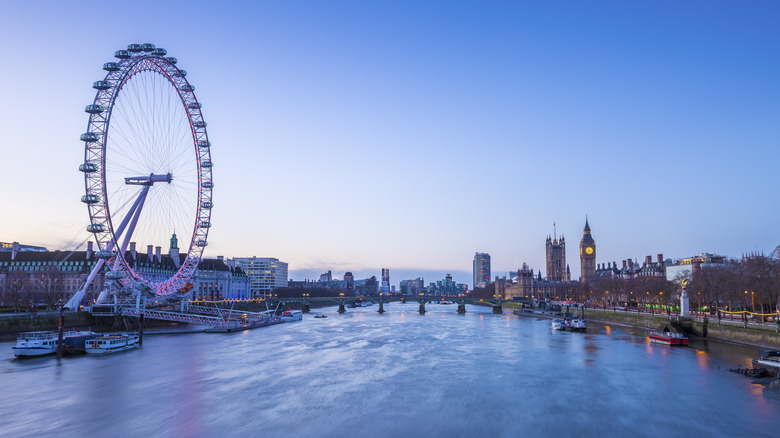 Zoltangabor/Getty Images
It's one of the most iconic and architecturally unique tourist attractions along the River Thames in London, England. It's also one of the most popular, as reported by Eating Europe. Standing at 443 feet in height, the London Eye (aka Millennium Wheel) may look like a gigantic, space-age, Ferris wheel, but Londoners and its designers will tell you it's something completely different. In fact, it's been reported that this intriguing specimen of carbon steel and laminated glass, oblong capsules, is the tallest cantilevered observation wheel on the planet.
Fully run on environmentally-friendly oil, the London Eye's construction and utilization epitomize the new generation of sustainable tourism in a city that is nearly 2,000 years old. And, when visiting this highly popular tourist attraction on the South Bank of the Thames in London, you'll want to make the most of your ride, and we're going to tell you how.
What to know before you ride the London Eye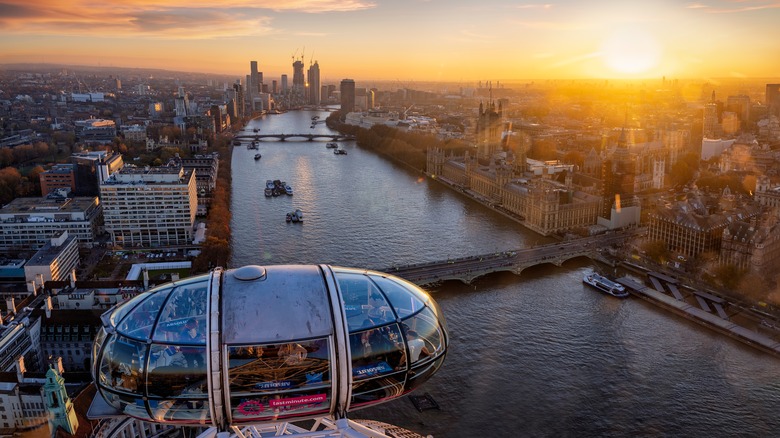 Sven Hansche/Shutterstock
The first thing you need to know is that like any holiday or tourist destination, the London Eye has its peak and off-peak seasons. Holidays, weekends, and summer break witnesses millions of visitors each year, as reported by London Tickets. Due to its popularity, buying official tickets in advance online offers visitors a better rate than purchasing them upon arrival. There are a host of options for ticket purchases ranging from basic and fast-track tickets to all-inclusive tickets pairing your visit to the London Eye with a handful of other attractions nearby. For those who prefer a bit more privacy, or are planning a special event, the option of booking a Private Pod is also available.
Before arriving at the London Eye, make sure to check their website for opening times, as they vary throughout the year. If you're an early bird, in order to avoid the long queues and crowds that gather, arrive at least one hour before peak time, as recommended by CNN Travel. However, to really see London in all its illuminating glory, make your way to the London Eye just before sunset and hop on board one of its capsules as the sun begins to bathe the city, Thames, and everything around you in golden-amber and pinkish-blue hues. Not only is it the most romantic time to ride this 360-degree wonder, but it's also the least chaotic.
Get your cameras ready for those perfect pictures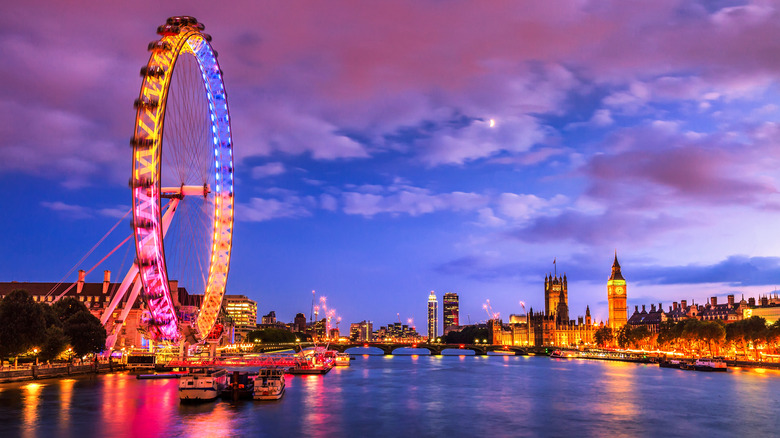 FenlioQ/Shutterstock
Photographers will tell you that in order to capture that perfect picture, natural light needs to be at its optimum. But natural light has its seasons, too. In the fall and winter, the sun sits lower in the sky. Between spring and summer, it sits much higher. Bear in mind, while standing within one of the London Eye capsules as you ascend and descend in a circular motion, capturing that perfect image will depend on what time of day you're riding and the season. When the sun is sitting at its highest overhead, views of the city and its surroundings are visibly clearer and make for fantastic photos.
If you're like many of us who love sunset shots and the twilight hour, you won't be disappointed angling your camera just so, to capture London lit up in a fiery glow. For those who don't mind braving the crowds, an exceptional time to be riding the London Eye with your trusty camera in hand is on New Year's Eve, when the London sky is filled with vibrant bursts of light from the fireworks celebration. And, if you want to capture those really special moments with someone, make sure to check out the many unique experiences they offer for special events as well.