Why Sundance Is The Perfect Time To Hit Utah's Ski Slopes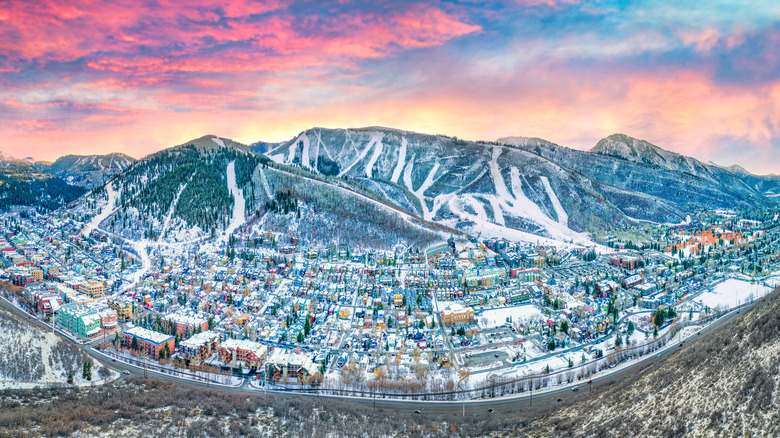 Kevin Ruck/Shutterstock
Utah is a wondrous state filled with epic views and vistas, sprawling national parks, and unbelievable scenery, but it also boasts great skiing and snowboarding during the winter months. As soon as the snow falls thick enough to get the runs open, towns like Park City hunker down to prepare for the crowds who come to enjoy the fresh powder and delightful attractions. If you enjoy winter sports, you're likely used to busy resorts and cities that fill up with snow lovers, and predicting long lines or busy slopes isn't a stretch. However, there is one time of year you can plan to visit Utah's premier skiing and snowboarding destination without worrying about these things.
Many people know of the Sundance Film Festival, and for those who don't, it can easily be summed up as a culmination of the world's best and most revered storytellers who are searching for new and innovative works to share with the world. Every January people gather in Park City, Utah, to unite under the banner of creativity. And while the puffer jackets and snow boots are swapped out for furs and designer shoes down in the town, the mountain itself sits mostly empty, making this festival one of the best times to book a ski trip.
Why you should book during Sundance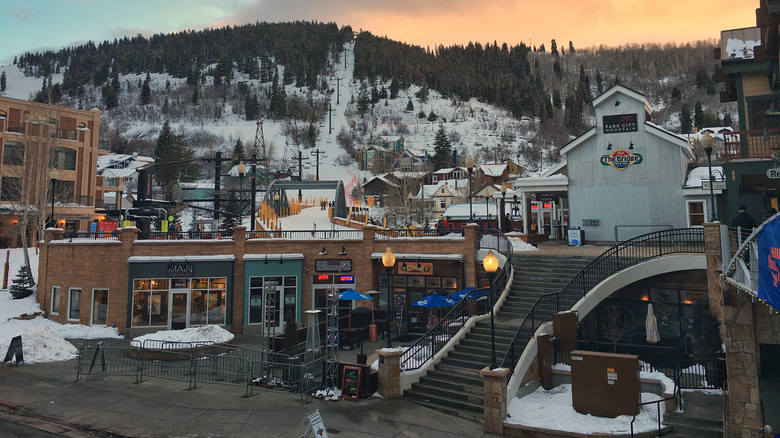 PureRadiancePhoto/Shutterstock
There are several reasons why Sundance Film Festival is an opportune time for avid skiers and snowboarders to come to Park City. The first, and main, reason is the free rein you'll get thanks to the draw of the screenings in town. While movie lovers and celebrity spotters are hanging around looking for tickets or the chance to snap a photo, those who are serious about enjoying the runs can feel as if they have the mountain to themselves. This time of year sees fewer people on the slopes, and more people milling around the bars, restaurants, and other venues down below.
One drawback of booking during Sundance is the heightened demand for accommodation. According to Park City Magazine, finding a place to stay can be tricky because of the influx of reservations for the film festival. Dining at restaurants can also prove taxing, with tables being snatched up left and right by attendees. However, if you book early enough or manage to find somewhere to stay, you'll be one of the first to fly down the powdery hills, and the lift lines will be almost nonexistent. If you really want to take advantage of this dip in mountain activity, Stephen Follows recommends booking a place to stay starting in the summer of the year prior to your trip. This ensures you'll have somewhere to sleep, then you can stock up on groceries and eat in to avoid the crowds.
That's not all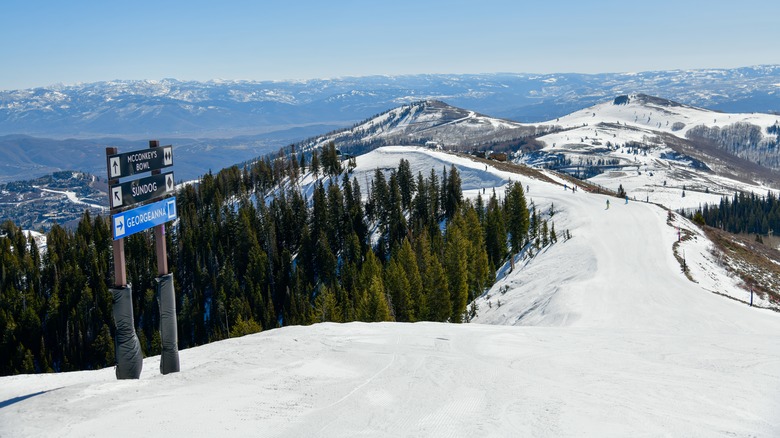 FashionStock.com/Shutterstock
You can't deny that empty slopes and short lines is already tempting enough, but there are other perks of booking your trip to Utah. You'll be able to check out neighboring resorts that will also see a downtrend in attendance. Little Cottonwood and Brighton can be reached from Park City fairly easily, and the stretch from Salt Lake Valley to Alta can be done in under an hour. Trying out a new resort during one day of your stay can be a way to change things up, and you still won't have to travel too far or worry about lines or crowds.
If you are interested in the celebrity scene, your chances of spotting someone famous while in town are high, and it can be fun wandering around people-watching. Make sure to book reservations for dining early on too, because with such a big event in town, the most popular eateries will fill up quickly. Once you have a table at some of the coveted restaurants around, you're more than likely going to catch a glimpse of a favorite actor or actress, or an up-and-coming name at the very least.