The Dublin Neighborhood That Can't Be Missed For The Hungry Traveler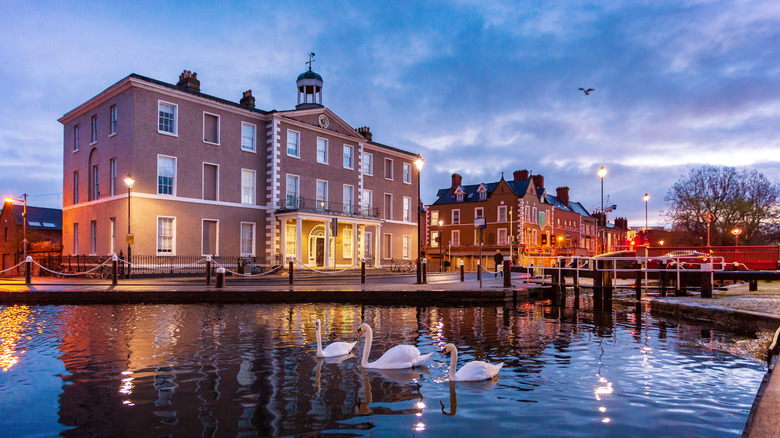 Lukas Fendek/Shutterstock
Dublin is one of those fascinating cities in Europe with narrow streets, canals running through its districts, the famous Temple Bar, Book of Kells, Guinness Storehouse, and let's not forget the impressive architecture of Dublin Castle. Many travelers visit Dublin and travel around Ireland to experience the Irish pubs, castles, ruins, folk music, diverse landscape, and history of this beautiful country. However, few will visit the Emerald Isle for its food, but Irish cuisine is comforting, hearty, and delicious!
If you are a foodie and Dublin is in your travel plans, you must visit Portobello, a Dublin neighborhood that the Irish Times refers to as "Hipsteria Lane." It is full of historic buildings and streets named after British rulers. This Dublin neighborhood is also within close distance of the city center, and is the birthplace of George Bernard Shaw, a playwright who revolutionized comedic drama. It also houses the Irish Jewish Museum and the Iveagh Gardens and provides proximity to St. Patrick's Cathedral and St. Stephen's Green. What makes this neighborhood stand out from the others is its assortment of restaurants and pubs that provide the perfect blend of Irish food and ambiance with a mix of cuisines from other countries. We'll provide you with details of the best places to enjoy Irish cuisine and show you why this Dublin neighborhood is a must-visit for foodies.
Best places to eat the most important meal of the day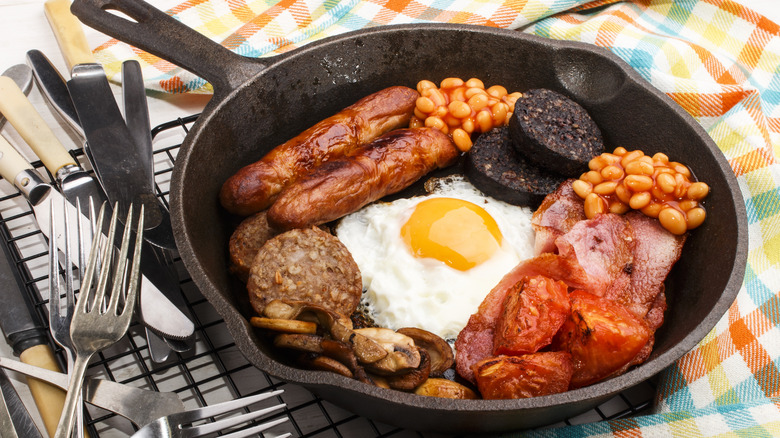 Szakaly/Getty Images
There is nothing better than eating a hearty breakfast to fuel the body. The Irish Road Trip states that foodies will love the Portobello neighborhood as it is home to tasty places to eat breakfast and brunch, including 31 Lennox and Kavanagh's Pub New Street. 31 Lennox is in the heart of the Portobello neighborhood, and you won't miss it thanks to its dark blue storefront. This Italian-style café and restaurant provide foodies with different menus along with some brunch options for adults and kids. Some of their breakfast dishes include a brioche scramble combo and the 31 Lennox full breakfast. It is a full Irish breakfast with poached eggs, sausage, smoked bacon, Whelan's white and black pudding, baked beans, and rosemary potatoes. Plus, all of their meats are locally sourced. Not a meat eater? 31 Lennox offers vegan options, and if you love coffee, you must get a cup of their "award-winning artisan coffee."
Kavanagh's Pub New Street offers affordable breakfast and dinners, including soup, sandwiches, wraps, wings, burgers, pizzas, fish, topped fries, and a roast of the day. Some other food landmarks in the Portobello neighborhood include the Bretzel Bakery offering freshly-made bread and pastries. Alma is an Argentinean family restaurant serving brunch classics using fresh Irish produce. Other brunch locations include Brother Hubbard, Bibis, and The Cake Café. No matter where you end up eating, you won't be disappointed.
Foodies will love these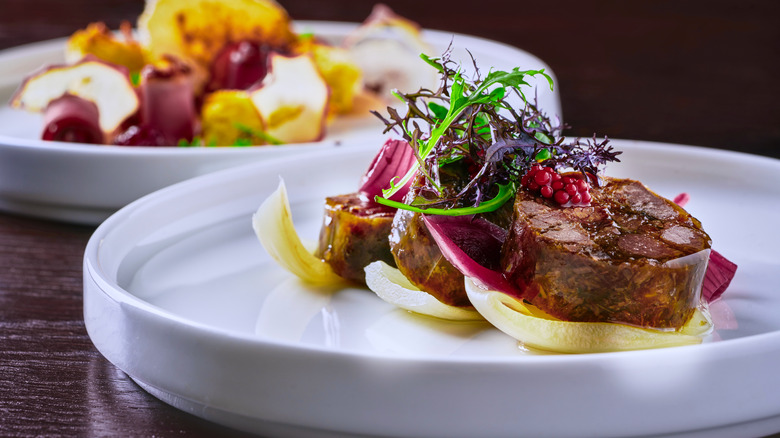 FOOD_PHOTOGRAPHY/Shutterstock
If there is one thing Dublin is known for is its Irish pubs, and the Portobello neighborhood certainly has some fun ones to offer locals and travelers alike. According to The Irish Road Trip, Whelan's (aka Bourke's) is the best place to listen to live music and offers an Asian street food menu. Whelan's also has a lively history dating back to 1772. The pub changed ownership several times when in 1989, Gary Whelan and Ian Keith acquired the property and turned it into a music venue.
For those who wish to eat at a Michelin Bib Gourmand restaurant, there's Richmond. This eatery offers brunch and dinners with contemporary meals made by head chef David O'Byrne. Bastible, meanwhile, creates its menu based on seasonal Irish produce. For tasting menus and a fully-covered terrace, foodies will want to eat at Delahunt. The restaurant provides a variety of menus, including vegetarian and vegan, along with a cocktail bar. Other dinner and pub locations in the Portobello neighborhood include Devitt's Pub, The Camden sports bar, and The Lower Deck. From breakfasts to pubs, the Portobello neighborhood will certainly keep foodies happy.