Take In Breathtaking Views Of The Chicago Skyline From The City's Tallest Building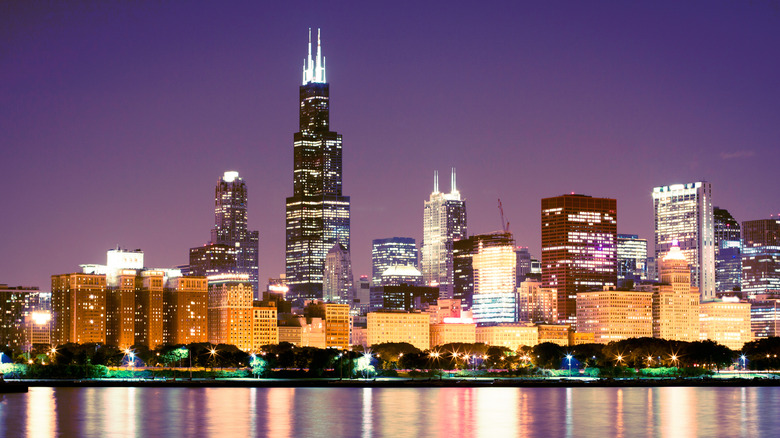 MaxyM/Shutterstock
With its towering skyline, Chicago is one of the most beautiful cities in America. The city's unique architecture and iconic landmarks make it a sight to behold. From the Chicago River to Cloud Gate (better known as "The Bean"), there are plenty of reasons why Chicago is so beloved by locals and visitors alike. Catching a view of the city from across Lake Michigan or along the riverfront is just breathtaking and you could take a Segway tour to see it all.
But no place in the city offers a better view than Willis Tower (formerly the Sears Tower). At this historic building, a glass elevator takes you up 103 floors to the Skydeck where you can experience 360-degree views of one of the world's most iconic cities. Even more amazing, on a clear day, you can see as far as four states away! Here, you'll get an even more thrilling view than you would anywhere else in this bustling metropolis.
Things to do at Willis Tower in Chicago
Besides getting thrilling views of the city, there is plenty to do at Willis Tower. The building features interactive displays that tell you all about the history of Chicago and its skyscrapers. For those looking for an adrenaline rush, there's also a glass ledge — creatively named The Ledge — where visitors can stand and take in the views from the dizzying height of 1,353 feet above the ground. If that's too much for you, you can also learn about Chicago from its early days up to modern times in an interactive exhibit, the Skydeck Chicago Virtual Tour.
But for visitors of Chicago who consider themselves a bit more fearless, Willis Tower also offers an unforgettable dining experience. Book a table for their dinner service where you can enjoy a classic Chicago deep-dish pizza while you feel like you're floating on air above the lights of the city.
No matter why you visit Willis Tower, you're sure to have a memorable experience. From the breathtaking views of the city to its many entertainment and shopping options, there's something for everyone at this iconic building. So make sure to add it to your must-see attractions in Chicago!