Why Locals Are Calling Udaipur The Most Romantic City In India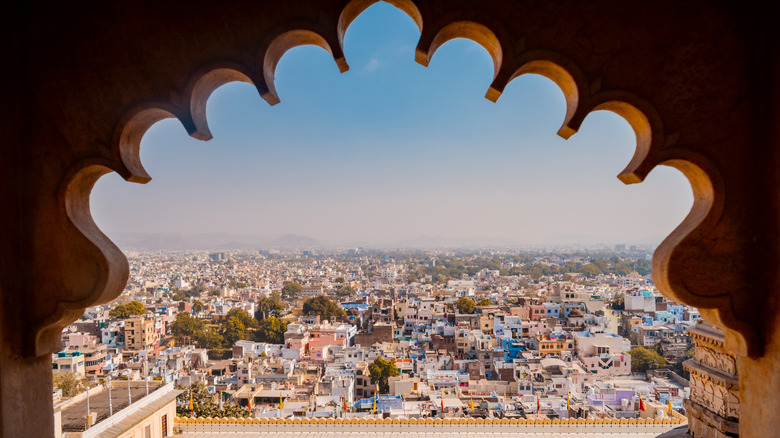 Anshul Dabla/Shutterstock
The Venice of the East ... the most romantic place in India ... the city of lakes and palaces ... Udaipur has many nicknames, according to Travelogy India, and all evoke an image of a place made for love and lovers. This city in India's Rajasthan is the perfect place for a romantic getaway.
One of the top recommendations for couples traveling to Udaipur is to visit Sajjangarh, also known as the Monsoon Palace. Sushmita Srivastav, writing for Traveldine, suggests taking a leisurely drive through the lush countryside up to this palace, built to track the monsoons, according to Tour My India. The attraction here is the view, which extends over the city and surrounding area and is truly stunning.
Another peaceful place to spend time with someone you love is Saheliyon ki Bari, known as The Courtyard of Maidens. Enchanting Travels writes about strolling stroll past the pool, fountains, and marble statues here.
Attractions around Lake Pichola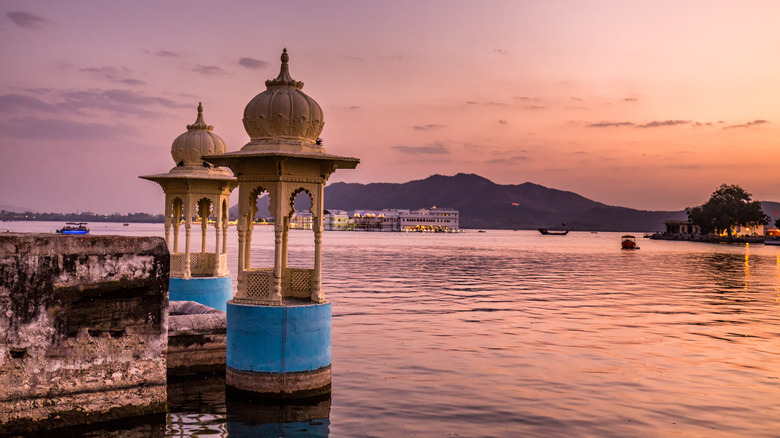 Ruslan Kalnitsky/Shutterstock
Many of Udaipur's most famous attractions are clustered around, or even in, Lake Pichola. Udaipur Tourism advises visitors to go to Jag Mandir, a palace that seems to float on the lake surface. The palace has pretty gardens, a restaurant, and seven hotel rooms for the ultimate romantic stay. The Taj Lake Palace Udaipur is on nearby Jag Niwas Island; this is a fantastically luxurious hotel but, alas, casual sightseers are not welcome.
As evening draws in, Udaipur really starts to up the romantic vibes. Kiran Bisht, writing for Travel Triangle, recommends heading to Lake Pichola for one of the most glorious sunsets you'll ever see. Bisht gives two wonderful options to watch the sunset here: the Sunset Terrace at Fateh Prakash Palace, right on the lake shore, or a boat ride on Lake Pichola, watching the sky blaze with bright colors and then become studded with stars. Staying around Lake Pichola, Sushmita Srivastav, writing for Traveldine, suggests dinner by candlelight at Ambrai Ghat on an outdoor terrace overlooking the lake.
More attractions in Udaipur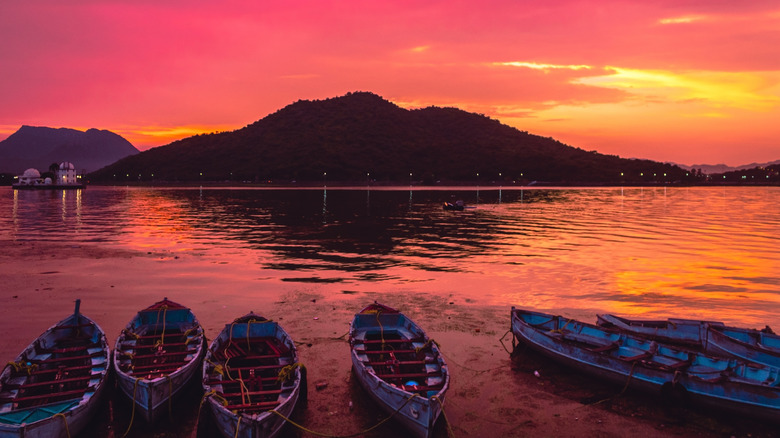 shiv.mer/Shutterstock
Just north of Lake Pichola lies Fateh Sagar Lake, which Travel Triangle's Kiran Bisht recommends for a sunset boat ride. Bisht also suggests going to watch the Mewar Light and Sound Show at Manek Chowk in the city palace; it runs nightly and gives an insight into local history and culture. There are also plenty of restaurants in Udaipur — Savarni Pant for Travel Triangle has several propositions, including heartbreakingly romantic rooftop restaurants with panoramic views over the city.
For adventurous couples, a trip into the surrounding desert for a camel safari is on Bisht's list. The camels take you past the city's historical buildings and into the sands, where at night the temperature drops and the stars come out. On the flip side, if you and your love prefer more urban attractions, Travelogy India proposes you go shopping in the old market, where you'll find some authentic souvenirs and traditional street food. Udaipur has something to enchant every type of couple during their trip to India.