Consider Staying In Tamboerskloof Or Camps Bay When Booking Your First Trip To Cape Town, South Africa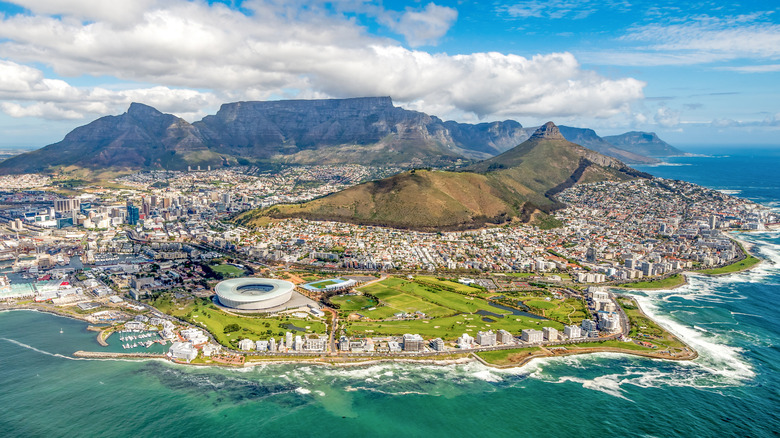 Ben1183/Getty Images
Cape Town, South Africa is one of the most beautiful cities in the world. Picturesque Table Mountain frames the city and there is great deal of cultural diversity, so it's no surprise that Cape Town's metropolitan population surpassed 4.8 million people in 2022 and continues to grow (per World Population Review).
While there is much of Cape Town to explore, two neighborhoods make excellent home bases during your travels there. First, there's Tamboerskloof, located right beside Table Mountain's famous counterpart, Signal Hill. Secondly, just down Kloof Nek Road (which eventually turns into Camps Bay Drive), is the neighborhood of Camps Bay, home to the stunning Camps Bay Beach and Glen Beach.
Either one is an excellent place to start your Cape Town adventures. Despite being only about a 10-minute drive from each other, the neighborhoods are quite different, with Tamboerskloof typically for a younger, hipper crowd, and Camps Bay being a more established area right on the water.
Tamboerskloof and Camps Bay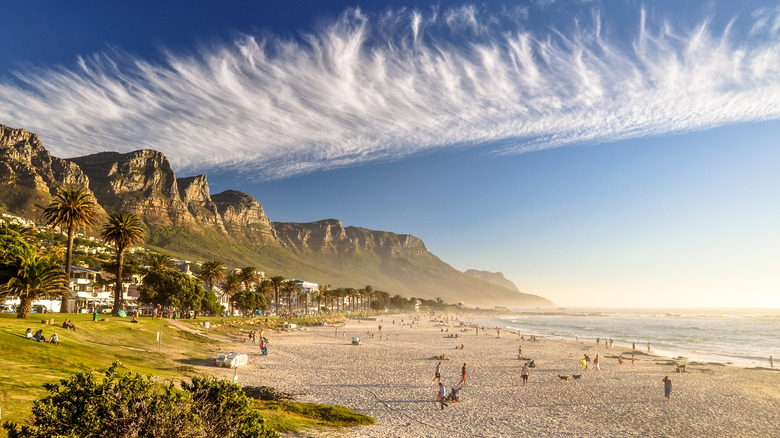 Juergen_Wallstabe/Shutterstock
Part of the City Bowl area of Cape Town, South Africa, Tamboerskloof is one of the oldest residential suburbs (i.e., neighborhoods) in the city. According to SA Venues, Tamboerskloof is home to a variety of homes in different styles as well.
In many ways, Tamboerskloof is the center of Cape Town, offering excellent views and a central location to visit Lion's Head, Signal Hill, and Table Mountain National Park. It's also adjacent to the city's Gardens neighborhood, which is known for its "restaurant mile" on nearby Kloof Street.
A bit more touristy due to its location on the beach, Camps Bay is truly fabulous. Camps Bay Beach is regularly recognized as one of the best beaches in all of Cape Town. Go2Africa says the curved beach is a favorite of tourists and locals alike. They also suggest going to the more intimate and beloved Glen Beach, which is right at the edge of the Camps Bay neighborhood.
For foodies, there's a plethora of great restaurants to choose from. Cape Town Etc. recommends Bilboa Camps Bay, which features fresh fish and inspiring views of the Atlantic Ocean, and Café Caprice, which has its own views of the beach and a casual vibe and food selection. Whether you go with Tamboerskloof or Camps Bay, your first stay in Cape Town is sure to be memorable.