South Africa Or Kenya: Which Is The Better Safari Destination?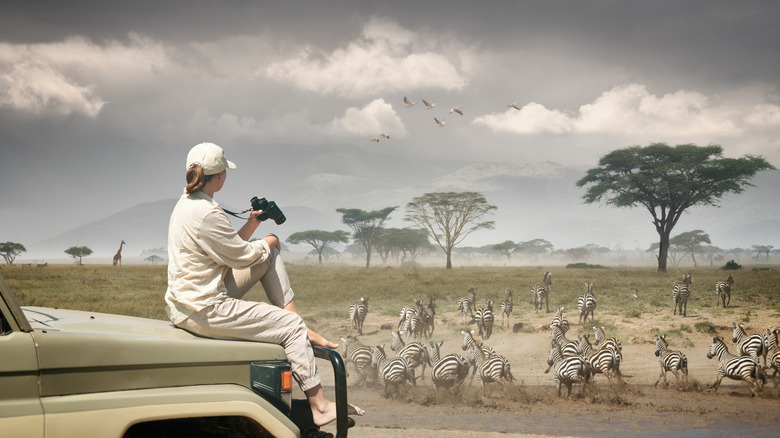 soft_light/Shutterstock
Safaris can truly be life-changing. Outside of planet Earth, very few people get to see some of the world's largest and most beautiful animals. Though there are many places in Africa you could visit for an amazing safari, you might want to consider choosing between either Kenya or South Africa.
Both countries offer stunning landscapes and are home to what's called "the big five" — elephants, rhinos, lions, leopards, and Cape buffalo. However, each country has its own unique wildlife and safari opportunities. According to Wandering Pearl, Kenya dedicates a huge amount of its land to wildlife conservation. So a major draw to going on safari here will be the sheer abundance of wildlife. You will also have a good chance of getting to see what's called the Great Migration in Masai Mara, the incredible migration of wildebeests and other animals from the Serengeti into the Masai Mara.
On the other hand, South Africa offers some of the best safari experiences in the world thanks to its huge number of pristine private reserves, including Sabi Sands and Tswalu Kalahari. The private reserves in South Africa are world-renowned for both their size and the high-quality experience guests can expect. But let's dive deeper into what makes each of these countries great safari destinations.
Kenya is the quintessential safari destination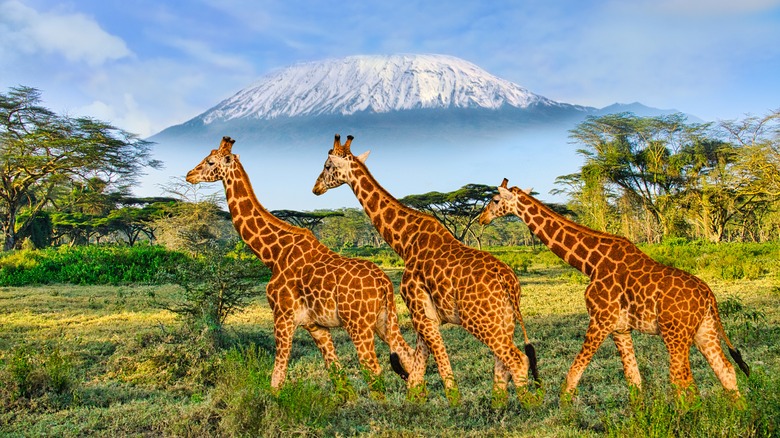 Heinz-Peter Schwerin/Shutterstock
There's a reason why Kenya's landscape was selected by Disney animators as the inspiration for Lion King. The sheer beauty of its nature and the abundance and variety of wildlife makes Kenya one of the best safari destinations on Earth. Head to parks like Tsavo West National Park to see black rhinos, giraffes, and Cape buffalo. For an even more colorful site, check out the Lake Nakuru National Park, where you will see seas of pink flamingos. There are also plenty of activities available such as hot air balloon rides over Masai Mara or, Art of Safari writes, you can track rhinos on foot in Northern Kenya — all offering a unique perspective of Kenya and its wildlife.
However, one of the best (and most unique) safari experiences you will find in all of Africa is found in Kenya's Masai Mara. This reserve features rolling grasslands where vast herds of wildebeest can be seen during the annual Great Migration — touted as "the greatest show on Earth." The best time to visit Africa to see this is between July and August when you will get to witness millions of wildebeests migrate south from Tanzania's Serengeti National Park towards Masai Mara Reserve in search of fresh grassland for grazing. And it's not only wildebeests. The Masai Mara website writes that other animals are drawn in by the migration as well, including powerful predators such as big cats and crocodiles in search of a fresh meal.
South Africa offers unparalleled private safari experiences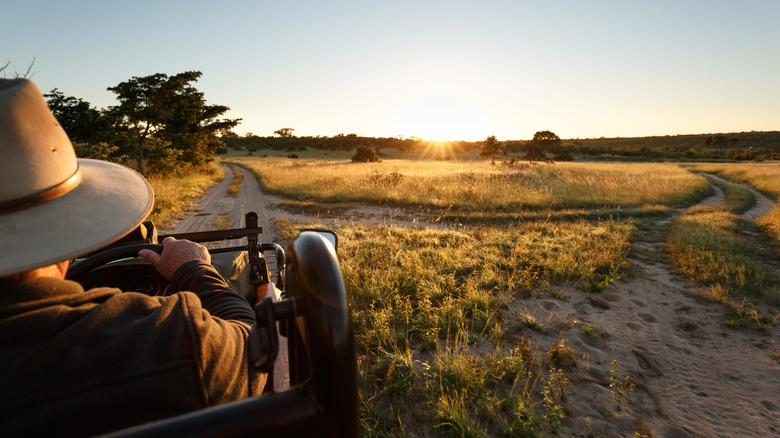 Andy Riley/Shutterstock
South Africa is the perfect safari destination for those seeking a more luxurious safari experience. It boasts some of the best safari lodges in the world, and Safari Bookings lists many private safaris that are available for visitors to choose from. Many of these safaris are set on private reserves which means, according to African Budget Safaris, you won't have to worry about sharing the reserve with too many other people.
According to Discover Africa, the best private safari destinations in South Africa are the Ulusaba Private Game Reserve (inside Sabi Sands), the Timbavati Private Nature Reserve (which shares a border with the Kruger National Park), and the Phinda Private Game Reserve. Each of these reserves offers safari-goers unparalleled private and luxurious safari experiences where you are all but guaranteed to cross off your big five and make incredible memories.
So if you are trying to decide between South Africa and Kenya for your safari vacation, it really depends on what kind of experience you're looking for (and your budget). If you want the ultimate safari experience with abundant wildlife and stunning landscapes, then Kenya is definitely the way to go. But if you are looking for something more luxurious tailor-made to what you and your travel buddies are looking for, then South Africa might be right up your alley. No matter where you choose to go, however, one thing is certain: an African safari will be an experience you'll never forget.