Hiking These Trails Is The Perfect Way To Take In South Africa's Beautiful Scenery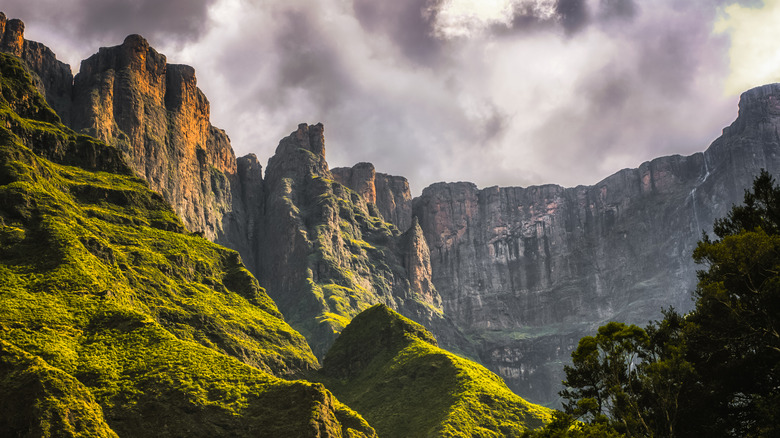 Quentin Oosthuizen/Shutterstock
What do you think of when you imagine the ultimate travel destination? If it's a place with something for every adventure seeker, look no further than South Africa. This country has everything from hiking to surfing to river rafting and safaris. Your only problem will be deciding which adrenaline-inducing experience you want to embark on first!
But before you get carried away, you need to consider what will go on your must-see, must-do list. Well, here is your number one: The Royal Natal National Park. This is the place to go for those seeking the most awe-inspiring views on your trip and, according to Anywhere We Roam, this is the best hiking South Africa has to offer. If you haven't heard of this place before though, don't fret. The park may not be found on your favorite travel blogger's latest "top ten things to do in South Africa" list yet, but it more than deserves a place there.
Why you should add the Royal Natal National Park to your itinerary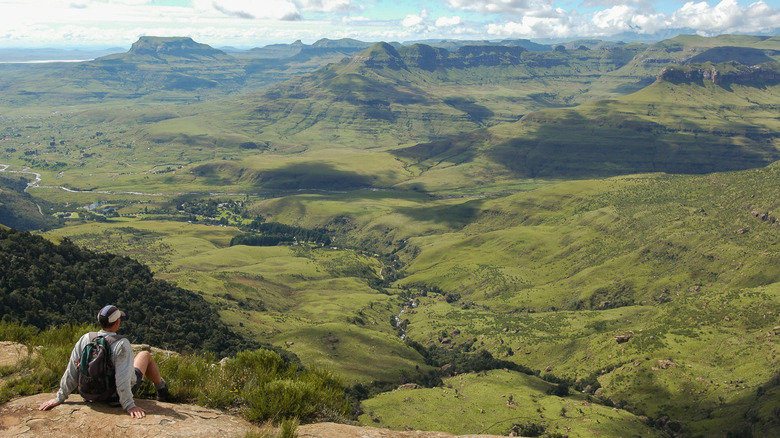 Matt T Jackson/Shutterstock
Siyabona Africa writes that the Royal Natal National Park is located in the KwaZulu-Natal province of South Africa and is most well-known for the famous Drakensberg Amphitheatre.
This is a three-mile-long and 1,600-foot-high rock feature with a waterfall called the Tugela River cascades or Tugela Falls. According to Britannica, the name Tugela comes from the Zulu word Thukela meaning "something that startles". In this case, you will definitely be startled by the waterfall's beauty and its height! The World Waterfall Database reports that Tugela Falls may actually be the highest waterfall in the world.
If you want to see it for yourself and get a bird's eye view of the valley below, Anywhere We Roam writes that the hike to the summit is well worth the trek. The hike itself is medium to hard difficulty and around 12 kilometers (about 7.5 miles) in length, so expect this to take around 7 to 8 hours round trip. If you're looking for a bit of an easier hike, you'll get equally incredible views from the Tugela Gorge Hike (which you can see from the Amphitheatre). Compared to the Thukela Falls Hike, this hike is longer (14 kilometers or 8.7 miles) but takes only about 4 to 6 hours since there is less intense elevation change.
However, no matter where you are in the park, you will see the most incredible natural formations in South Africa, which are seriously bucket-list worthy.
When to visit and where to stay at the Royal Natal National Park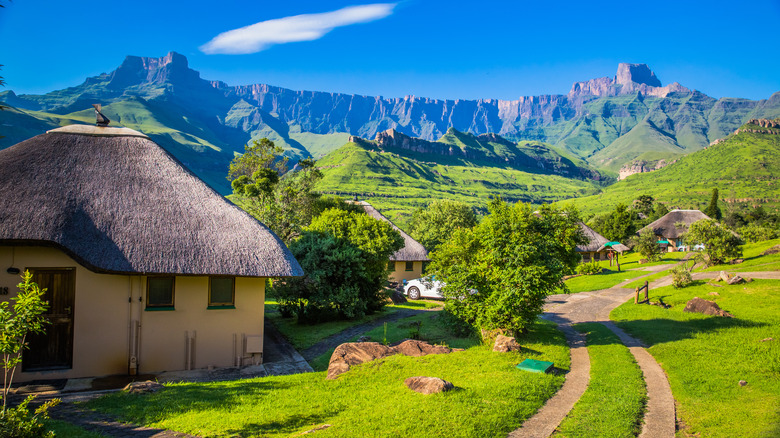 TUX85/Shutterstock
Anywhere We Roam recommends visiting between March and May after the rainy season has ended, the area is still green, and Tugela Falls still has water flowing. The temperature will also be more moderate around this time since you are between the summer and winter seasons, making for more comfortable hiking.
When looking for accommodation, Anywhere We Roam recommends staying at the award-winning Thendele Camp. The camp is separated into two sections, an upper and lower camp, and offers multiple chalets to choose from that are very nicely furnished and include fully equipped kitchens! Both camps are picturesque, but the Upper Camp has a better panoramic view of the Amphitheatre.
For the most unique stay in the park with the best bird's eye view of the Royal Natal reserve, head to the Witsieshoek Mountain Lodge. This lodge sits at 7,500 feet above sea level offering its guests unparalleled views of the Sentinel Peak and the Amphitheater.