Kenya's Amboseli National Park Offers Some Of The Best Views Of Mount Kilimanjaro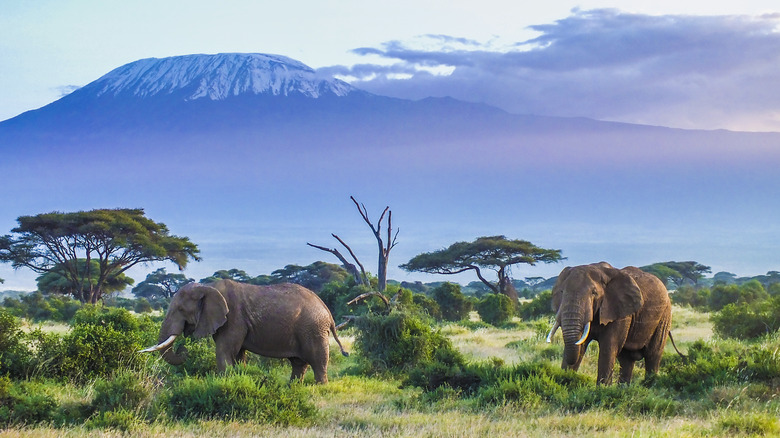 Squashedbox/Getty Images
Amboseli National Park in Kenya is best known for a couple of things: its population of elephants and the most extraordinary views of Mount Kilimanjaro, which is located in the bordering country of Tanzania.
According to Wild Wings Safaris, Amboseli National Park is one of Kenya's most visited, with impressive elephant herds roaming below a majestic view of Mount Kilimanjaro. Amboseli Park Kenya says there are some 1,600 elephants that move throughout the park's roughly 150 square miles, and they can travel in groups of as many as 100.
In fact, elephants are so popular in the park that one of them actually became famous. According to Space for Giants, a 50-year-old elephant named Big Tim was known for his gigantic tusks that were said to have weighed about 100 pounds apiece. Unfortunately, the elephant died of natural causes in 2020, but a monument honoring Big Tim is in the works.
In addition to elephants, the Kenya Wildlife Service says Amboseli National Park is home to big cats such as leopards, cheetahs, and lions, as well as buffalo, giraffes, zebras, and many other fascinating animals. Amboseli also features some 600 species of birdlife, further contributing to its popularity as a safari destination.
Wildlife and so much more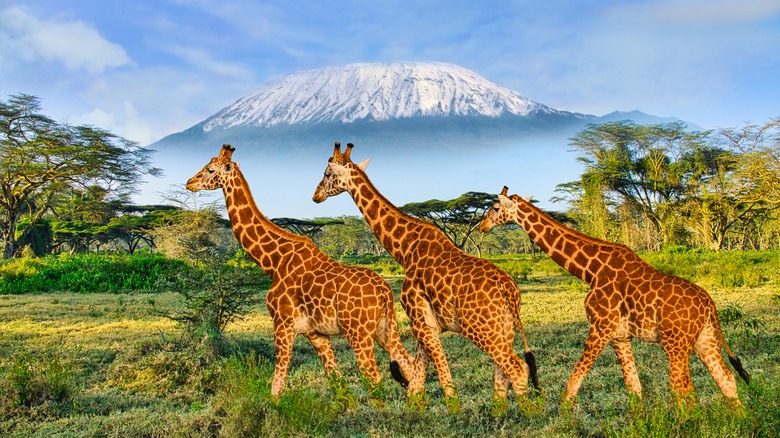 Heinz-Peter Schwerin/Shutterstock
According to In Africa, Amboseli National Park — which was formerly known as Maasai Amboseli Game Reserve — offers some of the best opportunities to see African wildlife because the vegetation is scattered. To protect wildlife, the rules are simple. For one, don't leave your vehicle, except in areas where it's clearly labeled that you are permitted to do so. Also, animals always have the right of way. Mount Kilimanjaro National Park and Amboseli National Park are both musts when traveling through the region, but if you don't intend to climb the mountain, it could be argued that only a trip to Amboseli National Park is in order. After all, stunning views can be just as rewarding as actually going to a place.
Just do a quick web search and you'll find list after list saying Amboseli National Park has the best views of Mount Kilimanjaro, and there's virtually no argument to the contrary. Considering the national park's wealth of wildlife and proximity to Mount Kilimanjaro, it makes perfect sense, especially for photographers (even amateur ones), to visit the park.