This Colombian Town Will Make You Feel Like You Traveled Back In Time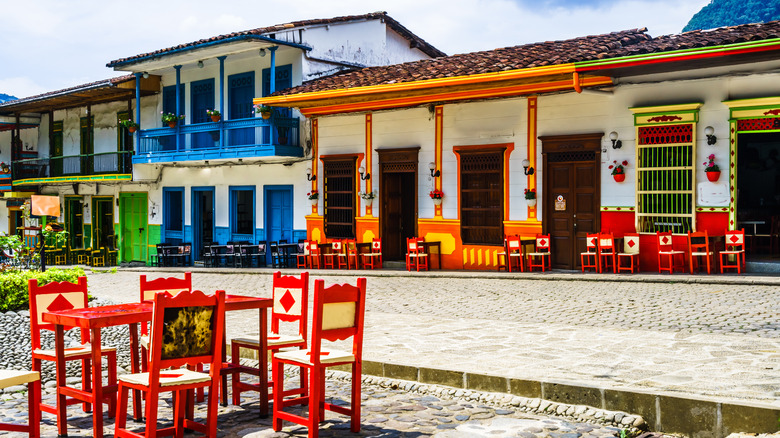 Streetflash/Getty Images
Nestled firmly within Colombia's coffee-growing district — and just a three-hour drive from Medellin and only about 100 miles north of the famous Zona Cafetera — is a scenic pueblo (little town) called, Jardín. Colombia Travel writes that there are 17 Colombian heritage towns scattered throughout the country, but that Jardín's colorful colonial buildings, relaxed atmosphere, and incredibly scenic views make it stand out above the rest.
According to Laidback Trip, Jardín is a great destination for those seeking a break from the fast-paced travel lifestyle. It is a place where one can recuperate with some high-quality coffee in hand while you people watch in the picturesque plazas. It should be noted that Jardín is nestled in the mountains, so altitude considerations may be a good step to take when planning a visit.
This doesn't mean there's nothing to do in between these wonderfully quiet moments but you will certainly feel like you've traveled back to a time when people weren't always rushing from place to place to see the next thing or do the next activity. Though it has certainly grown in popularity, don't worry about crowds as it is still very much an off-the-beaten-track destination.
Things to do in Jardín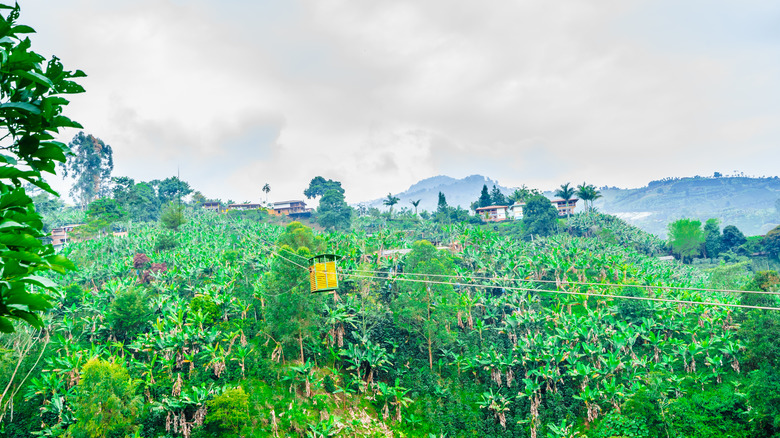 streetflash/Shutterstock
While there are many places in Colombia that are well-known for coffee, Jardín is one more location you should consider adding to your list. Wild Junket writes that travelers should ask for a cup of tinto, a more concentrated version of the regular café. They recommend either Café Macanas or, if you're looking for a nice view to go with your coffee, de los Andes Cafe. Also, consider visiting a coffee plantation or farm to see how these amazing coffee beans are grown. It wouldn't be a trip to Colombia if you didn't!
The Worldly Traveler writes that Jardín also has two cable cars, one located on the north and one on the south side of town. Either voyage will carry you through lush green rainforest to a beautiful view point. However, as of writing, only one is in operation, La Garrucha. It is a bit older and rickety, but is totally safe and a fun way to spend a couple of hours in the afternoon.
However, the best thing to do in Jardín is simply to walk around, enjoy the scenery in town, and keep an eye out for the colorful birds zooming around. The Planet D writes there are lively markets, a Basilica to explore, and beautiful hikes and waterfalls nearby.
Where to stay in Jardín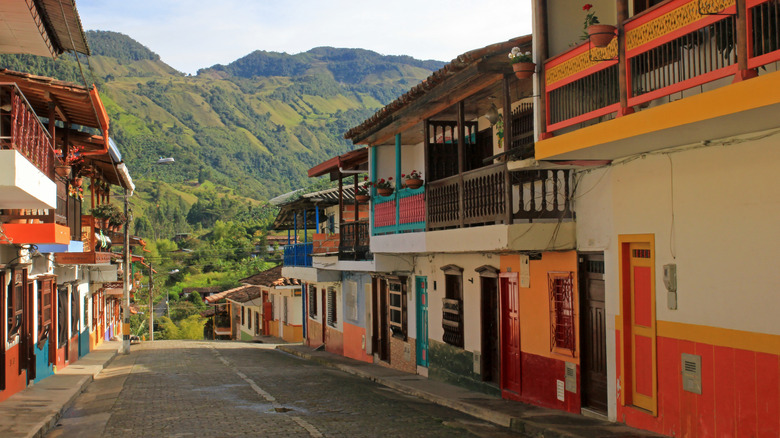 Reisegraf/Getty Images
Colombia travel expert, Tom Plan My Trip, has a comprehensive list of eight hotels in Jardín they recommend. The best hostel? Sergeant Pepper's Hostel. Most sustainable? Hotel Plantación. Best hotel for families? Casa Hotel Porton.
If you're looking for a more unique experience though, you may want to check out Finca Mariposa. This place is more than just your typical farm stay. Finca Mariposa notes that the site was selected by Disney as an accommodation partner for the movie, "Encanto!" They were selected for their great representation of all the things people love about Colombia, its beauty, the culture, and the magical qualities you can find in Jardín. Finca Mariposa offers a range of eco-tours, from bird watching to cultural tours and even Jeep tours. However, the owners will even design your entire trip to Colombia, arranging all of your transportation, meals, and activities once you arrive.
Jardín truly is a destination worth visiting for those seeking a unique experience in Colombia. If you decide to go, get ready to take a step back in time, away from the chaos of Colombia's big cities, and immerse yourself in the peaceful and magical atmosphere.