The Best Greek Island For A Beach Vacation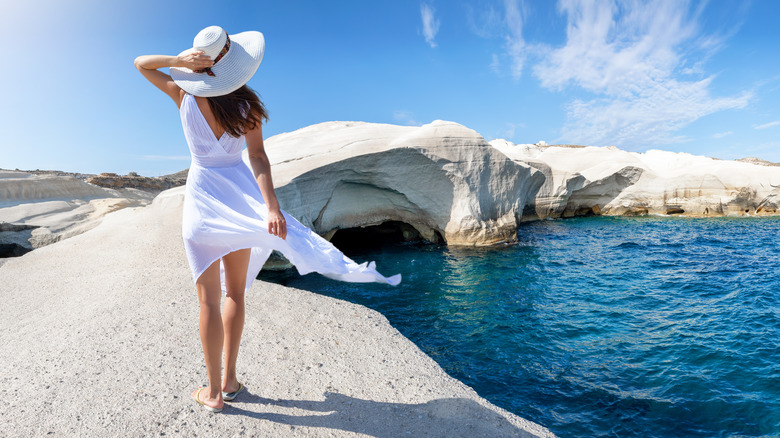 Sven Hansche/Shutterstock
Travelers will be hard-pressed to find a summer beach destination more idyllic than the Greek islands. Not sure you'll find the perfect island for your trip? Well, Visit Greece writes that there are 227 inhabited islands one can visit with thousands of smaller islets spread across the Greek Seas. With so many to choose from, you'll definitely find one that has just the right combination of fun, sun, and sandy beaches.
When visiting the Greek islands, visitors can expect to find crystal clear waters, stunning beaches, and an array of activities and attractions to explore. It's no wonder why people flock to these islands year after year. But whether you're looking for a romantic getaway or an unforgettable family vacation, there is one island that stands out among the rest as an idyllic beach vacation destination. This island is known for its moon-like landscapes, incredible cliff diving, and beautiful beaches where you can get lost in a good book or enjoy the gentle surf.
Beach lovers should head to the Greek Island of Milos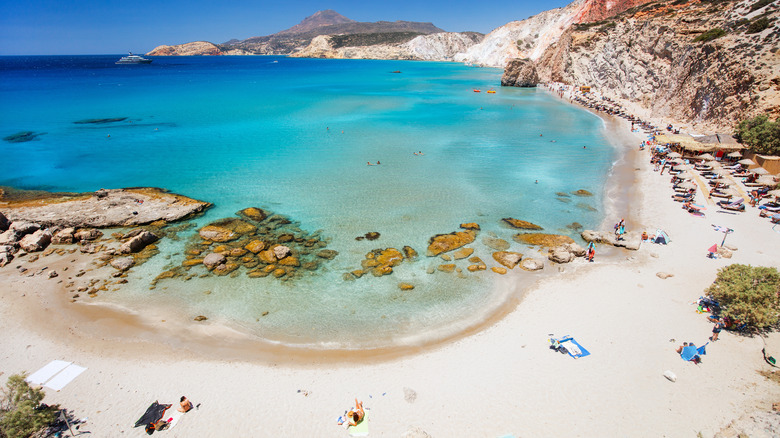 BlueOrange Studio/Shutterstock
The Greek island of Milos is a paradise for beach lovers, couples, and families alike. With its dozens of stunning beaches, blue waters, and breathtaking landscapes, it's no wonder why this island is becoming an increasingly popular destination for travelers looking to soak up some sun. Milos Island writes that Milos is part of the Cycladic group of Greek islands, and is just a flight or ferry ride away from Athens. According to Real Greek Experience, Milos is best known for its unique and beautiful nature, the abundance of delightful beaches, and the location where the famous Venus de Milo statue was discovered.
Most of all, though, travelers come to Milos to relax on the beach, join in adventurous activities such as cliff diving and snorkeling, and explore the beautiful towns. With only 6,000 inhabitants on the island (according to Milos Island) and its relatively lesser-known reputation, World Pursuit writes that Milos is a great island to escape to when the others get too packed during the high season. Though you shouldn't expect to have the place all to yourself, don't worry too much about having to rub shoulders with other tourists. Discover Greece writes that Milos island has over 80 beaches for you to choose from.
Best beaches to visit on Milos Island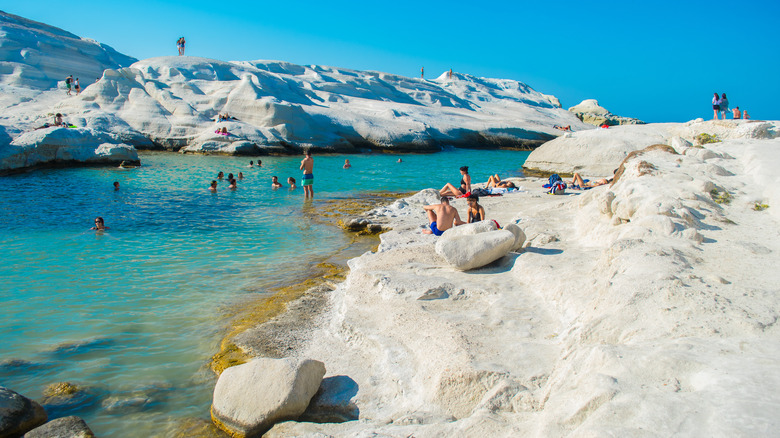 Andronos Haris/Shutterstock
So, you have the wonderful problem of choosing the best beaches to visit during your stay in Milos. You may even recognize some of these beaches from popular travel magazines or your friend's vision board for their Greece vacation. So which are the best?
Discover Greece puts Sarakiniko Beach as the number one beach in Milos. Located on the north side of Milos Island, Sarakiniko is one of the most iconic beaches in Greece and has become a popular destination for travelers seeking more unique beaches to explore. Sarakiniko is known for its dramatic white rocks and cave features. Contrasted with the bright blue waters, this gives Sarakiniko an otherworldly feel. This place is picture-perfect and you'll find no shortage of fun here as people take turns leaping off the cliffs into the cool water below. Discover Greece does write, though, that travelers should be sure to bring sunscreen and a hat as there is no shade to be found at this beach.
Firiplaka beach is another lovely beach on Milos island, according to The Smooth Escape. Located on the southern coast of Milos, Firiplaka boasts shallow turquoise waters, golden sands, and amazing cliffs in various shades of red and orange. Not to mention its most unique feature: a giant rock with a tunneled archway you can swim through. Despite its popularity among tourists, Firiplaka remains uncrowded and you'll have no problem finding your own little corner of the beach to enjoy.