The Best Time Of Year To Visit Greece For The Perfect Weather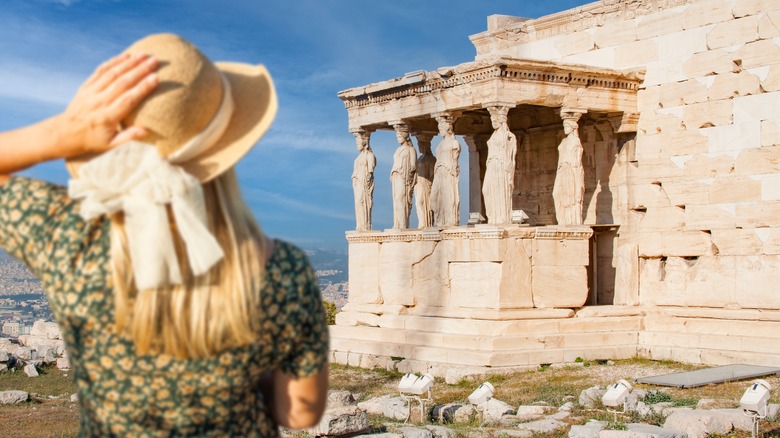 Andy Dean Photography/Shutterstock
The great Greek Philosophers, Socrates, Aristotle, and Plato may have debated whether there is a wrong time to visit the Hellenic Republic. However, as we are focusing on the best time of year to visit Greece for perfect weather, and volatile, unpredictable weather can often be prevalent throughout Europe during certain seasons, one would hope our philosophy on this would be taken into consideration, even from the great masters.
That being said, when planning your trip to this popular tourist destination, and depending on what you would like to do while in Greece and what areas you'd like to visit, we have some great tips on which months will provide you with the most sunshine, the least amount of rainfall, and pleasant temperatures for you to enjoy all your activities during your vacation. As an added bonus, this time of year is also great for avoiding large tourist crowds, and overpriced accommodations, as suggested by Rick Steves.
The months you may want to avoid traveling to Greece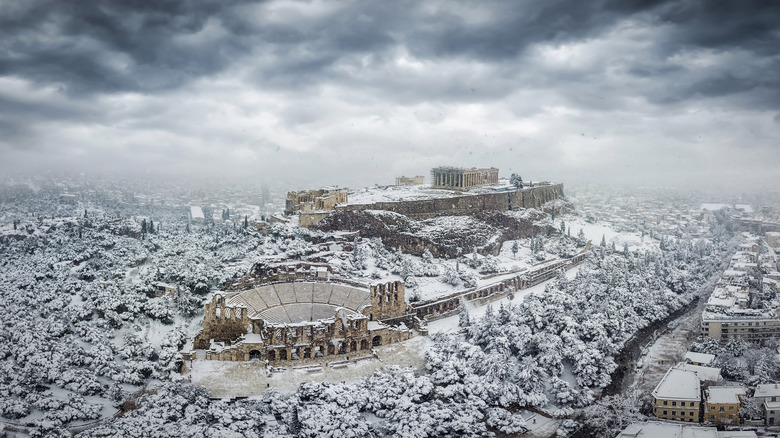 Shansche/Getty Images
Situated between the Aegean and Ionian Seas, the country of Greece and its archipelago benefit from milder seasons due to seasonal winds, and its location. The summer months of July and August can be hot in Greece, but thanks to its position, and being surrounded by mass bodies of water, combined with the cool breezes that flow around its small frame, it's not as hot during the summer season as its western neighbors of Southern Italy and Malta. Summer also brings intense thunderstorms, and crowds are massive.
The farther north you are in Greece, the winter season can be chilly. But head further south, and temperatures during the winter months are quite mild in comparison to its neighboring country of Turkey to the east. However, it can be quite wet, and the weather can often be unpredictable, according to Weather & Climate.
Plan your travels to Greece during the spring and autumn months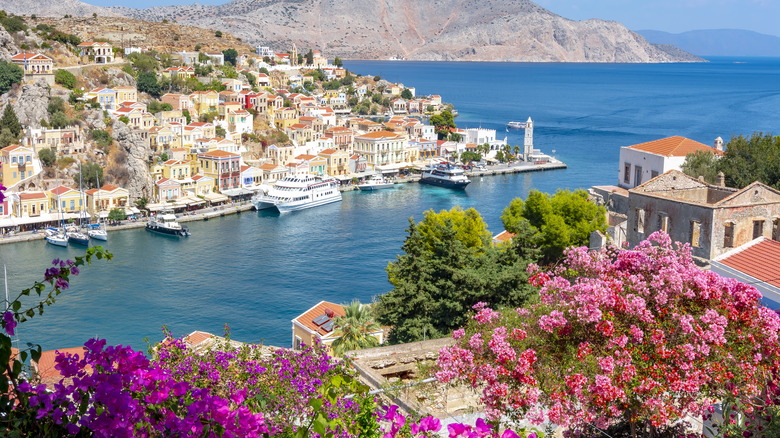 Vladislav Zolotov/Getty Images
Not surprisingly, it's the spring and autumn seasons that are the best time of year to visit Greece. As confirmed by Audley Travel, visiting Greece during both of these seasons affords pleasant temperatures and fewer crowds. Generally, the spring months of April, May, and yes, even June, and the autumn months of September and October, offer visitors clear skies, loads of sunshine, as well as annual celebrations and festivals.
Make sure to book your flights and accommodations ahead of time if you plan on visiting during any of the holiday months, in order to lock in any good deals offered by airlines and hotels. But most of all, have a great time. Greece is a magical country with amazing history and centuries-old mythology that captivates everyone. From its ancient temples to its stunning beaches throughout its mainland and islands, there's something for everyone to see and enjoy.