Over 77% Of People Agreed That This Is The Most Annoying Thing Someone Could Do On A Flight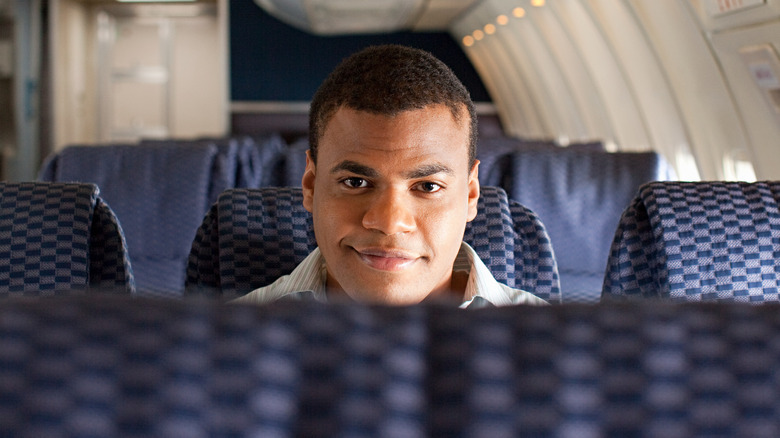 Image Source/Getty Images
In recent years, it's common to measure rage incrementally — in inches. The flames of debate surrounding reclining airline seats have been stoked with fresh video documentation of passengers having altercations, begging the question, who's really to blame?
In February 2020, CNBC (and pretty much every news outlet with a platform) reported that an American Airlines passenger initiated the recline felt 'round the world, since the man seated behind her became the antagonistic director of a little punch parade — incessantly tap-punching the back of her seat. Which, of course, she captured on video. Although this incident is much like children bickering on a long road trip, media outlets such as The Washington Post have reported a continued acceleration of issues over this hotly debated topic. And a survey by The Vacationer revealed that 77% of those surveyed feel that fully reclining an airline seat is inappropriate. Yet, at the same time, one-third of that survey group said they are "team recline," regardless.
And all of this "to recline, or not to recline" drama unfolds amid an increasingly contentious air travel landscape. Incidents involving unruly passengers are shockingly common. So much so that Sara Nelson, president of the Association of Flight Attendants-CWA, explained to USA Today that "Flight Attendants are signing up for crew member self-defense training at rates higher than after 9/11." If flight attendants are scrambling for self-defense training at a rate that dwarfs the numbers after a devastating terrorist attack, it's time for a deeper look.
Are those who recline an airline seat selfish monsters?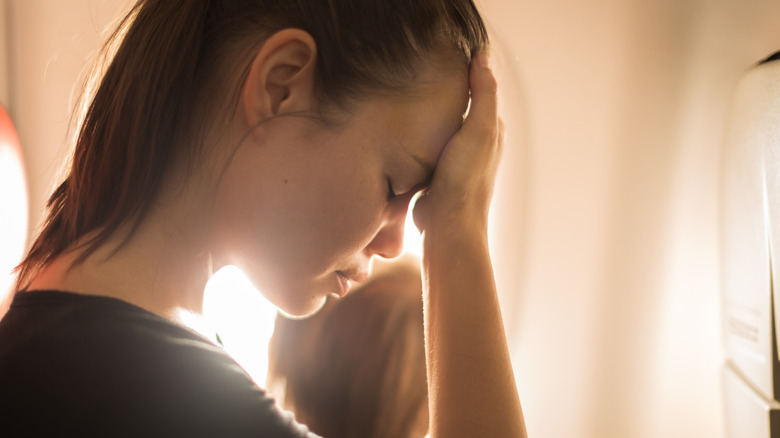 christinarosepix/Shutterstock
Those in favor of seat recline contend that the seats — which they paid for — have a recline feature, and by golly, they're going to get their money's worth. And to this, many offer the counter-argument that they should ask permission from the person behind them. For example, in an online debate on the topic, one Reddit user commented, "To the people who say I should turn and ask if they mind at first, I disagree. What other service that you have paid for have you felt the need to ask permission to use?"
But the anti-recliners quickly remind folks that one's personal real estate is laughably limited on planes, so it's an insidious transgression of basic humanity. Twitter comments associated with Wendi Williams' viral Twitter post include a fiery flurry of anti-recline comments such as, "People who recline their seats in airplanes are selfish monsters," said one person. "If you recline with someone behind you, that's all I need to know about your character." So, who's right, and who's to blame here?
Don't let your annoyance distract from the bigger challenge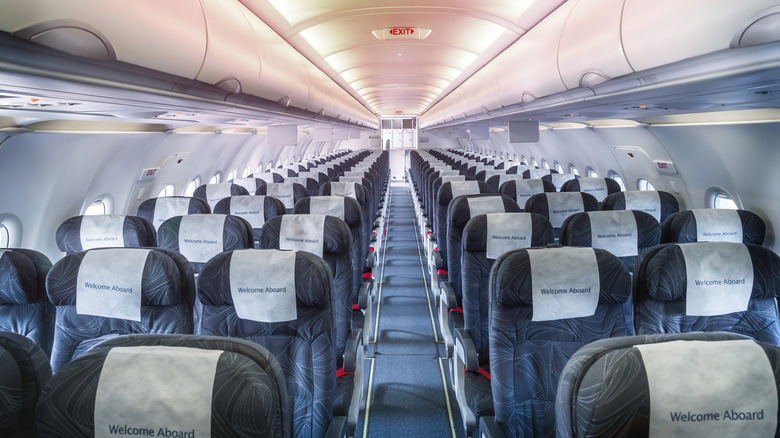 andriano.cz/Shutterstock
In a plea to passengers to remember the source of this issue, The Guardian's Luke O'Neil contends that it's the airline industry's responsibility. He reports that the continued densification of airline seating — aka cramming more people into planes — is an irresponsible money grab. And Time notes that data from the nonprofit FlyersRights provides evidence of agreement.
According to FlyersRights, passenger discomfort is because they've lost four inches of legroom between rows and another inch and a half of seat width since the early 2000s. Congress mandated that the Federal Aviation Administration institute seating standards by October 5, 2019 — a deadline that still needs to be met. The group maintains that comfort aside, standards would increase evacuation safety. And USA Today reports that safety is also top of mind for flight attendants who feel an urgency to learn self-defense techniques. These cumulative challenges are far from what airline travel was like 50 years ago, but the folks at The Washington Post suggest a little etiquette can go a long way.