The Most Dangerous Rapids In The World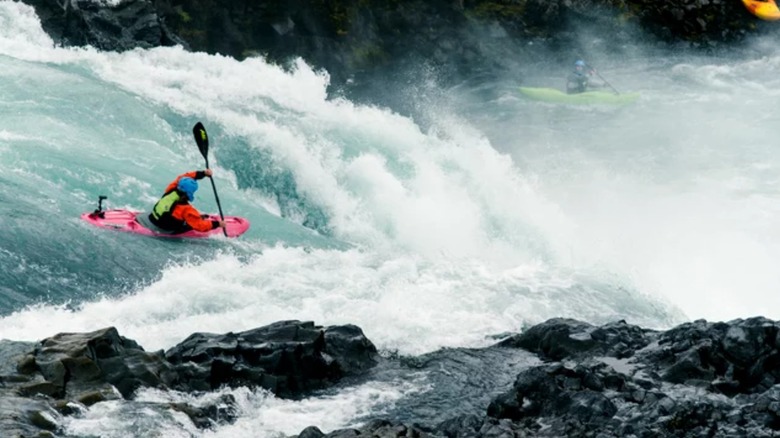 Shutterstock
Few adventures are as thrilling and terrifying at the same time as riding mighty waves. During whitewater rafting trips you will explore unique landscapes and odd rock formations sculpted by the forces of nature. This adventurous sport is not for everybody; it requires bravery and both physical and mental strength. It will test your endurance, and sometimes survival instincts. The most dangerous rivers for rafting are usually fast with narrow, steep and boulder-ridden runs. Waterfalls often create big breaks that make your ride all the more difficult, especially when you try to avoid the giant hole in front of you.
Terminator – Futaleufú River, Chile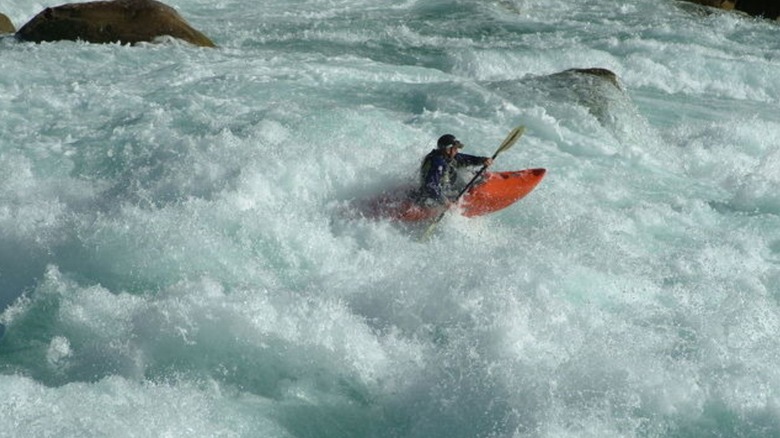 Photo Modified: Wikimedia Commons/ Warren.williams CC BY-SA 3.0
The Futaleufu River, the name of which means "big big river," is known in whitewater circles as one of the most exciting and challenging rivers in the world, according to Expediciones Chile. "It is an exhilarating whitewater power storm of turquoise champagne like water." The Class 4/5 Terminator section, which some experienced kayakers call the most difficult commercially run rapid in the world, is 6 miles and it takes about 3 hours. You can see rafting down Terminator rapid in this video.
Mickey's – Ocoee River, Tennessee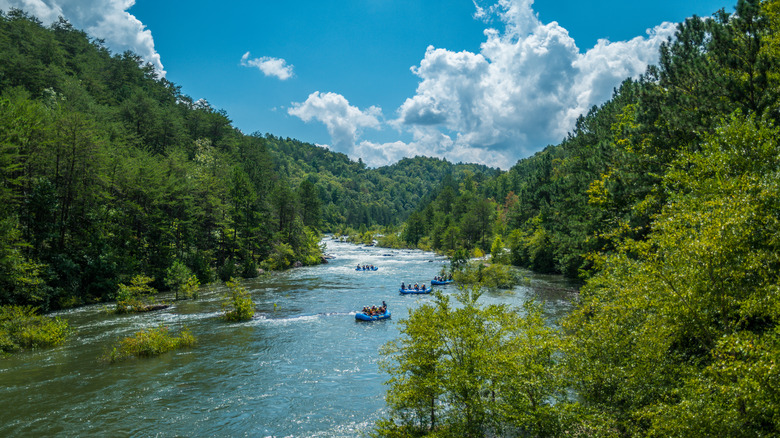 Sandra Burm/Shutterstock
The Ocoee River in in the Cherokee National Forest is among the most popular whitewater rafting destinations in the country because of its more than 20 continuous rapids. More than 300,000 people go every year. The rapids are categorized as Class III, but Mickey's is Class IV. Two people died in 2011, the first fatalities in six years. In 2013, there were two deaths in two days, according to media reports. Adventurers get to choose between a 5-foot ledge drop into a deep hole or a rocky descent down a 4-foot ledge.
Whirlpool Rapids Gorge—Niagara River, New York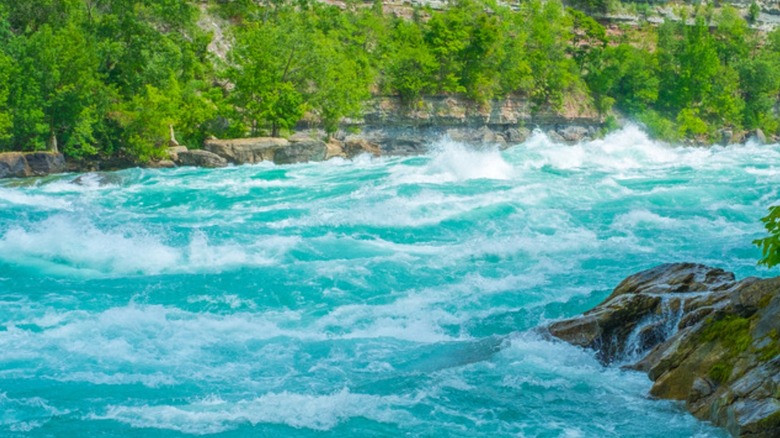 Shutterstock
The NYS Department of Parks prohibits launching a boat from park property, which is the only feasible access from the U.S. side to the rapids above the whirlpool. The Niagara Gorge is a deadly section of exploratory rapids. As the water travels through, it reaches about 30 mph, creating the Class 6 Whirlpool Rapids, some of the most extreme in the entire world. Even so, a commercial rafting venture was attempted in 1976 and according to American Whitewater, that came to a stop when, on their twelfth run, the raft flipped and four people drowned.
Victoria Falls—The Zambezi River, Zimbabwe/ Zambia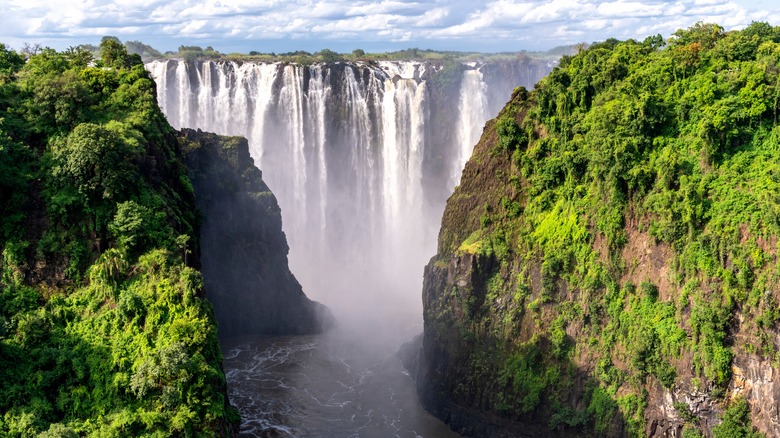 Stephan Roeger/Shutterstock
Regularly called the wildest one-day whitewater trip in the world and associated with the term "Stairway to Heaven," you'll begin by paddling out from under the mist of Victoria Falls—one of the seven natural wonders of the world. From there, you'll take on some of the most notable Class V rapids anywhere—Devil's Toilet Bowl and Commercial Suicide. The trip from Victoria Falls to about 17 miles downstream is a mixture of huge flows, water around 80 degrees, and significant drops, followed by a mile of flatwater.
Bidwell – Chilko River, British Columbia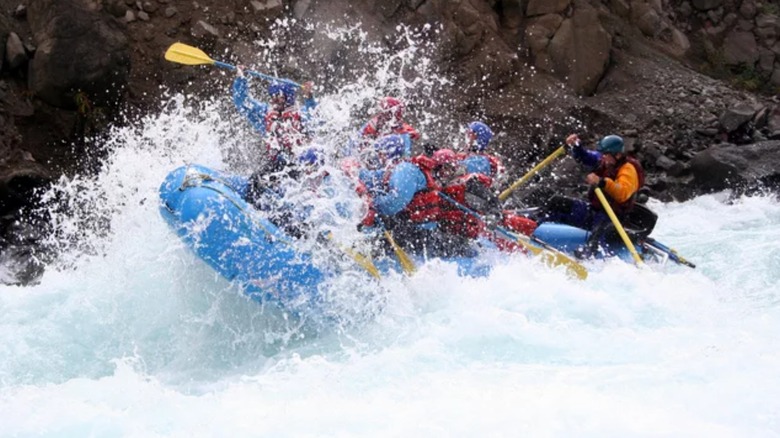 Shutterstock
Rafting the Chilko is a river rafting experience filled with many stretches of Class IV whitewater. It's the longest stretch of commercially run whitewater in North America. You'll drop about 3,000 feet in altitude, starting on top of a mountain forest and going down into a desert canyon. Bidwell is a Class IV "S-bend" rapid with big breaking waves and a huge hole at the bottom. Five people died during a rafting trip there in 1987. You can see rafting Bidwell rapid in this video.
Upper Yough River, Maryland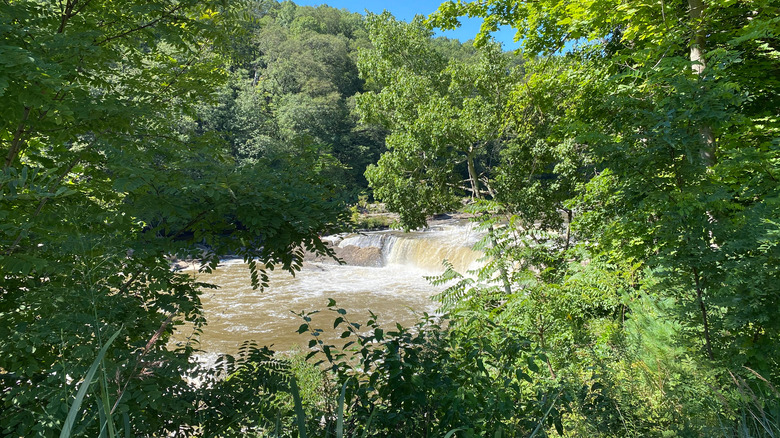 Erica Lynn Pigeon/Shutterstock
The Upper Yough flows through one of the last remaining wilderness canyons in the eastern U.S., according to Precision Rafting. It is known for its remarkable average vertical drop of over 115 feet per mile for 5 miles. The scenery surrounding the Class III to V rapids in Upper Yough River is wild and gorgeous. A typical trip will take about 3 to 5 hours, rafting about 10 miles. You can see Upper Youghiogheny White Water River Rafting in this video.
The Inga Rapids—Congo River
These are the world's largest and deadliest rapids, many have died trying to navigate these waters. In 2011, freestyle kayaker Steve Fisher and his team of three other kayakers were the first to survive the Inga Rapids. According to National Geographic, which named Fisher an Adventurer of the Year in 2013, Fisher said that they didn't conquer the rapids. "We navigated from top to bottom without a portage. At best, we survived," he said. "I had tears in my eyes at the end."
Lochsa River, Idaho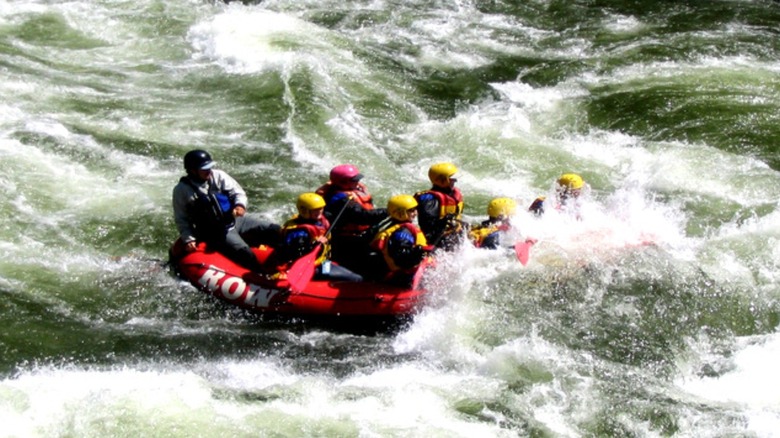 Shutterstock
Idaho's Lochsa River, the name of which literally means "rough water," is one of the best spring whitewater rafting runs in North America. A typical trip will have you raft along big, fast and technical big volumes of water. Section Two is known as among the most dangerous. Unending, explosive rapids are especially tough on the second section and when the water rises above six feet the rapids often run into one another, creating a continuous trail of rough water. Though commercial rafting companies run this river, it is dangerous and has taken several lives, according to American Whiterwater.
Godzilla – Rio Upano River, Ecuador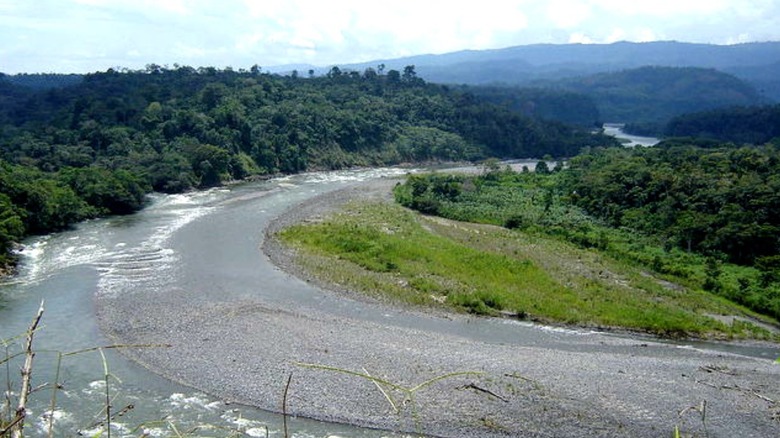 Photo Modified: Wikimedia Commons/ Jlh249  CC BY-SA 3.0
The Rio Upano, or "River of the Sacred Waterfalls," treats you to Class II-IV whitewater, mammoth waterfalls, lush rainforest scenery, and native Ecuadorian tribes, according to Row Adventures. You will be whitewater rafting deep in the Andes Mountains on the headwaters of the Amazon River, witnessing the many moods and changing characters of a jungle river. In the Godzilla section you will  be challenged by high waterfalls dropping in from both sides, often causing 15-foot waves.
Section 4—Chattooga River, Georgia and South Carolina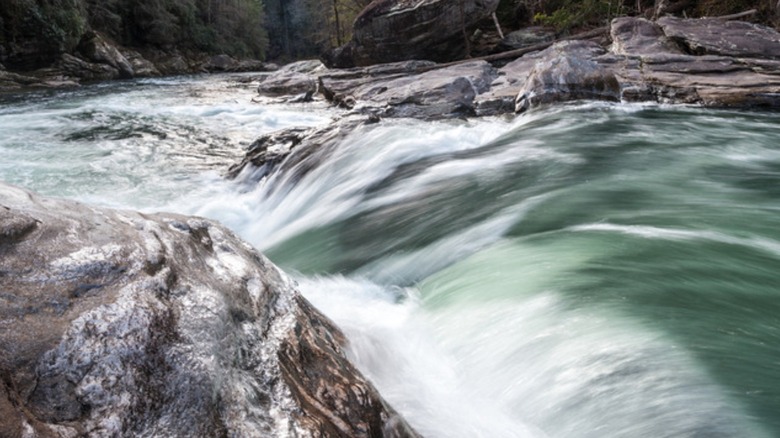 Shutterstock
Section 4 of the Chattooga River is perhaps one of the best known dangerous rapids around. As American Whitewater put it, "more legends exist about Five Falls of the Chattooga than almost any other set of rapids." One of the most difficult sections being commercially run, it has taken many lives.
God's House – Karnali River, Nepal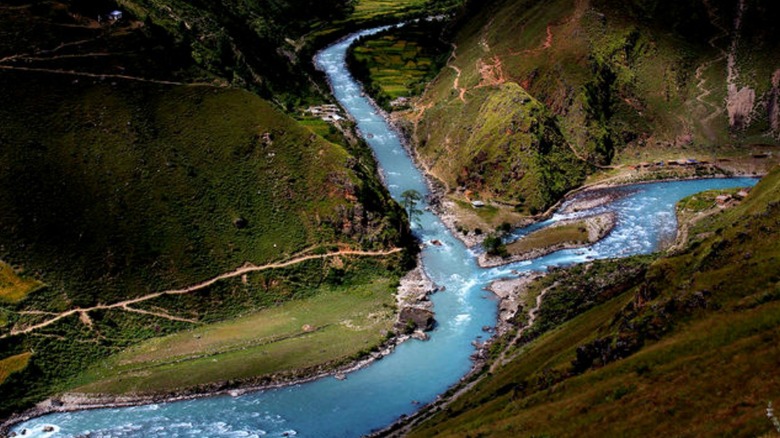 Photo Modified: Wikimedia Commons/ Sherparinji CC BY-SA 3.0
This is probably the most definitive Himalayan whitewater adventure of all, according to Himalayan Encounters. "Set in the most remote, least explored western region of Nepal, the Karnali is a magnificent river and this expedition is indeed unique and not for the faint-hearted." God's House is an awe-inspiring Class V hole. You can see rafting God's House & Juicer rapids in this video. This Class V rapid runs through the narrowest gorge on the river. Big waves are a problem, especially when you try to avoid the giant hole in front of you.
Cherry Creek—Upper Tuolumne, California
Narrow, steep and boulder-ridden, this run is certainly one of the toughest sections of whitewater out there. A whopping 15 Class V rapids punish paddlers from mid-summer to September, because the high flows of spring make Cherry Creek too dangerous. Be prepared for drops, undercurrents and lots of boulders on this tough and technical section.
Little White Salmon, Washington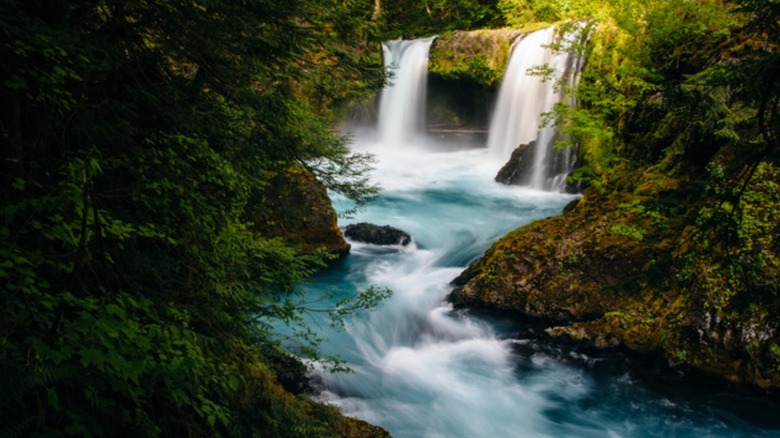 Shutterstock
The Little White Salmon is a highlight of Pacific Northwest creeking, according to American Whitewater. "This stunning run offers an incredible array of rapids, with everything from steep complex boulder gardens to dramatic vertical drops, all set in a pristine canyon filled with sparkling translucent blue water." Gettin' Busy, a half-mile long class V boulder slalom, becomes a pounding hole-fest at higher water. In 2009, a paddler died after being swept into the sieves and logjam on river. See whitewater rafting on the White Salmon River in this video.
Santo Domingo River, Chiapas, Mexico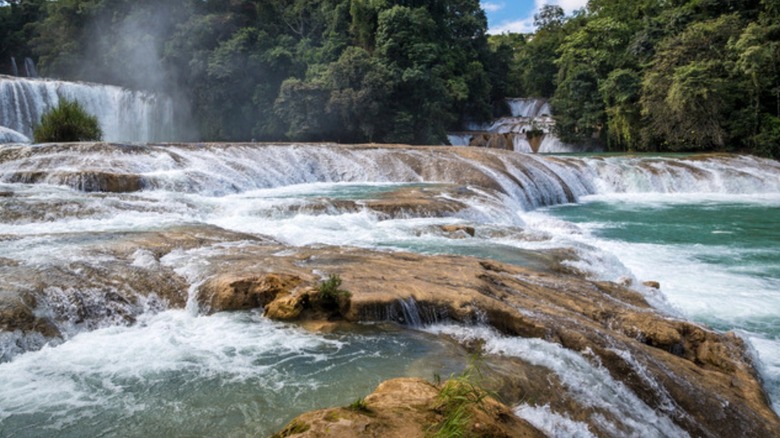 Shutterstock
Rio Santo Domingo is known as the steepest kayakable river in the world. Oregon Kayaking defines rafting there as the "Holy Grail of big-drop steep creeking."See why in this video. People go because of the rapids are – other than steep – technical and hard. Waterfalls drop from up to 90 feet. Rafting on Santo Domingo will definitely push you to your limits.
White Nile, Uganda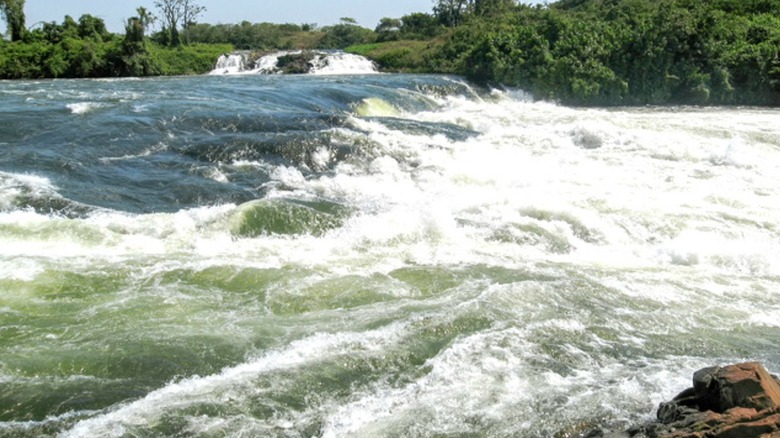 Shutterstock
White Nile has some of the world's finest Class V rapids in the world. See huge walls of whitewater and drift through warm green pools. A rafting trip is as spectacular as it is terrifying. You'll be going down and round, only guessing which way the mighty Class V rapids will take you. Keeping your legs up at all times so you don't hit rocks is a good idea. The White Nile is compressed into narrow channels, sliding over bedrock shelves. See rafting on White Nile in Uganda in this video.