Is Iceland The New New Zealand?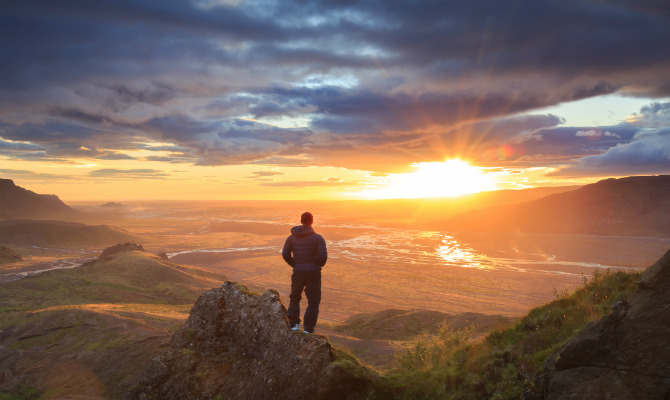 Sander van der Werf / Shutterstock
The Lord of the Rings didn't put New Zealand on the map, but it certainly helped cement its status as an iconic destination. The problem with New Zealand is getting there. A flight from New York to Auckland costs anywhere between $1,200 and $4,000 and total travel time can be upwards of 40 hours. Fortunately, there's another island nation much closer to America. And it's just as epic.
How epic? Well, for starters, with a little help from Hollywood, it can pass as the Himalayas. Iceland's highest point, Mt. Hvannadalshnjúkur is just shy of 7,000 ft. but when filmmakers were working on The Secret Life of Walter Mitty (2013) they found Iceland to be so versatile they stayed on the island to shoot the film's Afghanistan scenes.
Iceland, situated on the cusp of the Arctic Circle, is a six-hour nonstop flight from New York or a three-hour nonstop flight from London. Roundtrip airfare to its capital, Reykjavik, can be found for as low as $300. But cost analysis aside (as both countries are relatively expensive once you get there) the beauty of Iceland is that, unlike New Zealand, it's conveniently located between North America and Europe. Even if it's not the end destination, it's the ideal location for an extended layover.
In fact, the nation's leading airline, Icelandair, just introduced a game-changing service encouraging hyper-local extended layovers on transatlantic flights. The stopover trend is nothing new. In less than five years, the number of passengers choosing to have a stopover in Iceland has grown by 60 percent.
The new program, known as Stopover Buddy, pairs Icelandair employees—everyone from the CEO to pilots and stewardesses—with passengers. Matches are made based on personal interests. Cyclists can find themselves in the care of Sigrun, a 44-year-old captain who can be found mountain biking when she's not flying 757's. Thanks to her close relationship with the Specialized retailer in Reykjavik, she's been known to hook her buddies up with $4,000 bikes that would be impossible to borrow without her.
Sigrun's friend, another captain, can take travelers heli-skiing. Less adrenaline-inducing stopovers can be spent soaking in secret hot springs or dining on fresh lobster at restaurants where it helps to know a local to secure a coveted reservation. 
Like the Kiwis, Islanders are a breed of their own. More so than most cultures, they are a product of their extreme environment. And they are proud of being Icelandic. Despite the fact that their descendants hailed from Norway or Ireland (the Norse Vikings needed slaves of course), most Icelanders cringe if you call them anything but Icelandic. And they have every right to be proud. Their homeland is as harsh as it is beautiful.
For example, take the famous Blue Lagoon—Iceland's answer to New Zealand's Milford Track, often considered the "finest walk in the world."  Because of its warm, mineral-rich waters and its idyllic location in an ethereal lava field, the Blue Lagoon deserves the title of the "finest soak in the world." And where New Zealand has the Lost World Highway, Iceland has the Golden Circle. Both drives are some of the most scenic paved roads on the planet, but only while driving the 300-kilometer Golden Circle can travelers say they've crossed the meeting point of the American and Eurasian tectonic plates.
Like New Zealand, Mother Nature blessed Iceland in the water features department. Glasslike crater lakes, erupting geysers, cascading waterfalls and colossal glaciers including Vatnajokull—the largest glacier in Europe. (New Zealand features awe-inspiring glaciers too, they just require a trip to the South Island.) Thanks to the color-bearing Aurora Borealis, Iceland's ice caps are breathtaking at night. The Aurora Borealis' counterpart below the equator, the Aurora Australis, can be seen in New Zealand but it doesn't have the same notoriety as the Northern Lights.
Both countries also feature active volcanoes. Iceland's are perhaps more famous, or infamous if you ask travelers affected by the 2010 no-fly zone. In April of that year, flights over the U.K. were cancelled as a result of the lingering ash and smoke plumes from the eruption of a volcano under the Eyjafjallajokull glacier. The disruption made headlines around the world.
Today, Iceland deserves to be front and center for its potential as a vacation destination—especially for those looking for the same adventures found in New Zealand. Iceland just happens to be a lot closer. It pales in comparison in both size (it's about half the size of New Zealand) and population (323,000 vs. 4.5 million), but what it lacks in numbers it makes up for in intensity. And what's not to love about its proximity to the U.S.?
More readings: 
Meet Thousand Islands – New York's Most Underrated Waterfront
4 Budget-Friendly North American Destinations You Should Visit Before Traveling Abroad