These American Cities Have The Best Christmas Traditions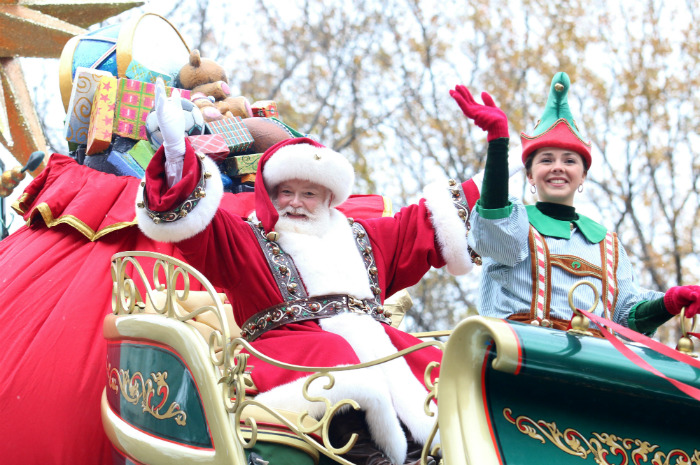 Shutterstock
These American Cities Have the Best Christmas Traditions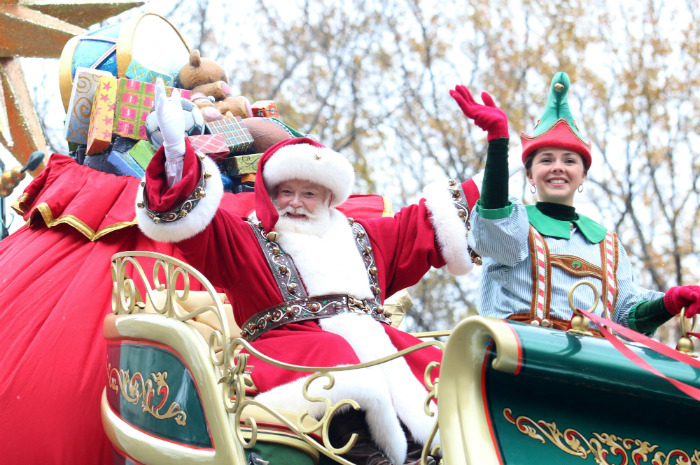 Shutterstock
McAdenville, North Carolina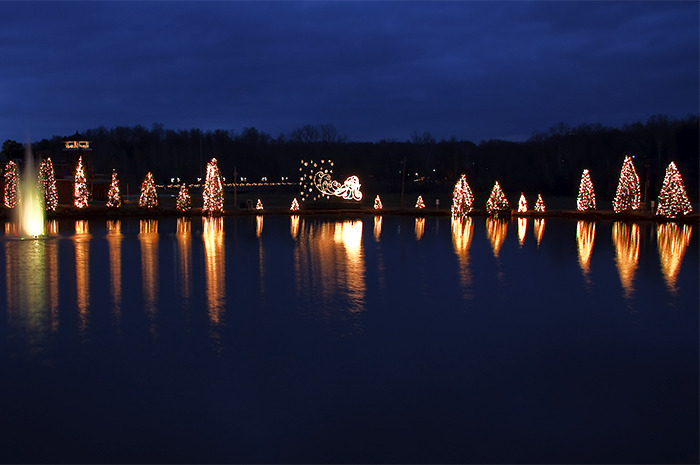 Shutterstock
McAdenville is so into the holiday that it renames itself Christmas Town USA for the month of December. Hundreds of thousands of people visit to marvel at the stunning lights the town puts up. About 400 trees are lit in downtown alone, and around 200 garlands are placed on lampposts all over. The life-size Nativity set and the spectacle of Santa and his reindeer add to the small town's magic.  The kids won't want to miss the Yule Log Parade where they pull a sled with a Yule log.
Frankenmuth, Michigan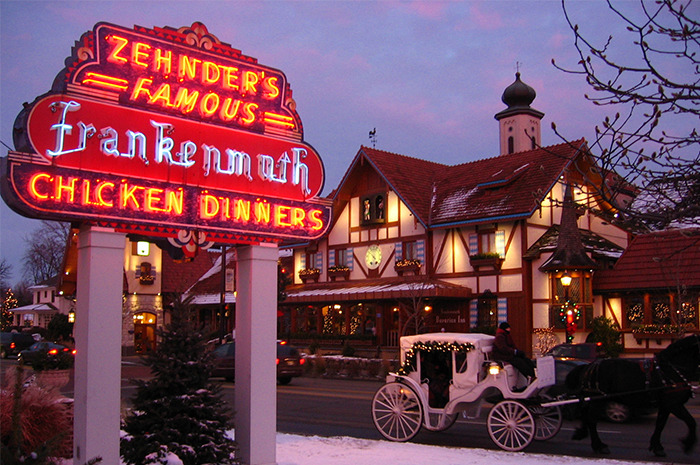 Jonathan Lenz/Shutterstock.com
This is where you'll find the world's largest Christmas store. The town was also designated one of the nine most Christmassy towns in America according to TIME. Bronner's Christmas Wonderland has over 50,000 lights illuminating the store's Christmas Lane year round. The whole town glows with star streamers and twinkling lights this time of the year. Do find time to stop by the Old Christmas Station restaurant which hosts a museum of antique ornaments.
Santa Claus, Indiana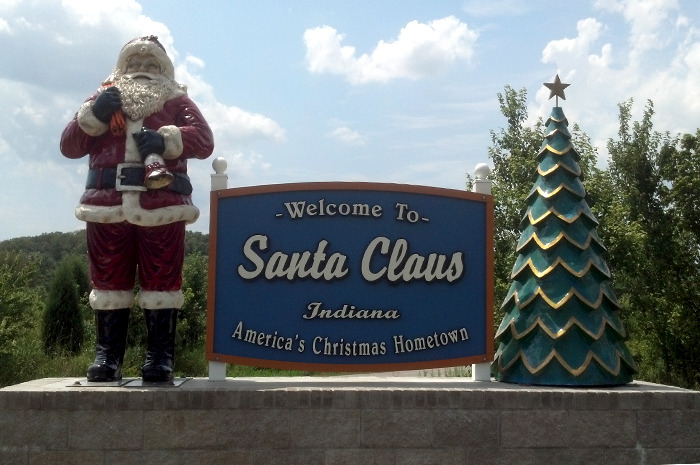 Flickr/tengrrl/CC BY-SA 4.0
The American home of Santa Claus takes the holidays very seriously. The small town of about 2,500 people has a local post office that has been sending letters to kids "from Santa" for over a century. Dubbed "America's Christmas Hometown," it offers a lot to locals and visitors. Book now a package at Santa's Lodge, a pass to Santa Claus Land of Lights, an access card to chat with an elf on the Northpole Network at Santa's Candy Castle, story time and milk and cookies with Santa, and Christmas crafts.
Asheville, North Carolina
From November through December you will find a variety of events to attend and attractions to explore. For many it's all about the iconic Biltmore Estate, America's largest home. Go and witness one of the most impressive and biggest Christmas displays in the U.S. About 80 trees decorate the 175,000-square-foot mansion. Also, take the kids on a ride to the North Pole on the Polar Express train, explore the Aluminum Christmas Tree Museum, and stop by the Arboretum gardens for another remarkable lights display.
Orlando, Florida
Main Street USA at Disney World is enough to land Orlando on this list, but the ice sculptures at the Gaylord Palms Resort & Convention Center guarantee its spot. The new theme for 2017 features Christmas Around the World. Walk through more than two million pounds of hand-carved ice sculptures and two-story-tall ice slides, "travel" to the North Pole to see Santa and his elves; and stop by the Frostbite Factory to see artisans carving ice live.
Newport, Rhode Island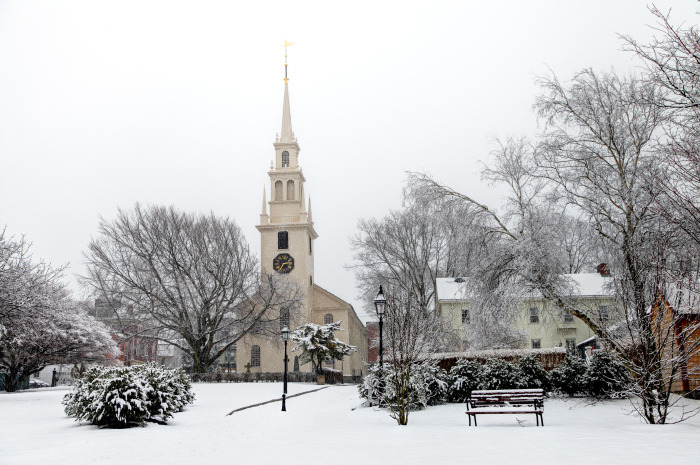 istockphoto.com
Founded in 1971, Christmas in Newport began as a two-week festival that celebrated the noncommercial traditions of the holiday season. Now in its 47th year, the annual program boasts multiple activities for nearly each day of the December calendar. Go to Santa's Workshop, enjoy wassial and Christmas treats at Whitehall Museum House, visit the Gilded Age mansions, see The Nativity of Christ puppet show, and have fun at the Holiday Caberet.
Taos, New Mexico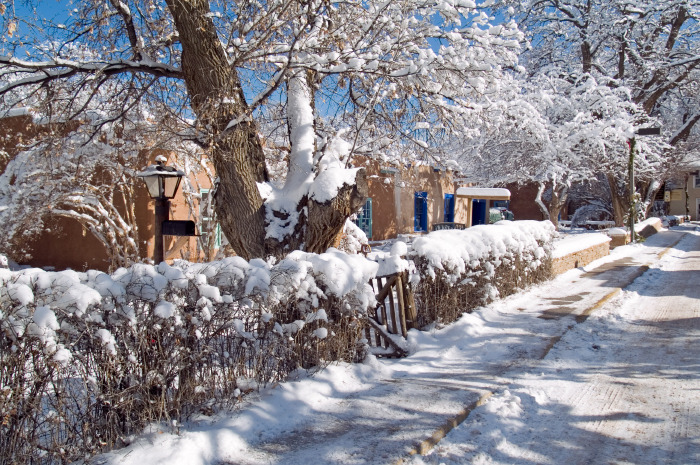 Shutterstock
Some may not believe it but this small town is one of the best places to be during the holiday season. Make seasonal crafts and have their face painted by happy elves at the Twirl Aglow Party; walk down historic narrow Ledoux Street that glows with the light from farolitos, luminarias and bonfires; take the kids to the 20th Annual Holiday Fiesta for flower fairies, wish tree, free pictures with Santa Claus, retablo painting, Christmas card making, and Ojo de Dios ornament making; see the Aztec Dancers and carolers on Bent Street.
Healdsburg, California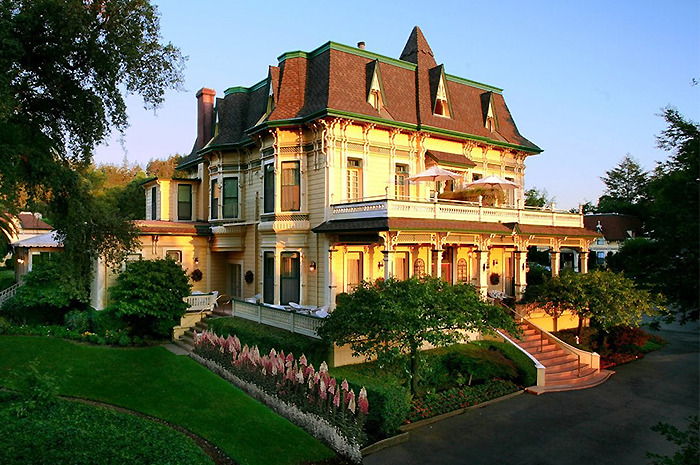 Madorna Manor/Yelp
The iconic Sonoma County knows how to celebrate Christmas. All you need is a visit to Healdsburg for proof. Just walk through historic Healdsburg Plaza for stunning the holiday decorations and lights glowing in the crisp winter air. Some of the most popular events are the Dickens Dinners at Madrona Manor and Wine Country Walking Tours' holiday specials.
Red Wing, Minnesota
The Holiday Stroll is a one day event that is filled with music, food, mesmerizing fire dances and other somewhat unusual attractions such as reindeer sleigh rides, live ice carving, meeting Santa at his shop, and drinking at an ice bar. It's nice to see the lighted parade, the fireworks and the lighting ceremony.
Durango, Colorado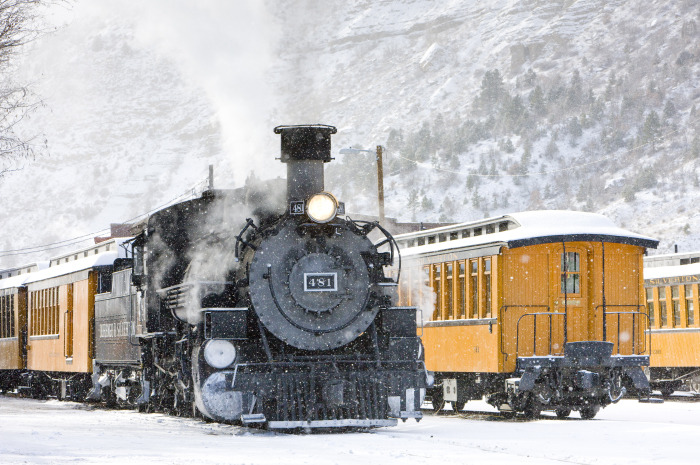 Shutterstock
You should ride the Cascade Canyon Train at least once in your life. Cut your own Christmas Tree to be hauled back to Durango on the steam train. You can also ride The Polar Express, a trip especially designed for kids.
Aspen, Colorado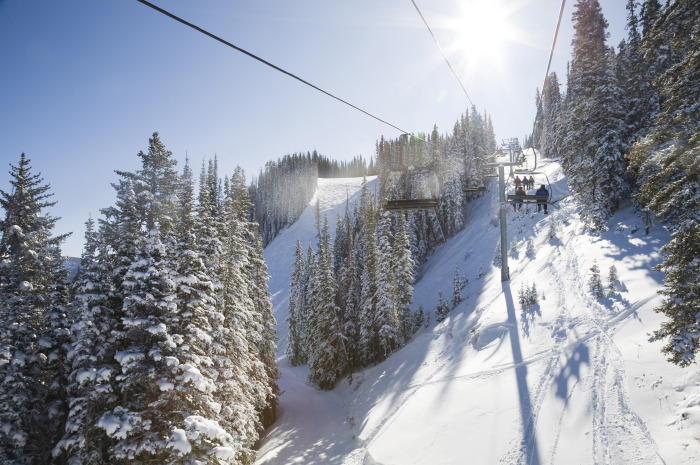 istockphoto.com
Go in time for the 12 Days of Aspen. It is an annual event that starts on December 20. There are all kinds of festivals and activities organized by local big and small businesses. You can design your own do-it-yourself holiday craft, take the kids to toddler story time,  go to film screenings, or go a journey through Broadway history with classic shows such as "My Fair Lady" and "South Pacific at the Wheeler Opera House.
New York City, New York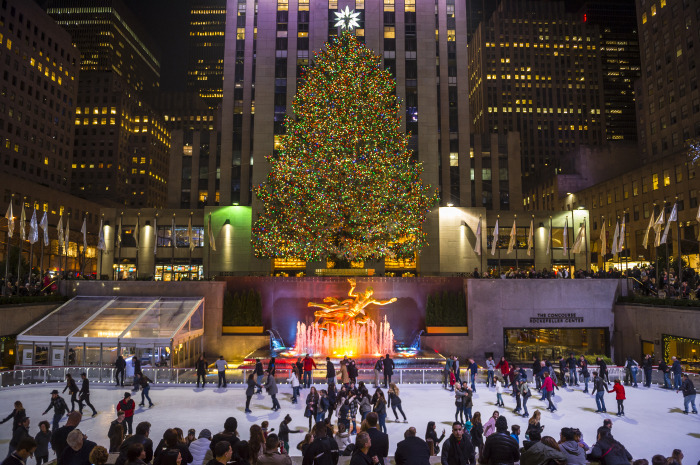 lazyllama/Shutterstock.com
Where do you even begin? The Christmas tree at Rockefeller Center , the Radio City Christmas Spectacular or the spectacular holiday lights at Dyker Heights in Brooklyn? The neighborhood goes over and beyond. Home-owners participate in an unspoken competition for the most lavish holiday light display. Walk through Dyker Heights or drive through in your car to experience the joy.
Leavenworth, Washington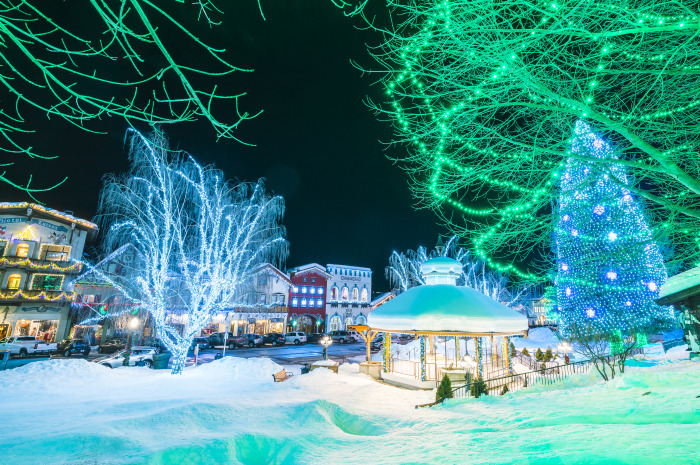 Checubus/Shutterstock.com
The beautiful mountain town has it all in the winter – skiing and snowboarding, sleigh rides, snowmobile tours, ski jumping and snowshoeing, snowcat skiing, and dog sledding. The faux Bavarian-themed town adds a nice element to the pristine natural atmosphere. Leavenworth becomes a magical city of lights right after Thanksgiving Day with its millions of Christmas lights, constant caroling and joyous lighting ceremonies during the first three weekends of December. For a small town there is an abundance of concerts, horse drawn sleighs, unique shops and cafés.
Woodstock, Vermont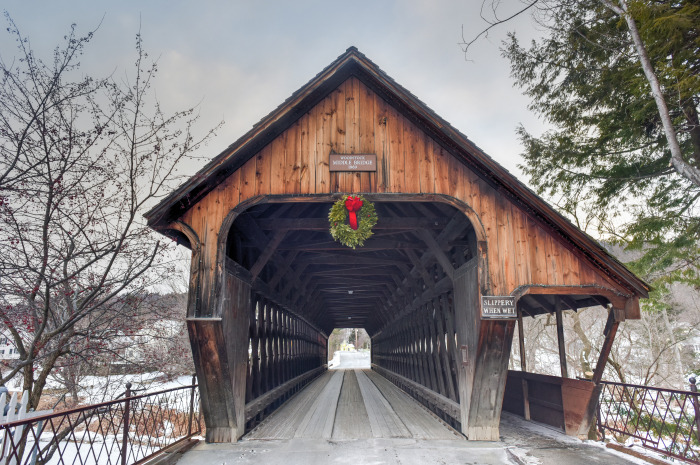 Shutterstock
A light dusting of snow, cheerful displays, Christmas parades, and exciting events are just some of the many things you have to look forward to during Christmas in Woodstock. This historic New England town welcomes all to attend their pre-Christmas Winter Wassail Weekend; don't miss the Wassail Parade, it runs through the center of Woodstock and features more than 50 horses and riders dressed in costumes. There is also a holiday craft fair and performances by local theater troupes.
North Pole, Alaska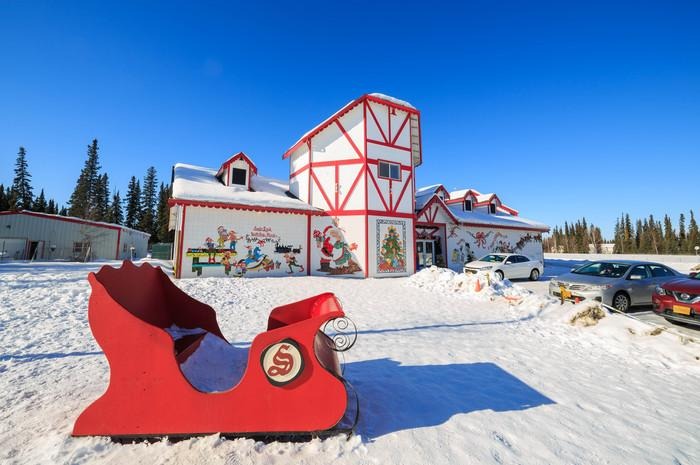 Shutterstock