The Most Beautiful Cemeteries In America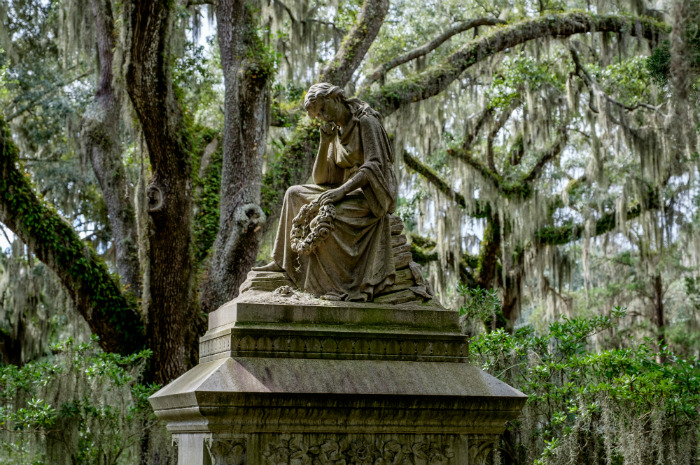 Shutterstock
Most people are probably not thinking about where they'd wish to be buried. But if they took a few minutes to actually consider what should their final resting place be, the cemeteries on the following list are definitely going to be high on the their list. They're usually very well-maintained, have gorgeous big and small walking paths, and offer an insight into history. Also, some or many of their neighbors are local and/or national heroes and celebrities.
Bonaventure in Savannah, Georgia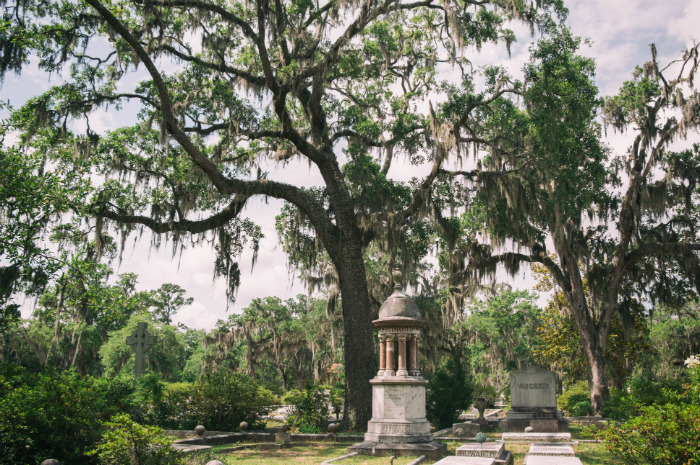 Shutterstock
Bonaventure, located on a charming bluff of the Wilmington River, is one of the most beautiful and most famous cemeteries in the world. It began in 1846 as the privately owned Evergreen Cemetery. You can go on free guided tours exploring the more than 100 acres of beauty and history, the weekend of the second Sunday of the month. You can also tour by yourself using the app for Apple and Android phones.
Arlington National Cemetery in Arlington, Virginia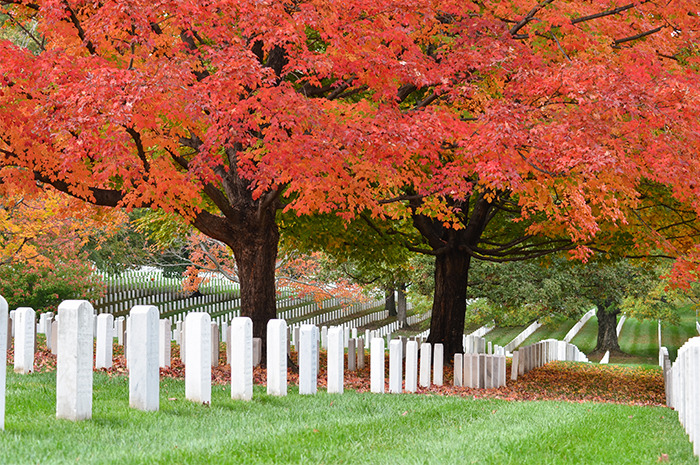 Shutterstock
Discover Arlington's rich history, see the changing of the guard ritual (which happens every hour), take in the picturesque 624 acres of formal and informal landscapes, wander through the headstones and monuments, and reflect on the names and stories each person could tell. A popular attraction, The Tomb of the Unknown Soldier, which stands atop a hill overlooking the capital, is the burial of an unidentified American soldier from World War I.
Green-Wood in Brooklyn, New York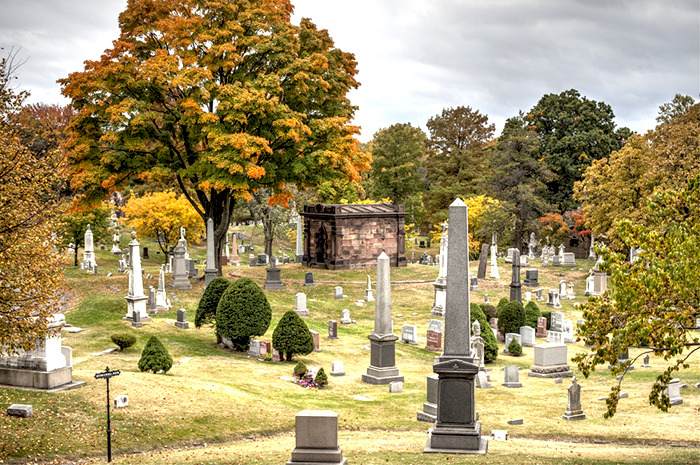 Fernando Garcia Esteban/Shutterstock.com
Some call it the most amazing 478 acres in New York. This is where New Yorkers and other Americans have been buried since 1838. Stroll the grounds on your own or go on a self-guided walking tour. There are almost 600,000 monuments on display. Upside down torches symbolize an extinguished flame, or a life ended, and the whimsical hourglass with wings symbolizes "time flies." Admission to Green-Wood is free.
Saint Louis Cemetery in New Orleans, Louisiana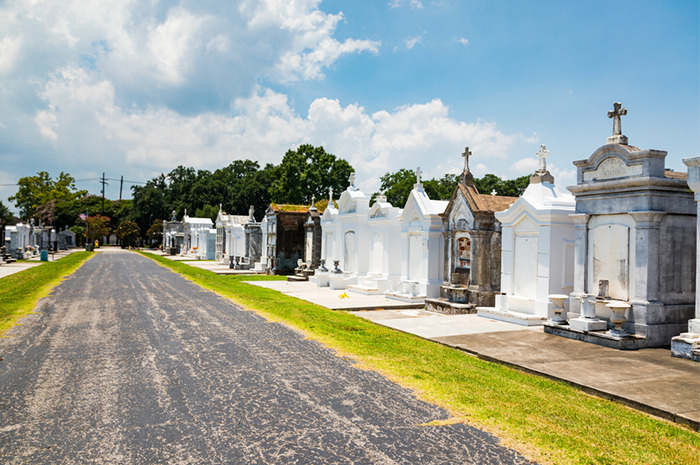 alisafarov/Shutterstock.com
As you can imagine in New Orleans, cemeteries are a major attraction. The Saint Louis Cemetery No. 1, which is just a walking distance from the French Quarter, located on historic Basin Street is among the most famous. This is where Marie Laveau, the legendary "voodoo queen" is buried. All visitors must be accompanied by licensed tour guide.
Mount Auburn Cemetery in Cambridge, Massachusetts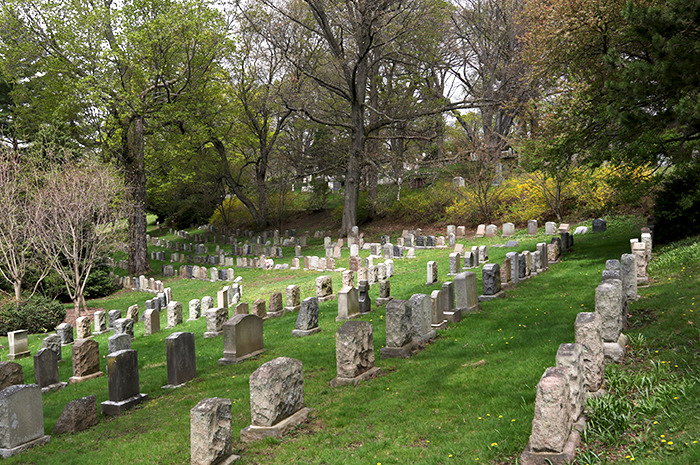 Shutterstock
It was founded in 1831 when the Massachusetts Horticultural Society purchased 72 acres of mature woodland to create a "rural cemetery" and experimental garden. There is a gorgeous variety of landscapes, plants, trees, ponds and trails that create an atmosphere of tranquility. You can even see some wildlife there – winter is the best time to go to spot the year-round resident birds of the cemetery that are usually quiet and hidden in the fully leafed trees.
Mountain View Cemetery in Oakland, California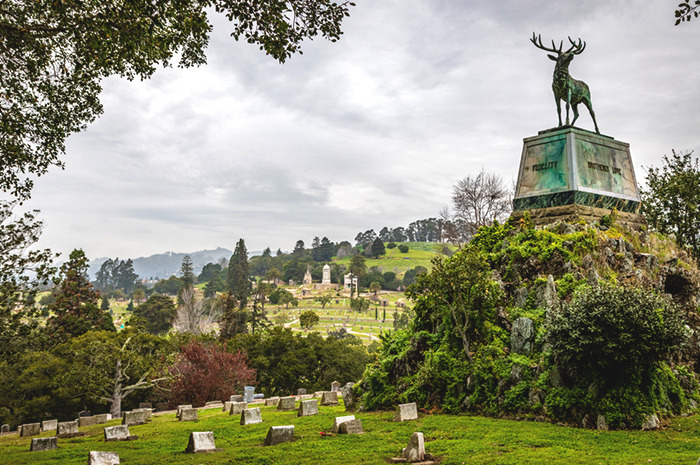 Shutterstock
The historic Olmsted-designed cemetery is located in the foothills of Oakland and Piedmont. Mountain View Cemetery is one of the best examples of a garden cemetery in the country. Walk along the grand avenues and zigzagging roadways, under the live oaks and stone pines. See the extravagant mausoleums and humble columbarium.
Granary Burying Ground in Boston, Massachusetts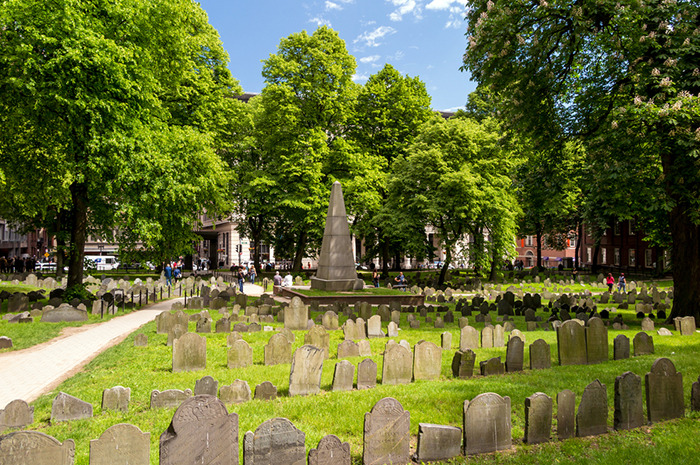 f11photo/Shutterstock.com
This is the final resting place for many distinguished Revolutionary War-era patriots, including Paul Revere, who is buried near the back of the Granary. Three of the signers of the Declaration of Independence – John Hancock, Robert Treat Paine and Samuel Adams rest there as well. Next to him is the grave marker for the victims of the Boston Massacre. You won't see any elaborate imagery because Puritan churches did not believe in them. People used the tombstones as a way of expressing beliefs about life after death.
Crown Hill Funeral Home and Cemetery in Indianapolis, Indiana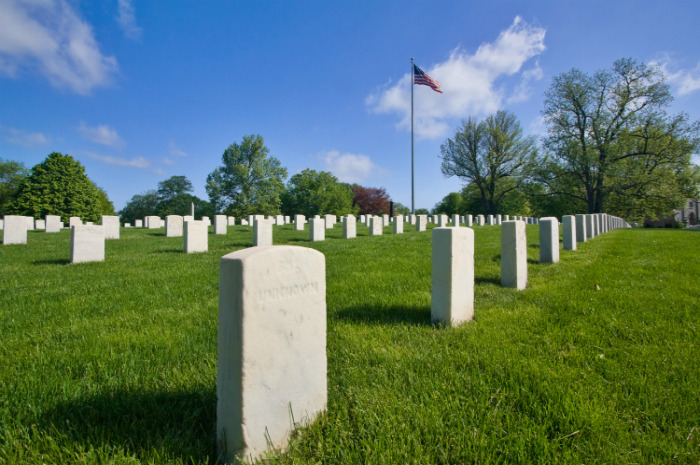 Shutterstock
The cemetery was incorporated as a non-profit, non-denominational, and non-sectarian in 1863. You can book public and private guided tours year-round. Most private tours are walking tours and include a trip to the top of the Crown, Marion County's highest hill, which offers a remarkable 360-degree view of the Indianapolis skyline.
Laurel Hill Cemetery in Philadelphia, Pennsylvania
littlenySTOCK/Shutterstock.com
The legendary "witness tree" is the most famous attraction in the cemetery. It was where a few Civil War generals and U.S. presidents, including Ulysses S. Grant, once sheltered. Go on the new "Famous Fights and Feuds" tour to learn about the broken engagements, affairs, insults, and murder stemming from vendettas that have been forgotten for a long time.
Cave Hill Cemetery in Louisville, Kentucky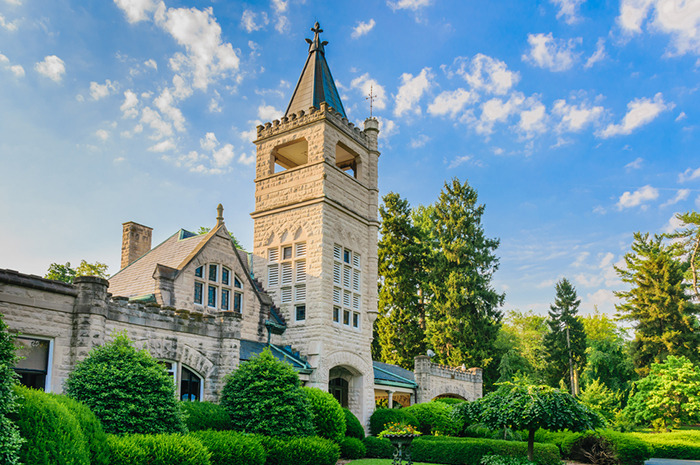 Thomas Kelley/Shutterstock.com
It became the symbol of success in the form of monumental art. Exotic trees and shrubs were added as well as elaborate memorials to some of the people buried there. This rural, garden-style cemetery has been emulated around the country. The famous cave is off limits to visitors because the footing is dangerous.   
Hollywood Forever Cemetery in Hollywood, California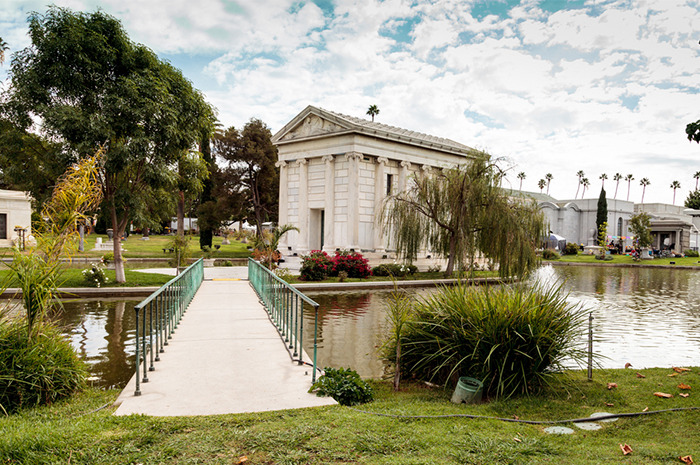 LagunaticPhoto/Shutterstock.com
As you can imagine, this is the final resting place to more of Hollywood's founders, writers, directors, and, actors, and performers, including Cecil B. DeMille and Douglas Fairbanks, than anywhere else in the world. This is the oldest cemetery in Hollywood, founded in 1899. It is still right by the Paramount Pictures studios.
Graceland Cemetery in Chicago, Illinois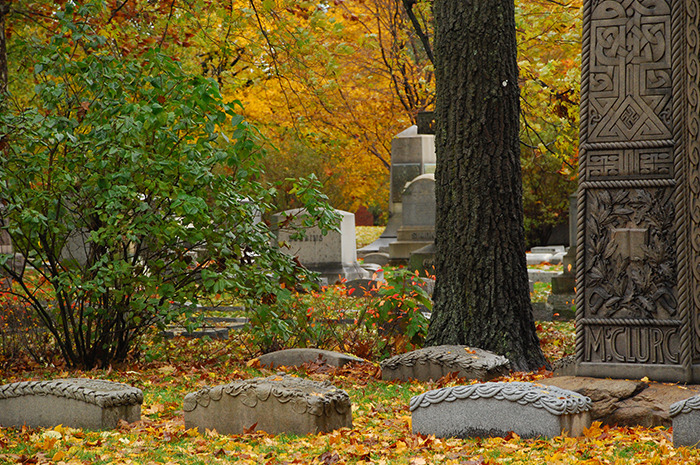 Dreamstime
This has been among Chicago's finest hidden treasures for about 150 years. The serene but also vibrant at the same time cemetery is located on the North Side. Famous natives like athletes, politicians, industrialists and architects are buried there. Graceland is still an active cemetery and arboretum.
Golden Gate National Cemetery in San Bruno, California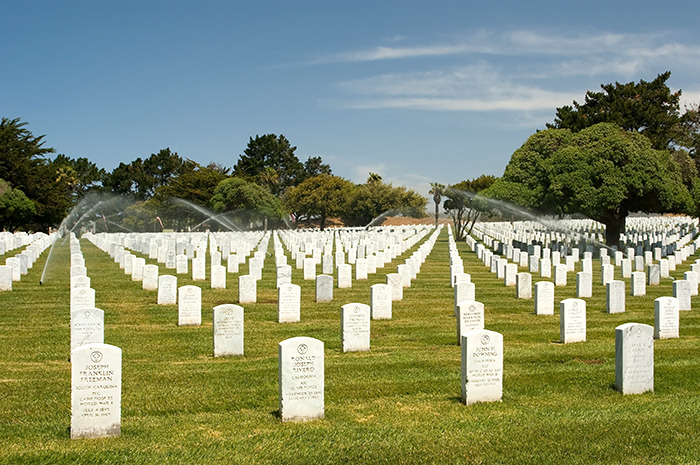 Shutterstock
Golden Gate National Cemetery is located just 12 miles south of San Francisco. Do not confuse it with San Francisco National Cemetery, which is in view of the Golden Gate Bridge. The cemetery was designed specifically to provide abundant burial opportunities in cities with large veteran populations. Golden Gate has remained at its original 161 acres since 1941.
Mount Hope Cemetery in Rochester, New York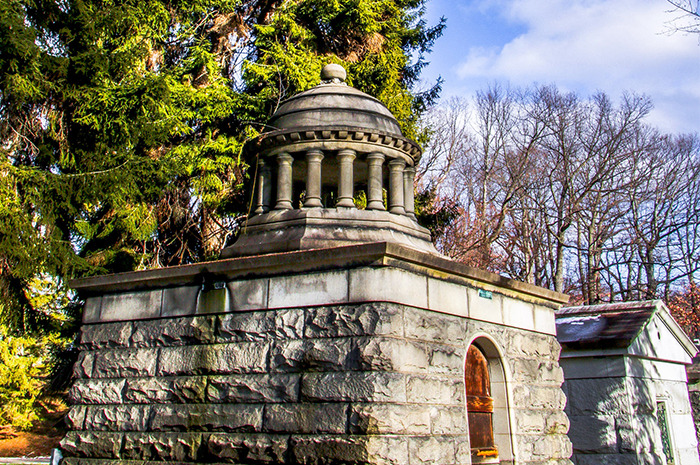 Shutterstock
Some people visit the cemetery just to take a walk and do some sightseeing. Some of the headstones, crypts, and mausoleums are incredible to see from up close. The 40 acres of ground, now more than 200 acres with about 330 million residents, was formally dedicated in 1838. It's one of the country's oldest active municipal burial ground.
Fort Rosecrans National Cemetery in San Diego, California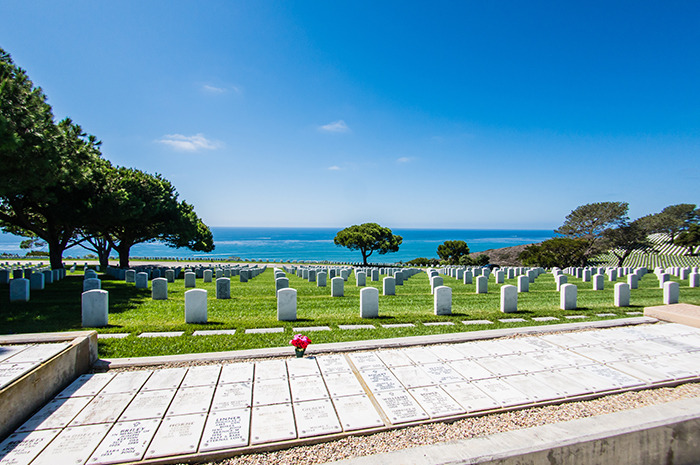 Pabkov/Shutterstock.com
Located on a hillside with absolutely breathtaking views of the Pacific, the cemetery is just about 10 miles from San Diego. Established the 1880s, Fort Rosecrans cemetery's one of the most famous structures is the landmark obelisk commemorating people killed in the USS Bennington disaster in 1905.