The Coolest Roadside Attractions In The Midwest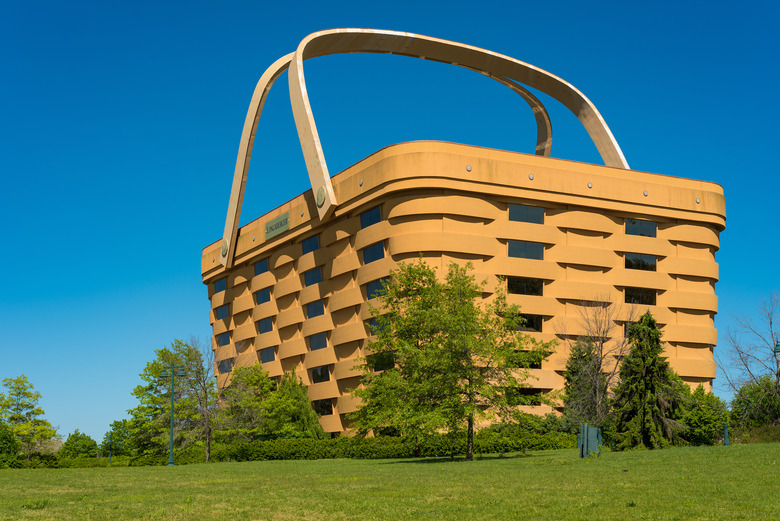 Kenneth Sponsler/ Shutetrstock
If you love seeing new things and new places, taking a road trip is a great opportunity to see places and attractions that you normally would not see if you just took a flight somewhere. Whether you're driving through a small town or towns that are stuck in time there are places across the United States that look different than anything you have ever seen. The Midwest has more than you might think when it comes to attractions you can stop and see while on a road trip. 
Brooks Catsup Bottle Water Tower (Collinsville, Illinois)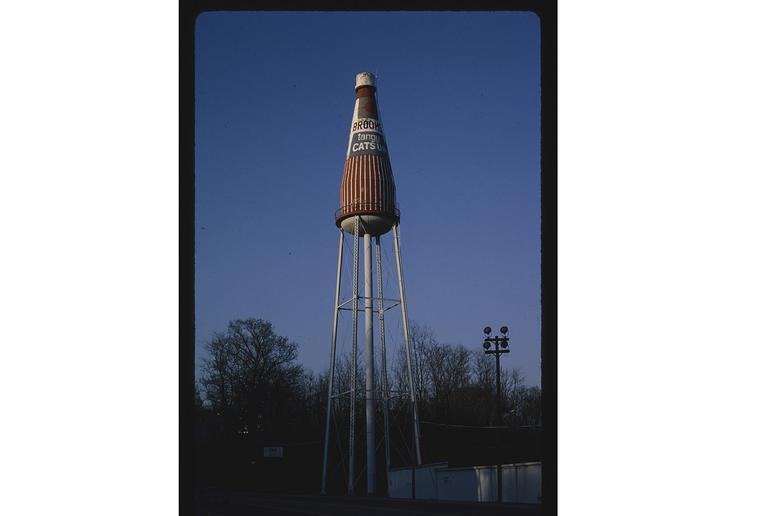 John Margolies/Library of Congress
The largest ketchup bottle in the world isn't filled with ketchup — it's filled with water, and it holds the water reserve for the city of Collinsville, Illinois. It was originally built beside Route 159 to supply water to a Brooks Foods ketchup plant nearby, hence the Brooks Old Original Catsup bottle shape. Brooks Foods has since shut down, and the plant is no longer functional. But the 170-foot-tall water tower still pays homage to the condiment company and was restored by local preservation efforts long after the company closed. If it were actually filled with ketchup, it would contain the equivalent of 640,000 bottles of Brooks Old Original Catsup. And this town does love its ketchup — every year they celebrate the Catsup Bottle Festival. There are motor races, vendors and a children's pageant to crown each year's Little Princess Tomato and Sir Catsup. Sounds like one of the best food festivals in America.
Carhenge (Alliance, Nebraska)
marekuliasz/Shutterstock
The unique art installation of Carhenge in Alliance, Nebraska, is a life-size replica of Stonehenge — only instead of ancient stones, it's made from modern cars. Carhenge was built by artist Jim Reinders and a group of friends and family in the 1980s. Reinders reportedly said that the structure, which consists of 38 cars and is 96 feet in diameter, "took a lot of blood, sweat, and beers" to build. It has since been joined by other car-themed sculptures and has won a couple of awards. Admission to Carhenge is free, and the site attracts over 60,000 visitors each year.
Coffee Pot Water Tower (Stanton, Iowa)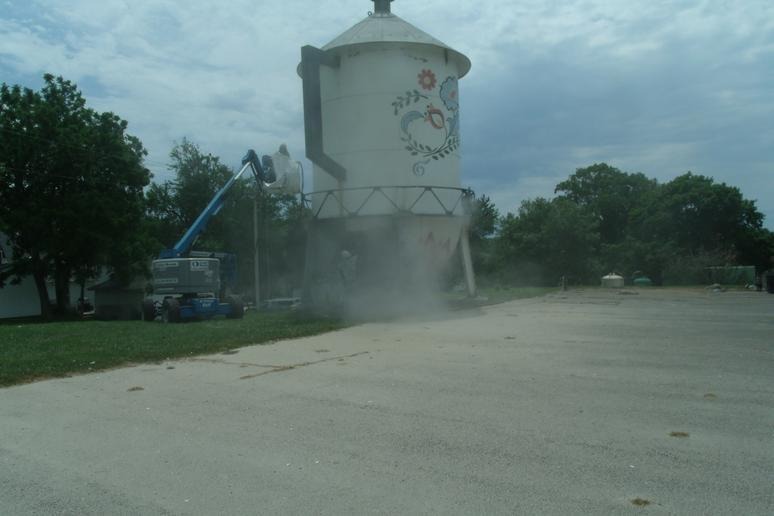 Stanton Historical Society
Water towers are often deemed landmarks of small, rural towns, but in Stanton, Iowa, one water tower is especially beloved. Painted with a traditional Swedish design, the coffee pot-shaped water tower is the largest Swedish coffee pot in the world and a local symbol of good hospitality. Though the water tower did provide water to the town when it was built in 1914, the tower is no longer functional. It was dismantled and brought down from its tall post in 2015, and now sits reassembled and preserved on the grounds of the town's Swedish Heritage and Cultural Center. The coffee pot held 40,000 gallons of water at a time — the equivalent of 640,000 cups of coffee. You'd have to drink more than 17 cups of coffee every single day for 100 years to come close to emptying the volume of that tank.
Corn Palace (Mitchell, South Dakota)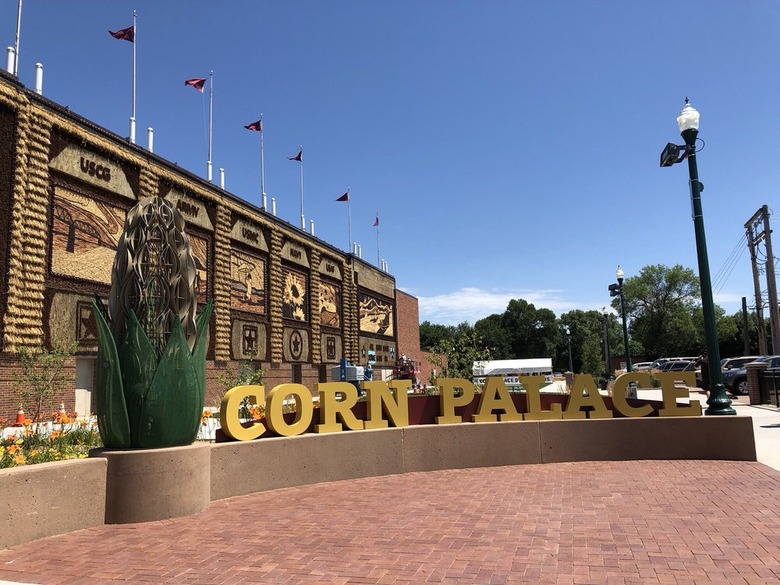 Yelp / Bethany E.
Of all the castles you can find in the United States, this is the most a-maize-ing. The Corn Palace, also advertised as The World's Only Corn Palace and the Mitchell Corn Palace, is a multi-purpose venue meant to celebrate corn built by a town that's crazy about the crop. In Mitchell, South Dakota, the high school mascot is the Kernels and their local radio station is KORN. The Corn Palace hosts an annual Corn Palace Festival. But if you're wondering what's popping at the Corn Palace at any other time of year, rest assured that if you love corn, there's no wrong season to visit. The castle is always bustling with activities including concerts, banquets, Food Truck Fridays (which has some of the best food trucks in America) and corn-themed concessions. It's made of concrete — not corn — but every year, the building's exterior is covered with thousands of bushels of South Dakota corn, grain and grasses. The greenery is arranged into one-of-a-kind murals that last till fall. They also frequently serve as a venue for local events such as graduation, sporting events and prom. Before you go, stop by the gift shop to grab yourself a corny souvenir.
Enchanted Highway (Regent, North Dakota)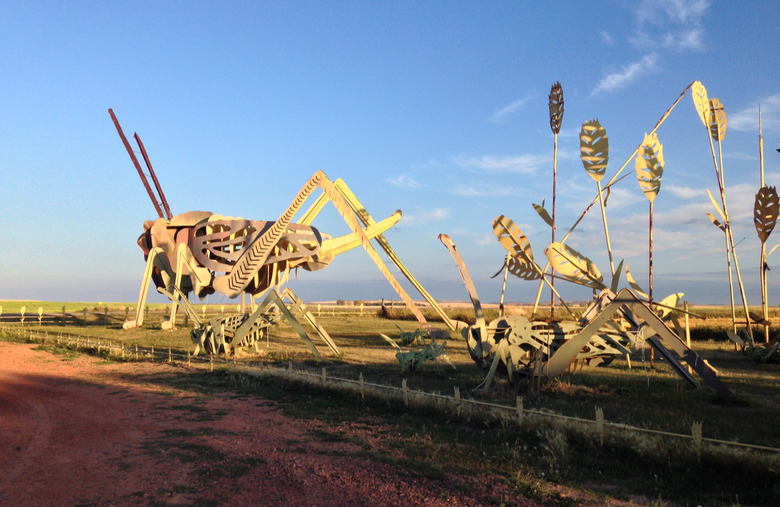 Larry Porges/Shutterstock
The Enchanted Highway is a collection of the largest scrap metal sculptures in the world dispersed over 32 miles of a two-lane highway in North Dakota. The sculptures, created and maintained by Gary Greff, are intended to increase traffic in the area and fight the growing disinterest in small-town America. Greff had zero artistic experience prior to creating the sculptures. But the hidden gems have succeeded in saving the town of Regent from extinction, and Greff plans to continue building more along the same road. Every statue has a meaning related to North Dakota's history. Teddy Roosevelt stars in one statue, for example, while others feature local wildlife such as grasshoppers and deer. Greff later opened a motel called the Enchanted Castle and has plans in the works to open a top RV resort, drive-in theater and quaint cafe.
Field of Corn (Dublin, Ohio)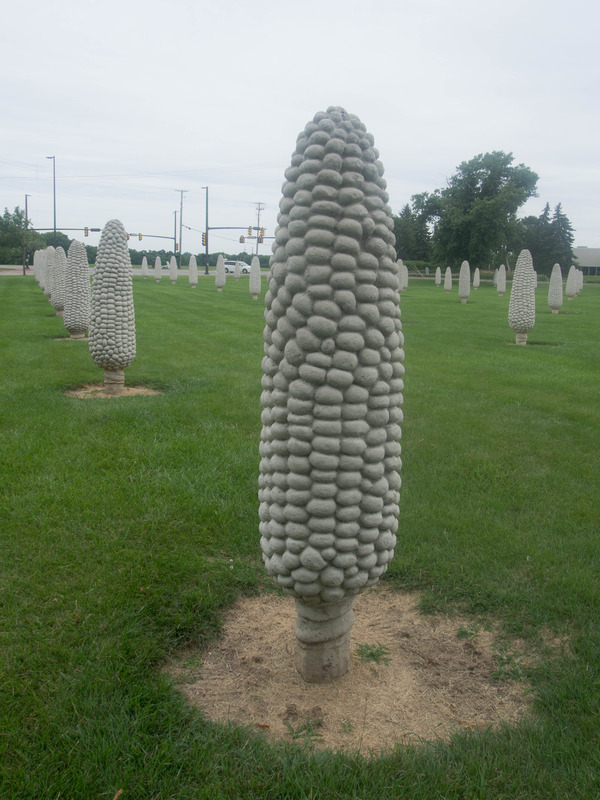 © Mark Calvert/Dreamstime.com
Ohio has plenty of corn, but this is no ordinary cornfield. The Field of Corn in Dublin, Ohio, is one of the oddest, most famous attractions in the Midwest. The artistic installation features 109 person-sized sculptures of gray ears of corn. Each one is 6 feet, 3 inches tall, and all are set in orderly rows across the large field. The piece is meant to symbolize the community's longstanding legacy of farming and to celebrate the culture of the town — but the sentiment may have been a tad too corny because it became more of a joke to residents than a serious homage to agriculture. Tax dollars were being spent on inedible giant food, rather than actual food grown in the ground. The field was once used to farm actual corn by Sam Frantz, who helped to pioneer the use of hybridized corn. No matter the controversy, visitors still come from all over to visit the installation and learn kernels of the town's history.
Food Gatherers' Giant Carrots (Ann Arbor, Michigan)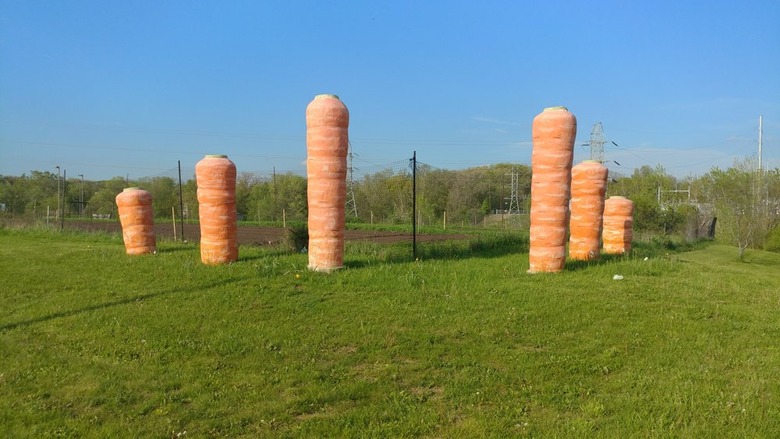 Yelp / Bruce K.
If Stonehenge were made of carrots, it would look like these roadside statues. Outside of Ann Arbor, Michigan's food rescue program Food Gatherers, 10-foot-tall carrots are poking out of the ground. Meant to symbolize deep roots in the community, carrots are part of Food Gatherers' logo. The giant homage to the organization's important work is both a fitting symbol for the approximately 5.2 million meals Food Gatherers has delivered to those in need and a quirky sight to see while passing through the town.
Leaning Tower of Niles (Niles, Illinois)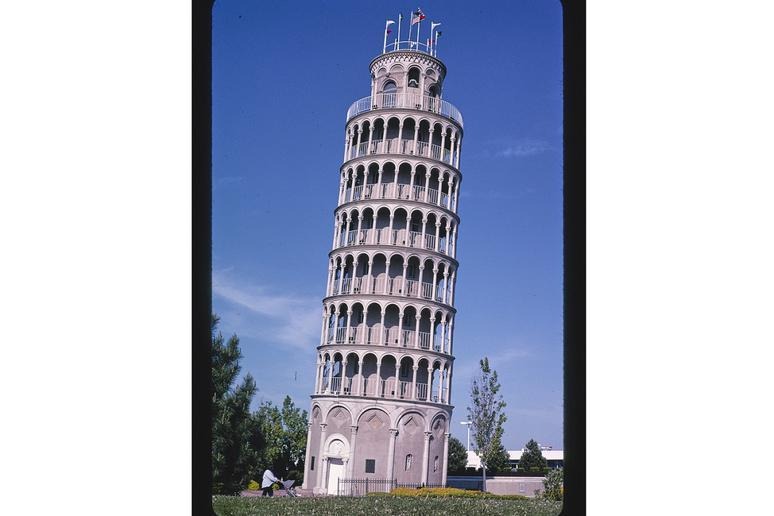 John Margolies/Library of Congress
Just 15 minutes outside the Chicago O'Hare airport in Pisa's sister city, Niles, Illinois, there's a half-sized replica of Italy's Leaning Tower of Pisa. The tower was built in 1934 by Robert Ilg, intended as a place to store water for a nearby public pool. Ilg also had a special admiration for Galileo, who was said to have used the original leaning tower to help prove theories about gravity. Today, the on-site water fountains serve no purpose other than aesthetics. But the tower remains an attraction for visitors. It's also 10 minutes from the world's first-ever McDonald's — a somewhat different food scene than you'd find in Pisa, Italy.
Longaberger Basket Headquarters (Dresden, Ohio)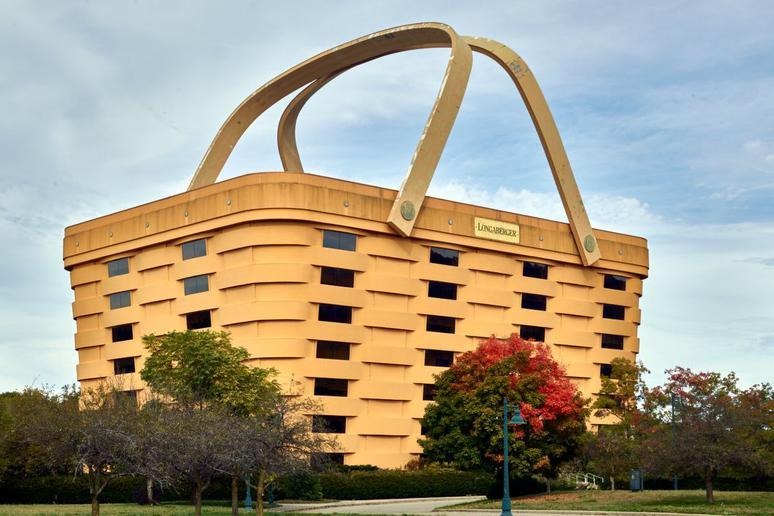 Carol M. Highsmith/Library of Congress
The Longaberger Company was a large manufacturer that sold baskets and other housewares. Once a billion-dollar company, Longaberger was headquartered in a building that looked like a gigantic maple wood basket. But running a business is no picnic. The Longaberger Company went out of business in 2018, leaving the wacky building behind. The seven-story building can still be seen from Main Street in Dresden, Ohio.
Pink Elephant Antique Mall (Livingston, Illinois)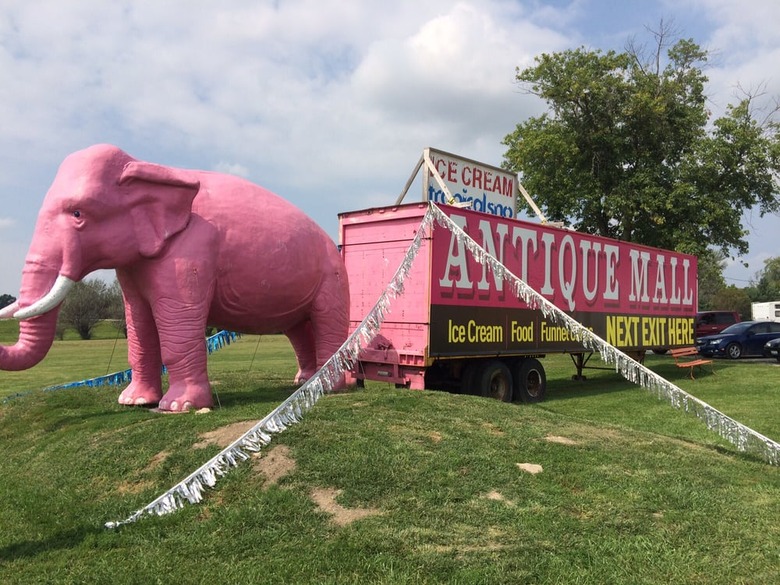 Yelp / Jim H.
Interstate 55 is home to a few odd attractions, but this one is larger than life. The Pink Elephant Antique Mall is surrounded by large statues of everything from Alvin and the Chipmunks to a "muffler man" (one of those colossal fiberglass statues of a man holding something that dot American roadways from coast to coast) wearing a Harley-Davidson shirt. From the highway, it's impossible to miss — the entrance is guarded by a giant pink elephant. Inside the building itself, there's a bustling flea market filled with trinkets and homemade items for sale. A newly opened Route 66-themed nostalgic diner serves greasy, fried appetizers and other American foods. Outside, an ice cream cone-shaped shop called "Twistee Treat" sells frozen desserts including soft serve, sundaes and milkshakes.
Tommy the Turtle (Bottineau, North Dakota)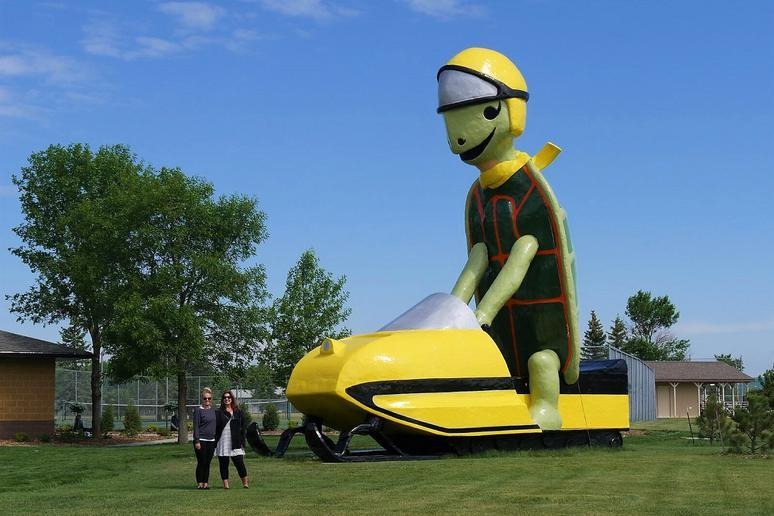 North Dakota Tourism
Tommy the Turtle, a landmark in Bottineau, North Dakota, is the largest turtle in the world. He's meant to pay tribute to and symbolize the nearby area that used to be a gateway to the Turtle Mountains. The mountains themselves are long gone, said to have been destroyed by the last ice age. The snowmobile-driving reptile towers more than 30 feet over the side of country roads near the Canadian border. He weighs 3 tons and sits atop a 34-foot-long snowmobile that visitors can ascend into to stand on a platform as his passenger. Surrounding a grinning, helmet-wearing Tommy is Tommy Park, where children often come to play.
World's Largest Buffalo (Jamestown, North Dakota)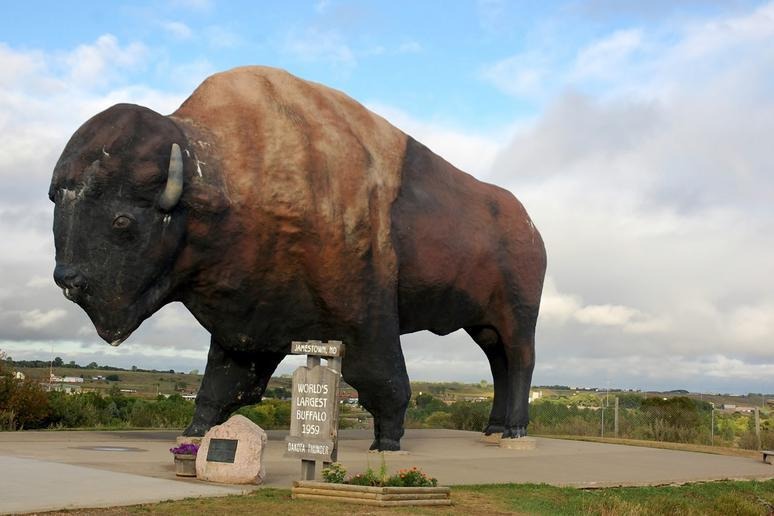 Dreamstime
Buffalo are already pretty large (each animal weighs approximately 1,000 to 2,000 pounds) but this one outweighs them all. The World's Largest Buffalo, a giant statue in Jamestown, North Dakota, is 26 feet tall and 46 feet long, and it clocks in at a massive 60 tons. That's the equivalent of the weight of 60 large buffalo. The idea for the monument arose in 1958 when the first stretch of highway was built near Jamestown. By building something attention-worthy near I-94, residents hoped to draw in more visitors to their small town. Elmer P. Peterson, an art teacher at the local college, was hired to make something big and impossible to ignore, and the World's Largest Buffalo was born. He's massive, made of metal and cement, and anatomically correct. After the buffalo's 50th birthday, Jamestown held a contest to come up with a name for its beloved monument. In 2010, he was officially christened "Dakota Thunder." These are just the sights of the Midwest, but there are roadside attractions you can see in places all across the country.