The World's Largest Christmas Store Is Located In This Town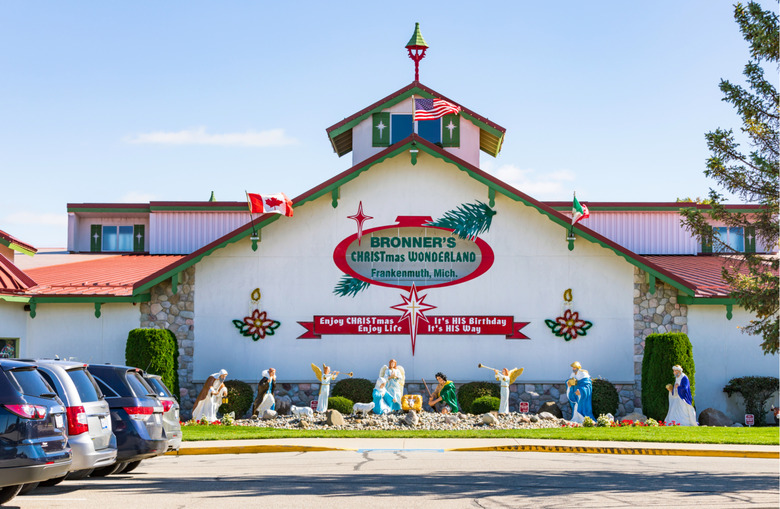 alisafarov/Shutterstock
Christmas is one of the most festive times of the year. It's the perfect time for family and friends to gather together to exchange presents, eat delicious Christmas cookies with some hot cocoa and decorate around the house with stunning lights and ornaments. However you choose to celebrate the holidays, there is one place every jolly person must visit in their lifetime.
Located in Frankenmuth, Michigan, Bronner's Christmas Wonderland is the world's largest Christmas store. This magical spot has become a place that many people make it a Christmas tradition to travel to.
Wally Bronner got his humble beginnings in Christmas decorations by creating his own custom line of panels for merchants looking for Christmas decorations for city lamp posts. Later, Bronner and his wife constructed the first building for the Christmas store in the middle of Frankenmuth. Over the years, the original building expanded and they also bought old establishments as a part of the store's expansion. In 1977, the stores combined under one roof on a 45-acre site. By 2002, the building's total size compared to 5.5 football fields.
Bronner's is the place to go if you're looking for amazing Christmas display lights or a simple holiday gift for your loved one.
Walking through, you'll see rooms filled with Christmas ornaments, holiday lights and trees in every color imaginable, decorations from classic to quirky, Christmas houses and villages and even a small museum and chapel.
Frankenmuth isn't the only place with a great holiday spirit. Here are some more of the most magical Christmas towns and villages around the world.