Everything You Need To Know About Disneyland's Star Wars: Galaxy's Edge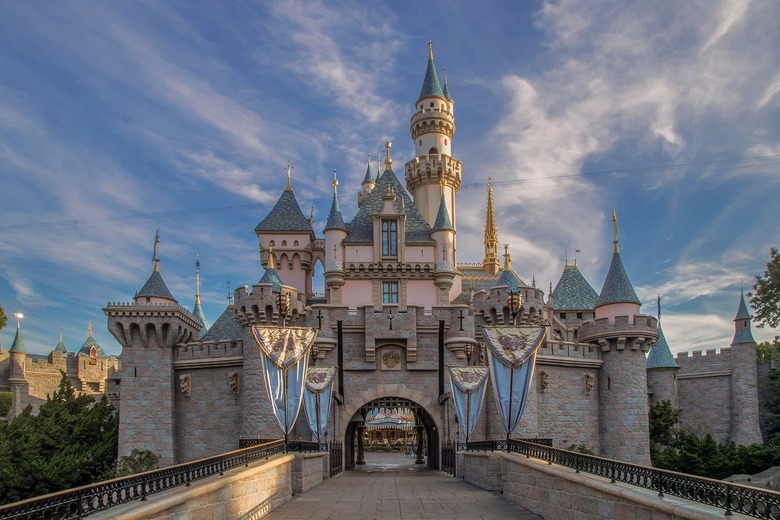 Joshua Sudock/Disneyland Resort
Disneyland as we know and love it is has changed forever. On May 31, a complete land themed around Star Wars opened its gates to the public. Colloquially called "Star Wars land," this new theme park land is actually called Star Wars: Galaxy's Edge. But this new space has a lot of different names. While they're there, guests will find themselves mingling with the denizens of Black Spire Outpost on the all-new Star Wars canon planet of Batuu.
That's already a lot of information, right? There are a lot of things you need to know about Star Wars: Galaxy's Edge before you plan your trip or even consider going. The Active Times was lucky enough to experience this land mere hours before it opened to the public, and we've broken down every single thing there is to know about this innovative new theme park land, from basics like where it is and when it opens to the public to details like what you can do, eat, drink, see and buy once you go.
Despite all of the hype around Star Wars: Galaxy's Edge, this new innovation from Disney is not its own theme park. It's located in Disneyland Park in Anaheim, California. Fans of Disneyland will remember Big Thunder Ranch, an outdoor petting zoo, which was closed in January 2016 to make way for Star Wars: Galaxy's Edge. The land also took over some backstage areas.
It opens June 24 for all guests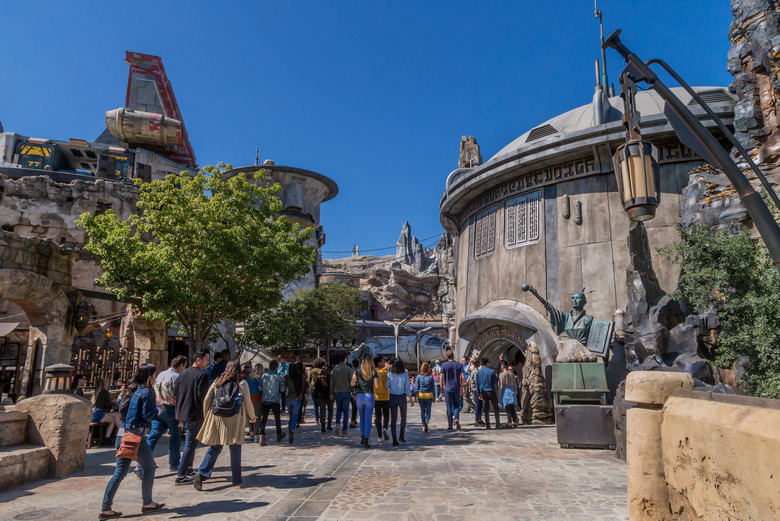 Joshua Sudock/Disney Parks
Guests who want to experience the land between May 31 and June 23 will have needed to make a no-cost reservation on the theme park's website — it's the only way to access the area for now unless you're staying at one of Disneyland's hotels. If you don't want to stress about getting a reservation for Galaxy's Edge, plan your trip to Disneyland for June 24 or after. Starting then, the land will be open to all visitors. You should, however, be prepared for massive crowds. We recommend getting to the park early, because both Disneyland Park and Star Wars: Galaxy's Edge can reach capacity. You're not guaranteed entry into Disneyland Park on any given day; the gates can be closed and any guests wanting entry will be directed toward Disney California Adventure.
There are three entrances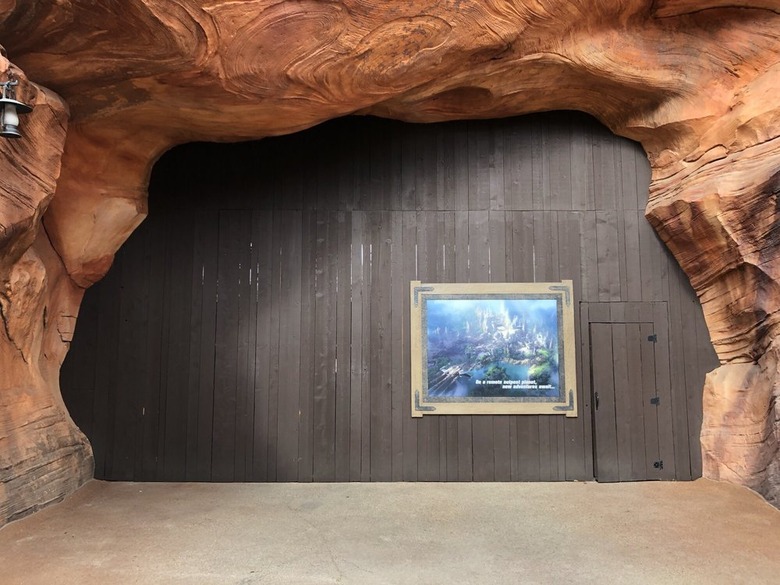 Yelp/Alexander Y.
To help keep crowds spread out, Star Wars: Galaxy's Edge has three separate entrances at Disneyland Park. To find it, head north from Frontierland or Critter Country or west from Fantasyland. Galaxy's Edge is expansive; it takes up 14 acres of land. In comparison, the rest of Disneyland Park is about 85 acres.
It's set on a new Star Wars planet called Batuu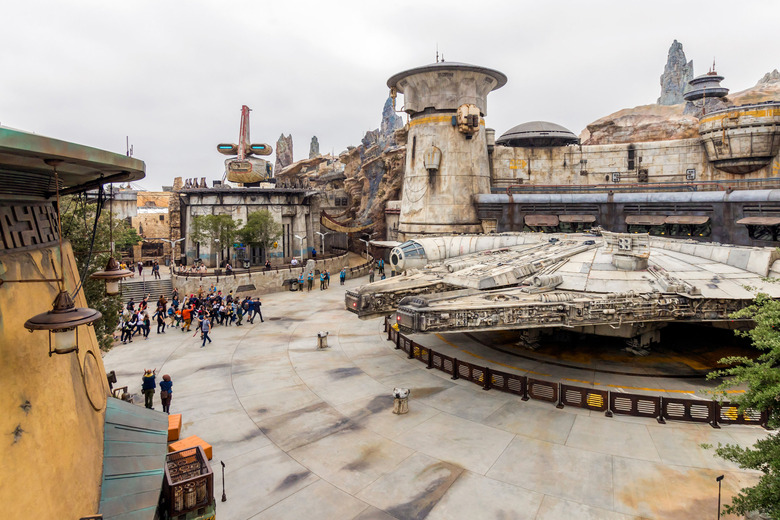 Joshua Sudock/Disney Parks
Fans of Disney theme parks and Star Wars know that ridiculously detailed and in-depth storylines are the norm for both, so when those two worlds collide, you know you're going to get an immersive experience. Star Wars: Galaxy's Edge is actually set on a new Star Wars planet called Batuu. Said to be on the outer rim of a galaxy far, far away, this remote planet has a town called Black Spire Outpost. This faraway planet has been bypassed in recent years thanks to the invention of hyperspace, but notorious Star Wars characters have visited in the past. Darth Vader himself is said to have gotten into a fight at the local watering hole, Oga's Cantina.
When in the Star Wars timeline does Batuu exist?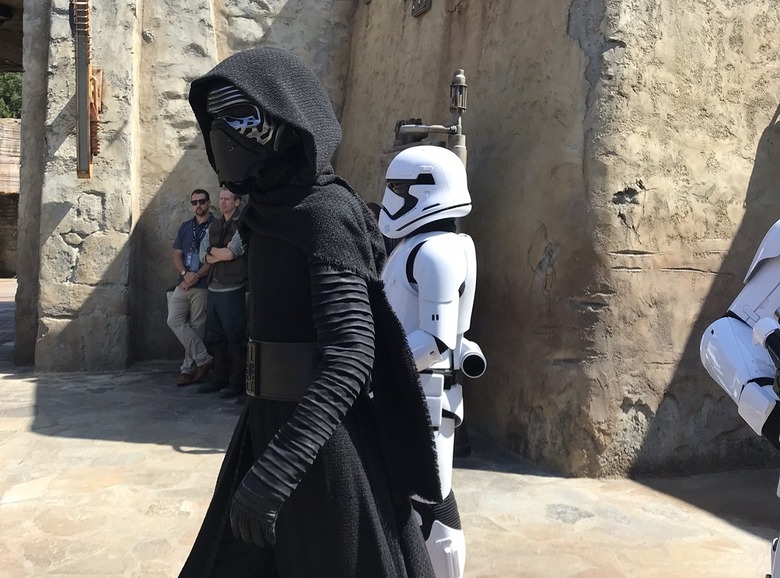 Carolyn Menyes/The Active Times
If you haven't seen a Star Wars film since the '80s, you may want to catch up. The Black Spire Outpost on Batuu is set in the world portrayed in the most recent movies, with appearances by characters from the Star Wars sequel trilogy. You will encounter Rey and Kylo Ren wandering throughout the land. The story maintains that the First Order, led by Kylo Ren, has established a base on Batuu, but the Rebellion is not far behind them.
Batuu is remarkably immersive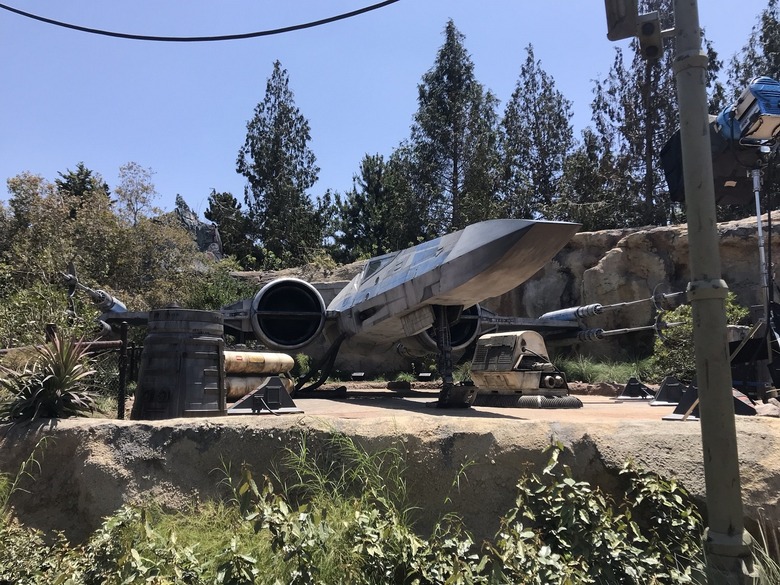 Carolyn Menyes/The Active Times
The immersion in Star Wars: Galaxy's Edge doesn't begin and end with the attractions. The entire land is designed to be a cohesive experience. Once you step inside this area, you no longer feel like you're in Disneyland; it feels more like you're on a movie set (or, you know, a real foreign planet). Not only are Rey, Kylo Ren, Stormtroopers and Chewbacca walking around, there are also renegades, smugglers and other people in the world of Batuu sneaking around, performing their own missions and living their best intergalactic life.
The music was created by legendary composer John Williams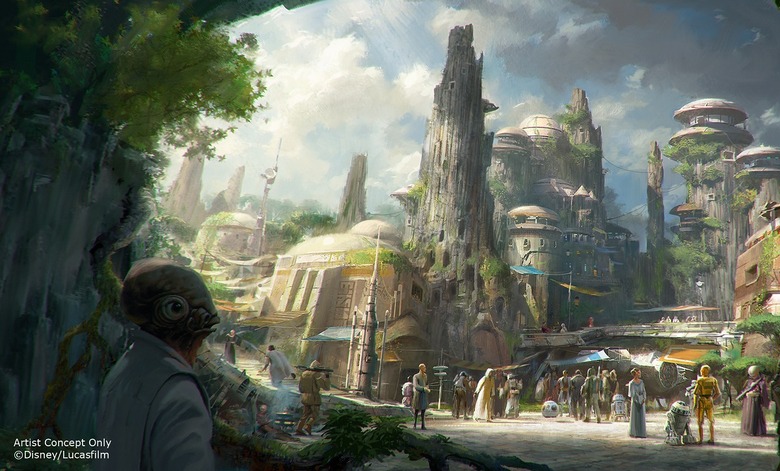 Disney Parks
The sounds in Batuu will be familiar to guests, as Academy Award-winning composer John Williams created new themes for the land and the rides within it. Yes, the same man who crafted that iconic Star Wars opening theme music we know and love did the music for Star Wars: Galaxy's Edge. No detail was spared when it comes to the immersion here, and that includes the music.
Star Wars: Galaxy's Edge boasts two new rides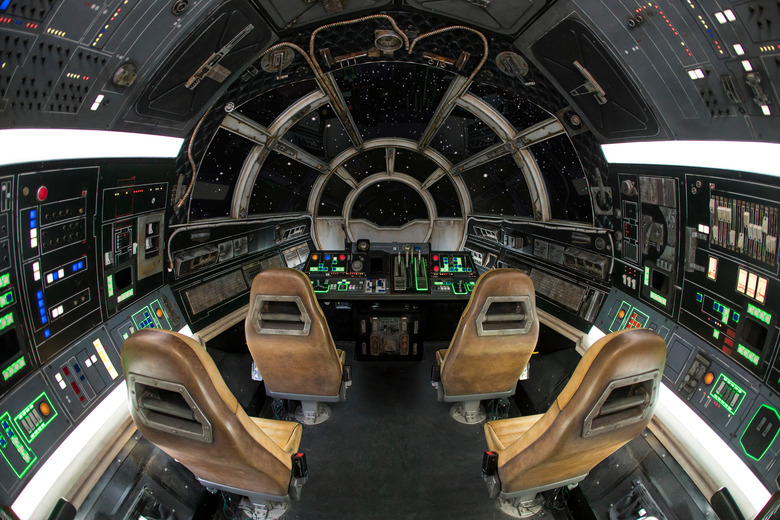 Joshua Sudock/Disney Parks
Star Wars: Galaxy's Edge will have two new attractions — Millenium Falcon: Smugglers Run and Star Wars: Rise of the Resistance — within its boundaries. Two existing Star Wars attractions (Star Tours – The Adventures Continue and the Star Wars Launch Bay) are in Tomorrowland. As of now, Disney has no plans of closing or moving those attractions.
But only one ride is open now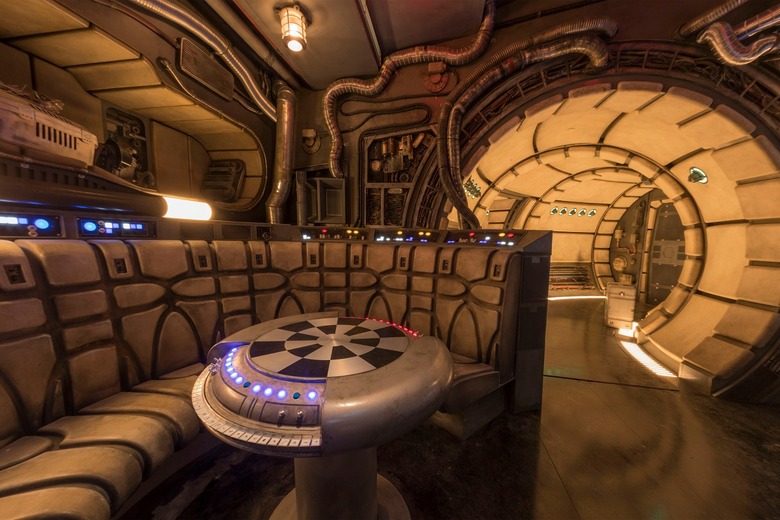 Joshua Sudock/Disney Parks
If you're hoping to get the full experience at Star Wars: Galaxy's Edge, you may want to wait a while. As of this writing, only Millenium Falcon: Smugglers Run is open. The second attraction, Star Wars: Rise of the Resistance, will open at a later date.
You can fight Kylo Ren on Star Wars: Rise of the Resistance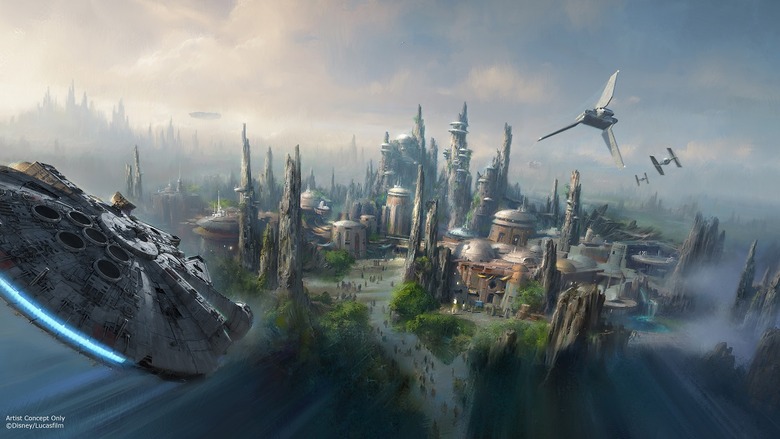 Disney Parks
So what is Star Wars: Rise of the Resistance? Teased as four rides in one, this attraction will put guests right in the middle of a battle between the Resistance and the First Order. This attraction features an immersive queue that guides riders through the woods and ruins of Batuu, a briefing from the Resistance, a full-size star destroyer hangar bay complete with 50 stormtroopers, interactions with TIE fighters, AT-ATs and Kylo Ren and so much more, Tech Crunch reports. If the ride experience sounds complicated and in-depth, that's because it is. While it's sure to be a seamless experience once it opens, Rise of the Resistance is truly ambitious and will take some time to be completed perfectly. It's set to open "sometime this year," though Disney has not yet said when that will be.
You pilot the 'fastest hunk of junk in the galaxy' on Millennium Falcon: Smugglers Run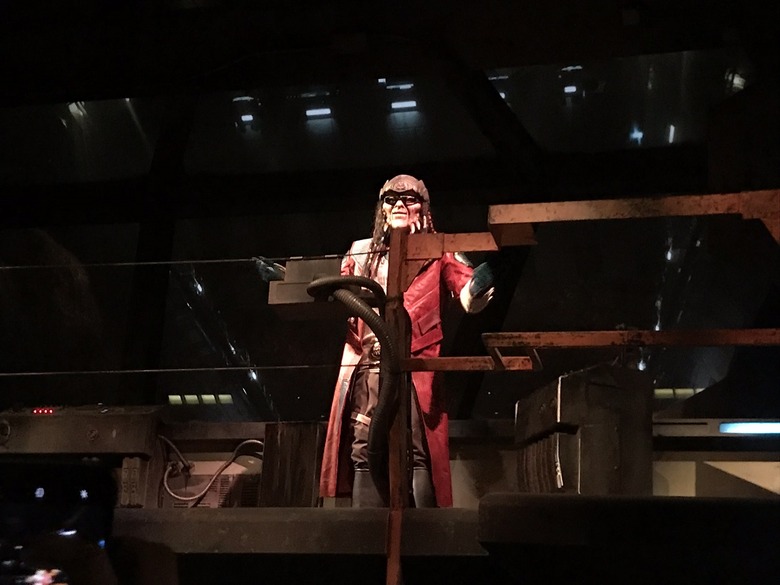 Carolyn Menyes/The Active Times
A lifelong dream for many Star Wars geeks is finally realized: You can fly the Millenium Falcon. Millennium Falcon: Smuggler's Run is housed in a 100-foot-long recreation of Han Solo's famous starship. In this attraction, you team up with "Star Wars: Clone Wars" character Hondo Ohnaka and Chewbacca to smuggle goods for the Resistance along with a few goods just for Hondo. A flight crew of six sits in the cockpit of the "fastest hunk of junk in the galaxy" and each person plays the role of pilot, flight engineer or gunner. Without spoilers, the animatronic of Hondo Ohnaka is one of Disney's smoothest and most realistic creations to date. And the ride feels less like a theme park attraction and more like a video game brought to life. Your actions have real consequences for the outcome of the ride, and the sights in front of, above and around you are truly remarkable.
The Millennium Falcon in Star Wars: Galaxy's Edge is now canon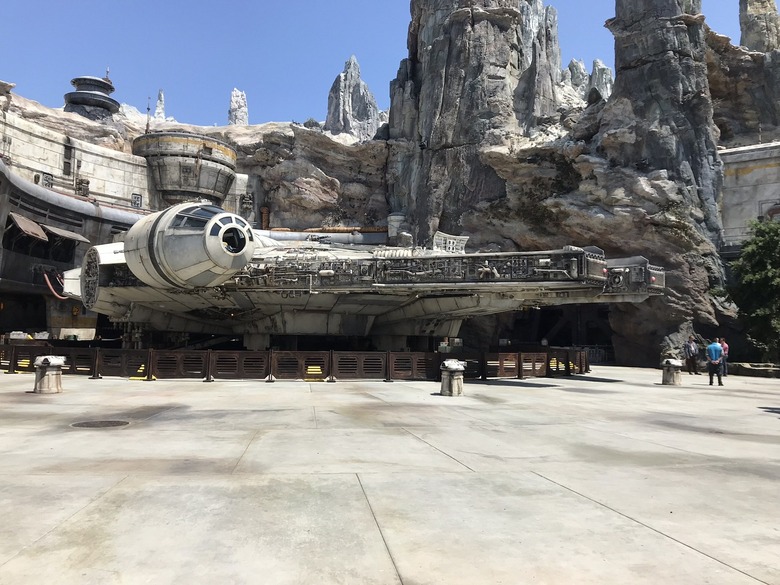 Carolyn Menyes/The Active Times
The massive Millennium Falcon in Star Wars: Galaxy's Edge is the centerpiece of the land. It's also now the definitive Millennium Falcon. Before this, different Star Wars movies, toys, comic books, TV shows and other media have had slight variations on the Millennium Falcon. For Star Wars: Galaxy's Edge, LucasFilm and Imagineers teamed up and took the best parts of each and every one of those spaceships to create the ultimate Millennium Falcon. Moving forward, this model will be used throughout the Star Wars universe.
There's a different vocabulary you need to know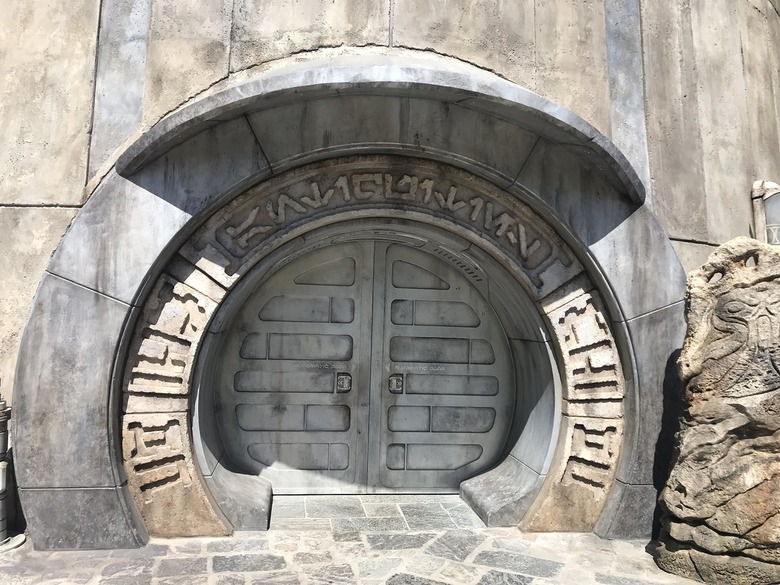 Carolyn Menyes/The Active Times
To keep with the immersion of the land, everyday items and interactions have been given new terminology. A porg puppet doesn't cost 45 dollars, it's 45 credits. A bathroom is a "refresher," and the rest of Disneyland Park is "off planet." You also aren't going to hear "hello" or "goodbye." If you're in Batuu during the day, you'll be greeted with a cheerful "Bright suns!" At night, you'll be greeted by the phrase "Rising moons." And as you leave, you'll hear residents of Batuu saying "'Til the spire" or perhaps "May the spires keep you."
You can hack into the world of 'Star Wars'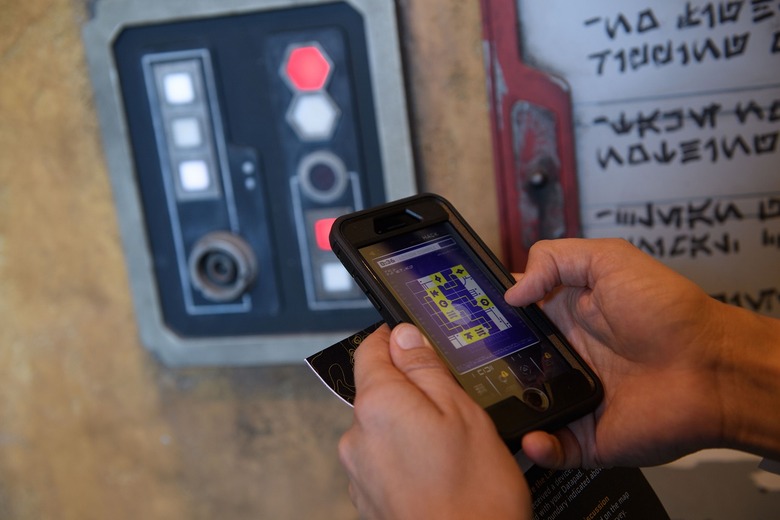 Richard Harbaugh/Disney Parks
Luckily, the lingo of Batuu sounds a lot like English. You don't need to speak Aurebesh (the most-used language in the Star Wars universe) to navigate the Black Spire Outpost — your phone can translate it for you. Galaxy's Edge is the first land to open after the Play Disney Parks app launched, and the app is used to run your "datapad." The datapad allows you to translate Aurebesh around the land and hack into security systems for the Resistance or the First Order. As you interact with the land, you gain a reputation, which will follow you as you continue to explore.
You can build your own lightsaber…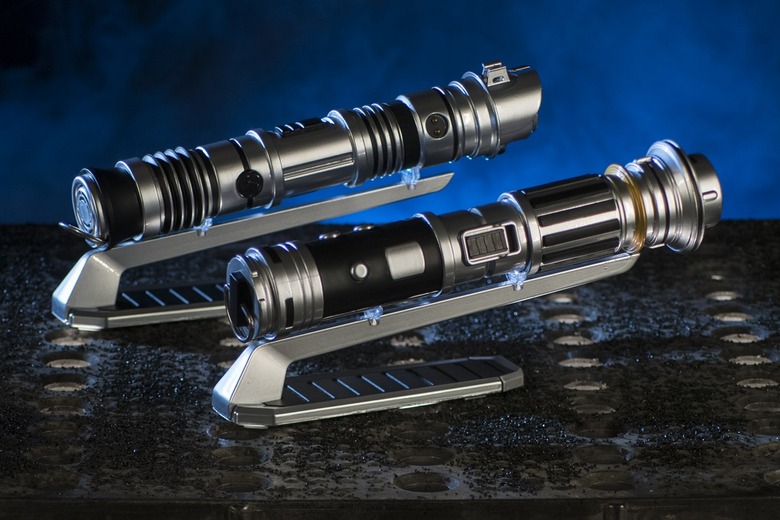 David Roark/Disney Parks
At Savi's Workshop — Handbuilt Lightsabers, you'll be able to build your own custom lightsaber, thanks to the powers of kyber crystals. This experience is one of the most sought-after in the land and one of the most expensive. A lightsaber starts at $199. And while that's (roughly) twice the price of a ticket to Disneyland, crafting a lightsaber is an immersive experience and a souvenir to boot. There's a ceremony and experience that lasts about 15 minutes. And when you leave, you leave with your customized Jedi lightsaber. In order to see the ceremony, you have to buy one (or be the plus-one to someone who buys one). And because this experience is highly sought-after and limited to a dozen or so people at a time, if this is something you want to do, you should put your name in for a reservation as soon as you get to Batuu.
…And your own droid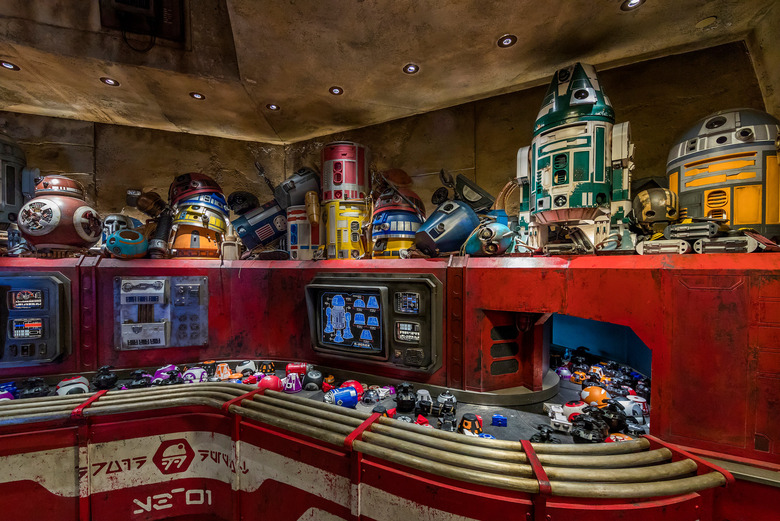 Joshua Sudock/Disney Parks
Another workshop, Droid Depot, allows you to rummage through the pieces, parts and chips of scavenged bits to craft your own droid, be it a BB-series droid or an R-series unit. This make-your-own experience starts at $99. For an additional fee, you can get a personality chip for your droid, making it a member of the Resistance or the First Order or a nonaligned scoundrel. Your droid will then interact with fellow droids and landmarks around the Black Spire Outpost accordingly. The Droid Depot has plenty of other droid-centric merchandise, including pins, home goods and premade droids.
You can browse through 'treasures' at Dok-Ondar's Den of Antiquities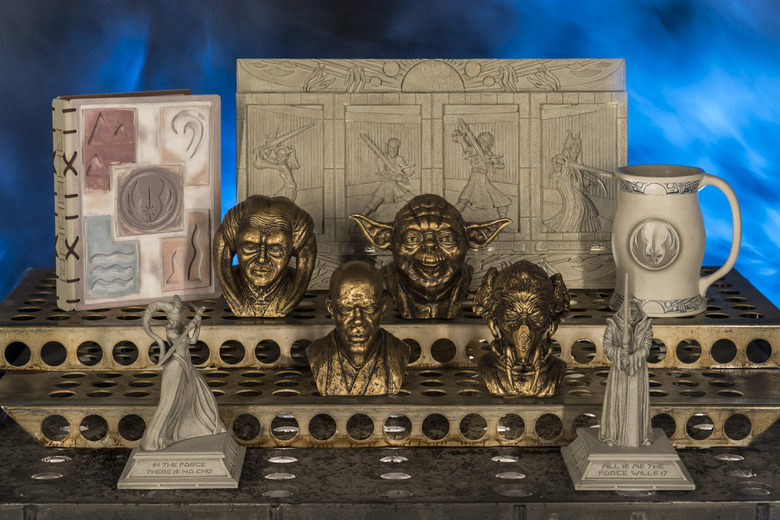 David Roark/Disney Parks
The world of Star Wars: Galaxy's Edge may take place in the time of the First Order and the Resistance, but if you're a fan of the original trilogy or the prequels, you will probably find what you're looking for at Dok-Ondar's Den of Antiquities. This gift shop is like the holy grail for Star Wars geeks and features items like a Resistance ring, busts of all the classic Star Wars characters, journals, holocrons, kyber crystals, cloaks and so, so much more. This shop is also rich with detail and also is the home to Dok-Ondar. Like Hondo Ohnaka, this shopkeeper is another impressive animatronic that moves with shocking fluidity.
You can dress like a Jedi at Black Spire Outfitters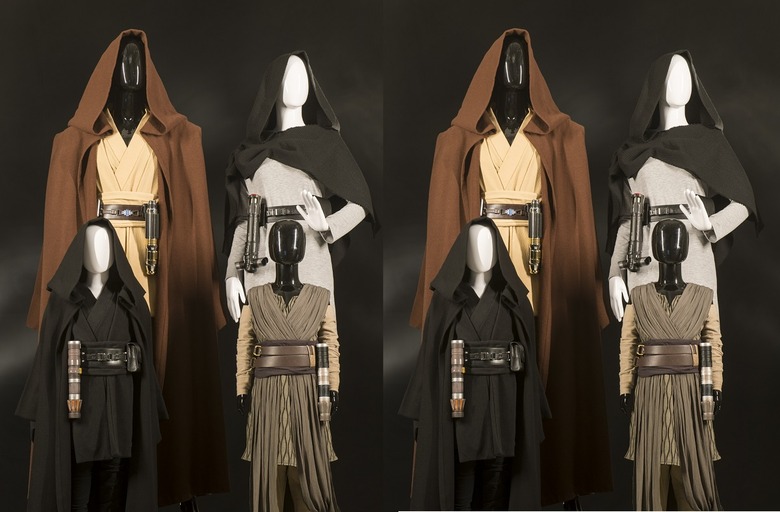 David Roark/Disney Parks
Lightsabers and holocrons aren't the only super-legit Star Wars merch on Batuu. Black Spire Outfitters is the home to authentic Star Wars costumes. Want to dress like Obi-Wan Kenobi? You can? Does your daughter want to be a little Rey? She can dress just like her idol! Any and all Star Wars apparel you could want or need will be here. Just note that adult costumes are one of the things banned at Disney parks, and this includes Star Wars: Galaxy's Edge. So guests age 14 and up will have to rock their Princess Leia dress outside of the park.
There's plenty of other merchandise across other shops and stands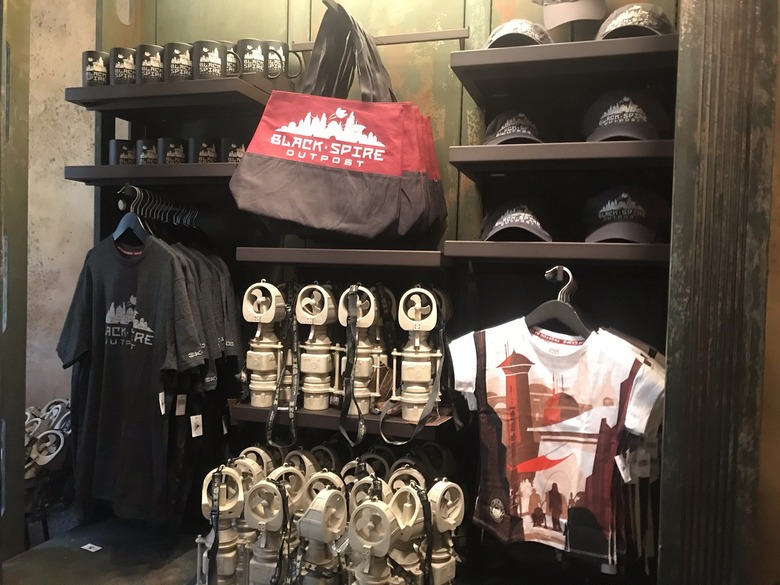 Carolyn Menyes/The Active Times
There's no shortage of merchandise within the Black Spire Outpost of Batuu. In addition to the build-a-droid and lightsaber experiences and Dok-Ondar's Den of Antiquities, a number of stalls and stands sell unique Star Wars merchandise you won't find anywhere else. The Creature Stall sells lifelike porg puppets and other creepy and crazy Star Wars creatures, and the Toydarian Toymaker sells handmade dolls and wooden figurines. There are also stands for fans of the Resistance (fittingly called Resistance Supply) and a spot for fans of the dark side, First Order Cargo.
Galaxy's Edge is serving alcohol to guests in Disneyland for the first time in history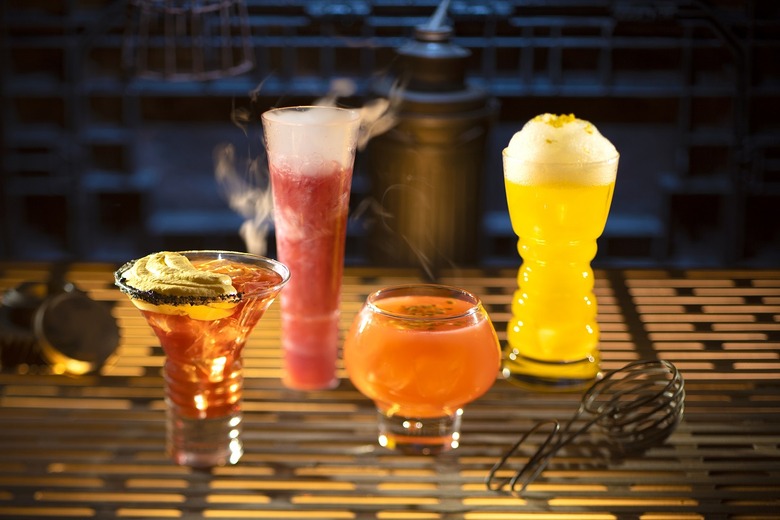 Kent Phillips/Disney Parks
Since it opened its doors in 1955, Disneyland Park has famously only sold alcohol at the ultra-exclusive and not-so-secret special restaurant, Club 33. But since Batuu is home to people on the lawless outskirts of the Star Wars galaxy, it has a watering hole, Oga's Cantina. That spot is selling alcohol for the first time to regular guests at Disneyland Park. But don't worry; people won't be getting drunk. The bar has a two drink maximum, and when we visited they were capping people's visits to 45 minutes.
Oga's Cantina is one of the land's most popular spots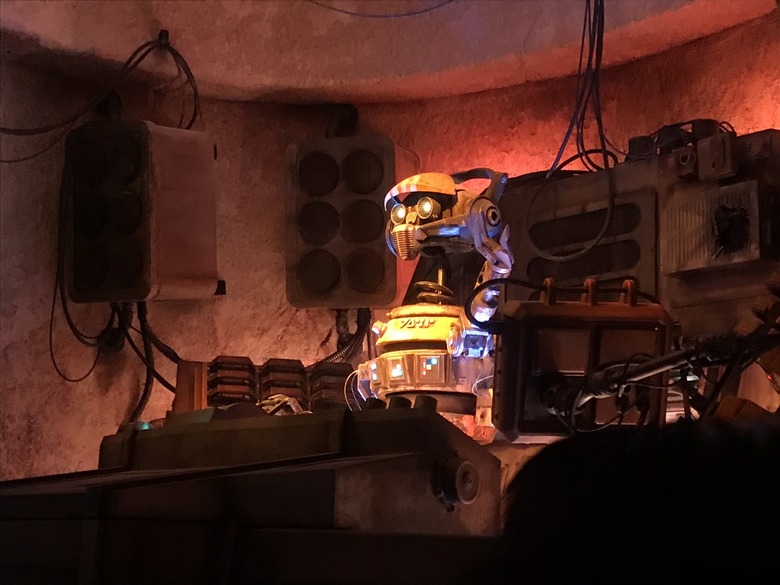 Carolyn Menyes/The Active Times
So is Oga's Cantina worth a trip? Definitely. The alcoholic beverages, such as the Outer Rim and Jedi Mind Trick, are delicious and potent without being overwhelmingly boozy or sweet. Families and nondrinkers need not worry! This cantina also has plenty of beverage options. Highlights of the nonalcoholic menu include Oga's Obsession, a cotton candy-flavored gelatin lemonade that's served in a Petri dish full of blueberry popping pearls, and the Blue Bantha, which is the land's signature blue milk topped with a sugar cookie. The atmosphere of Oga's Cantina will feel immediately familiar to Star Wars fans of yore; it's modeled after the divey cantina that Luke Skywalker wandered into in "Star Wars: Episode IV – A New Hope," and Darth Vader himself is said to have gotten into a tiff at Oga's Cantina.
You can fuel your travels at Docking Bay 7 Food and Cargo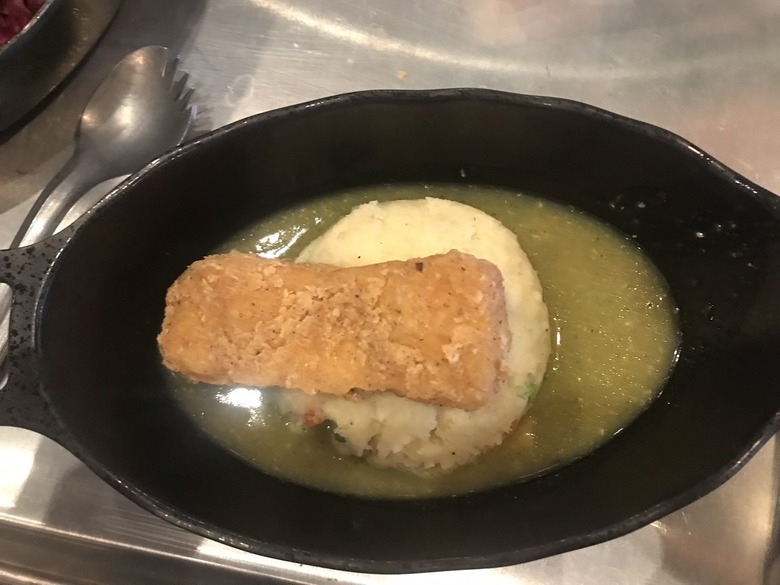 Carolyn Menyes/The Active Times
The main eatery in Star Wars: Galaxy's Edge is Docking Bay 7 Food & Cargo. It's a quick-service location, meaning that you will go up to a counter and order food to take back to a table. (Or you can always use mobile ordering!) The menu here takes traditional earthly foods and gives them unique flavors and shapes to make them feel like they're intergalactic. Even fried chicken is different here; the Fried Endorian Tip-Yip is a rectangle of chicken served on top of roasted vegetables and a galactic green sauce that tastes a lot like a mild curry.
Ronto Roasters lets guests meet the meat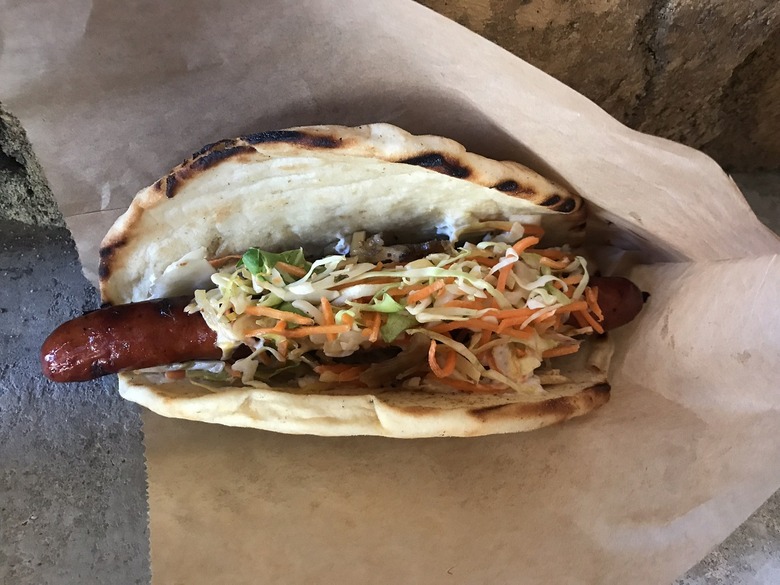 Carolyn Menyes/The Active Times
We hope you come to Batuu hungry, because there are food stands beyond what you'll find at Docking Bay 7. Ronto Roasters features yet another fascinating robot; the front of this eatery features a massive, defunct smelter droid spinning a giant spit of meat. Like the rest of the Black Spire Outpost, it's a sight to behold. The food here is fittingly meat-centric. The signature item is the Ronto Wrap, a pork sausage (aka hot dog) that is topped with roasted pork, a cabbage slaw and a very mild peppercorn sauce. The whole thing is served in a pita, which is a pretty genius way to serve a sausage.
You can snack on popcorn at Kat Saka's Kettle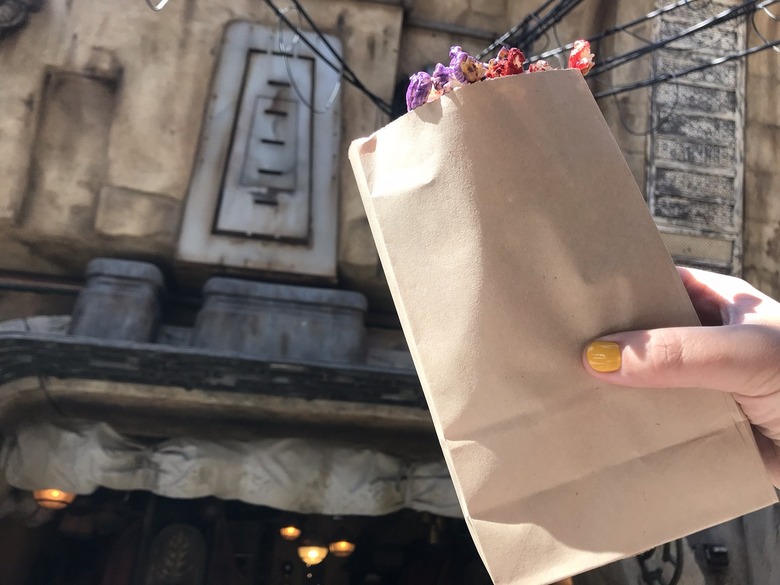 Carolyn Menyes/The Active Times
If you're just looking for a little snack, Kat Saka's Kettle has you covered with a unique flavor of popcorn. You see, this isn't your everyday Disneyland popcorn (which is iconic enough on its own). This popcorn is uniquely spiced to be sweet, savory and spicy all at once and colored in intriguing shades of purple and red. The flavor certainly is hard to pinpoint, but spoiler: The red corn is one flavor, while the purple is another. If you like kettle corn, you're bound to like this snack.
You can drink like Luke Skywalker at the Milk Stand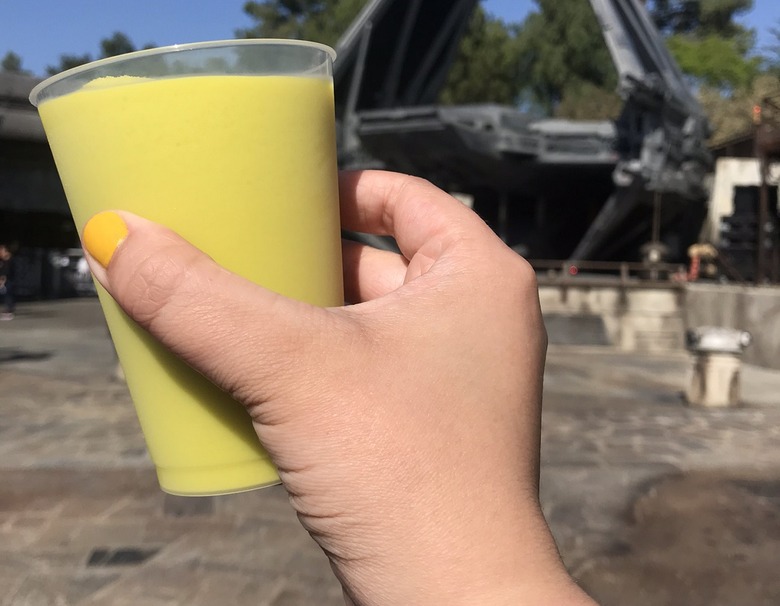 Carolyn Menyes/The Active Times
The real-world debut of blue milk and green milk at the Milk Stand has been one of the most-hyped parts of Star Wars: Galaxy's Edge. At the Milk Stand, you can buy blue bantha milk (as seen in "Star Wars: Episode IV – A New Hope") and green thala-siren milk, which Skywalker was seen chugging during "Star Wars: Episode VIII – The Last Jedi." Each costs $7.99, a hefty price, and both are remarkably distinctive. The blue milk is vaguely tropical, with hints of dragonfruit and watermelon. Meanwhile, the green milk is more floral and citrus-heavy. If you're looking for familiar-to-Earth drinks, there will also be special bottles of Coca-Cola available throughout Star Wars: Galaxy's Edge.
Star Wars: Galaxy's Edge will be the same on both coasts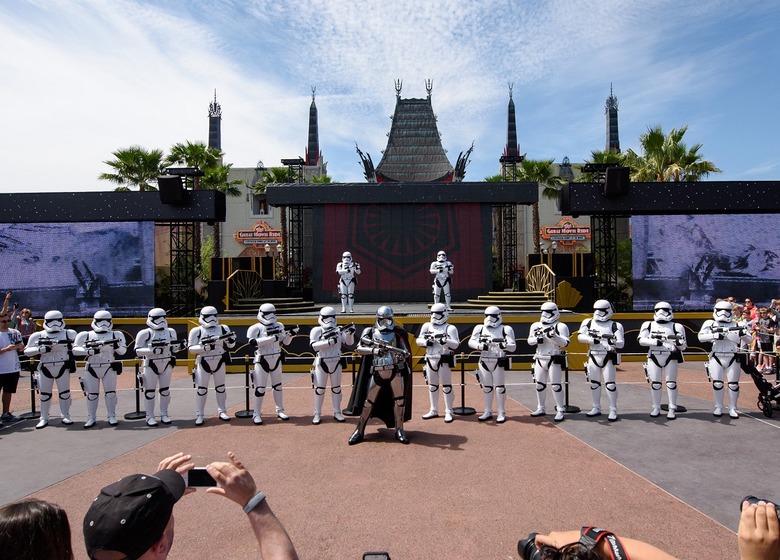 Todd Anderson/Walt Disney World
If you can't make it to Disneyland in California, don't freak out about not being able to experience Star Wars: Galaxy's Edge. A nearly identical land is also going to open at Disney's Hollywood Studios at the Walt Disney World Resort in Orlando, Florida. The Star Wars: Galaxy's Edge at that theme park will have the same rides, restaurants and merchandise stands. It is going to open a little later, on August 29, and it's just one of the many ways that Walt Disney World is changing.