The Best Eco-Friendly Hotels In The U.S.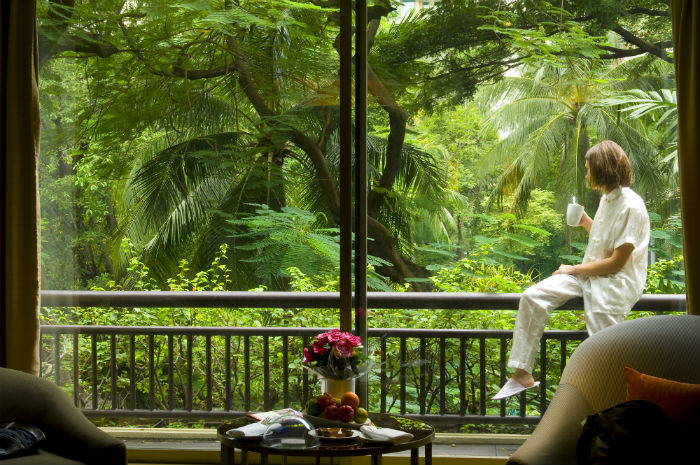 iStock
The Best Eco-Friendly Hotels in the U.S.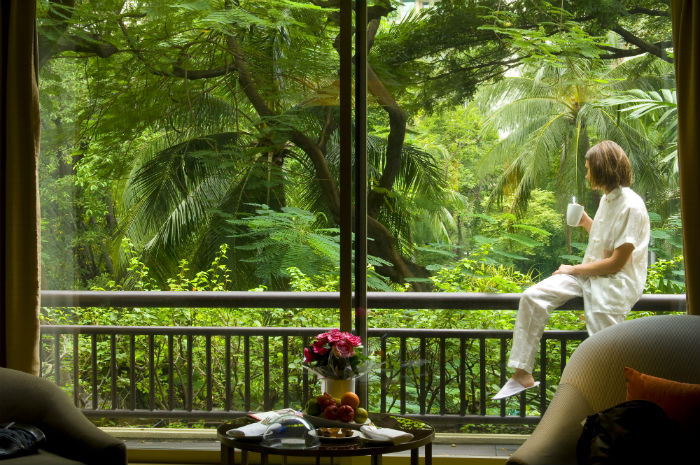 iStock
Ecotourism is defined as "responsible travel to natural areas that conserves the environment, sustains the well-being of the local people, and involves interpretation and education." The last factor is meant to be inclusive of both staff and guests. The environmentally-friendly travel is about uniting conservation, communities, and sustainability. This means that those who implement and participate in market ecotourism activities are committed to adopting basic ecotourism principles.
Proximity Hotel, North Carolina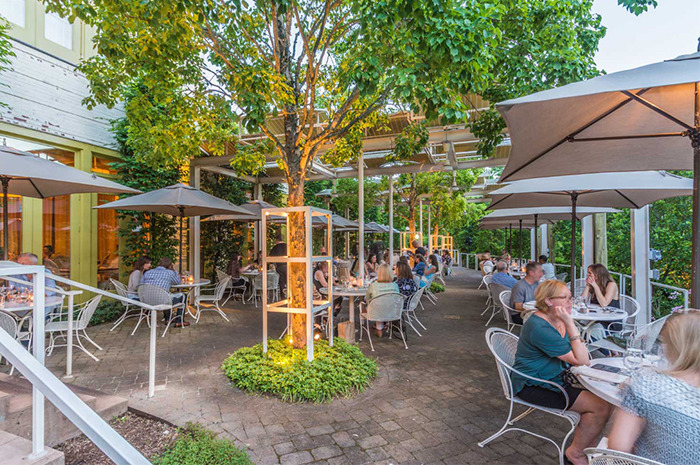 Proximity Hotel
Proximity Hotel is the first hotel in the country to receive the Leadership in Energy and Environmental Design (LEED) Platinum certification. The hotel uses 39 percent less energy and 33 percent less water. There are 100 solar rooftop panels that heat water for the hotel. They recycled 87 percent of the construction debris (1,535 tons) and installed the first regenerative drive elevators in North America, generating electricity on the descent for the ascent.
Crystal Mountain, Michigan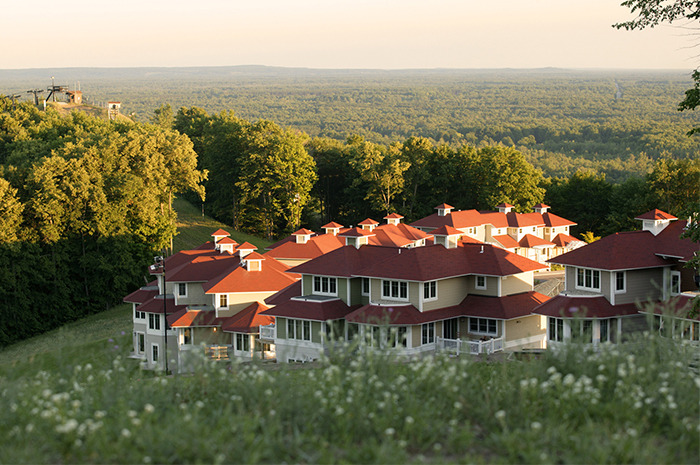 Crystal Mountain Michigan
Crystal Spa to be the first LEED certified spa in the Midwest. The hotel has a White Pine Award, an award given out annually to a Michigan organization or group that has shown extraordinary dedication to protection of the environment. Recycling bins can be found in or near all of our lodging units. Crystal Mountain purchases wind credits to power its high-speed chairlift entirely with wind power, preventing 174,000 pounds of carbon dioxide pollution from entering the atmosphere each year (that's the equivalent of not driving a car 189,956 miles).
Inn By The Sea, Cape Elizabeth, Maine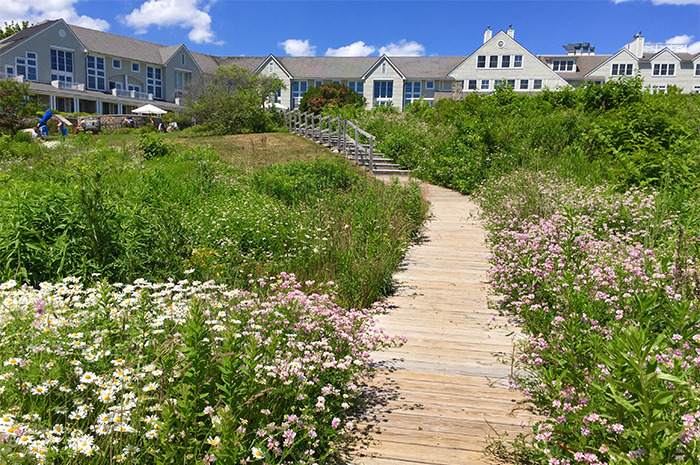 Inn By The Sea
Dining at Sea Glass celebrates Maine fare, guests are surrounded by indigenous gardens that provide food and habitat for wildlife and the rooms are cleaned with non-toxic Green Seal products. Room amenities are natural, made in the U.S., packaged in recyclable containers and displayed on recycled glass trays. The sheet and towel program helps fund habitat restoration for bunnies. The cardio-room has recycled rubber floors, and the SPA has recycled sheet rock walls and uses bamboo towels.
Bardessono, California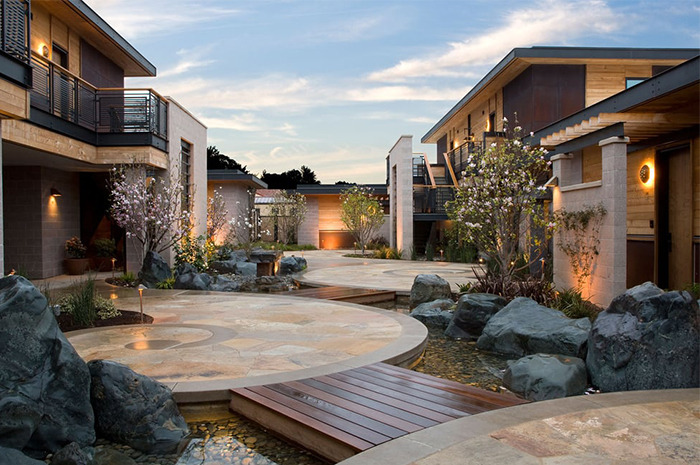 Bardessono/Yelp
The general contractor had set up a system to recycle project waste materials while the hotel was under construction. Indoors, bathroom fixtures with low water flow have been installed, along with dual flush toilets and waterless urinals. Outdoors, native and drought tolerant plants have been chosen for landscaping in order to minimize water demand. The large amount of glass used in each building reduces the daytime requirement for electrical lighting. All the buildings are designed with overhangs to reduce the heat gain from the summer sun, yet allow the winter sun's rays to enter and warm the rooms.
Mandarin Oriental, Las Vegas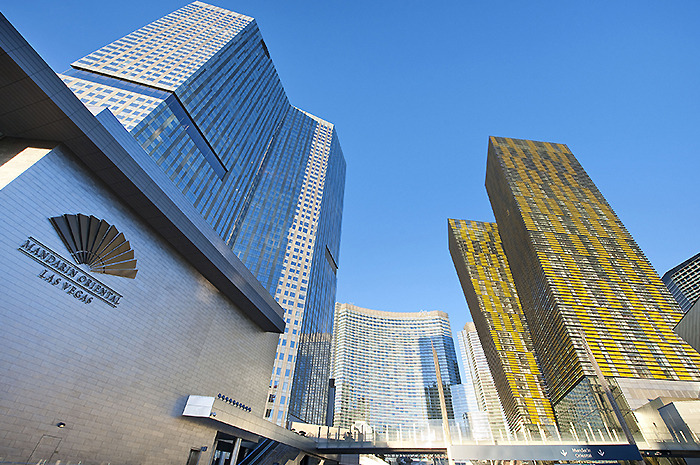 Mandarin Oriental Hotel Group
The LEED Gold-certified hotel has a number of green practices in place including water and energy conservation. The hotel is in the City Center Waste Management Program in which glass, paper, cardboard, metals, plastic, food waste, and grease are recycled or repurposed. Employees and guests who carpool or use alternative fuel vehicles get to enjoy preferred parking.
Virgin Hotels Chicago, Illinois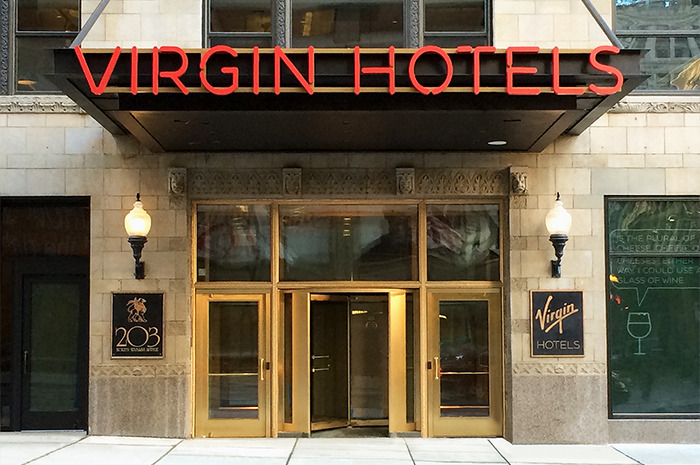 Virgin Hotels Chicago
The hotel reduces annual water consumption by 20 percent by utilizing water-conserving fixtures. The green roof reduces contribution to storm water runoff. They also add insulation and save energy. High-performance windows reduce energy. The main hotel kitchen uses a digester that naturally breaks down food waste by enzymes to a pure liquid form. This provides an efficient way to compost the food waste which can be used for farming.
The Ritz-Carlton, Charlotte, North Carolina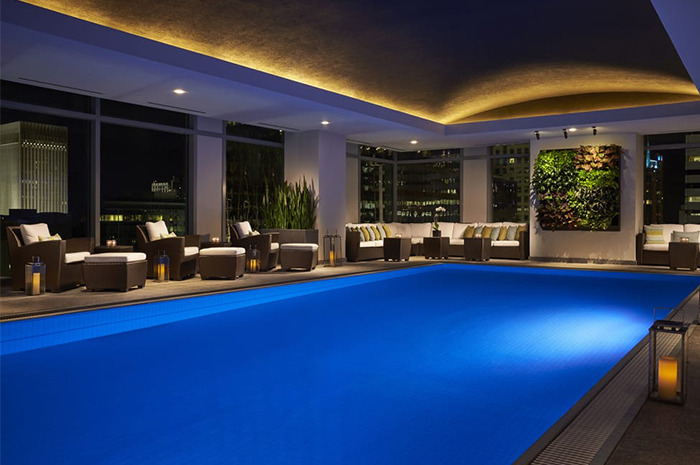 The Ritz Carlton, Charlotte/Yelp
The hotel offers environmentally-mindful features and practices including a green, vegetated roof, seasonal rooftop beehives, employee uniforms made of fabric derived from regenerated plastic bottle materials, a Bike Valet, electric vehicle charging station, and complimentary parking for electric and hybrid vehicles. The team includes a LEED AP-accredited employee to oversee environmental practices throughout the building.
The Gardens Hotel, Key West, Florida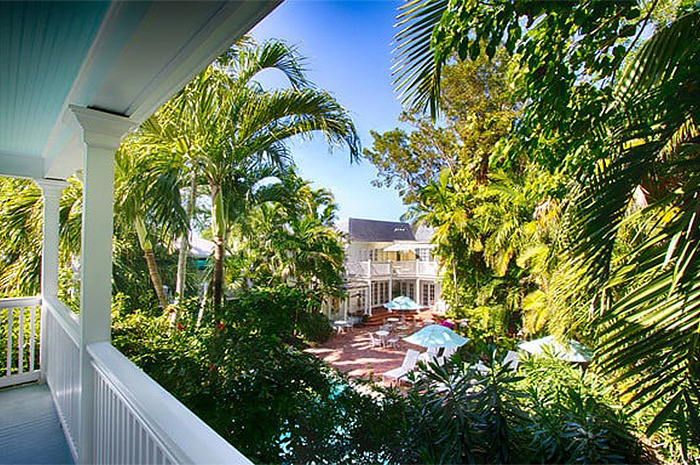 The Gardens Hotel/Yelp
Twin Palm Certified, the hotel's biggest eco-friendly focus is on its three buildings' rain gutters, which flow into an enormous cistern. It makes it possible to water the acre of tropical gardens with reclaimed water or with well water. And with the help of solar panels, the hotel's laundry facility's hot water is powered by solar energy. The hotel has a Green Certified Energy Star Rated A/C, LED Lighting, a chipper to reduce landfill, a composter, and a recycling program.
Berkshires Shirakaba, New Ashford, Massachusetts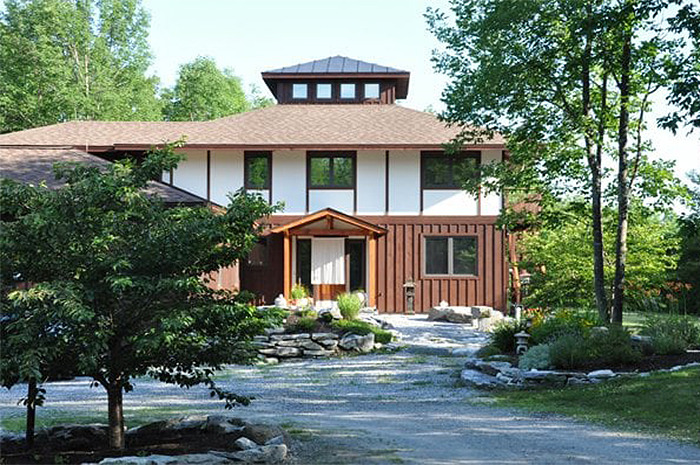 Berkshires Shirakaba/Yelp
With a location by the forested ridge in the gorgeous Berkshires, it's almost impossible not to be encouraged to save preserve the environment. The hotel is earned Energy Star and TripAdvisor Green Leader Platinum certified. The house uses geothermal heating/air conditioning and solar energy. There are solar panels, triple pane Thermotech windows, energy-efficient radiant floor heating and LED bulbs.
The Hike Inn, Dawsonville, Georgia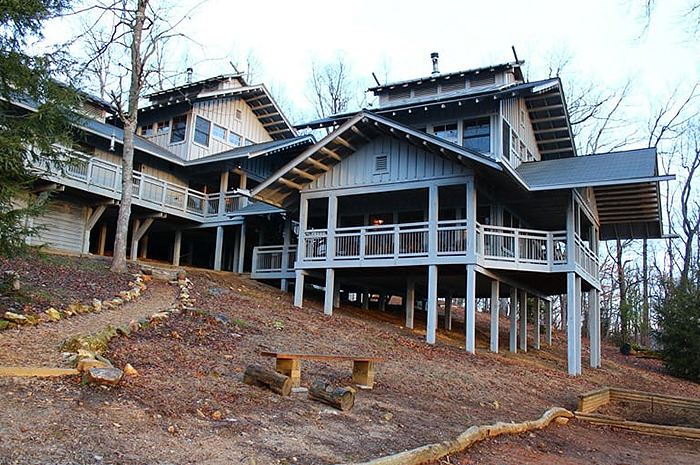 Zanna M./Yelp
As the other hotels on the list, Hike Inn is LEED Gold certified. It comprises several rustic guestrooms which have hot showers and offer stunning panoramas of Georgia's  gorgeous Chattahoochee National Forest. Some of the eco-friendly features include solar panels, rainwater harvesting and vermiculture to compost kitchen scraps. Getting there is quite the exercise – you have to hike for about 5 miles.
Hotel Felix, Chicago, Illinois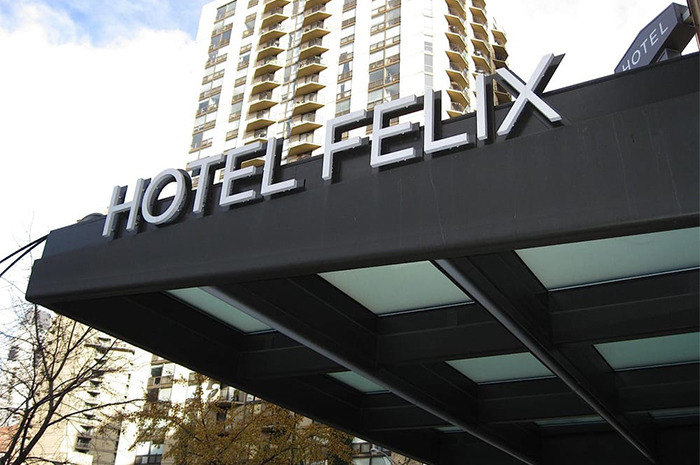 Hotel Felix/Yelp
This is the first eco-friendly hotel in Chicago with Silver LEED certification. It has a natural southern exposure, which helps in heating the building in the winter. The exterior sculptures are made from reclaimed materials. The hotel uses low-energy-use lighting, such as compact fluorescent and LED throughout the building. The carpets in the rooms are made of recycled material. There is motion sensor heating, ventilation and AC, as well as a water waste reduction valve.
Hotel Skyler, Syracuse, New York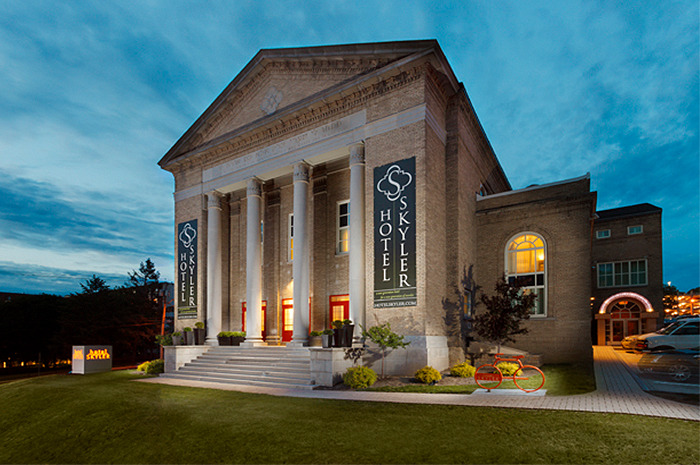 Tapestry Collection by Hilton
The hotel has a LEED Platinum certification. Imagine how much it has improved since being built in 1921. A 63-ton closed loop Geothermal Heat Pump system provides heating and cooling by harnessing the earth's constant temperature. The system consists of 16 vertical wells and 68 water-to-air heat pumps. A fifth of the building materials are sourced locally.
h2hotel Healdsburg, California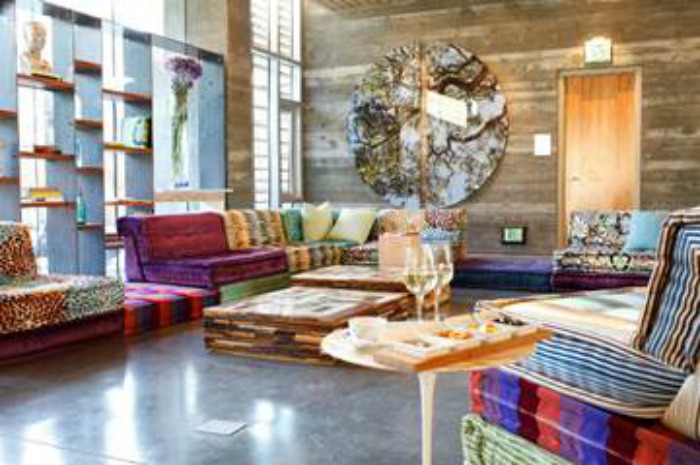 h2hotel
The hotel meshes a top-shelf wine country experience with LEED-Gold certified hotel enhancements and amenities including a living roof planted with succulents and guestrooms outfitted with eco-friendly furnishings like sustainable bamboo floors and organic cotton bed linens. Guests enjoy a solar-heated Creekside pool and complimentary Dutch cruising bicycles with an on-site bike storage cube and service station. Spa treatments include seasonally-themed massages, facials or body treatments that combine biodynamic and organically grown herbs and flowers with local ingredients.
Gateway Canyons Resort & Spa Gateway, Colorado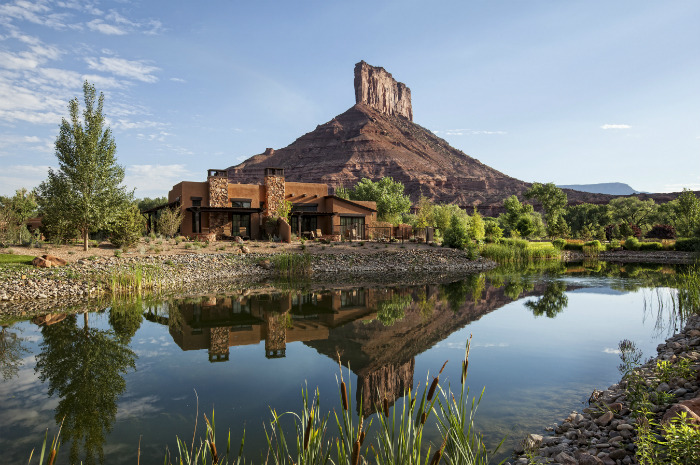 Gateway Canyons Resort & Spa
This is the world's first and only discovery resort, created to nourish guests' curiosity through the art of discovery and adventure within a naturally intriguing environment. The resort was designed with both Anasazi architectural influences and sustainability in mind. The luxurious Kiva Lodge is heated and cooled via geothermal heat pumps that produce their heating and cooling through heat exchangers located in the irrigation pond nearby. The domestic hot water is heated by solar tubes located above the lobby. The resort's Palisade Event Center is a LEED Certified Building, and the structure's fascia stone was quarried, cut and fitted into place on-site, eliminating production and trucking of the material.
Hotel Terra Jackson Hole Jackson Hole, Wyoming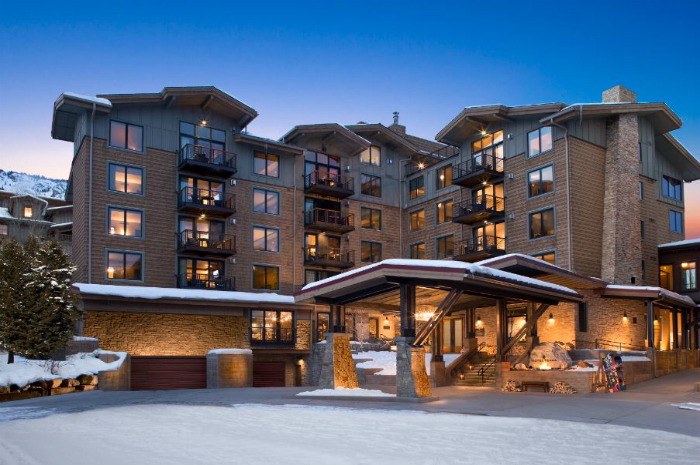 Hotel Terra
With an ideal slope-side location in the heart of Teton Village and nestled against the base of Grand Teton National Park and a short 60-mile drive to Yellowstone National Park, Hotel Terra is Wyoming's first LEED Silver-certified property. It maintains a green atmosphere is by using recycled steel, natural and organic mattresses and aluminum water bottles. Hotel Terra also reduces greenhouse gases by using fluorescent light bulbs in a majority of fixtures, which use 75 percent less energy. All power at the hotel is offset with the purchase of solar, hydro and wind energy.
Argonaut Hotel San Francisco, California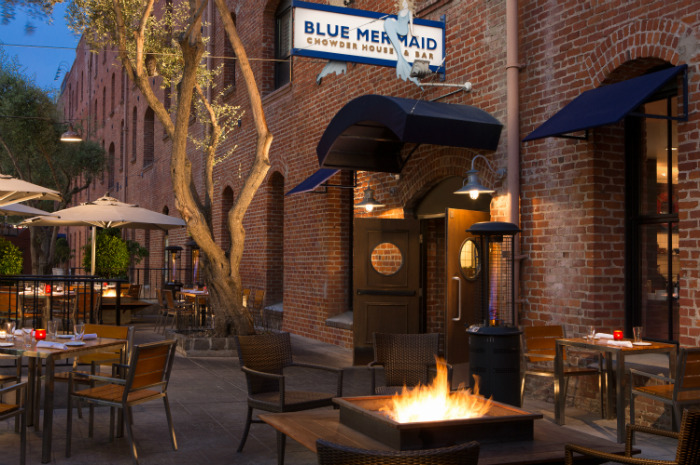 Argonaut Hotel San Francisco
The Argonaut is one of San Francisco's most iconic hotels leading the charge on "going green." Over the past year, the hotel implemented extensive eco-friendly practices throughout the property, including completing a 100 percent retrofit to LED lighting. The hotel also employs a committed recycling champion dedicated to ensuring that all garbage is recycled properly. It switched to water-saving systems and refillable bathroom amenities. The restaurant's signature dishes are all prepared in an Earth-friendly fashion according to sustainable fisheries guidelines. Grease is recycled from the kitchen to create biofuel and compost.
W San Francisco, California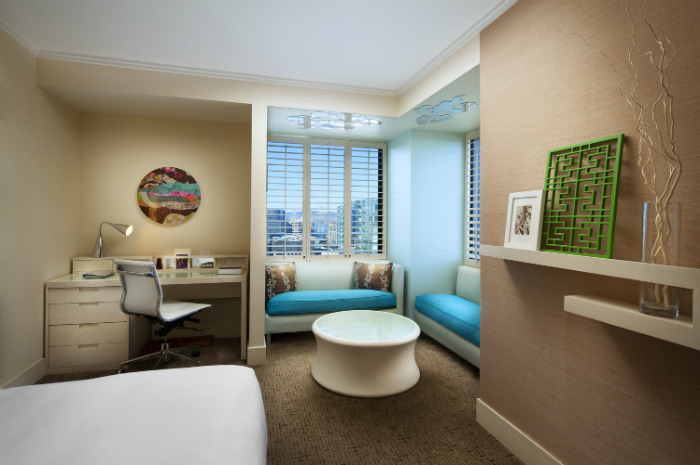 W San Francisco
W San Francisco is the first LEED-EB Platinum certified building in North America, and the first Starwood and W property to secure this highly coveted distinction. More than 70 percent of guestroom lighting and 90 percent of back-of-house lighting is energy efficient, using CFLs, LEDs, motion sensors, and other key technologies; the hotel's HVAC cooling towers are energy-efficient models, saving 300 KWH a year. The hotel harvests beehives and an Aquaponics system, an enclosed eco-system that has fish on the bottom and hydroponically grown plants/flowers on top, on the hotel's rooftop. The honey produced from the hives (and flowers grown from the Aquaponics) are used in several dishes and cocktails at the hotel.
Hotel Zoe Fisherman's Wharf San Francisco, California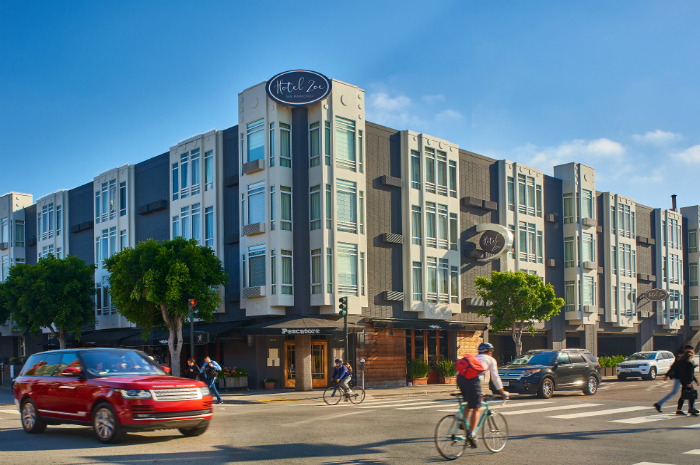 Hotel Zoe
Following a multi-million dollar re-imagination, Hotel Zoe debuts as San Francisco's newest sophisticated Fisherman's Wharf hotel. The hotel's staff hand sorts all trash that comes through the hotel to ensure that recycling measures are being followed; all printed supplies are printed on 50 percent recycled paper; energy STAR appliances and equipment are used throughout the hotel and restaurant; and sensors are put on vending machines and other lighting fixtures to reduce energy.