31 Bizarre Roadside Attractions In America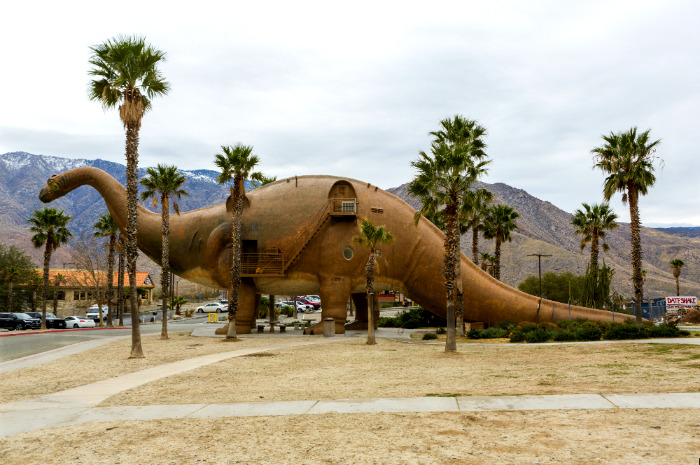 jjwithers / istockphotos.com
31 Bizarre Roadside Attractions in America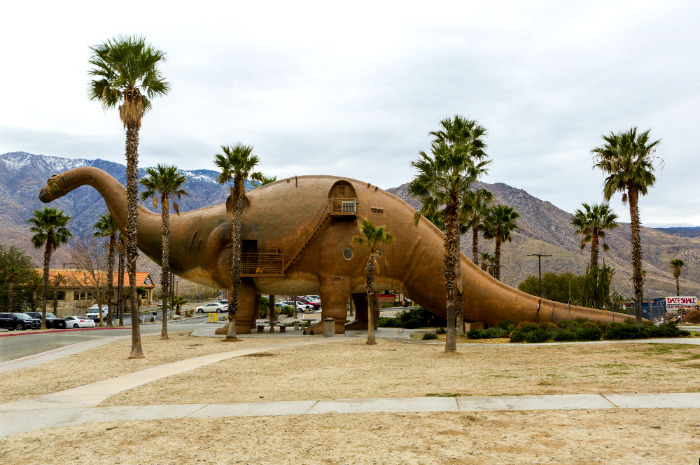 jjwithers / istockphotos.com
Paper House, Rockport, Massachusetts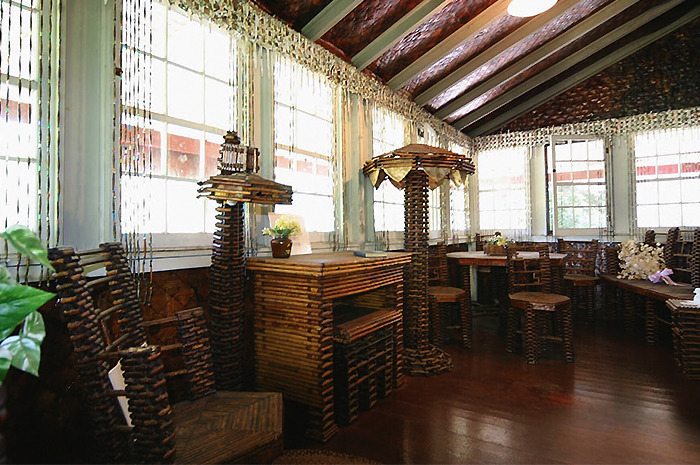 Kyle S./Yelp
The name cannot be more literal than this. The Paper House is an actual house made from newspaper. It was built by Mr. Elis F. Stenman, a mechanical engineer who designed the machines that make paper clips, began building his Rockport summer home out of paper as a hobby in 1922. The paper was meant to be good insulation. The furniture is also made from paper.
Unclaimed Baggage Center, Alabama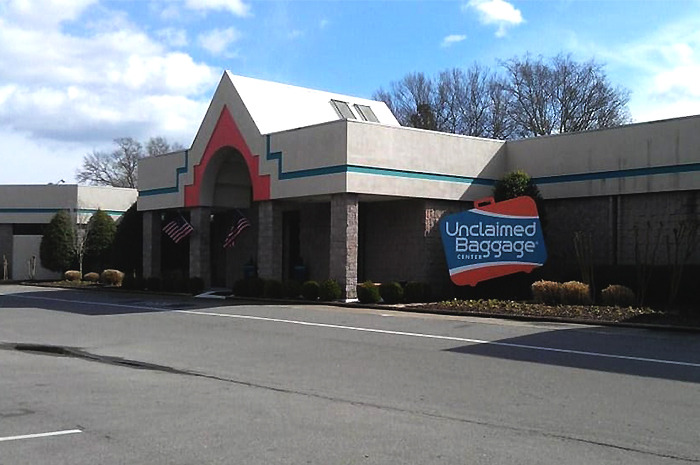 Bruce K./Yelp
If an airline lost your luggage and you never got it back, go to this center. The lost bags arrive by the tractor-trailer load at the processing facility to be sorted and priced. Clothes are dry-cleaned and laundered at our in-house facility, the largest in Alabama. Everything you see there is up for grabs.  This is the only lost luggage store in the U.S.
Cabazon Dinosaurs, California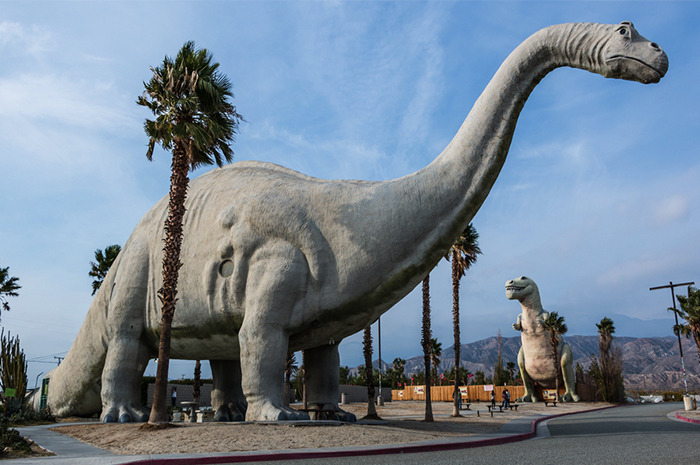 Atomazul/Shutterstock.com
The dinosaurs are a nice surprise in what is mostly desert. Mr. Rex's Dinosaur Adventure includes a dinosaur exhibit with more than 50 lifelike dinosaurs, a dinosaur dig, fossil panning, and access to climb inside Mr. Rex all the way up to his mouth.
World's Largest Light Bulb, Edison, New Jersey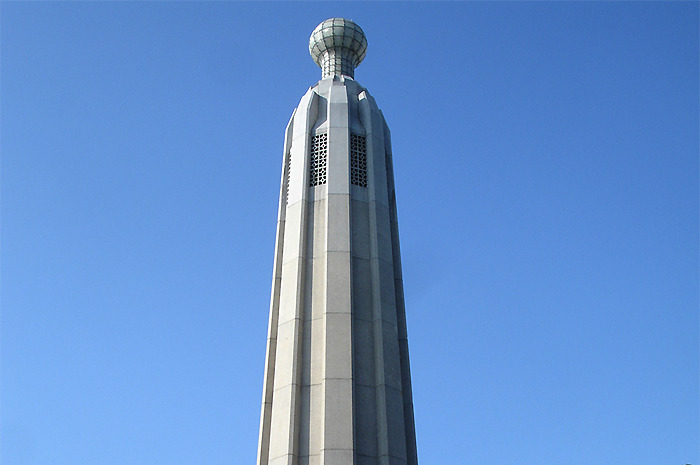 KForce/Wikimedia Commons
The Thomas Edison Memorial Tower and Menlo Park Museum mark the site of Edison's greatest triumphs. You won't pass it by as the 118-foot-tall tower topped with the huge bulb, will get your attention. It is 14 feet tall, weighs eight tons, and is illuminated at night, lit by LEDs though.
World's Longest Plant Maze, Hawaii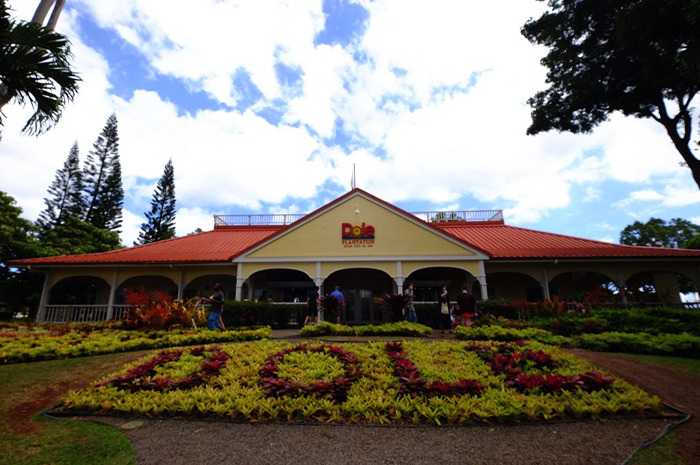 Maricel S./Yelp
The maze stretches over three acres and includes nearly 2.5 miles of paths crafted from 14,000 colorful Hawaiian plants. You have to walk through the flora of the islands to find eight secret stations that each lead you closer to the mystery at the heart of this huge labyrinth. It is one of only a few permanent botanical mazes in the country.
Carhenge, Nebraska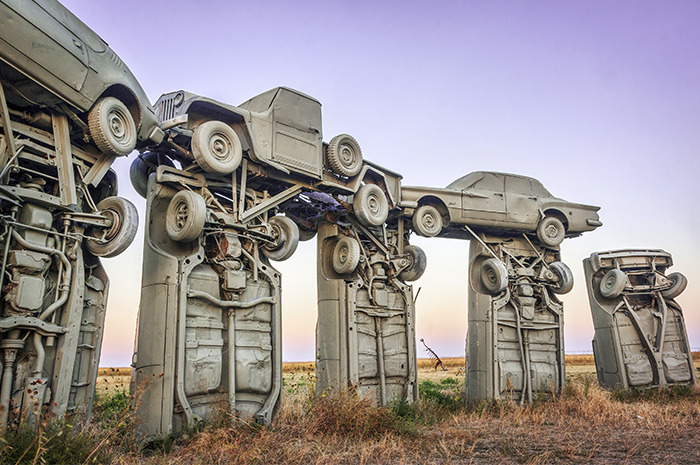 marekuliasz/Shutterstock.com
This famous site replicates Stonehenge, a prehistoric monument in Wiltshire, England. Carhenge, located north of Alliance, consists of the circle of cars, three standing trilithons within the circle, the heel stone, slaughter stone, and two station stones. The site includes a "Car Art Preserve" with sculptures made from cars and parts of cars.
Enchanted Highway, Regent, North Dakota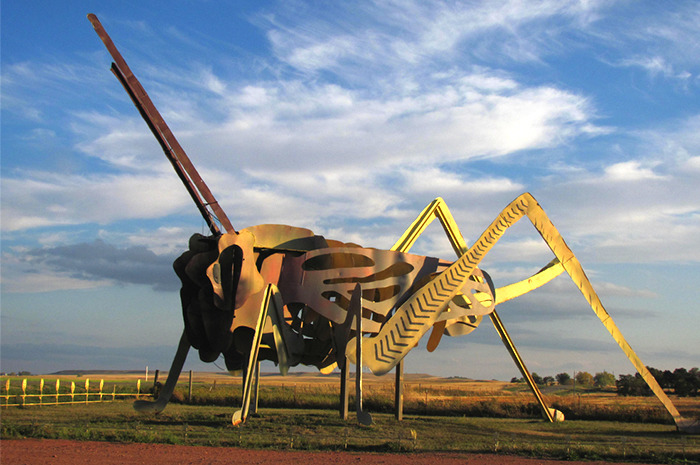 Larry Porgest/Shutterstock.com
Beginning with "Geese in Flight," large metal sculptures are placed along the county highway. They include "World's Largest Tin Family," "Teddy Rides Again," "Pheasants on the Prairie," "Grasshoppers in the Field," "Deer Crossing" and "Fisherman's Dream."
The Beer Can House, Houston, Texas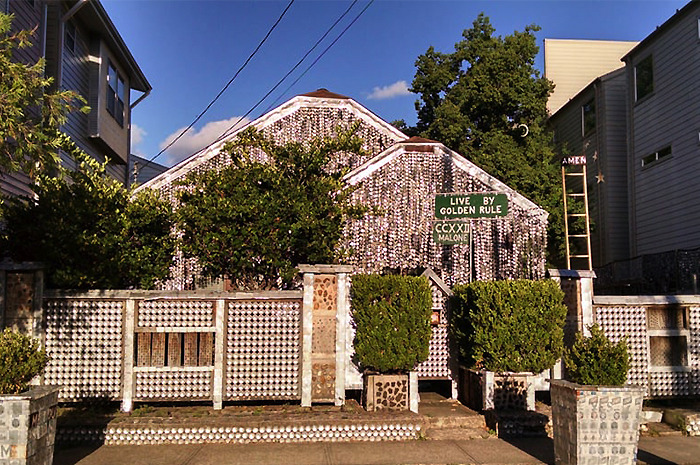 Tammi E./Yelp
John Milkovisch started this project, now known as The Beer Can House, in 1968 inlaying thousands of marbles, rocks, and metal pieces into concrete and redwood because he "got sick of mowing the grass." The garlands are made of cut beer cans hanging from the roof. About 50,000 cans decorate this "monument to recycling."
Cano's Castle, Colorado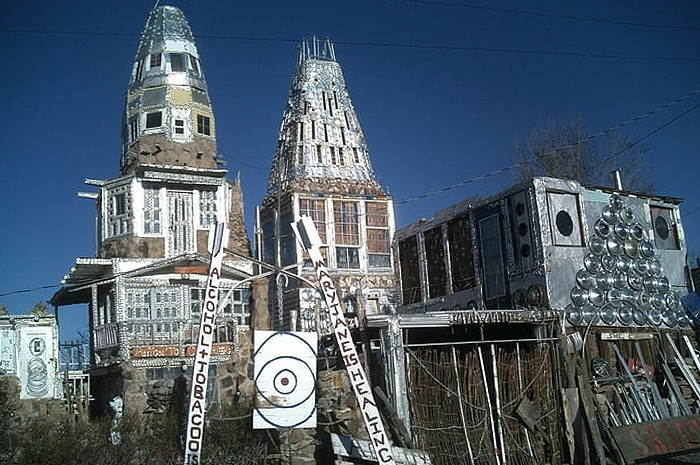 Ben R./Yelp
This one of a kind castle built with glass bottles , beer cans and other metal refuse is a unique attraction that's worth a visit. The "architect" and builder is Donald "Cano" Espinoza, a Native American Vietnam veteran. There are four separate structures – "the king", "the queen", "the palace" and "the rook."
The Blue Whale, Catoosa, Oklahoma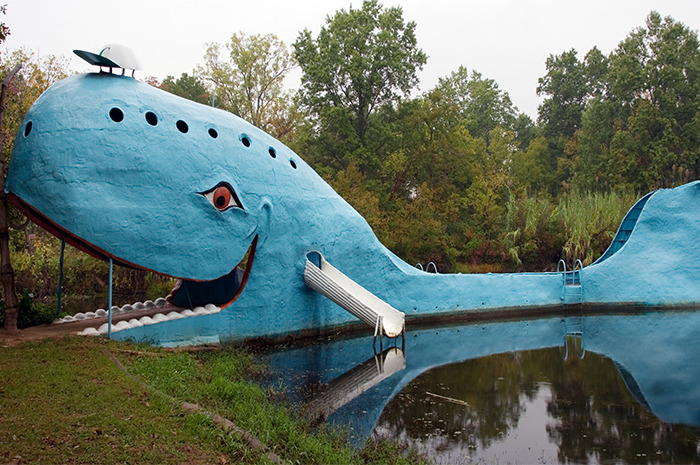 Carol M. Highsmith/Wikimedia Commons
Hugh Davis who worked at a zoo built the 80-foot-long sperm whale out of pipe and concrete in a little pond as a wedding anniversary gift to his wife, who ran an alligator farm just off of Route 66, according to RoadsideAmerica. It was meant to be a toy – a diving platform for their kids.
Dinosaur Park, Rapid City, South Dakota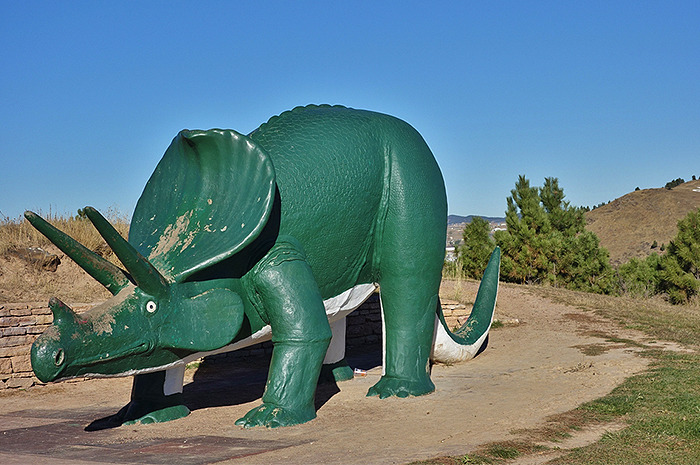 EQRoy/Shutterstock.com
This is one of the Black Hills' original tourist attractions, dedicated to the public since 1936, according to Visit Rapid City. The park is located on a ridge of sandstone that circles the Black Hills. This is where dinosaurs of the Late Jurassic and Early Cretaceous have been found.  There are seven life-size concrete replicas of monstrous prehistoric reptiles. You're also going to enjoy the spectacular 100-mile views of the South Dakota Badlands.
UFO Watchtower, Colorado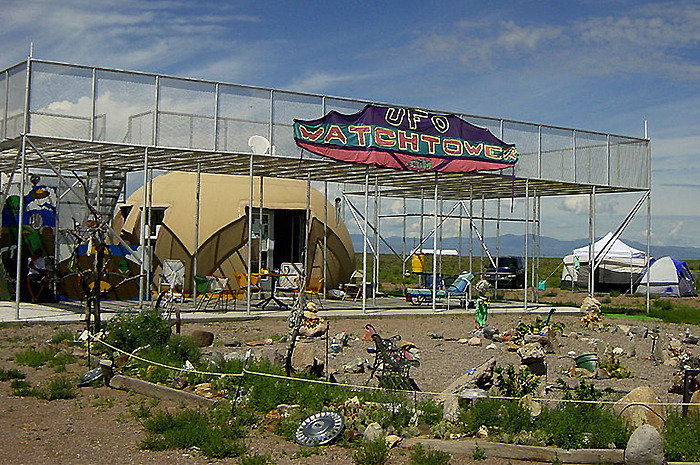 Plazak/Wikimedia Commons
Is there a more bizarre road stop during your trip than an odd alien attraction? The UFO Watchtower is part of what so many seem to believe is a hub of galactic activity. Judy Messoline turned her ranch into a campsite with a UFO watchtower. Visitors have to enter from HWY 17; GPSs are giving wrong directions to the entrance.
Jolly Green Giant, Blue Earth, Minnesota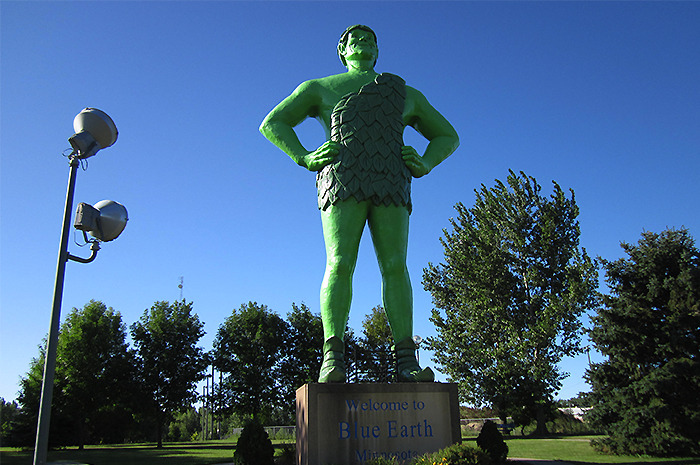 Flickr/Doug Kerr/CC BY-SA 4.0
Is this a 55-feet tall Hulk? No, and it has nothing to do with the food company either. The 8,000 pounds of sculpted green fiberglass were constructed by Paul Hedberg, the former owner of the AM radio station KBEW, according to Atlas Obscura. Interstate 90 was being built at the time. He made sure a section of the freeway passed by Blue Earth. The Green Giant statue was meant to lure travelers to pass through town.
Redstone Rocket, Warren, New Hampshire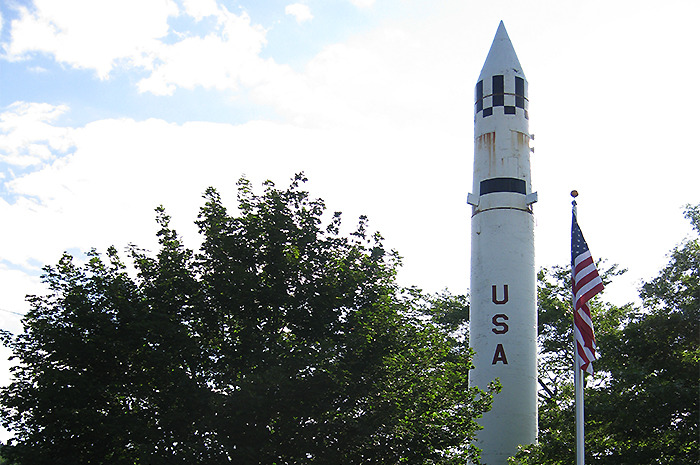 Chipstata/Wikimedia Commons
Just a real rocket on the side of the road, no big deal. This Cold War leftover, the only rocket installed in a public park in 1971, was one of the first to carry a nuclear warhead, according to Atlas Obscura. It was installed to honor Alan Shepard, the first American to travel into space, born nearby, and a popular senator.
Leaning Tower, Niles, Illinois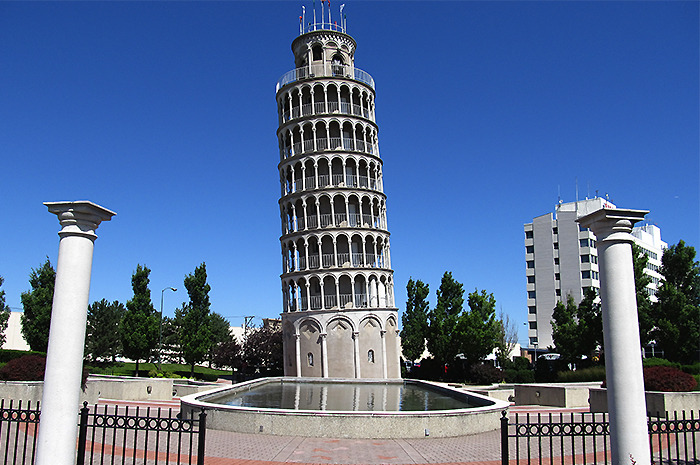 Flickr/Ken Lund/CC BY-SA 4.0
This is a half-sized replica of the iconic Leaning Tower of Pisa in Italy. The 94-foot-tall steel, stone and concrete structure was built in 1934 to mask water infiltration tanks for two pools on the campus of what was once a 22-acre park, according to the Herald-Spectator.
Longaberger Basket Headquarters, Newark, Ohio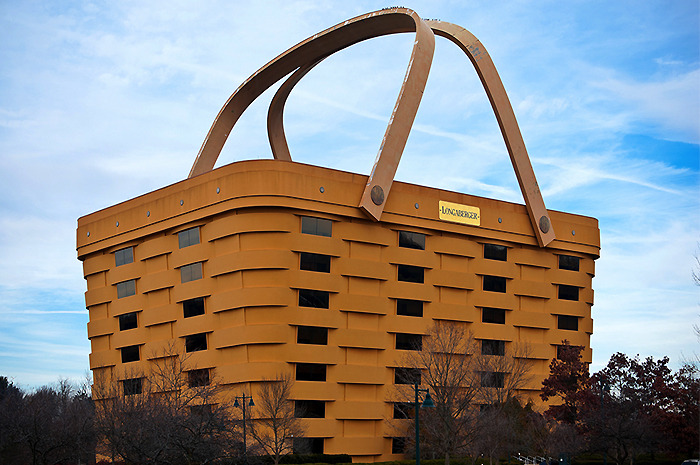 CJM Grafx/Shutterstock.com
The weird looking basket is actually a seven-story office building that can hold up to 500 people. It is owned by Longaberger which was trying to sell it in August for $5 million after failing to find someone willing to pay $7.5 million for the 180,000-square-foot structure, according to Business Insider. It was finally sold in January for $1.2 million.
General Sherman Tree, Sequoia National Park, California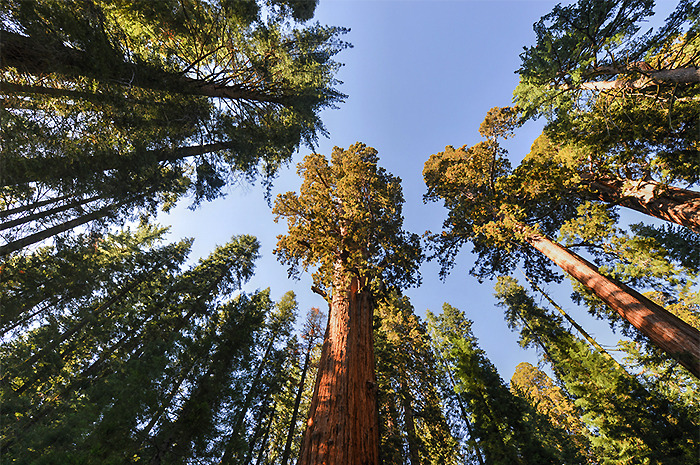 Shutterstock
Stop by General Sherman, the largest living tree on Earth by volume. It is slightly over 52,500 cubic feet and 274.9 feet high above its base. The circumference at the ground is 102.6 feet, and the diameter of its largest branch is 6.9 feet, according to NPS.
Longhorn Grill, Amado, Arizona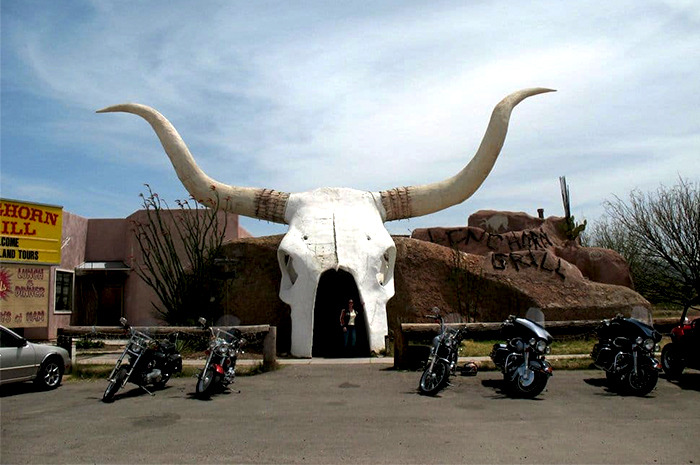 Erica G./Yelp
You don't see a massive cow skull resting against an enormous boulder on every road trip, do you? The Longhorn Grill operated until 2012, when it finally faced foreclosure and had to be sold at auction. As late as 2013, the space was said to have been used for parties, according to Atlas Obscura. The 30-foot tall horns continue to hold up despite years under the hot Arizona sun.
Cadillac Ranch, near Amarillo, Texas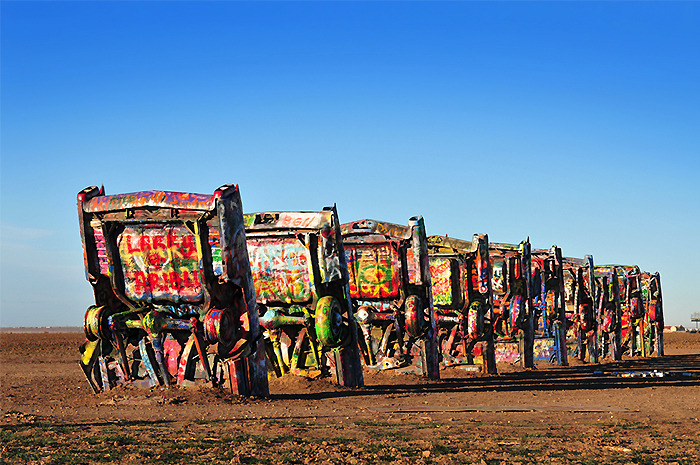 Edwin Verin/Shutterstock.com
The Cadillac Ranch is a classic landmark beside Route 66. It consists of ten Cadillac cars which are half buried nose-down in the ground in a single file. This public art is the work of the Ant Farm and was created in 1974. The landmark is on the south side of Interstate 40, just 10 miles southwest of Amarillo. It is free of charge and open 24⁄7.
Salvation Mountain, Calipatra, California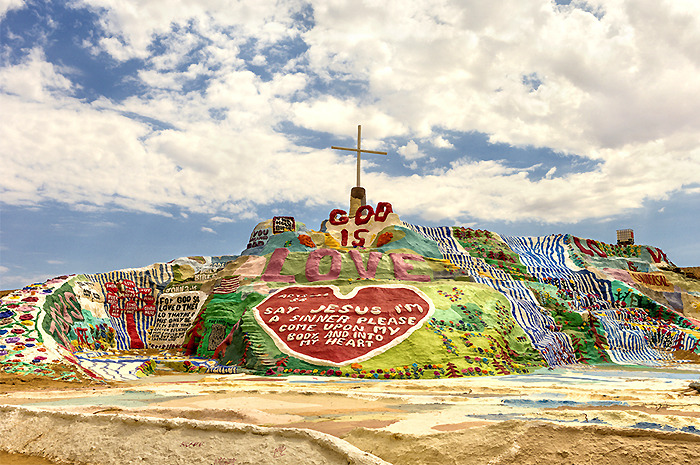 Ovidiu Hrubaru/Shutterstock.com
Salvation Mountain, located in the lower desert of Southern California in Imperial County about an hour and a half from Palm Springs, is covered in paintings of colorful biblical messages like "God is Love." It was created by the late Leonard King who lived there. Its 50 foot height and 150 foot breadth is made totally of local adobe clay and donated paint.
Golden Driller, Tulsa, Oklahoma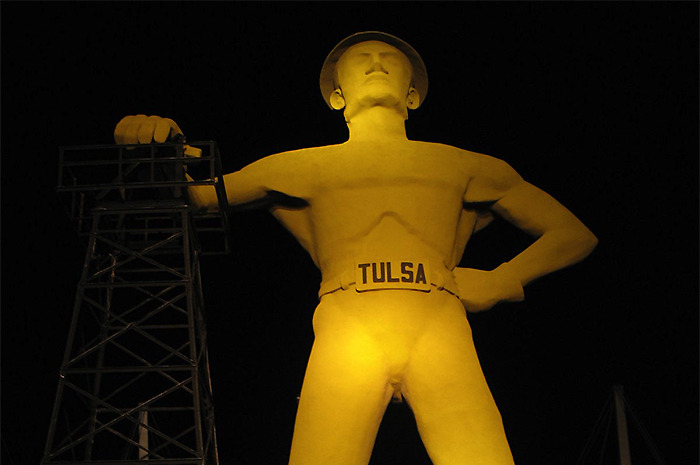 Dakpowers/Wikimedia Commons
The giant oilman has become a symbol of the city once known as the "Oil Capital of the World." Originally sponsored in 1953, the giant was very popular. A new version was even temporarily erected again for the 1959 International Petroleum Exposition. The 43,500-pound tourist attraction as it appears today was permanently installed for the 1966 International Petroleum Exposition.
Cushing Brain Collection, Connecticut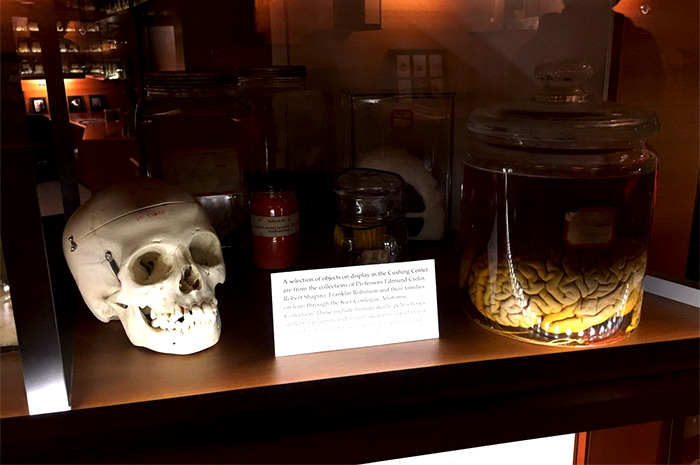 Andrea Q./Yelp
This is a unique collection if deceased brains. Located at Yale's medical school library in New Haven it was donated in 1939 in the name of Dr. Harvey Cushing, the father of neurosurgery. The Cushing Brain Tumor registry has over 2,200 case studies which includes human whole brain specimens, tumor specimens, microscopic slides, and over 15,000 photographic negatives dating from the late 1800's.
World's Largest Ball of Twine, Darwin, Minnesota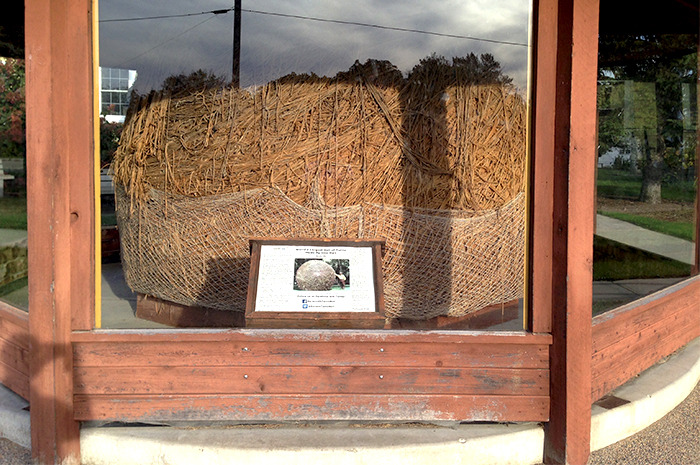 Flickr/Thomas/CC BY-SA 4.0
It's enclosed in a plexiglass and wood gazebo, which makes taking photos challenging. Francis A. Johnson started rolling a ball of twine in his basement 1950, for no obvious reasons. He did this for four hours a day, every day, according to RoadsideAmerica. He didn't stop until 1979 when the ball weighed almost 9 tons and was 12 feet wide. Did you know that there is a "large(st) ball of twine" in Cawker City, Kansas, too. It has become a community project and locals and visitors can add twine.
World's Largest Buffalo, Jamestown, North Dakota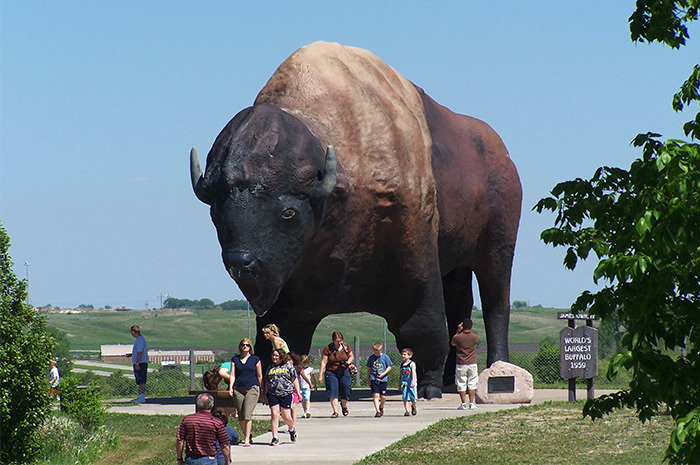 Tourjamestown/Wikimedia Commons
This is a giant sculpture of an American Bison, visible from Interstate 94. This 26-foot-tall, 60-ton concrete giant has been standing watch over Jamestown since 1959. Created by sculptor Elmer Petersen, the buffalo is among the Midwest's most popular roadside attractions. In 2010, the buffalo finally got its name –Dakota Thunder.
Dinosaur World, Kentucky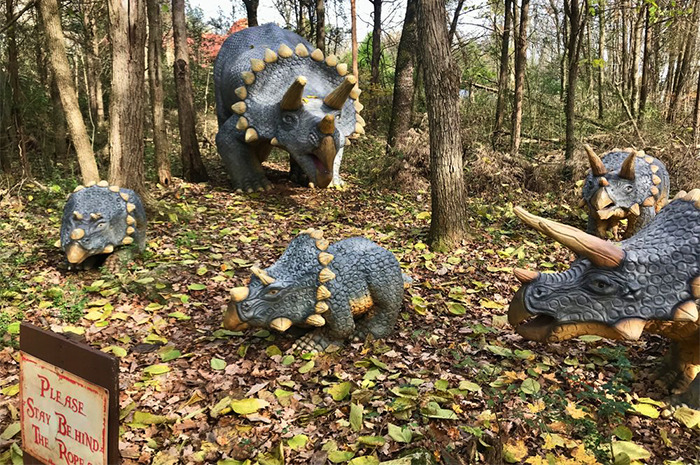 Drew H./Yelp
Stroll among hundreds of life-sized dinosaurs in a natural setting. The kids will love the interactive exhibits as well as the dino-themed playground featuring slides and swings. The 5,000 sq. ft. gift shop offers prehistoric artifacts, toys, games and beautiful geodes.
World's Largest Ball of Stamps, Boys Town, Nebraska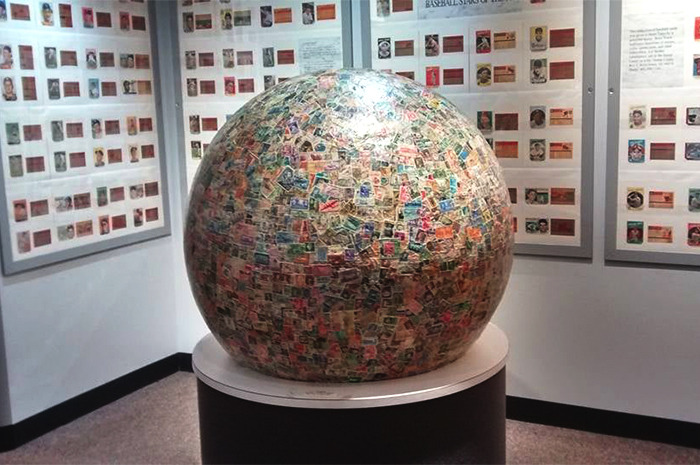 Chris S./Yelp
This is a ball of about 4,655,000 stamps. It weighs 600 pounds and has a diameter of 32 inches. The mural behind the ball is also made all of stamps. The museum sells stamps from all over the world.
Lucy the Elephant, Margate, New Jersey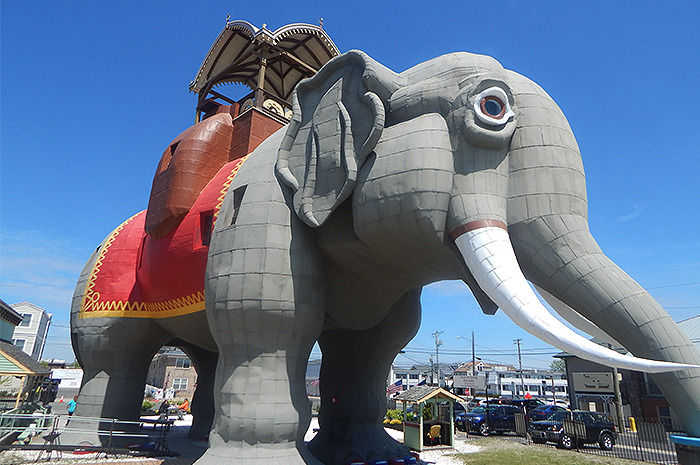 Flickr/Adam Moss/CC BY-SA 4.0
This famous roadside attraction, which is six stories high, is located along the beach in Josephine Harron Park. James V. Lafferty had the idea of driving up interest in beachfront property he owned by constructing a building shaped like an elephant. It didn't happen but the elephant, named Lucy, became a popular tourist attraction. Her belly had been a restaurant, summer home and speakeasy.
Airstream Ranch, Florida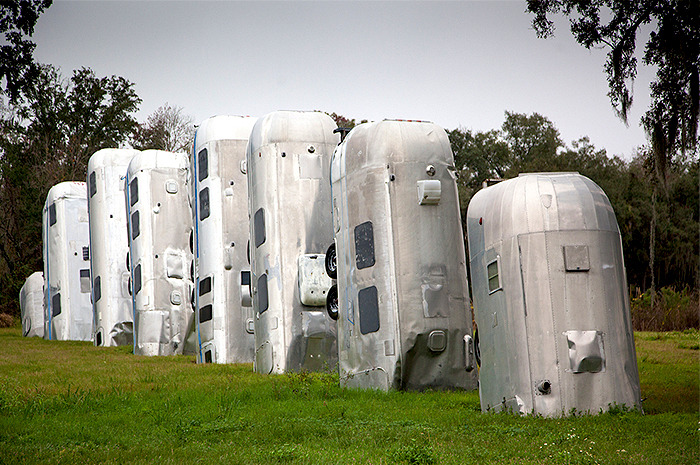 Barry Singleton/Shutterstock.com
The popular sight off Interstate 4 between Tampa and Orlando was a divisive landmark for a decade. The famous roadside attraction featuring a row of RVs sticking straight out of the ground was demolished last year to become renovated a dealership and Airstream RV museum.
The Shoe Tree, Middlegate, Nevada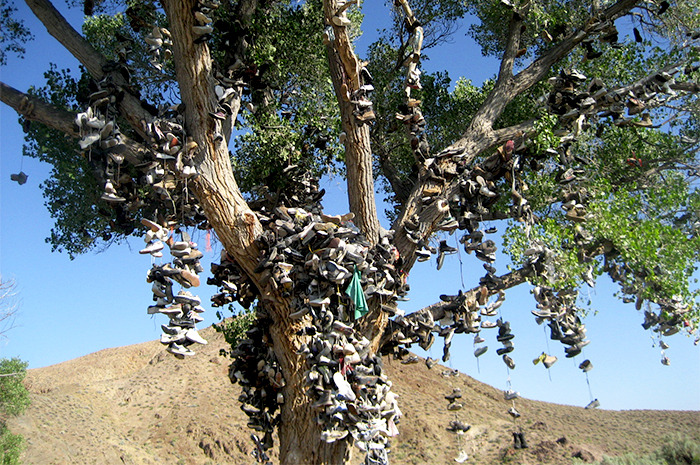 Flickr/Pattie/CC BY-SA 4.0
With a barren, arid desert and mountains in the background, the cottonwood tree is literally threaded with footwear. The shoe tree was unfortunately cut down by vandals in 2010. Years later locals designated a tree nearby as the new shoe tree, and it is already decorated with an impressive number of shoes, according to Atlas Obscura.
Igloo City, Alaska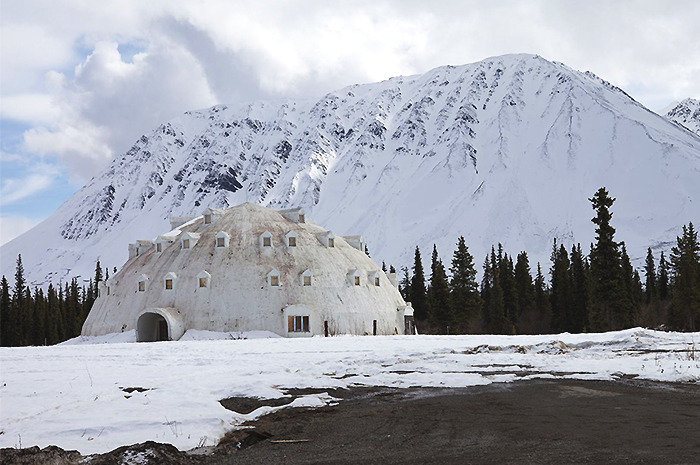 Flickr/Malcom Manners/CC BY 4.0
It was supposed to be a hotel and hub to a thriving new city in Alaska, but it only really housed bears, moose and wolves. The building, a concrete hotel that is four stories tall, was too big to demolish, so it was left abandoned for decades. You can even see it from a plane flying at 30,000 feet.