25 Cities You Have To See At Christmastime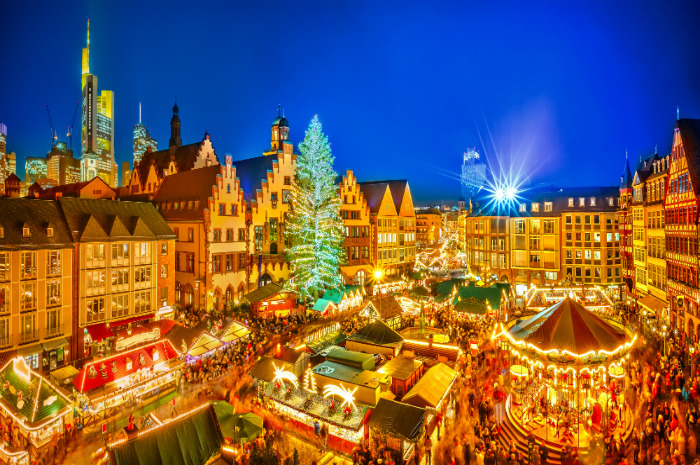 iStock
With city skylines sparkling with lights and decorations and enough festive desserts to you want to be Christmas every day, the festive season around the corner. The big question now becomes: Where should you celebrate?
Trømso, Norway
iStock
This is where you go if you are hoping for a white Christmas with the stunning Northern Lights as a décor. You can see the natural phenomenon for more than 250 nights a year. Go on an aurora-chasing snowmobile or a bus chase for the magical lights. There are many expeditions available and the quest goes as far as it takes to find clear skies. 
Santa Claus, Indiana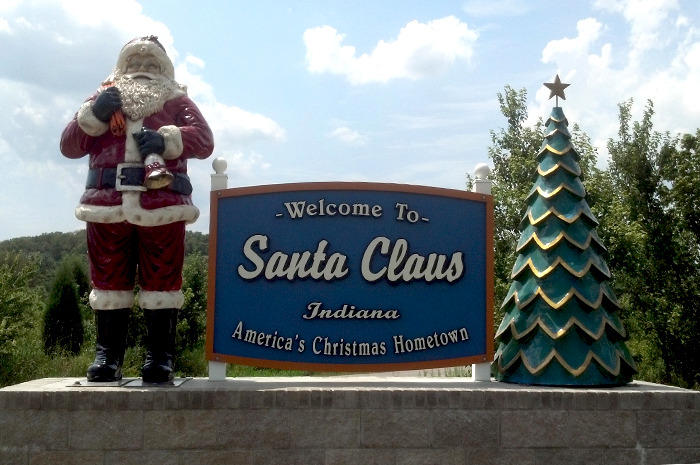 Flickr/Doug Kerr/CC BY-SA 4.0
Santa Claus, a small town of about 2,500 people, is on all must-see Christmas lists. The local post office has been sending letters to kids "from Santa" for over a century. Dubbed "America's Christmas Hometown," it offers a lot to locals and visitors. Book now a package at Santa's Lodge, which includes a pass to Santa Claus Land of Lights and an access card to chat with an elf on the Northpole Network at Santa's Candy Castle.
Brussels, Belgium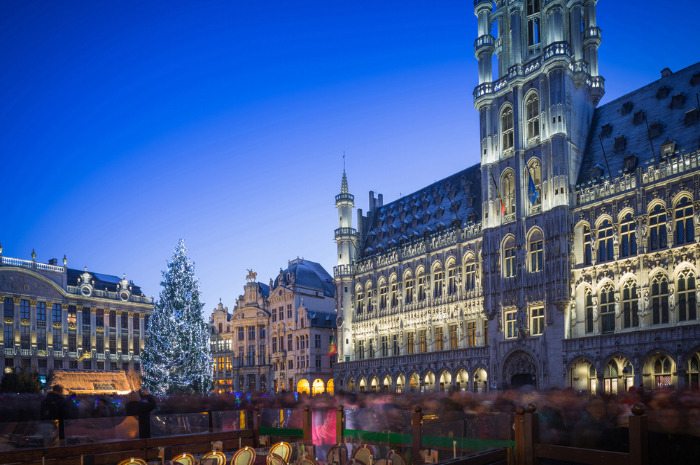 Shutterstock
The capital of Belgium is turned into a winter wonderland for the holidays. Visit all four "winter villages, or Winter Pop, in the city. The Winter Wonders event includes a Christmas market with more than 200 chalets, fairground attractions (Ferris wheel, merry-go-rounds), a covered  ice rink for skating, a Christmas tree, sound and light shows, light parades on Saturdays, to name a few.
Zurich, Switzerland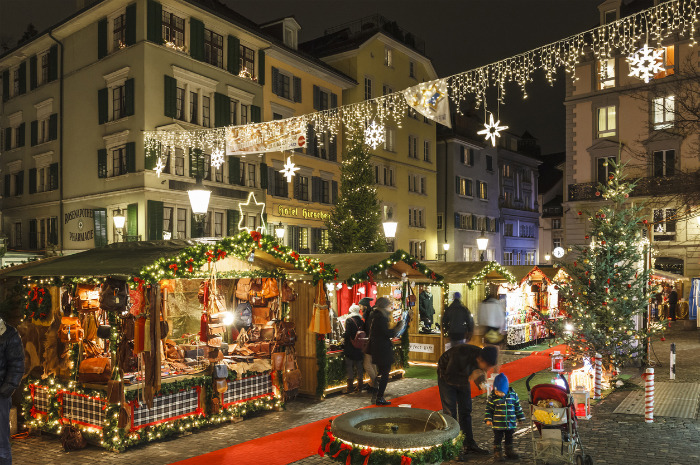 Flavio Vallenari/istockphoto.com
Zurich may not be the first city that comes to mind when it comes to Christmas but its markets, Advent concerts and mulled wine will change that forever. Events such as the Lichterschwimmen candle-floating give rise to a magical ambiance. The best part of the holiday season is the magical New Year's Eve fireworks display hosted by Zurich hoteliers.
North, Pole, Alaska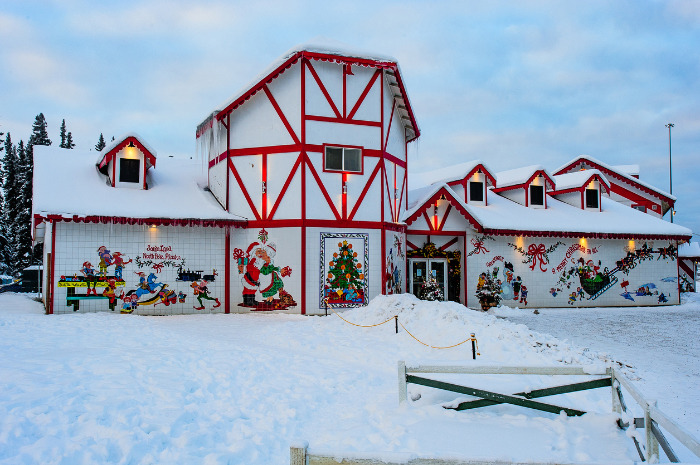 lippyjr/istockphoto.com
This is another small town that shines bright at Christmastime. Its motto is "Where the spirit of Christmas lives year 'round.'" This small Alaskan city is home to the Santa Claus House where children's letters are received and answered. Visitors enjoy admiring the unique lit up ice sculptures, and taking photos with the World's Largest Santa, standing at nearly 50ft tall.
Edinburgh, Scotland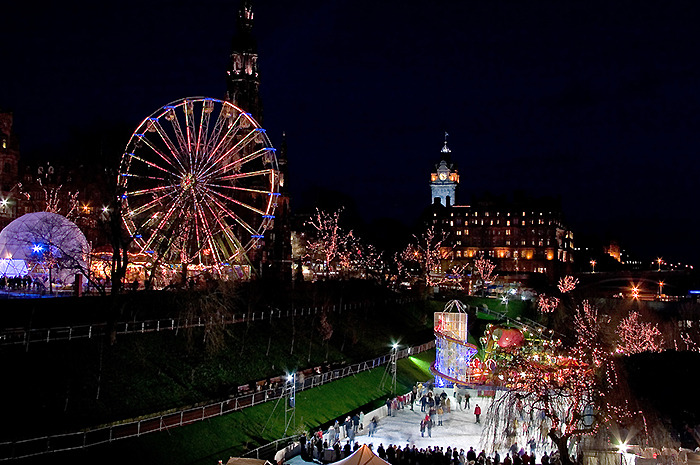 istockphoto.com
Visit this magical winter wonderland that looks like a fairytale city this time of the year. Edinburgh's Winter Festivals bring Edinburgh's Christmas and Edinburgh's Hogmanay together in a dreamlike blast of twinkling lights, captivating sounds, and delicious flavors.  Enjoy stunning panoramic views of the capital from the top of the Big Wheel and, for a more thrilling adventure, brave a twirl on the 60-metre-high Star Flyer.
Prague, Czech Republic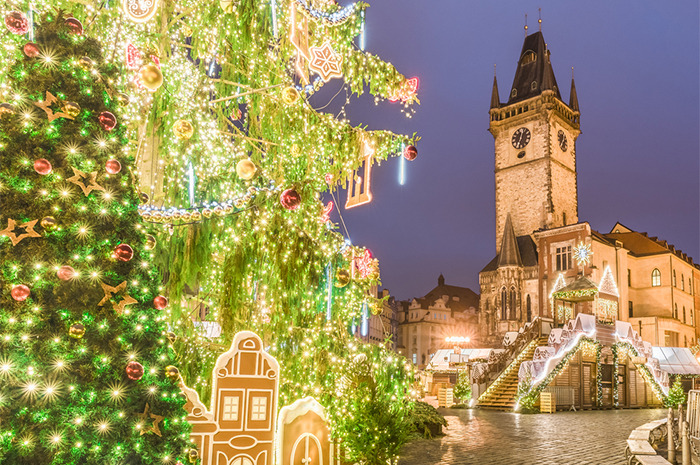 Shutterstock
This is where you go if you are looking for a picture-perfect Christmas in Europe. Go on a tour walking on cobble stone streets to see the beautiful baroque and Gothic architecture. The glittering decorations only make them look more magical. Christmas trees embellish the town squares and the early sundown is filled with warm light. The Christmas markets in Old Town Square and Wenceslas Square are an absolute must as well.
Budapest, Hungary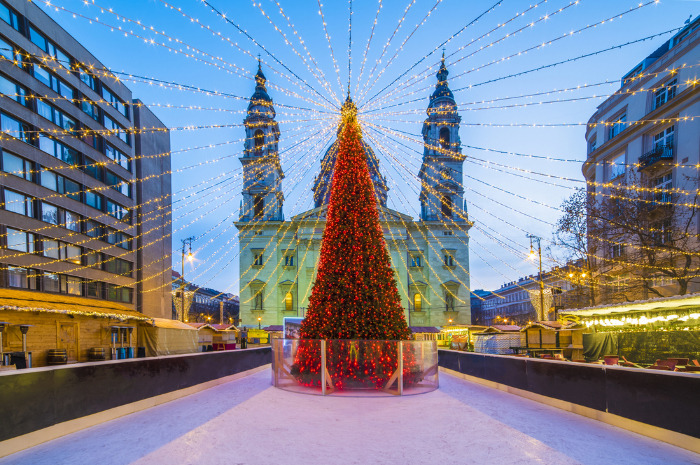 Shutterstock
The capital of Hungary is a fun, and cold, destination during Christmas. But you forget about all little inconveniences when you see that the city is a lot about food. Try delicious goulash, pigs' knuckles with potato dumplings and sauerkraut. There are many Christmas events in Budapest, most of them are scheduled for the Advent period. Bonus: The thermal bath is bliss in winter time. Visit Szechenyi Baths and enjoy hot spring pools – two open air thermal pools and 15 indoor pools.
Lapland, Finland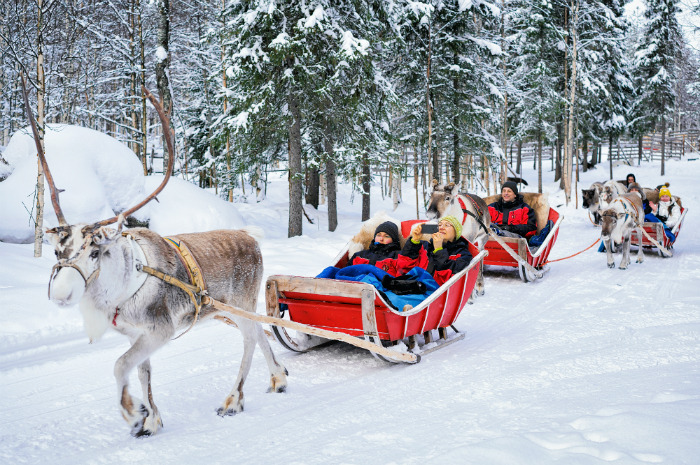 iStock
Stay in glass igloos and log cabins with extraordinary views. They were designed so visitors can enjoy the Northern Lights in their full glory, but sleeping there is an amazing experience even if you don't catch them. Finland, along with Sweden, are often referred to as the original home of Santa Claus because of the world famous Santa Claus village in Rovaniemi where you get to "meet" him and watch his elves work.
Boston, Massachusetts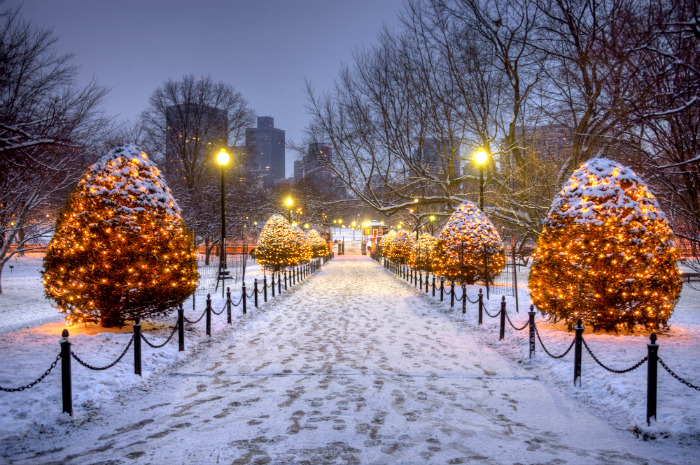 iStock
This is one of the best U.S. cities for the most fun-filled weekend of your life. Visit in December to see celebratory light displays and glittering Christmas trees everywhere. There is a special holiday event almost every dat. Don't miss the Christmas tree light ceremony on Boston Common, and see the iconic The Nutcracker and Disney on Ice. And, of course, stay for New Year's Eve when up to a million people join Boston's First Night festivities, certainly one of the biggest events of the year.   
Amsterdam, The Netherlands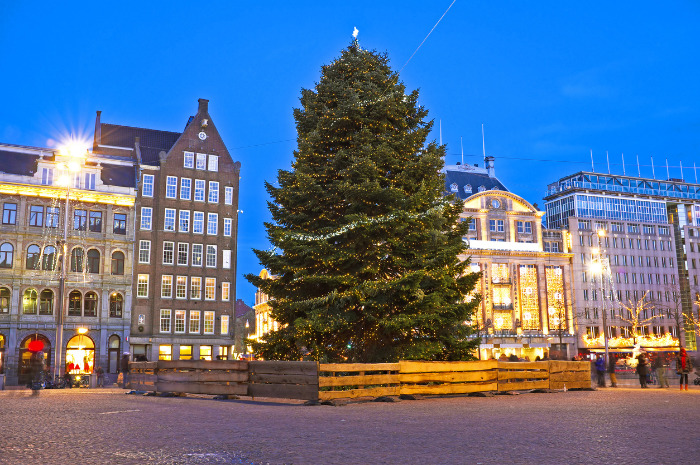 istockphoto.com
Holland's largest city is a popular place to be come Christmastime. Locals get really into the legend of Santa Claus. The beautiful century-old houses are stunningly lit and decorated as early as the first week of December. At Museum Square you will find Amsterdam's most spectacular ice rink and Christmas market. Some popular museums, such as Anne Frank House and Rijksmuseum, are open on December 25.
New York City, New York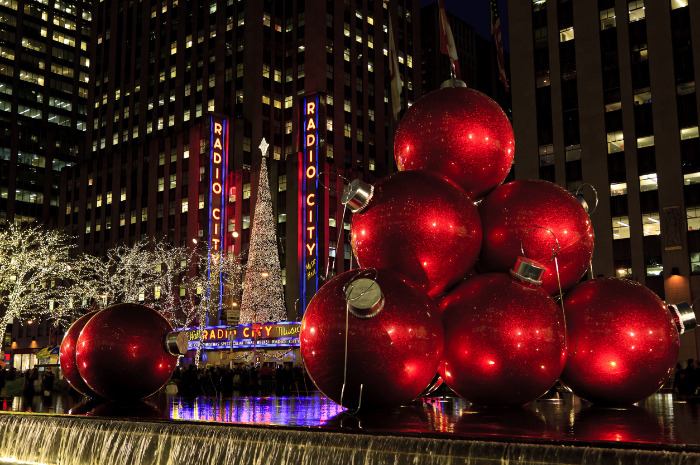 mizoula/istockphoto.com
There is no place like the city that never sleeps around the holidays. Experience the magic of the holidays in a place that transforms into a true winter wonderland. Take photos by the famous Rockefeller Christmas tree, witness the rivalry at Dyker Height for the best Christmas decorations, go ice-skating across the Rockefeller Center Skating Rink, admire the incredible Christmas window displays, and don't miss your chance to see Santa at Macy's New York.
Quebec City, Canada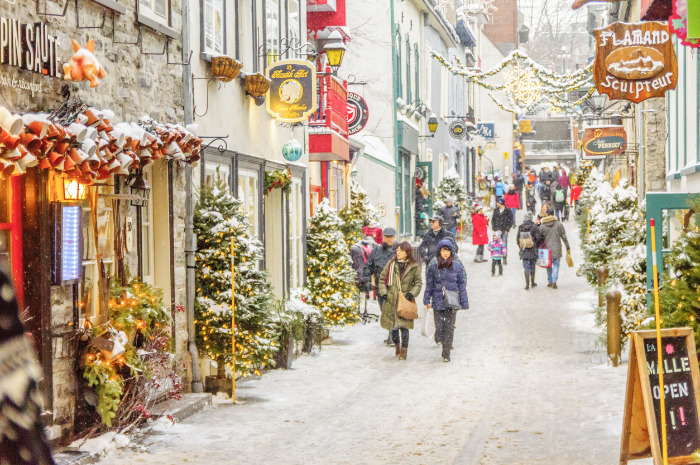 Sophie-Caron/istockphoto.com
If you're trying to decide on a beautiful Christmas getaway, look no further than Quebec City in Canada. The lights, decorations and snow make for a magical setting. There are plenty of activities to participate in during the holiday season; attend Christmas Markets, enjoy concerts and shows, meet Santa Claus in the Petit Champlain District, and attend the Quebec Aquarium Light Festival.
Rome, Italy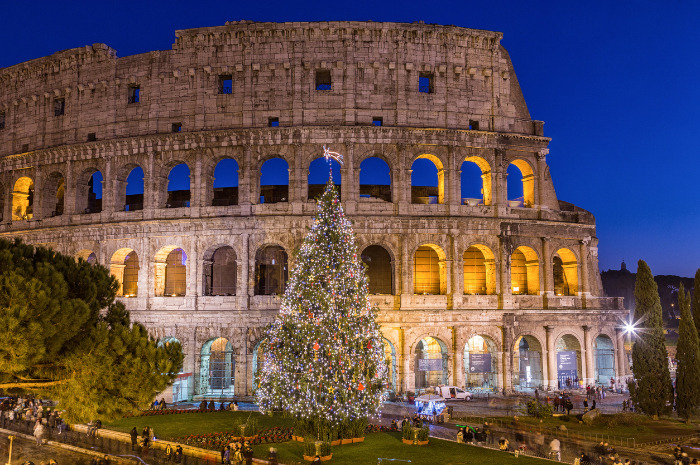 istockphoto.com
The Eternal City is all lit up and decorated. Only a few places close on Christmas Eve and/or Christmas Day, so you can be sure you'll find many spots to have fun and eat, which is always a priority when visiting Italy. The holiday season in the city begins on December 8, which is the holiday of the Immaculate Conception.
Nuremberg, Germany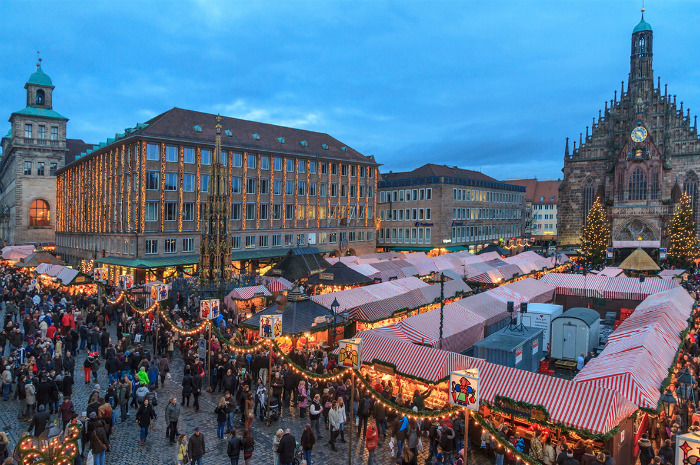 oriredmouse/istockphoto.com
Germany is credited with starting the Christmas tree tradition, as we now know it, in the 16th century. Nuremberg Christmas market, the country's most famous one, draws over 2 million people every year. Locals are very serious about hand-made decorations – you won't find more beautiful ornaments than those sold in the city. Visit the Old Town and see what a traditional Christmas glory is all about. Don't resist the temptations of mulled wine, sweet roasted almonds, Nuremberg sausages and gingerbread.
Durango, Colorado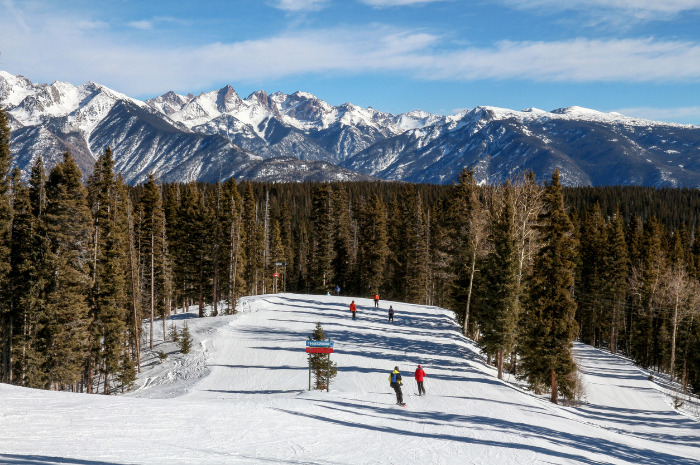 istockphoto.com
Durango has one of the best Christmas traditions in America. You should ride the Cascade Canyon Train at least once in your life. Cut your own Christmas Tree to be hauled back to Durango on the steam train. You can also ride The Polar Express, a trip especially designed for kids.
Paris, France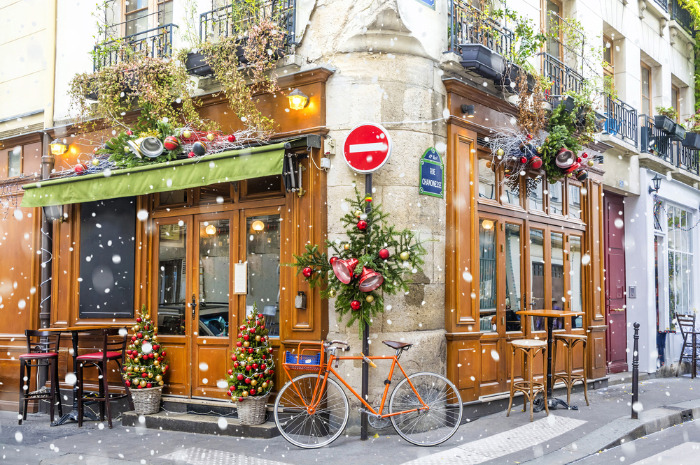 Shutterstock
Paris is all decked out for the holidays. The view of the famous Avenue des Champs-Elysees leading to the even more famous Arc de Triomphe is stunning. Everyone thinks of Paris as the ultimate romantic destination, but it's also a great place to visit for fun adventures. Sign up for walking and food tours. The sunset over Notre Dame of Paris during the Christmas time is magical.
Aspen, Colorado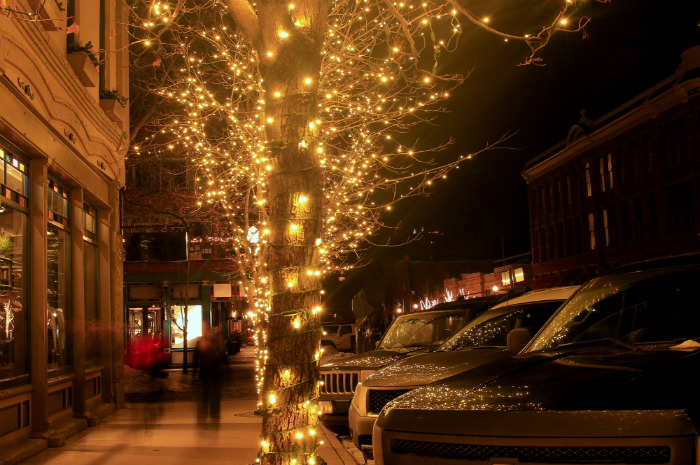 Shutterstock
Go in time for the 12 Days of Aspen. It is an annual event that starts on December 20. There are all kinds of festivals and activities organized by local big and small businesses. You can design your own do-it-yourself holiday craft, take the kids to toddler story time, go to film screenings, or go a journey through Broadway history with classic shows such as "My Fair Lady" and "South Pacific at the Wheeler Opera House.
Cologne, Germany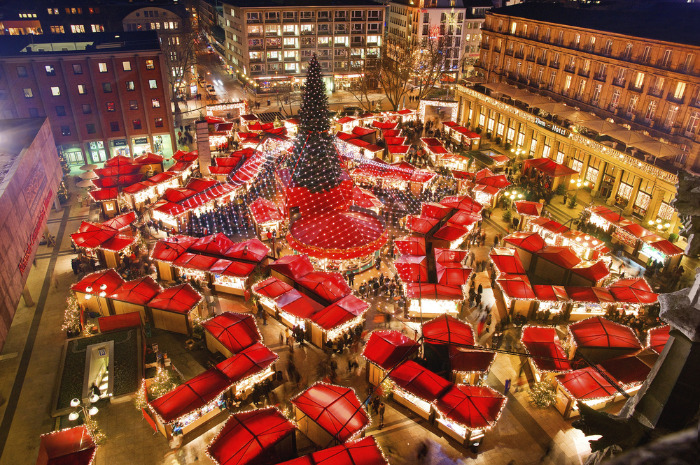 Shutterstock
Holiday magic spreads throughout the city when Christmas markets open their illuminated gates. The booths near Cologne Cathedral are arranged around a huge Christmas tree, next to which is a stage for a diverse programme of live music performances, according to Cologne Tourism. Go ice skating, and let the "Markt der Engel" (Angel Market) treat you to a superbly shining sea of stars, while the "Nikolausdorf" (St. Nick's Village) on Rudolfplatz entertain the entire family.
Vienna, Austria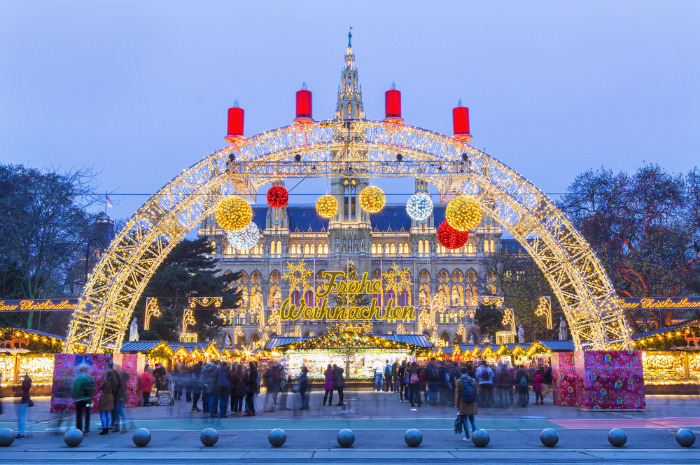 Shutterstock
Christmas in this old-fashioned European city is absolutely stunning. Make sure you visit the Christkindlmarkts, which is one of the oldest Christmas markets in all of Europe, dating back to the 13th century, even if it's just to marvel at the gorgeous Baroque architecture with twinkling decorations. The Vienna Boys' Choir concerts are fabulous. The food alone is a good enough reason to spend the winter in Vienna. Don't leave without trying the Gugelhupf, truffles, or the coconut-coated Topfenknödel.
Castleton, England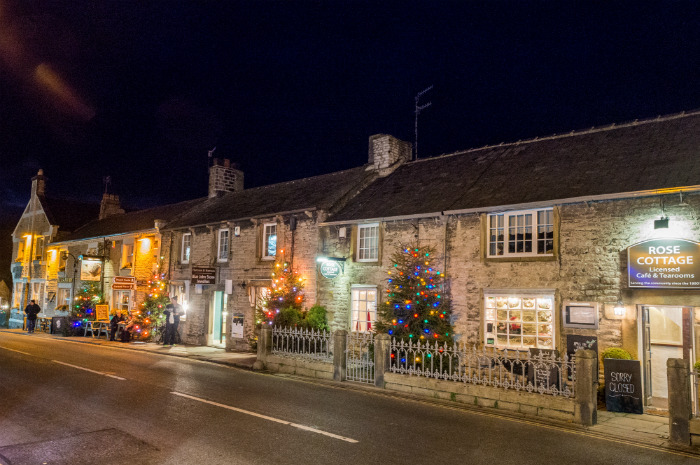 Sue Burton PhotographyLtd / Shutterstock.com
The best time to see this charming town is surely around Christmas. The streets are lit with fairy lights and the historic terraces are decorated with shining trees. Enjoy a magical stroll through the Enchanted Garden to Santa's House & Workshop; don't miss 'Santa Grotto every weekend from until Christmas. The Christmas Tree Festival in St. Edmunds Church has already opened.
Provence, France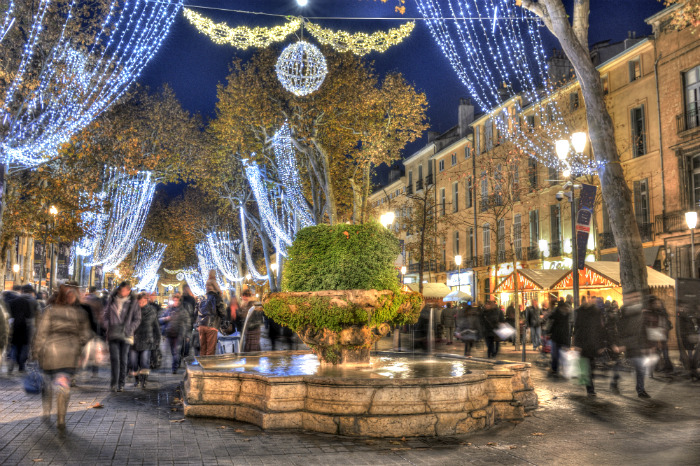 iStock
Christmas in this enchanting region is rooted in both charming local customs and historical religious rituals. The festive season is called Calendale. Villages throughout Provence host Christmas Markets, Santons Fairs, Lighting Festivals and Tours of Nativity Scenes leading up to Le Gros Souper on Christmas Eve and Les Treize desserts following Midnight Mass, according to Only in Provence.
Park City, Utah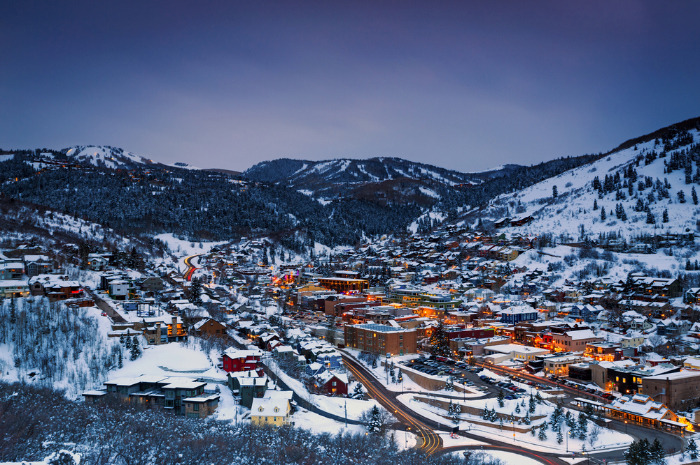 Shutterstock
Utah's most famous mountain town and ski resort area hosts a white Christmas and a winter wonderland in December. The holiday magic in the air is present every day. One of the most fun events is the welcoming of Santa Claus into Park City – on December 16 – as he and his reindeer descend the Town Lift from the top of the mountain. Be part of the Traditional Torchlight Parade and Christmas Eve Celebration and spend Christmas Eve on the slopes.
Reykjavik, Iceland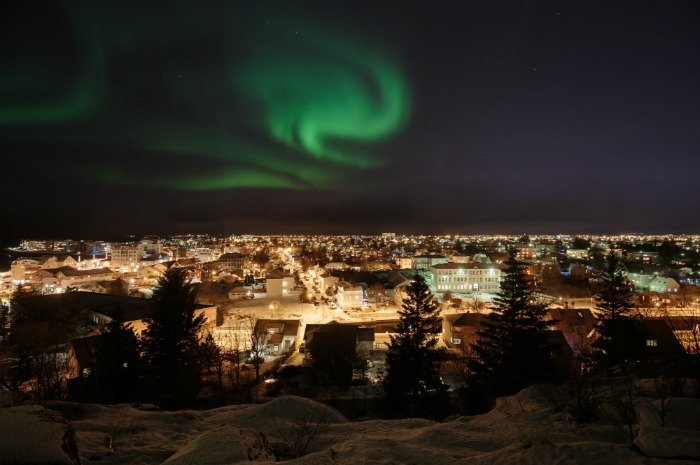 iStock
The city is known for their extraordinary landscapes, but during the holidays tourists enjoy their exciting events and Christmas decorations throughout the month of December. View the enchanting Northern Lights and visit the peaceful Reykjavik Botanic Garden; admire their beautiful arboretum and incredible displays of indoor and outdoor lights.
Salzburg, Austria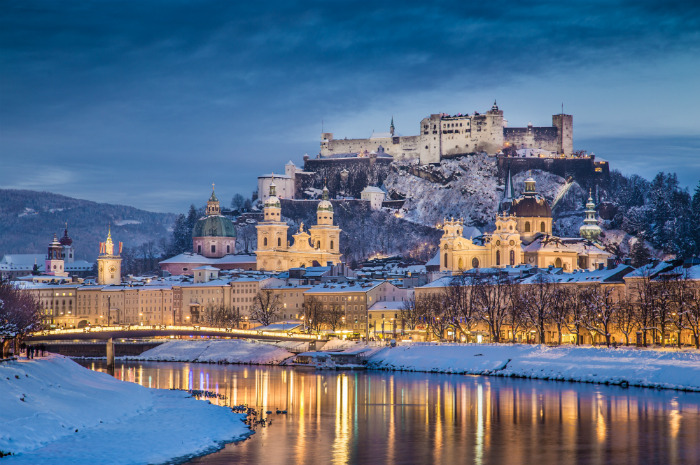 iStock
You can already hear the countless church bells that remind everyone that Christmas is near. The Salzburg Christmas markets will fill you with warmth as you look out to the city's snow-covered roofs, domes and towers. Be there in time for the Advent Magic in Hellbrunn. Romantic booths, tempting treats and pre-Christmas gift ideas add to the charming atmosphere, according to Austria Info. Bonus: Children can enjoy a sledge ride drawn by real reindeer.