Best Places For An Affordable Ski Vacation In North America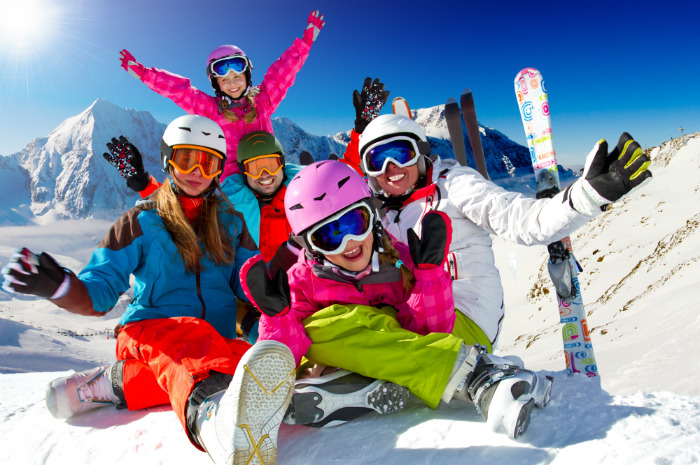 Shutterstock
Best Places for an Affordable Ski Vacation in North America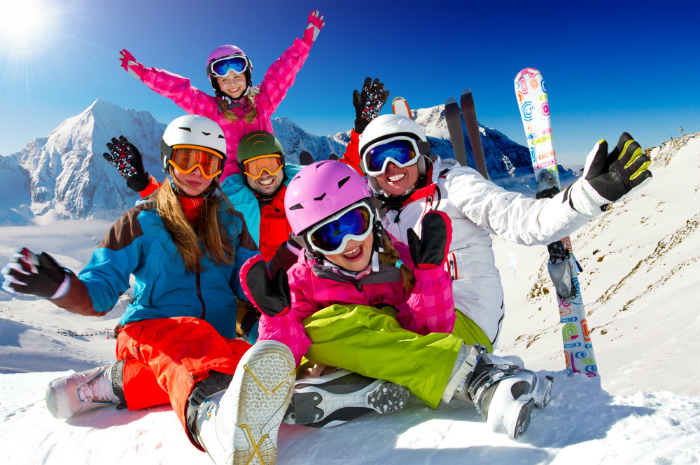 Shutterstock
Planning a ski vacation is not an easy task. There are too many variables – snow quality, customer service, terrain, steeps, skill level, crowds, and, arguably most importantly, your budget. Fortunately, some mountains have it all. The following list is based on data compiled by HomeToGo, a vacation rental search tool. The total cost has been calculated by adding how much money you'd need to spend to rent equipment, buy a Lift Pass, have lunch at the resort, and stay overnight. The prices have been taken from the official websites of each destination for the upcoming 2017-18 winter season.
15. Squaw Valley Alpine Meadows, California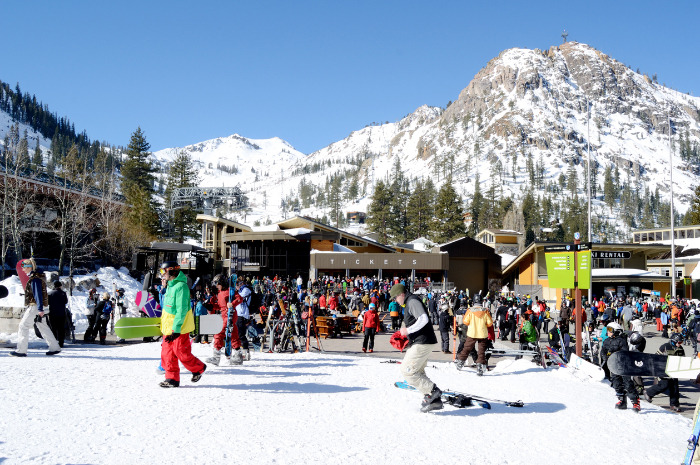 maybefalse/istockphoto.com
Total cost for one day and night: $228.32
Host of the 1960 Winter Olympic Games, Squaw Valley has long been known as a top-tier mountain and with the merger to Alpine Meadows in 2012, there's more to love on one lift ticket than ever before. Also, travelers who would rather not don boots and boards can find plenty to love at these mountains. From the ski lifts to hot tubs, fire pits, world-class dining and tons of shopping—you won't have to drive at all and you certainly won't be bored.
14. Sun Valley, Idaho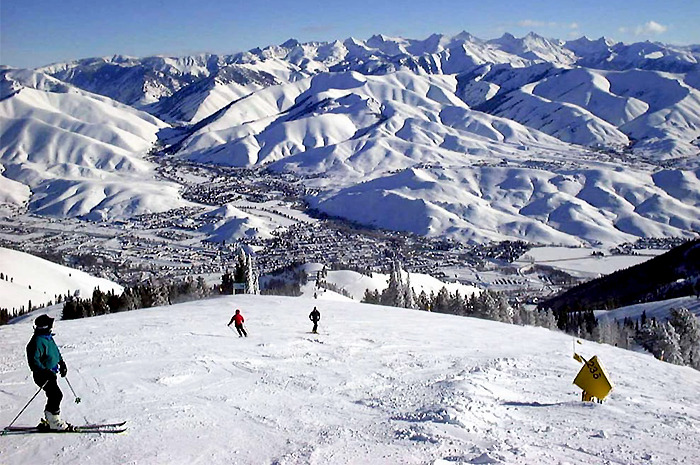 Idaho A./Yelp
Total cost for one day and night: $218.73
Many come to Sun Valley seeking powder-packed slopes drenched in sunshine. Sun Valley Ski Resort is famous for its night skiing. Take the family on vacation for the ultimate winter sports trip. Popular winter activities to participate in include Nordic skiing, sleigh riding, bowling, and ice skating. Those who enjoy the outdoors without boots and poles can take advantage of lift-serviced snow tubing on Dollar Mountain, ice skating on a scenic outdoor rink or take a tour on a sleigh led by horses.
13. Mount Bachelor, Oregon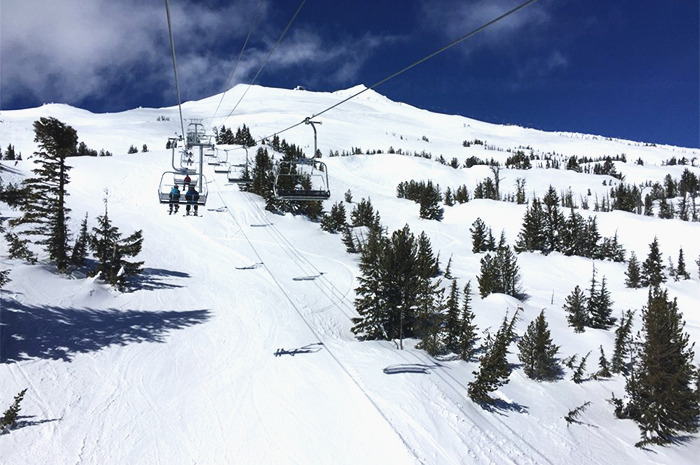 Dawn G./Yelp
Total cost for one day and night: $217.23
The runs are wide and beautiful. Mt. Bachelor offers skiers and boarders a shot at pristine powder. The mountain has a solid snow base which makes it skiable until Memorial Day Weekend, far longer than many other areas in the country.
12. Schweitzer Mountian, Idaho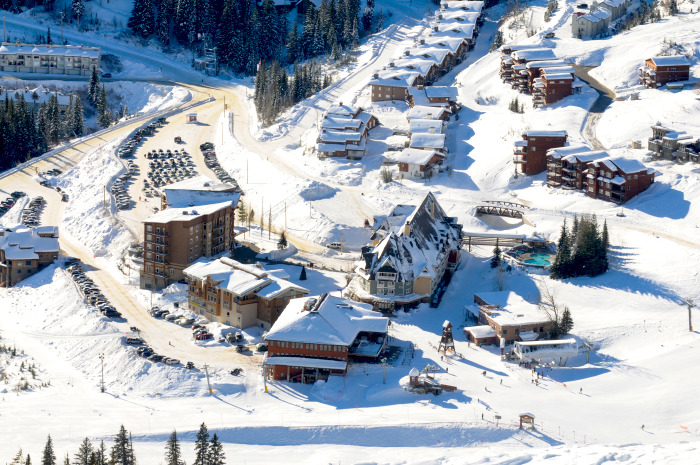 Schweitzer Mountain Resort
Total cost for one day and night: $215.74
Named after an old Swiss hermit who lived at the bottom of the basin, Schweitzer mountain is more than just its interesting past. With 92 designated trails and two open bowls, the mountain is accommodating to all levels of riders. And beyond the designated trails, terrain spans over 200 additional miles, adding seemingly endless side and backcountry that spans across the Idaho panhandle, eastern Washington, and southeastern British Columbia.
11. Mad River Glen, Vermont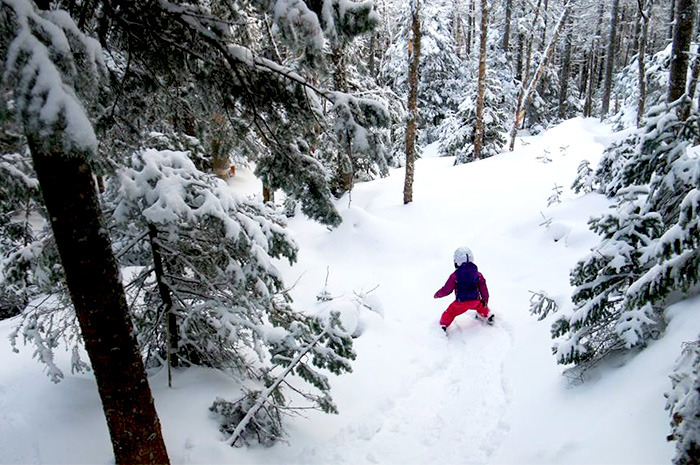 Courtesy of Mad River Glen/Brian Mohr Ember Photo
Total cost for one day and night: $213.72
Ski it, if you dare. Mad River Glen is regularly ranked the toughest mountain on the East Coast. The slopes are largely untouched by machines. The mountain ranks the difficulty of Paradise, a well-known slope, at a single black diamond, but if the course were at any other location it would almost certainly get the two-diamond rating it deserves. It starts with a minimum 8-foot drop onto a 38-degree, never-groomed slope. Below, you'll dodge everything from trees to partially frozen waterfalls.
10. Whitefish, Montana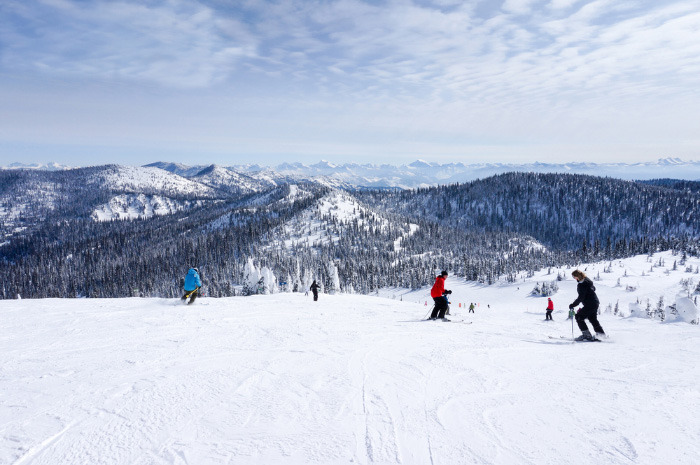 Ronnie Chua/Shutterstock.com
Total cost for one day and night: $204.26
Locals are fiercely passionate about this powder haven and for good reason; it's Montana's own 3,000 acres of winter paradise. Northwest Montana, also known as America's best-kept skiing secret, is home to Whitefish Mountain Resort. Imagine skiing on similar terrain you would find in Utah or Colorado but with fewer crowds. The views are absolutely incredible. Choose from more than 200 on-mountain condominiums, hotel rooms, and mountain homes.
9. Banff, Alberta, Canada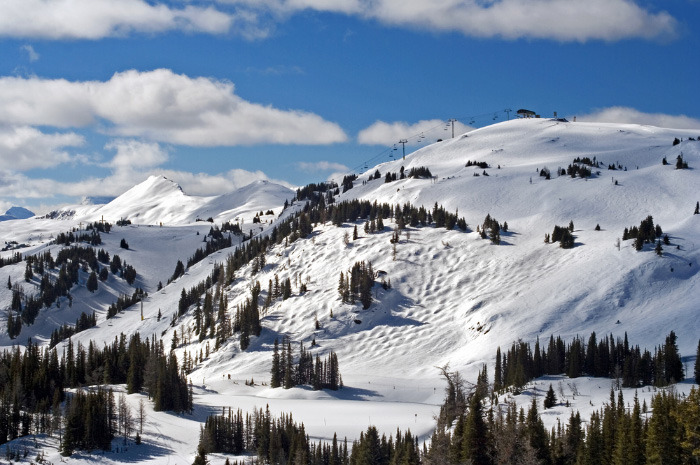 Shutterstock
Total cost for one day and night: $201.48
Banff skiing offers more than 8,000 acres of skiable terrain on one tri-area lift ticket. There are several resorts in the area: Sunshine Village, Lake Louise and Mt. Norquay – Banff. The seasoned skier or rider will have the opportunity to explore lots of chutes, bowls, steeps, and terrain parks; beginners can get the same thrills on miles of green and blue runs. 
8. Wildcat, New Hampshire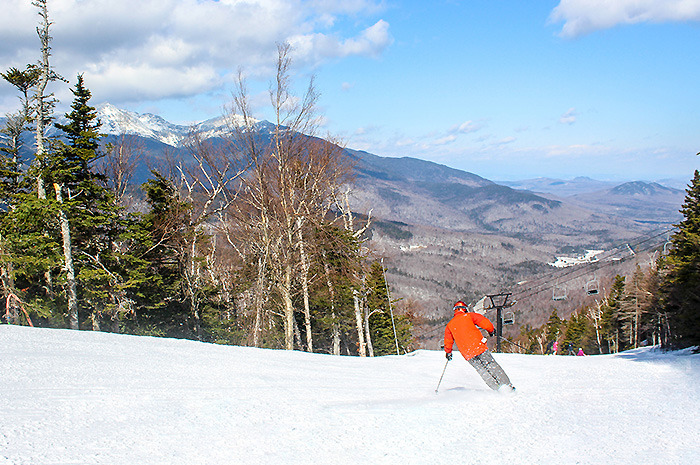 Courtesy of Wildcat Mountain Resort
Total cost for one day and night: $201.21
Wildcat Moutain Ski Area is located in New Hampshire's White Mountains in the Mt. Washington Valley. The northwestern exposure provides the resort with the highest amount of annual snowfall in the area. It averages 200 inches of natural snow. The resort features wide-open groomed trails, bumps and tree skiing. Almost a third of the trails are rated expert with a vertical drop of 2,112 feet. The ticket is interchangeable for access to both Wildcat and Attitash.
7. Crested Butte, Colorado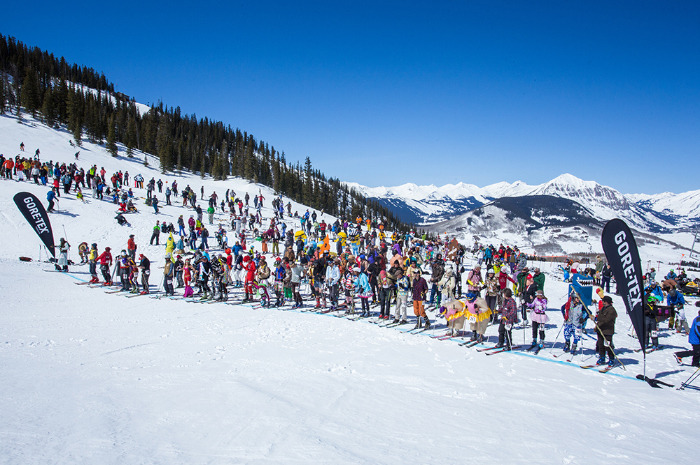 Crested Butte
Total cost for one day and night: $198.82
The third best ski resort on the continent, according to our readers, is also among the best for beginners. More than 5,200 skiable acres offer plenty of terrain for skiers and boarders of every level and their ski schools are among the best out there. Though the mountain is known for hardcore terrain and backcountry access, there are plenty of gentle, wide slopes that offer amazing snow that has been groomed to perfection.
6. Taos Ski Valley, New Mexico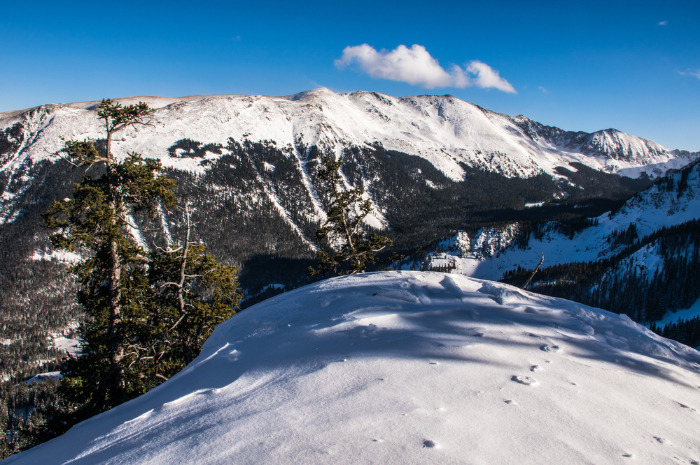 Shutterstock
Total cost for one day and night: $197.59
This far-out mountain town is unlike any other place on earth. Bordered on three sides by the towering red peaks of the Sangre de Cristo Mountains, Taos is one of the few places that retain its native culture, thriving art scene and connection to the great outdoors. With 1,300 skiable trails, kids and parents will all find the perfect terrain. About 250,000 visitors go to Taos Ski Valley every year, which means few lift lines and rarely crowded slopes.
5. Mount Tremblant, Quebec, Canada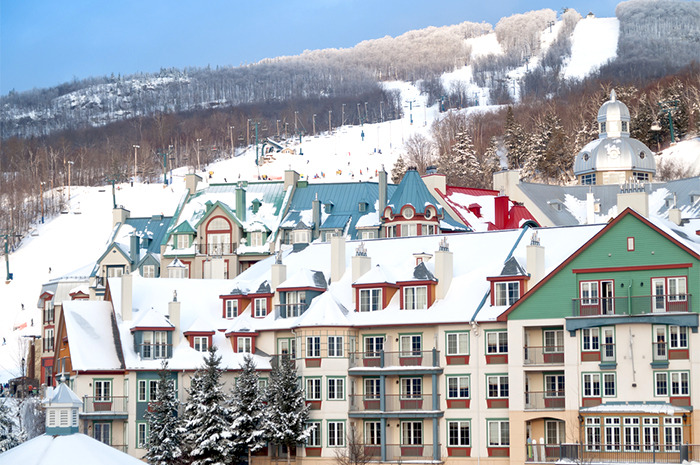 Shutterstock
Total cost for one day and night: $186.71
Visit Tremblant Resort for some of the most exciting freestyle skiing around. They have over 30 acres of terrain specifically for freestyle. Have fun on their ramps, jumps and banked turns. Stay at the condos at Le Boise; they offer four bedroom homes with a living room, fully equipped kitchen and washer/dryer. When you are ready to explore the resort, make sure you check out the casino de Mont-Tremblant, the delicious restaurants, bars and the assortment of shopping.
4. Cranmore, New Hampshire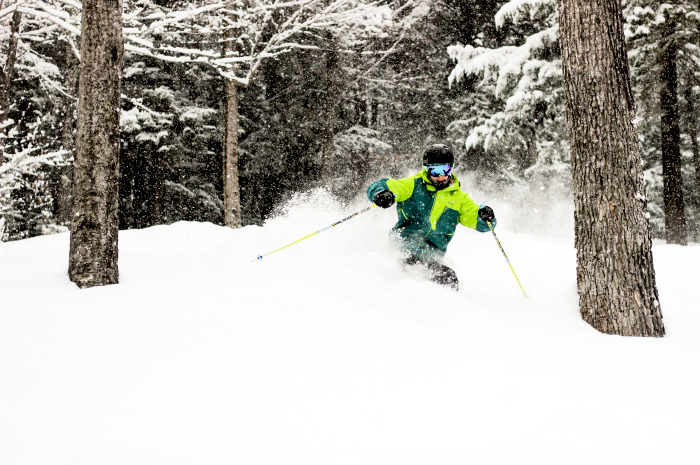 Josh Bogardus
Total cost for one day and night: $177.85
The resort has been in operation for more than six decades and was where Hannes Schneider, the celebrated Austrian skimeister and father of modern skiing, first opened his ski school, according to On The Snow. Cranmore offers a good dose of daily skiing and surprising challenges. You'll find the Palmer X Park, modeled on a boardercross park, but geared toward beginner and intermediate sliders.
3. Snow Summit, California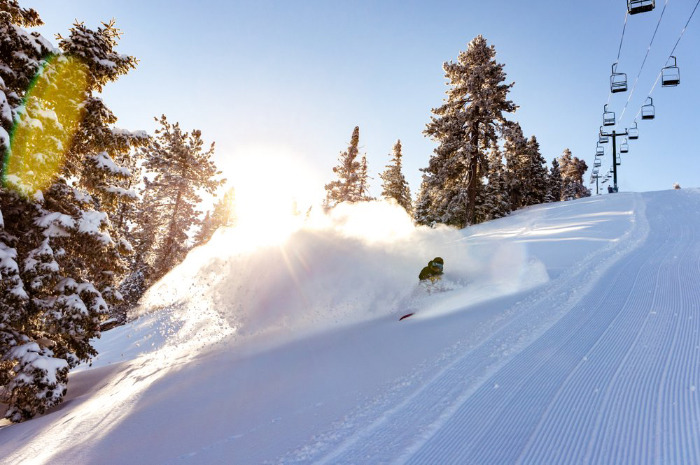 Snow Summit/Yelp
Total cost for one day and night: $171.84
Snow Summit is a sister mountain of nearby Big Bear Mountain Resort (about 3 miles away), offering its own appeal to Southern California skiers and riders, according to On The Snow. The resort, which sits at an elevation of 7,000 feet in the San Bernadino Mountains, is home to 240 acres of skiable terrain, 31 trails and offers convenient access to nearby lake activities. The top elevation of 8,200 feet gives skiers and riders access to 1,200 feet of vertical drop. Other on-mountain activities include a tube park, climbing wall and night skiing.
2. Red Lodge Mountain, Montana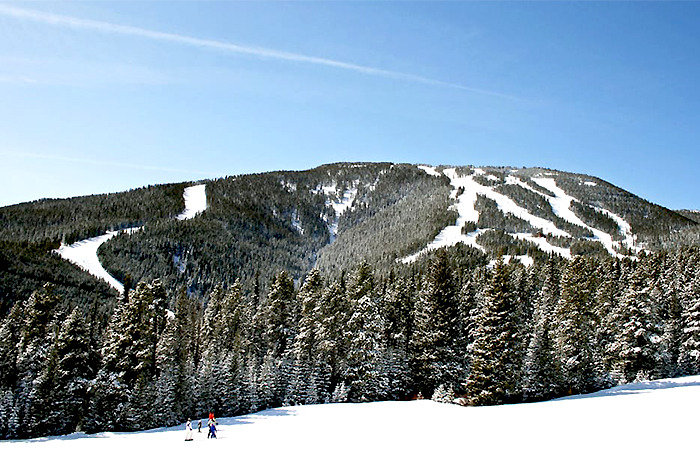 Red Lodge Mountain/Yelp
Total cost for one day and night: $165.95
The resort prides itself in offering "no lift lines, no attitude, no big prices; just great snow, great people, and an authentic experience in Montana's Rocky Mountains." It is nestled against Montana's highest peak in Custer National Forest. The annual snowfall is about 250 inches a season. Skiers have about 1,600 acres of accessible terrain to explore.
1. Bridger Bowl, Montana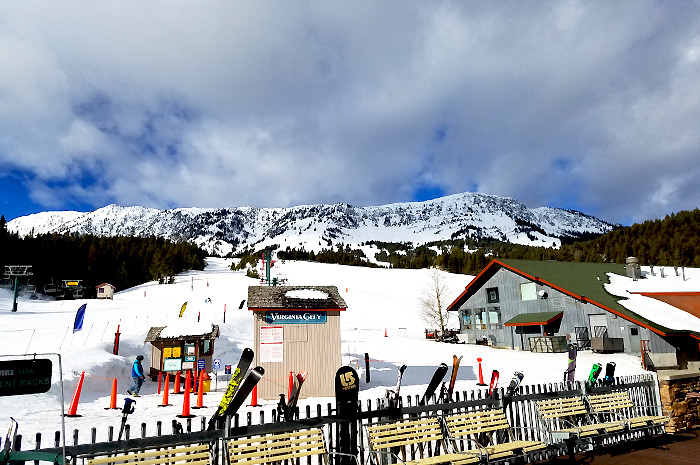 Flickr/John Eckman/CC BY-SA 4.0
Total cost for one day and night: $159.57
Winter is the time for amazing skiing trips in Montana because of the powder snow on the peaks at Bridger Bowl Ski Area. Enjoy the 2,000 acres of accessible terrain. The area averages 350 inches of snow a year with a 2,700ft vertical rise serviced by eight chairlifts. The 20-minute hike to terrain of the "The Ridge" is known for its steep chutes and open powder fields, according to On The Snow.