15 Fun But Daring Winter Sports You Need To Try This Year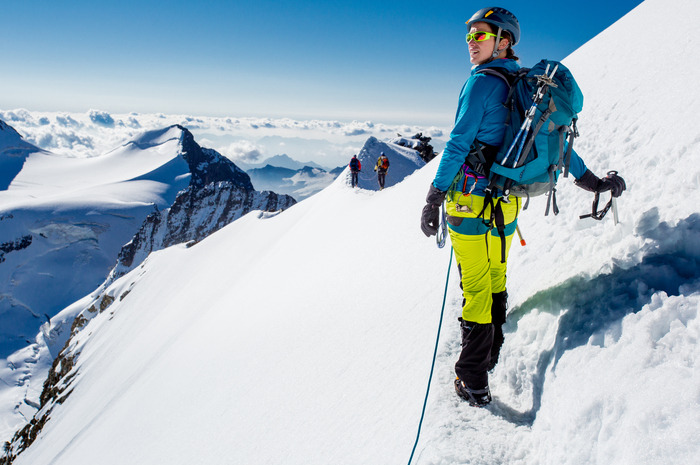 Shutterstock
Winter can be a tough time for people who are used to being outside a lot. It's hard to get motivated when it's cold. Skiing is an obvious option to burn some energy but storms can make trails and roads slick or impassable. Plus, it, as well as snowboarding, can be expensive and inconvenient at times. It's no excuse to stay indoors all season long, though.
Airboarding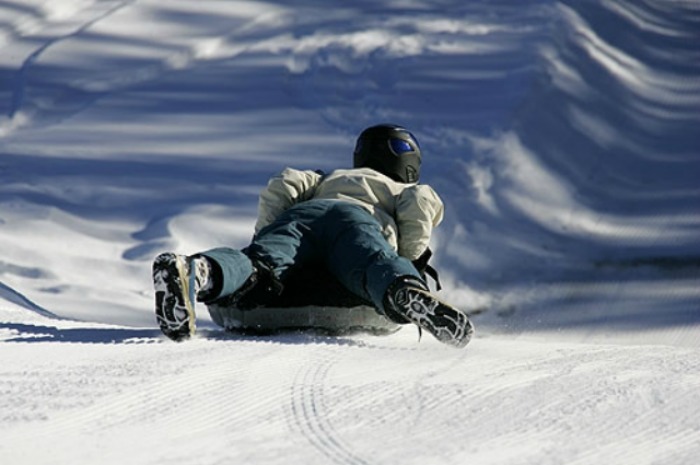 Wikimedia Commons/ Roland Zumbühl (Picswiss) licensed under CC BY-SA 3.0
Similar to the well-loved childhood tradition of sledding, this sport is taking the slopes by storm. The activity, enjoyed by both kids and adults, will have you cruising down the mountain (head first) on top of a blow-up body board. And while this may not be the most calorie-torching winter sport, it is one of the most fun and beginner friendly ones.
Ice boating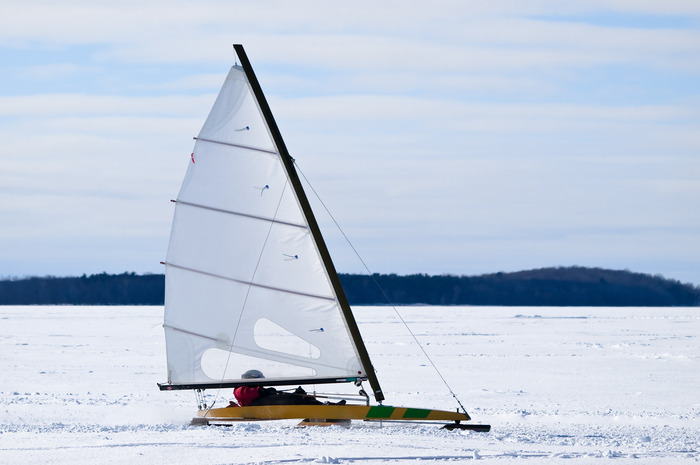 Shutterstock
It's sailing in the winter. Winter sailors call frozen lakes "hard water" and take boats fitted with runners instead of a keel sailing across solid bodies of water. The idea is the same, but the physics are slightly different. Lake Winnipesaukee in New Hampshire and Lake Minnetonka in Minnesota are popular spots for the sport. Ice boaters have recorded speeds of upwards of 100 miles, but more commonly they sail in the 55 mph range.
Snowkiting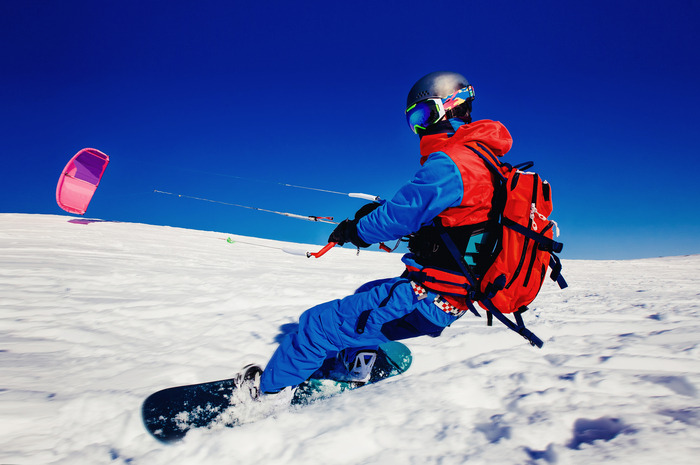 Shutterstock
Essentially the wintertime equivalent of kiteboarding on open water, snowkiting is a wind-powered adventure that can take you over snow and ice and into mid-air. The adventurous sport can bring you uphill, downhill or across flat stretches of land, while you're attached to the kite via harness and handle. It's highly recommended that you start learning with a trained professional.
Snow polo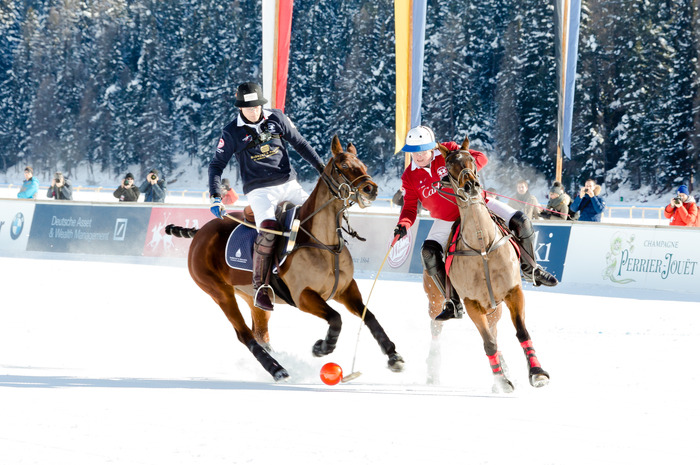 saveriolafronza / Shutterstock.com
If you don't have a fleet of polo ponies at your beck and call, snow polo, which might be even more ritzy and ridiculous than real polo, is a fun sport to observe. It tends to take place in exclusive places like Aspen, Colorado and St. Moritz, Switzerland, but if you have the opportunity to catch a match, it's certainly exciting to watch teams of three riders and horses in studded shoes chase a big red ball around a snowy arena. The Snow Polo World Cup takes place January 26-28.
Fat biking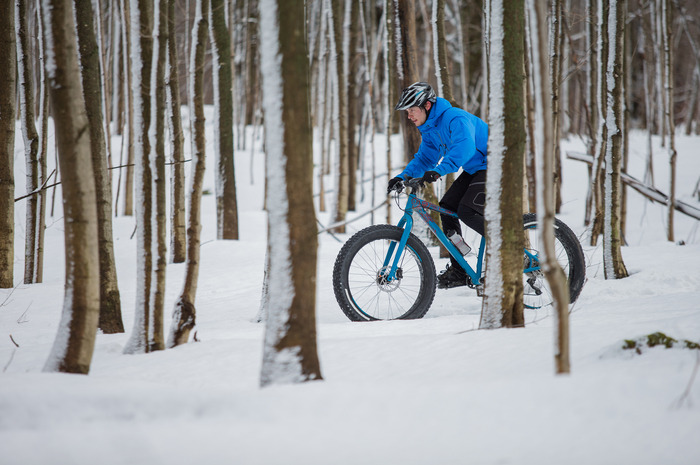 Shutterstock
With quiet beginnings in sand and snow during the 1980s, fat biking has exploded onto the winter recreation and bike commuter scene. Designed specifically for handling soft, uneven conditions, the fat bike is perfect for taking on snow, sand and even some dirt trails where you might need extra grip. The defining feature on these bikes is the over-sized tires, which allow the rubber to float over obstacles or unfavorable conditions.
Snow kayaking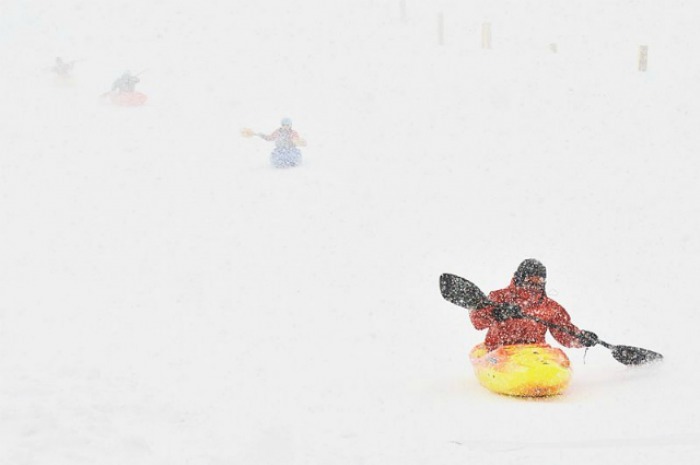 Wikimedia Commons/ flickr user "abkfenris" licensed under CC BY 2.0
Described as "sledding on steroids," snow kayaking is exactly what it sounds like. Instead of storing kayaks away for the winter, the sport involves racing the freshly-waxed boats over snow, down mountains. With the help of a paddle to steer and a helmet in the event of a crash, you will fly down slopes. Be sure to start out slow on a wide open hill with a gentle slope, as a kayak isn't as easy to steer as a pair of skis.
Ice climbing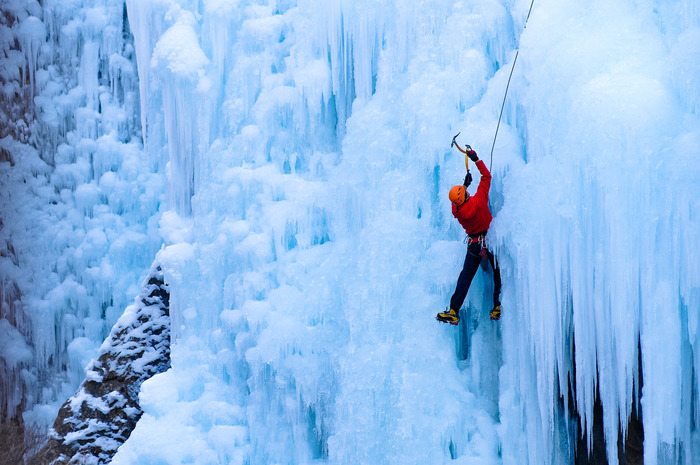 Shutterstock
Ice climbing is one of the most dangerous recreational activities ever and is no longer just a subset of mountaineering. More and more adrenaline seekers climb frozen waterfalls and steep ice since the equipment for this high-risk sport has gotten better and better. There are several ways a person can prepare for ice climbing. Climb in toprope a lot; do many laps. Perfect how to put in screws and how to climb both with and without crampoons.
Bobsledding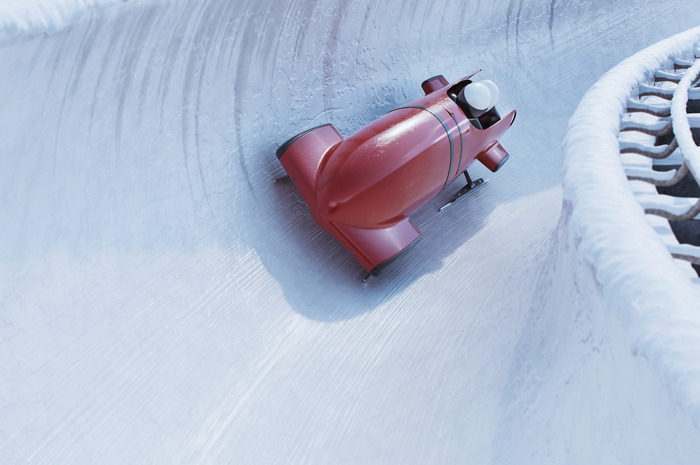 iStock
Speed demons rejoice, your new favorite sport is here. You may recognize this event from the Winter Olympic Games, but if not, the object for two- or four-person teams is to race their sled down an ice-lined track and try to get the fastest time. Put your skills to the test at an Olympic venue like Lake Placid or Salt Lake City, where professionals will show you the ropes and take you for a ride.
Tubing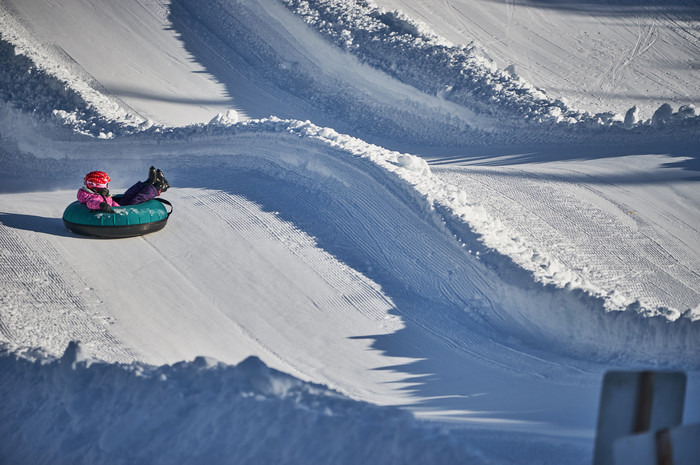 Shutterstock
Relive those awesome childhood memories from when you weren't such a great skier and instead preferred sliding down the slopes on a tube. Tubing is too often overlooked as a kids-only activity, but adults can have even more fun reaching faster speeds than their smaller counterparts.
Skijoring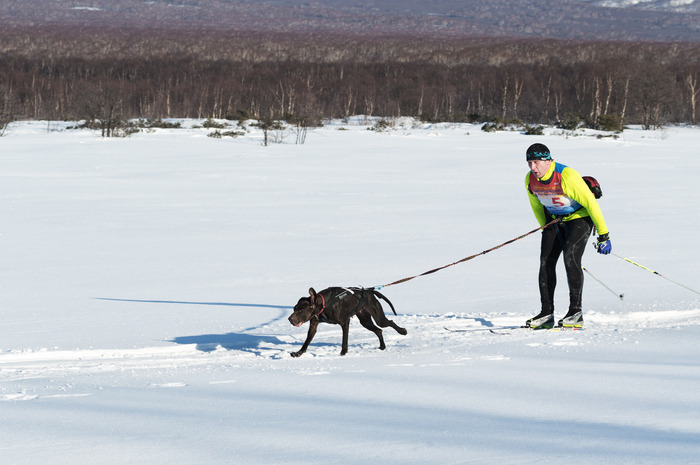 Alexander Piragis / Shutterstock.com
Skis, check—now all you need for this sport is a horse, dog or car and the proper towing apparatus. Yes, skijoring is an actual sport with real competitions and, with a bit of training, it's a sport that the average person can do. Skijoring with dogs is most common and many find it's a great way to get outside with your four-legged friend. If you'd like to watch the pros, equestrian skijoring races are popular out west—Whitefish, Montana hosts the World Skijoring Championships each year.
Snowmobiling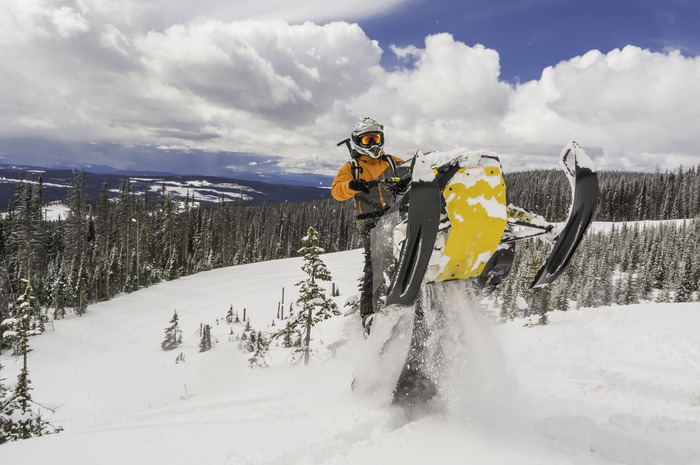 Shutterstock
One of the absolute best places for this winter adventure is Yellowstone. It is a mecca for snowmobiling. Since 1971, See Yellowstone Tours have been renting snowmobiles and offering packages that make the most of the park's fresh powder and endless groomed trails. For those who are determined to see Old Faithful in the winter when many of the park's roads are closed, a guided snowmobile tour is a great option.
Figure skating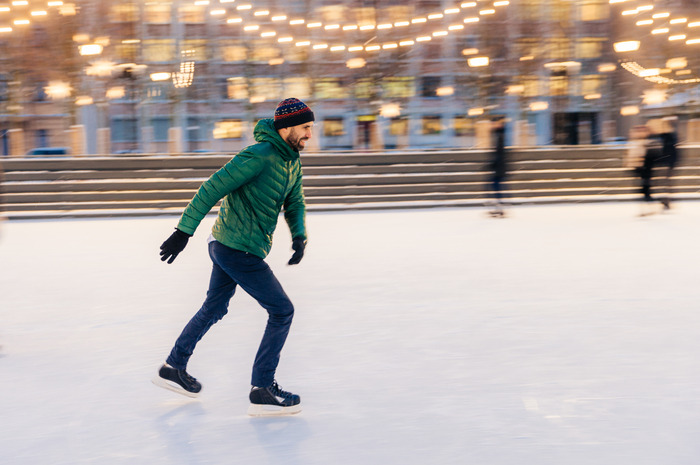 Shutterstock
This is one of the most popular Winter Olympics sports. While watching it is exciting, practicing is it is absolutely thrilling. In terms of speed or height, figure skating is not extreme, but it sure is elegant.
Cross-country skiing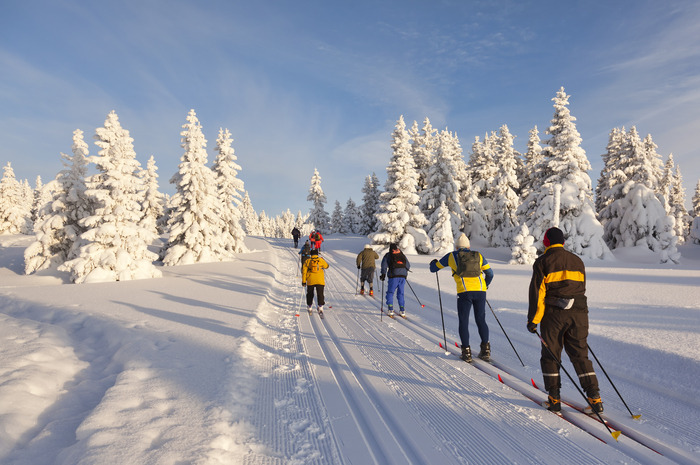 Shutterstock
Not quite as speedy or dangerous as most of the other sports on the list, cross-country skiing is still an incredible way to enjoy the outdoors during winter and it is still a great workout. With a reasonable learning curve and the opportunity to ski on many trails throughout the U.S., this sport is one of the best and most easily accessible of winter.
Ski biking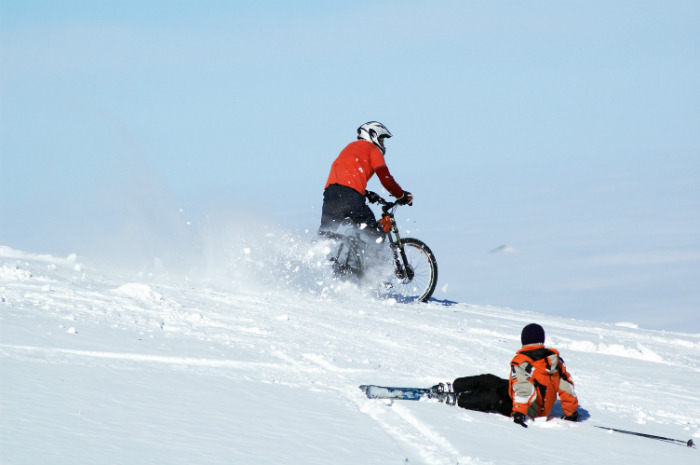 iStock
Much like it sounds, this downhill sport combines a bike frame with skis in place of tires for an ultimate thrill. Well-loved as an alternative winter sport, ski biking is an adventurous way to get on the mountain without a long learning curve. Several ski resorts (like Vail) offer rentals and tours.