Easy Rock Climbs For Beginners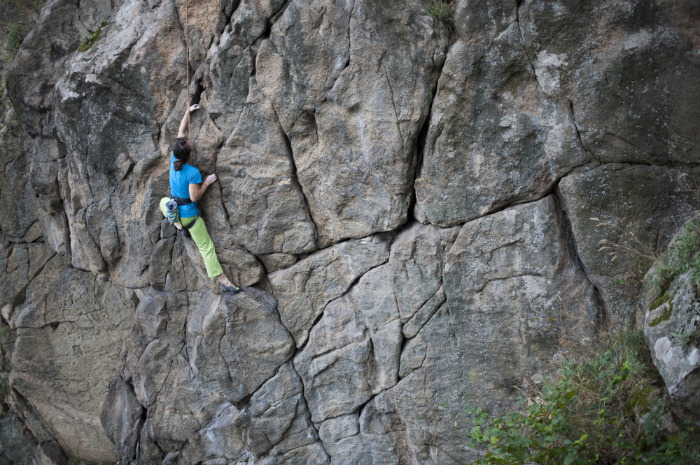 Shutterstock
Easy Rock Climbs for Beginners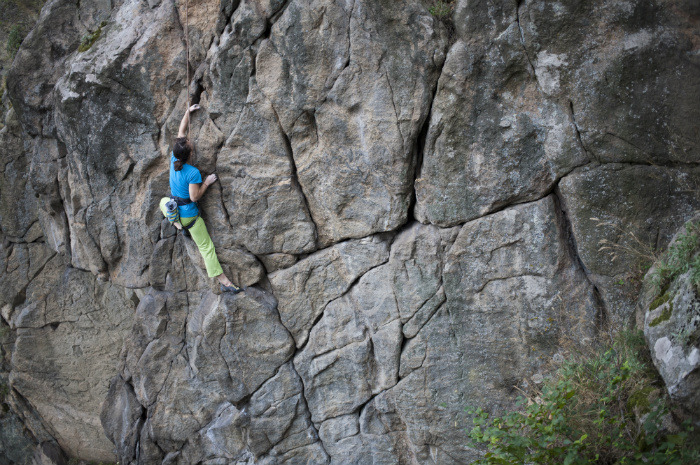 Shutterstock
Are you ready to graduate from bouldering on a gym's wall to real rock climbing? As excited as are to go outside and climb to what it would feel like the top of the world, make sure you have mastered some basic skills.
The best way to do that is by practicing – climb, climb, and climb. Start, of course, with easy routes. You are not in a controlled environment anymore. You have many factors playing a part – falling rocks, weather, sun exposure, not knowing where the holds are.
To help you figure out what climb you should try to conquer, use the rating system. The ratings range from 5.0 (extremely easy) to 5.14e (hardest). Since this is probably not the first time you're rock climbing, most of the routes on this list range between 5.3 and 5.8. They are still described as "easy" and "fun" by climbers.
1. Red River Gorge, Kentucky
Red River Gorge and its sandstone cliffs are considered one of the country's rock climbing meccas. The variety of routes is endless. The Bedtime for Bonzo, with a rating of 5.6, is a popular route for beginners. It can be done in just two pitches. You need a standard light rack for protection. Another excellent route with nice exposure is Roadside Attraction, the rating of which is 5.7. One route that has been called "easy" and "relaxing" but what can be just a little challenging for new climbers is the 27 Years of Climbing (5.8).
2. Colorado National Monument
Colorado National Monument attracts hundreds of climbers a year. Most routes in the park require "traditional" climbing techniques, according to NPS. Otto's Route is perhaps the most famous rock climb in the area. It's also a fairly easy one with a 5.8 rating. This is a nice climb in four short pitches ending with an amazing view. One-pitch routes along the canyon walls approach the 400-foot Independence Monument.
3. Boulder Canyon, Colorado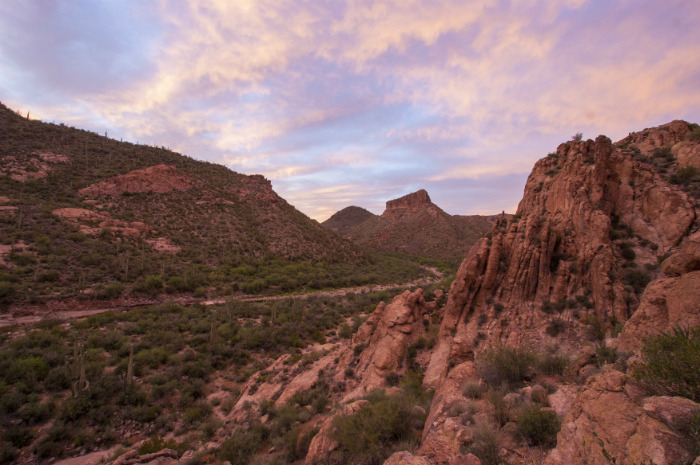 Shutterstock
Colorado has an abundance of amazing rock climbing spots for serious and novice enthusiasts. There are also many mixed routes – you start easy but have to pick up your level in the middle. Boulder Canyon has more than 400 routes with a 5.9 rating or lower. Most of them offer stunning views. The Owl (5.7) is a very popular fun climb. Other great options for beginners include East Slab (5.6), which can be done in one or two pitches, Left Edge (5.7) and Bitty Buttress (5.8).
4. Pinnacles National Park, California
Pinnacles National Park has a lot of easy routes that are just about 15 minutes up a trail. The East Side is known to have awesome quick climbs with a 5.4-5.12 rating. The Portent route (5.6) with its 20' to 30' run outs is among the best known. The Ordeal also gets good reviews, but it's just a tiny bit harder with a 5.8 rating. The Costanoan (5.4) on the West Side is the easiest and can be done in four pitches. The approach is about a mile and it takes about 35 minutes. The trail is easy to follow. The Old Original (5.5) is also a good route. There are many easy climbs in the High Peaks as well.
5. Seneca Rocks - Monongahela National Forest, West Virginia
Seneca Rocks has more than 370 routes that will satisfy climbers of all levels. The area is mostly famous for multi-pitch trad climbs. The good news is that the stunning summit pinnacle can be obtained by several 5.2-5.5 routes. Climbers have left good reviews of Gunsight to South Peak classic route (5.3), Conn's west (5.4) with the direct finish being high recommended, Pleasant Overhang (5.7) with great exposure, and Gunsight to South Peak Direct (5.4), to name a few.
6. Wichita Mountains Wildlife Refuge, Oklahoma
Wichita Mountains are preferred by rock climbers in the southwest because of their granite peaks and crags. There are more than 300 multi-pitch routes, open year-round, and they mostly vary between 5.6 and 5.10 in difficulty. The Aerial Anticipation Wall's Shake Your Groove Thing (5.6) is a popular and fun route. The well-known Upper Mount Scott Zoo Wall has a lot of nice 5.6-5.8 routes and  the Marlboro Wall mostly has easy routes too.
7. Tuolumne Meadows, California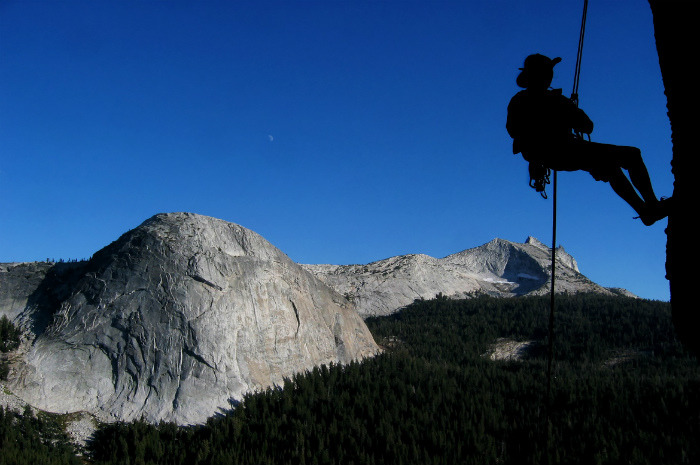 Shutterstock
Yosemite National Park is the rock climbing destination in California with Tuolumne Meadows being the high country climbing area. As you would expect, there are many beautiful granite domes and classic non-dome formations ranging from very easy to quite challenging. Beginners Route (5.4), the earliest known technical route, North Face (5.4), Daffy Duck (5.5), North and West Ridge (both 5.6), Errett Out (5.7) and Southeast Buttress have gotten very good reviews by climbers.
8. Yosemite Valley, California
This is where you're going to climb big walls. The Crack, Center (5.6) is one of the best. It takes about two hours to climb; the descent is half an hour. The Regular Route (5.4) is a great choice if this is going to be your first multi-pitch climb. The views are incredible. Snake Dike (5.7) is said to be the easiest technical climbing route to the top of Half Dome. It takes between 3 and 4 hours. The descent is just as long.
9. Grand Teton National Park, Wyoming
Climbers have a lot of options here – close to 800 routes ranging from two-pitch sunny crags to mixed alpine climbs. Owen Spalding (5.4) is not very technical and has nice exposure. It can be a bit strenuous though. The CMC Route (5.5) is classic, easy and gorgeous. The Upper Exum Ridge (5.7) is a bit more challenging and a lot more popular. Many climb it without guides.
10. Arches National Park, Utah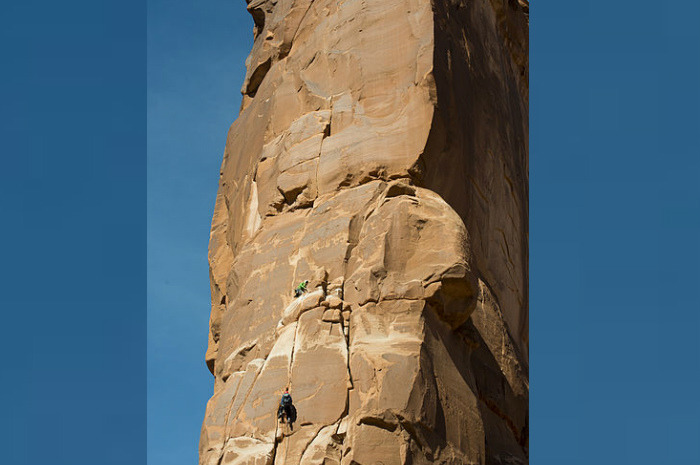 Wikimedia Commons
Climbing here guarantees you some of the most stunning views in the country. People are encouraged to register with a free permit. Many of the routes are for advanced climbers, but you still find a lot of easy one-pitch towers. The Standard (5.3) is a fun little climb that people do for the spectacular views. It's an easy adventure. Zenyatta Entrada(5.4), a six-pitch route, is another great climb.
11. Shawangunks, New Paltz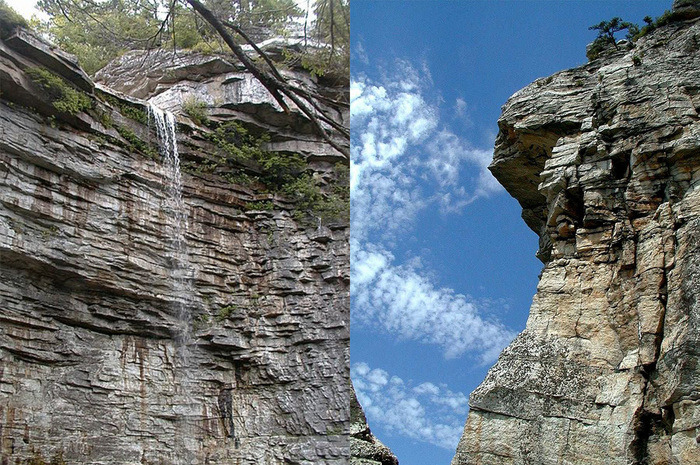 Wikimedia Commons/ ‪Urban~commonswiki‪ (talk | contribs)/ CC BY-SA 3.0 (Left)
Shawangunks, most commonly known as "The Gunks," is famous for its stiff ratings and bold climbing. But the area has plenty of easy trads. One of the more famous ones is the two-pitch High Exposure (5.6). Don't miss this great climb. Gelsa (5.4) is another outstanding climb – a classic one where you have to make both light and constraining moves.