America's 15 Best Climbing Gyms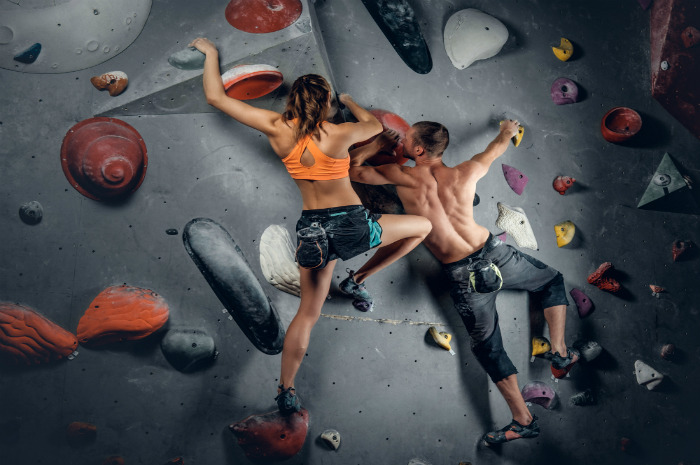 Shutterstock
Rock climbing is a physical, mental and technical sport. The good news for enthusiasts who don't like to work out is that they don't have to and can still be good at climbing. Gyms are great places not just for getting fit. They are an awesome arena for socializing because you make new friends and meet fellow climbers and people with similar interests. 
Highpoint Climbing – Chattanooga, Tennessee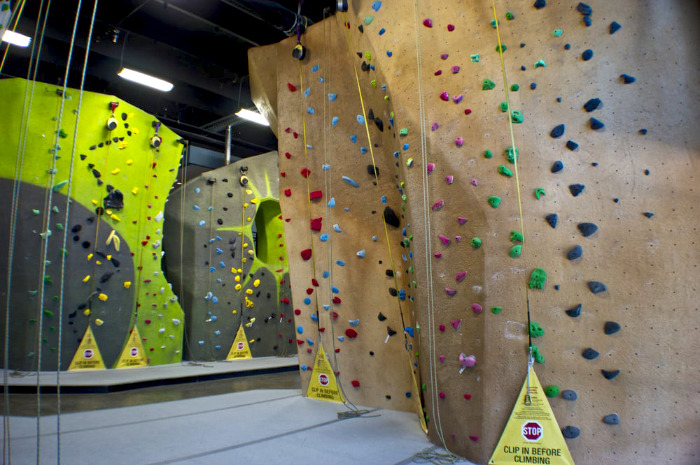 John W./Yelp
With about 30,000 square feet of climbing inside and outside, it's not surprise that the gym was named by the Climbing Magazine "the country's coolest gym." The outdoor climbing walls feature climbing on transparent climbing material and two 15 meter speed climbing walls. Climbers of all levels will have a blast inside with auto-belay walls, roping room, lead climbing pit, and two bouldering areas. There are two locations in the city – Downtown and Riverside.
Hoosier Heights – Carmel, Indiana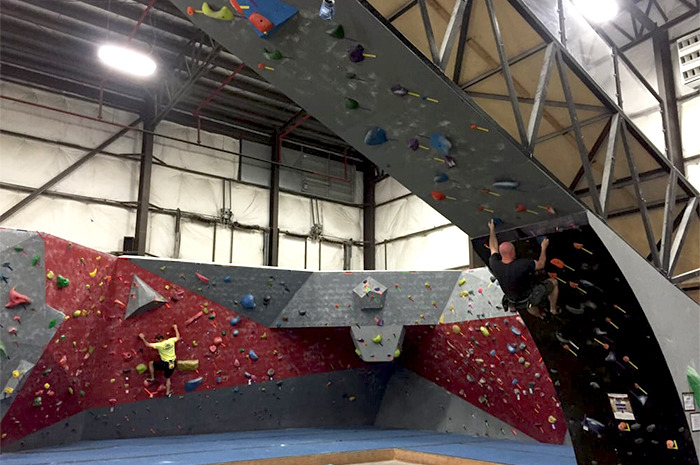 Sri Harsha P./Yelp
There are more than 40 top rope lines, 45-foot high walls, auto-belay systems for beginners, and four different bouldering areas.  The gym also has a world-class gym and Yoga areas if you ever decide to take a break from climbing. Hoosier Heights hosts birthday parties and other special events; they offer rock climbing, bouldering, top-roping, lead climbing, and corporate teambuilding. Many American Ninja Warrior contestants train there.
Brooklyn Boulders – Brooklyn, New York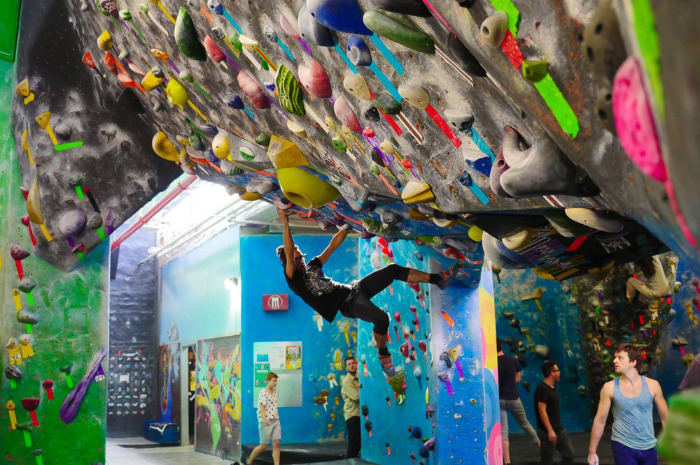 Brooklyn Boulders/Yelp
There are about 22,000 square feet of state-of-the-art walls available for members. The gym also offers climbing and fitness classes, cardio and strength equipment, and co-working spaces. The gym has expanded and offers full range of group exercise disciplines from yoga to boot camps, and personal training. Since the opening in 2009, BKB has also opened up locations in Massachusetts and Illinois.
First Ascent – Chicago, Illinois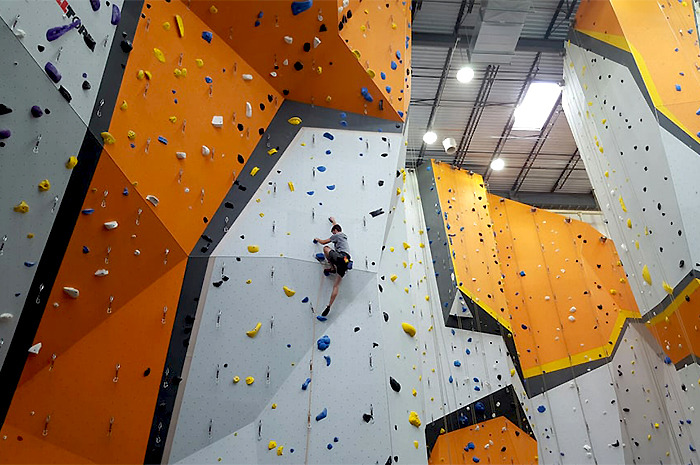 Sarah H./Yelp
There are two main styles of climbing offered at First Ascent – bouldering with thousands of square feet of bouldering –only terrain in several of their locations, and roped climbing, which is available at Avondale. The gym hosts weekly and free (for members) Community Sessions to help you connect with other climbers and gain new climbing skills. Apart from climbing, the gym offers yoga and group fitness classes.
The Spot – Boulder, Colorado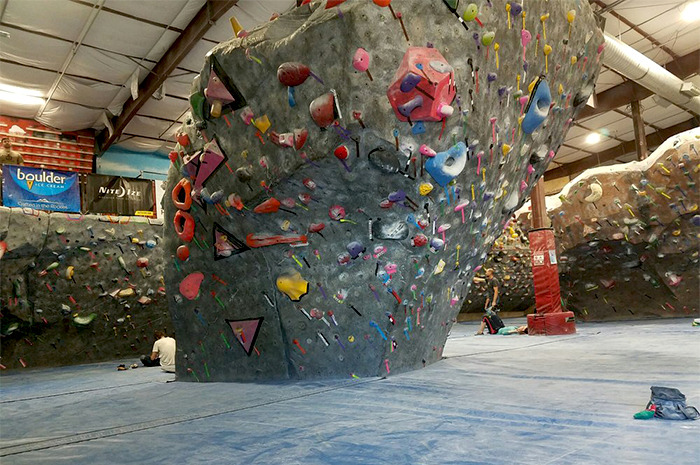 Alexandra H./Yelp
This was the first dedicated indoor bouldering facility in the country when it opened in 2002. The gym's square footage is 15,000 feet. It's not the largest one of the list but what it lacks in size makes up for in diversity and staff. The Spot has been known as the heart of the climbing community in the city with many professional climbers training there.
Vertical Ventures – St. Petersburg, Florida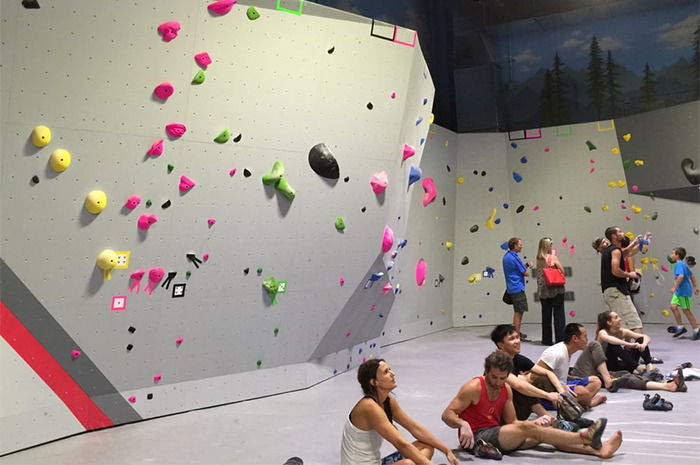 Jason F./Yelp
Some of the gym's features include 40 foot tall routes, more than 80 climbing lines, 20,000 square feet facility, and dedicated training area. The gym hosts many competitions. The Halloween Adult Bouldering Comp is coming up on October 27. It is a redpoint format race. Each competitor has 3 hours to complete the most difficult bouldering routes they can.
ClimbUp – Oklahoma City, Oklahoma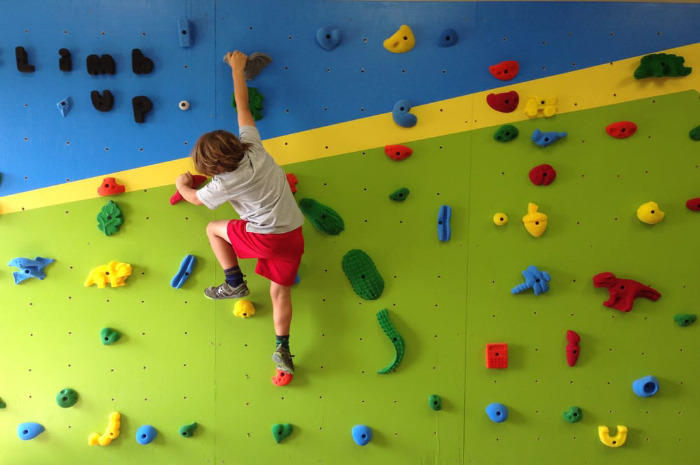 Aaron G./Yelp
Climb Up in Oklahoma City and Norman feature indoor and outdoor rock climbing, professional instruction, outdoor guiding, and yoga. The building in OKC is climate controlled using a Geo-thermal system. The climbs are designed in a series of repurposed grain silos and stretch to 90 feet in height, giving climbers stunning views of the OKC skyline.
Earth Treks – Rockville, Maryland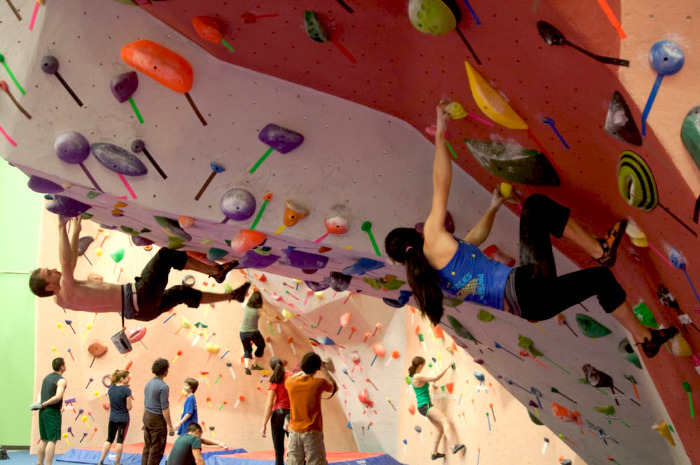 Earth Treks Climbing Center Rockville/Yelp
Earth Treks' Climbing Center in Rockville claims to be one of the largest indoor climbing walls in the country, with more than 38,500 square feet of climbing and 40-foot walls. Shorter, less sheer walls allow beginners to be effective; there is plenty of steep and technical terrain that will challenges advanced climbers, too. There is a huge bouldering area with top out bouldering and more than 200 top-rope climbs with lead routes intermingled.
Vertical Endeavors – Glendale Heights, Illinois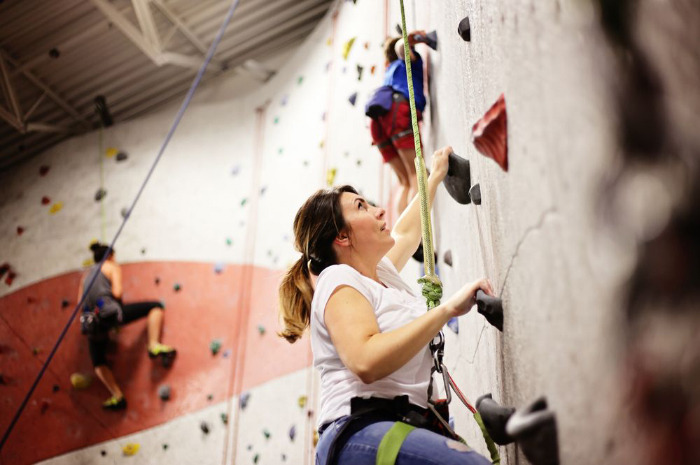 Alex Y./Yelp
Vertical Endeavors was founded in 1992. The company runs several of the largest facilities in the U.S. and has many gyms in the Midwest. Anyone can go and climb throughout the year in a climate-controlled environment. Routes are available for all skill levels. Each month the gyms host On The House climbing nights where all Vertical Endeavors' first time visitors receive a free Day Pass and Harness Rental.
Central Rock Gym – Worcester, Massachusetts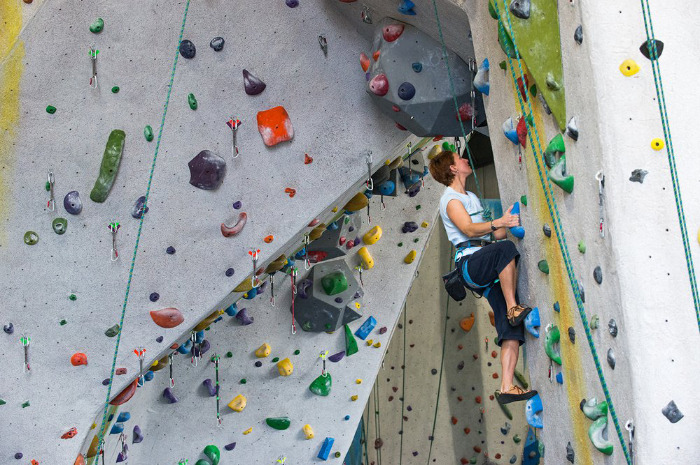 Central Rock Gym/Yelp
Central Rock Gym provides a world class indoor climbing with their spacious climbing walls and various youth programs and summer camps. Members have access to more than 100,000 sq. ft. of climbing terrain at six locations across New England. The gym hosted the 2015 SCS Open National Championships, which featured the best adult climbers in the country.
Planet Granite – San Francisco, California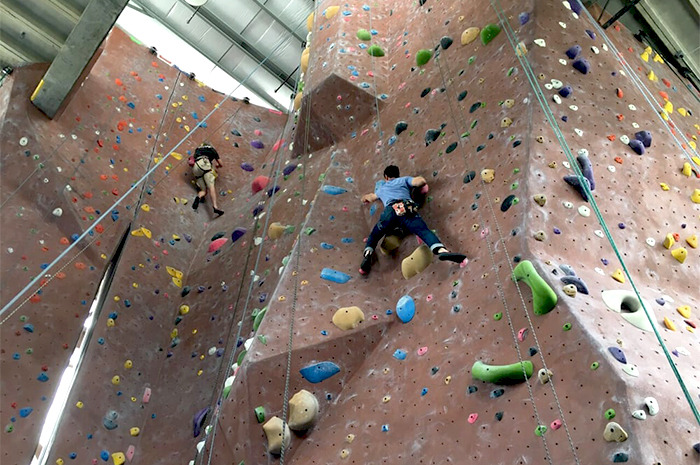 Daphnee A./Yelp
Planet Granite has three locations in California, and one in Portland, Oregon. It is among the largest gyms in the West, and the only full service gym in the outdoor orientated Portland area. The gyms offer amenities for all climbing levels with 55 foot tall heights, more than changing routes, and hydraulically adjustable cracks. Planet Granite created the Bouldering League.
Stone Summit – Atlanta, Georgia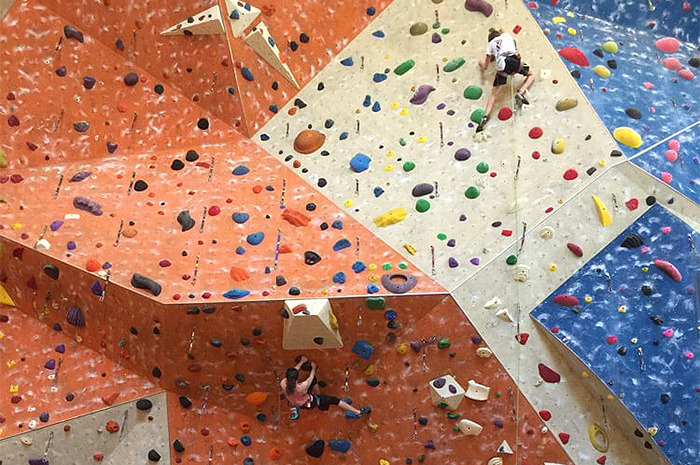 Athan D./Yelp
The gym has about 30,000 feet of climbing space and an imposing bouldering cave with very tough routes. It has been hosting the USAC Youth National Championship for several years in a row. There are more than 160 routes that are constantly changed by top-tier setters. The facility also offers a huge variety of fitness classes.
Mesa Rim – San Diego, California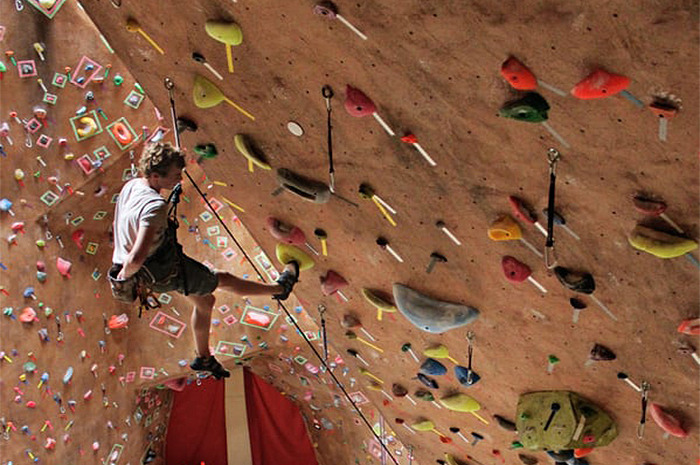 Mesa Rim Climbing & Fitness Center/Yelp
The facility features bouldering, top rope climbing, lead climbing, and instruction and training. There are also a Yoga studio, a pro shop, and a fitness area. Mission Valley, a gym at another location in the city, is the largest climbing center in San Diego.
Sender One – Los Angeles, California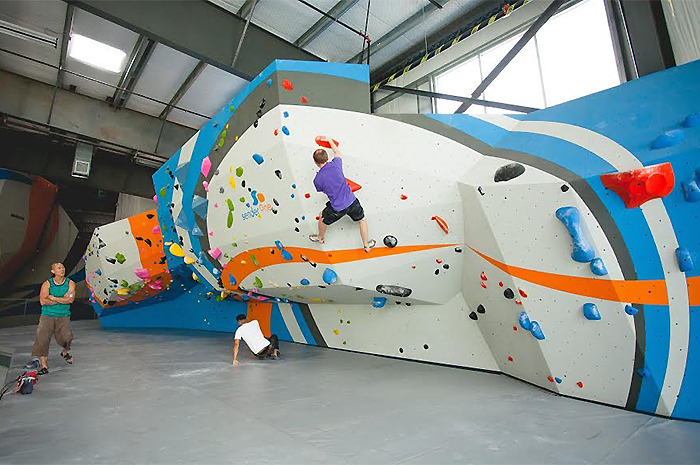 Sender One Climbing, Yoga, Fitness and Sender City/Yelp
This is an interactive climbing center for people of all ages. The gym was founded by the world famous rock climber Chris Sharma, which means you are guaranteed a world class experience. You will be stunned by pretty much everything there – from routes to service, but, perhaps most of wall, the unique shapes of the walls will take your breath away.
The Cliffs at LIC – Queens, New York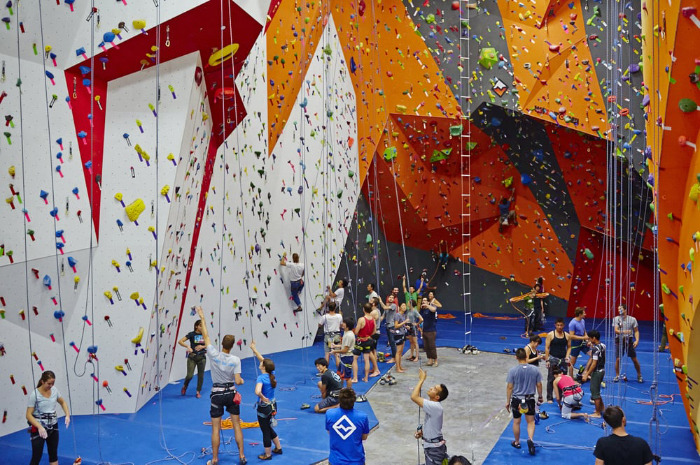 The Cliffs at LIC/Yelp
The gym has about 30,000 square feet of climbing space, offering an enormous number of routes for climbers of all ages and skill levels. Just like many of the other best climbing gyms in the country, the facility offers a variety of professional climbing classes and a huge fitness area.