The Complete Guide To Oktoberfest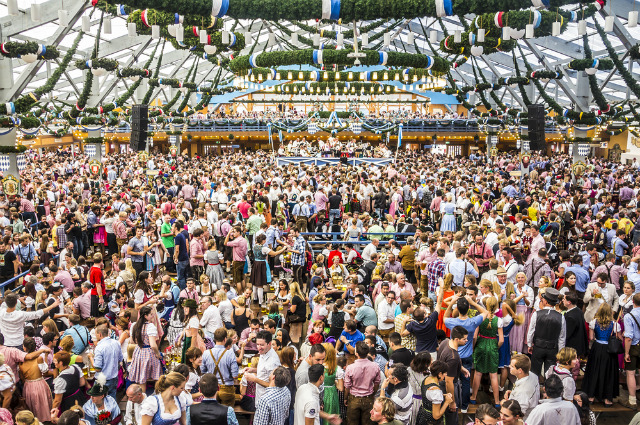 anandoart / Shutterstock
The Complete Guide to Oktoberfest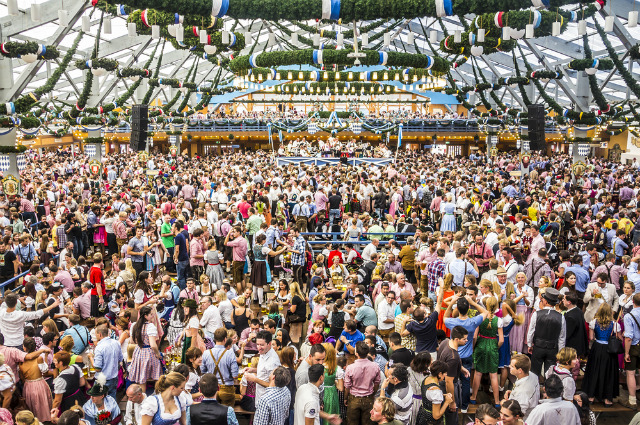 anandoart / Shutterstock
Whether you're thinking of attending the big festival in Munich, or planning on finding one closer to home, there are a few things you should know. For tips on everything from etiquette to food selection, three experienced Oktoberfest revelers share their inside information. 
What is Oktoberfest?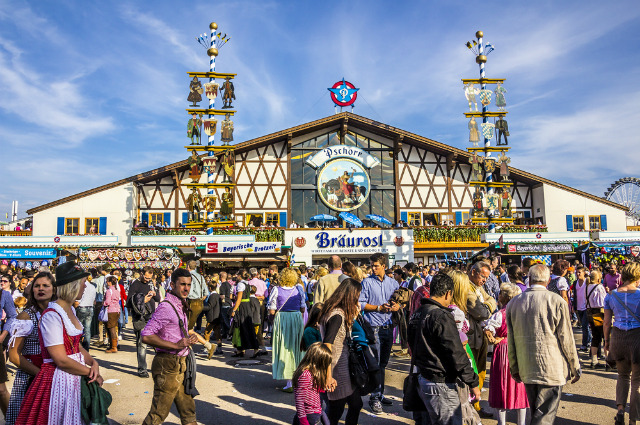 anandoart / Shutterstock
It's a huge annual folk festival that originated in Munch, but has since inspired smaller versions that take place in cities around the globe. The festival is still a Munich tradition that takes place from late September to early October. "Think of Oktoberfest as your local county fair taken to a higher level with sophisticated tents and stalls instead of pop-up tents and 4-H exhibits," said Terry Seal, the president and founder of Corkscrew Consulting NYC, who currently lives in Munich and frequents the festival. "While many come just for the beer, there is far more to do and see at Oktoberfest than just drinking beer."
The History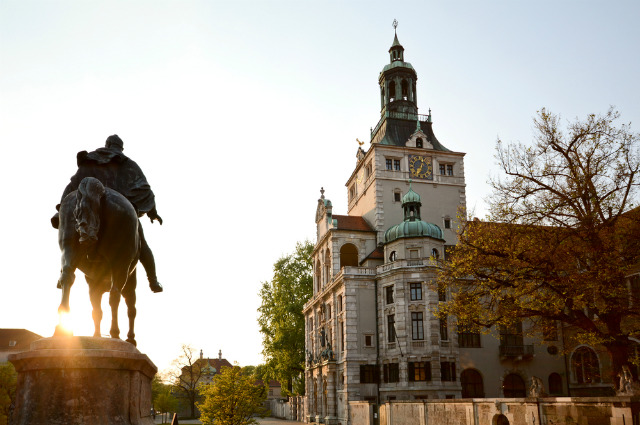 Shutterstock
The festival started as a celebration of the marriage between Crown Prince Ludwig (who later became King Ludwig I) and Princess Therese of Saxony-Hildburghausen. They married on October 12, 1810 and citizens were invited to celebrate the royal union on the fields in front of the city gates. Those fields were named Theresienwiese (Theresa's fields), after the princess and locals have since shortened the name to Wiesn, which is how they often refer to Oktoberfest. The festival was celebrated again in 1811 and became a tradition.
When is Oktoberfest?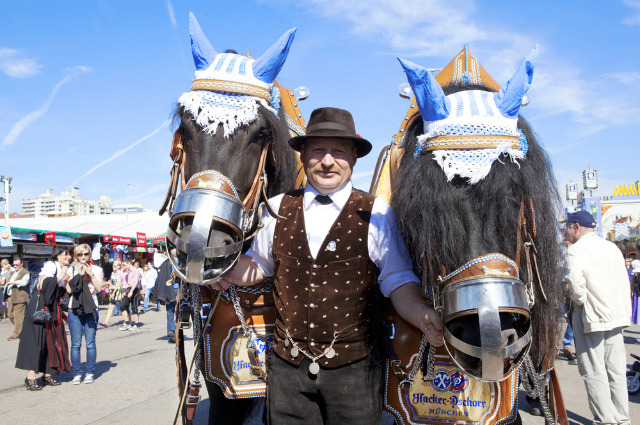 purplequeue / Shutterstock
Oktoberfest typically takes place over the course of 16 days from September to the first weekend in October. It was reportedly moved back into September so locals could take advantage of the warmer weather. This year the festivities are taking place from Sept. 19 to Oct. 4 and in 2016, Oktoberfest will run from Sept. 17 to Oct. 3. The festival opens at either 9 a.m. or 10 a.m. each morning (except for opening day, which starts at noon), come early or make a reservation if you hope to get a seat. 
Where is Oktoberfest?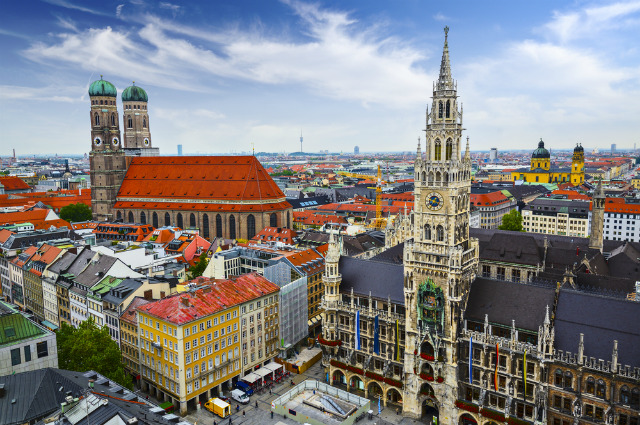 Shutterstock
The original, huge celebration takes place in Munich each year and attracts millions of people, so getting there can be tricky. The best way to get there is usually public transit, or you could take a cab but they can be overwhelmed, costly and traffic can be an issue.
What to Expect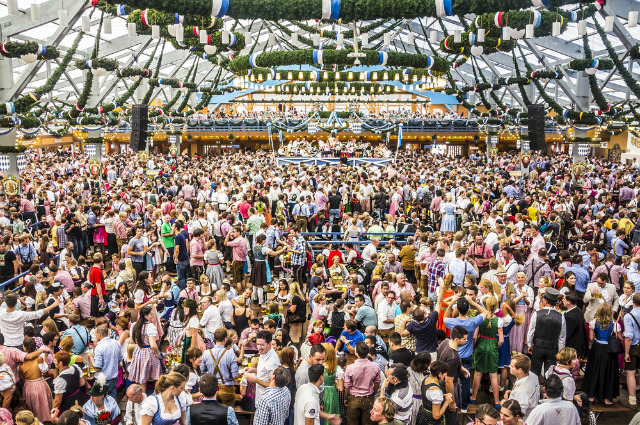 anandoart / Shutterstock
"Oktoberfest is so much bigger than anyone ever expects," said John Alexander, founder of the tour company Scholarly Sojourns, who is currently in Munich, at Oktoberfest. "The 14 large tents seat up to 5,000 people and they are always full...Everyone should be ready for a very bustling atmosphere with large crowds." With that in mind, it's recommended that visitors plan ahead and reserve a table if traveling with a large group. "Plan to spend the better part of a day there drinking beer, trying new foods and walking around the Oktoberfest grounds," Seal said.
How to Prepare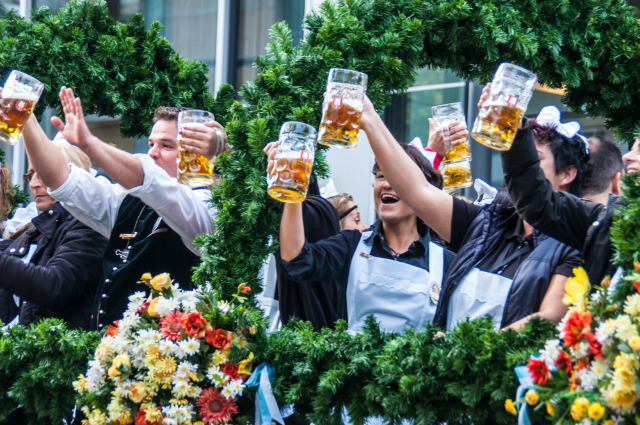 Jule_Berlin / Shutterstock
"You should lift some weights to train your arms to lift the 'mass biers' which weigh 5.5 pounds when full and maybe practice drinking a full liter of beer to make sure you have the stamina," Alexander said. "Everyone should also learn how to say cheers in German—'Prost!' and perhaps learn a few of the fun songs such as 'Ein Prosit' which will be sung by all in the beer tents." It's also a good idea to consider making reservations, do some research on the different kinds of tents (as they have unique themes and atmospheres) and think about what to wear.
What to Wear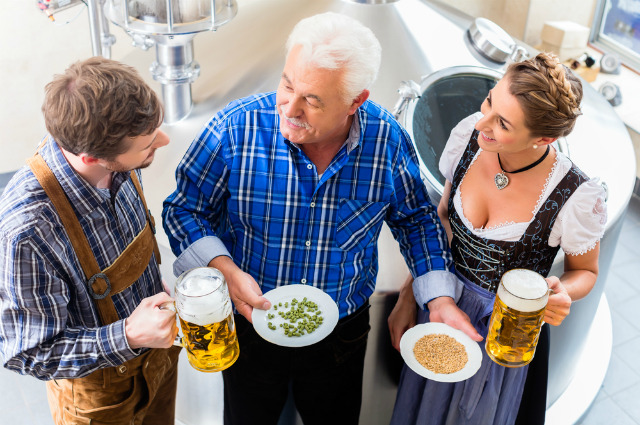 Shutterstock
There is no strict dress code at Oktoberfest and visitors can come in casual "everyday" clothing, but dressing in traditional Bavarian clothing can make the experience even more exciting. "There are plenty of shops in downtown Munich that sell [dirndls and lederhosen]," said Jessica van Dop DeJesus, a travel writer and blogger at The Dining Traveler, who has been to Oktoberfest five times. "They are not cheap but I found that I had a way better time at the fest when I dressed up! I saw a lot of tourists wearing cheap costume dirndls and lederhosen. Not only do they look tacky in my opinion, but I feel that it's a little disrespectful to the locals. After all, Bavarians take great pride in their regional costume."
How Much Does it Cost?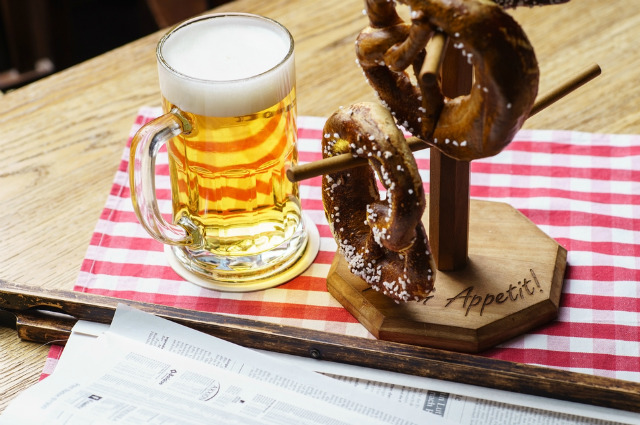 Shutterstock
Apart from the cost of dirndls and lederhosen (which is optional), it's free to enter Oktoberfest and the tents, but the food, drink and some activities will cost you. Beer is typically 10 euros or more, meals tend to cost between 10 and 20 euros, although you can get snacks for less and you should bring cash for other miscellaneous items and experiences. It's best to have cash on-hand as opposed to a credit card. 
Top Food Recommendations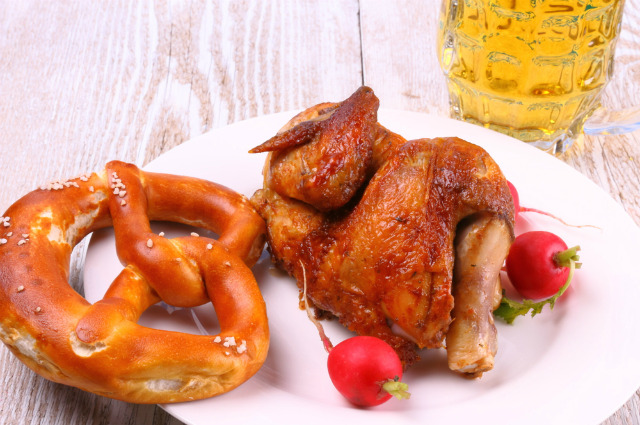 Shutterstock
While there's a lot to do at Oktoberfest, the highlight is clearly the excellent food and beer that are served in abundance. Munich local Terry Seal, of Corkscrew Consulting NYC, offered several recommendations:
Weißwurst Frühstuck or Weißwurst Breakfast: Don't make the tourist faux pas of eating this meal past noon, but if your plan is to spend the day at Oktoberfest, take the time to line your stomach with this typical Bavarian breakfast. The white sausages are usually made the same morning then boiled and served with sweet mustard and pretzels. This of course is to be washed down with a Weißbier.
Ochsensemmel or Ox in a roll: The oxen, which are specifically raised for Oktoberfest, are roasted whole to mouth meltingly tender perfection, and then served on a roll with some crispy greens and a tangy white sauce. This sandwich is not to be missed for anyone who loves ox or is generally a meat-lover and looking to try something new.
Bismarckheringsemmeln or Pickled Herring Sandwich: Pickled herring is layered on a crispy roll, with pickles and onions is said to cure hangovers after one too many beers at Oktoberfest. If you love fish and pickled dishes this sandwich is for you.
Hendl or Half of a Crispy Roasted Chicken: Around half a million chickens are roasted at Oktoberfest each year and is commonplace in most Oktoberfest tents. When cooked properly, the skin is crispy and full of flavor while the meat inside is moist and tender. 
Top Drink Recommendations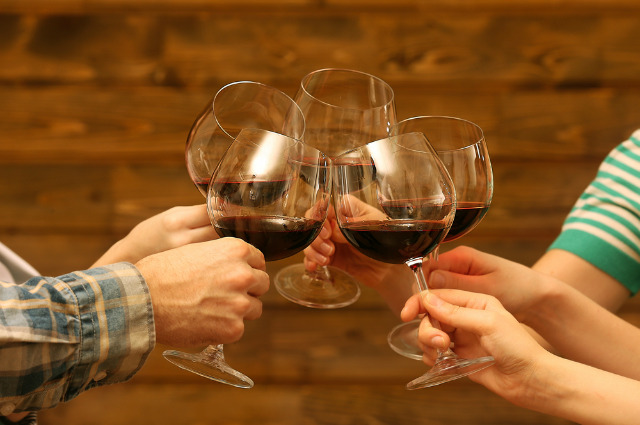 Shutterstock
Beer is easily the top choice for many Oktoberfest attendees, but when it comes time to switch it up there are other options. "For those who don't drink beer or have had their fill, head to the only tent selling wine at Oktoberfest," Seal said. "You will find about 15 types of wine and sparkling wine and, of course, beer."
Oktoberfest Tips for First-timers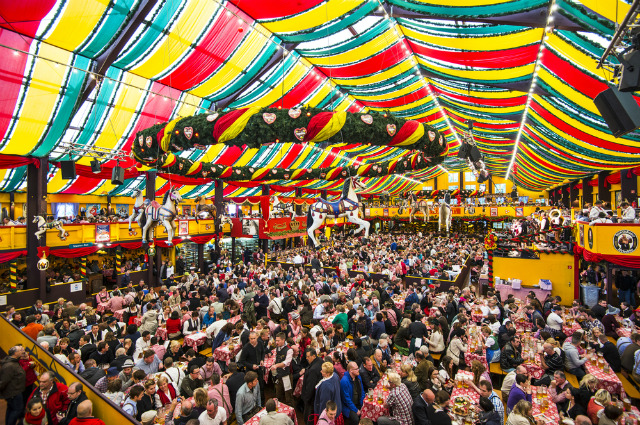 Sean Pavone / Shutterstock
The two most common (and probably most important) tips for Oktoberfest are mind the crowds and take it slow on the beer. "For first-timers, I suggest going early on a weekday to get a feel for the crowd before attempting to go on a weekend or at night, Seal said. "[And] take it slow with the beer! The typical serving is a Maß which is 1000ml of beer at around 6% alcohol and sometimes higher. If you want to take it easy – take a 'Radler' which is a mixture of half beer half Sprite. Contrary to the stereotype it's more than culturally acceptable to take it slow with the drinks."
"It is always a good idea to tip the service staff well, this ensure not only good service, but makes certain that the 'mass biers' keep coming quickly," Alexander said. "Never order another beer before your current stein is empty, it's not good etiquette. Also, never dance on the tables! You will be asked to leave."
Exploring Beyond the Oktoberfest Grounds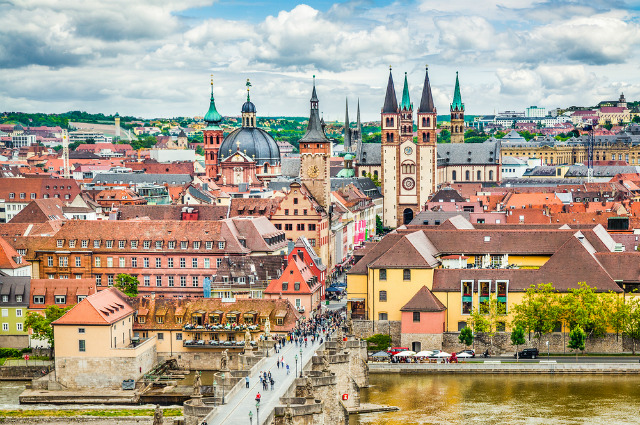 Shutterstock
While Oktoberfest is great fun, it shouldn't be the only experience you have in Munich. "Bavaria is a gorgeous region. Make sure to explore," said travel blogger Jessica van Dop DeJesus, who has been to Oktoberfest five times. "Downtown Munich has a lot to offer." And those looking for a smaller festival will enjoy "the Volksfest, a smaller scale version of Oktoberfest," which takes place two hours west of Munich in Stuttgart.
Top Oktoberfest Events in the U.S.
Those who can't make it to Munich this year can still find smaller adaptations of the festival closer to home.
Oktoberfest Zinzinnati—This big celebration attracts about half a million people each year to downtown Cincinnati. Soft pretzels, sauerkraut balls and bratwurst abound as visitors roam, dance and watch competitions like beer stein races and beer barrel rolls.
Wurstfest—Great beer, live music and lots of events are the main draw at this Oktoberfest, which is set outside of San Antonio, Texas. Kids will enjoy carnival rides and a craft fair and adults might consider entering one of the dance contests.
Leavenworth Oktoberfest—Set in the center of Washington state, this little town hosts an annual festival that rages on for three weekends in the beginning of October. The celebrations are a big hit with visitors and locals alike, featuring parades, authentic live music and delicious food options—and, of course, lots of beer.