World's Epic Tree Houses You Can Actually Stay In
Playa Viva / Facebook
1. La Cabane en L'Air in France
You can stay as high as 72 feet off the ground in one of these bungalows which can be accessible by a staircase, a bridge or even motorboat. La Cabane en L'Air, which literally means "the Cabin in the Air," is actually a collection of about 200 tree houses built all over France. One of them, in Orne, has a terrace for sunbathing. Mountain-biking lovers will find extra thrilling activities. If you have always wanted to get on a hot air balloon, you will get a chance to fulfill this dream as well.
2. Treehouse Point in Issaquah, WA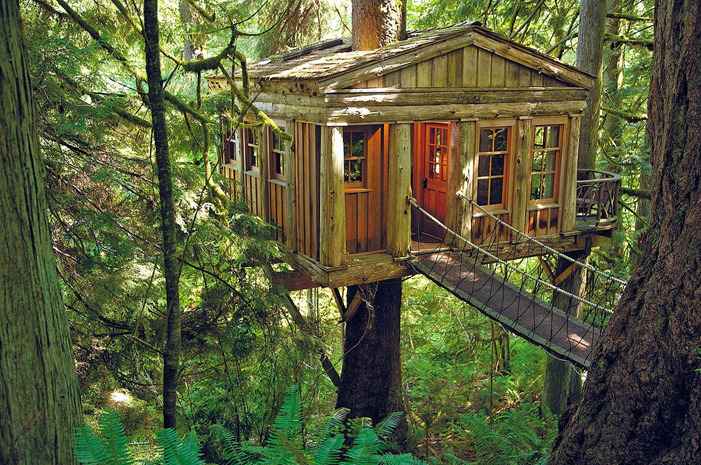 Photo Modified: Flickr / Tony Guyton / CC BY 4.0
A peaceful heaven in the forest is the 30 minutes away from Seattle that even includes breakfast in the main lodge. There are a total of six. If you're interested in how to build your own tree house, you can take a workshop there and learn. The lodge even hosts weddings. If you don't want to stay, you can simply take the tour and see what it's like to live in a tree house. Attractions include hiking trails, farmer's markets, wine tasting and even gambling.
3. Loisaba Wilderness Resort in Nanyuki, Kenya
Two of the tree houses in the resort are a set of a thatch roofed huts with an open-air wall so you can wake up with the beauty of the morning sunrise. You can also catch it just outside the room in your bed, if you prefer, since they have wheels and can be rolled out (which mean you can literally sleep under the stars at night). To add to the excitement, one of the tree houses is literally above a river and the other next to a water hole. Safaris on camel backs are among the most popular activities for guests at the resort.
4. Tree House Lodge in Limón, Costa Rica
This unique tree house is in the Gandoca-Manzanillo Wildlife Refuge on Costa Rica's southern Caribbean coast. The wooden structure is completely self-sustaining. It is made from fallen trees and uses solar heating. You can access the property via a hanging steel bridge. Since it's next to the Punta Uva Beach, you can do all kinds of water activities with the most popular being snorkeling and kayaking.
5. Secluded Treehouse in Atlanta, GA
If you don't want to go out of town for an out-of-town secluded experience, consider this tree house that is literally in a person's backyard in Atlanta, and can be rented out on AirBnb. It consists of three rooms, built on a 150-year-old pine tree, linked together via bridges made of rope. You are probably going to feel as if you are living in the early 1900's as most of the furniture is antique, including seating for six, 80 year old butterfly-filled windows, and a balcony overlooking the woods.
6. Playa Viva in Juluchuca, Mexico
This is another completely self-sustainable tree house raised 6 feet above the ground. Each of the three eco-friendly tree houses has a bedroom, hot water, and a porch with enough room to have dinner outside or simply hang out and play. No elevator though. You'll have to get up there climbing stairs or walking on ramps or bridges. The first thing you seen when you open your eyes will be the ocean. This is a place where you can enjoy the untouched beauty of Mexico.
7. Free Spirit Spheres in Vancouver Island, British Columbia
Each of the three spheres is made from wood. They literally hang in the air attached to supporting trees with a synthetic rope. The tree houses are available too book all year round, which is not the case with many others. The spheres look like a yacht from the inside. In fact, they are built based on a sailboat construction. Stairways hang from a tree much like a sailboat shroud hangs from the mast. You can feel the spheres move "like a gentle rocking" when the wind blows.
8. Le Domaine des Ormes in Ormes, France
The Domaine has the largest number of treehouses in France even though the first one opened in 2004. The tree houses high up in the air are linked with several bridges, ropes and zip lines. This is so complicated; guests are required to sit through a training course of how the structures operate. There are two floating rooms in addition to the more conventional camp sites. The tree houses have no water or electricity. Everything is lit with candles. They are, however, equipped with dry toilets and a heater in the winter.
9. Cypress Valley Canopy Tours in Spicewood, Texas
Just outside of Austin, an 88-acre ranch offers the chance to spend the night in the cypress trees. The largest tree house can accommodate a family of four. It includes a lounge for games or late night reading. Go on a zip line canopy tour during the day, and then enjoy a relaxing night on the deck of your tree house resting on a hammock. The tree house is right above a gorgeous creek ravine beside a small waterfall.
10. Sanya Nanshan Treehouse in Hainan Island, China
This unique tree house is built on tamarind trees. Its nickname is the "Big Beach in the Sky" because it's just minutes away from the sea. The lodging is semi-modern as it has electricity but the hot shower is outside. To get to it or the houses, you'll have to walk on a rope-and-plank suspension bridge. Favorite tourist activities including visiting the botanical gardens and temples that are right next to the 5,000-acre Nanshan Buddhism Cultural Theme Park.
11. Winvian in Litchfield Hills, CT
This is quiet the modern tree house. It's 35 feet up in the air. The first floor has a king-sized bed, gas fireplace, hot shower and even a Jacuzzi. The second offers a wood-burning fireplace and a beautiful view of the forest. You go up via a two-sided wooden staircase. A bonus: a full bar on site.
12. Green Village in Bali
This is our chance to sleep in a bamboo tree house that is so high up you can almost reach the top of the trees. This tree house another eco-friendly structure built entirely from bamboo and other sustainable materials. Locals take pride in the fact that their houses seem to mix right with the jungle. This is also your chance to chill out with monkey right next to you. A favorite activity for visitors is going to the nearby bamboo factory and learning how to make a bamboo home.
13. Kadir's Tree Houses in Olympos, Turkey
When people hear Turkey as a vacation spot, they think of beaches. The Kadir's Tree Houses in Olympos are actually very famous. It's more like a mini-village in the air can house as any as 110 visitors. Five single bed rooms are built on a real tree in a cowboy style. The Kadir area is full of Roman ruins. Popular activities include canoeing, cycling, and hiking. Boat trips around Kekova and water Island are also common.
14. Tongabezi in Livingstone, Zambia
The view of this tree house is the Zambezi River, the fourth-longest river in Africa and the largest flowing into the Indian Ocean from the continent. You will sleep on a king-size canopied bed and shower in a claw-footed baths. Getting to the tree house is just as adventurous – via a winding hidden pathway along a cliff. The Victoria Falls, the world's largest waterfall, is nearby. Thus, helicopter rides above it and safaris are among the most popular attractions.
15. TreeHotel in Harads, Sweden
This tree-house hotel is among the most famous in the world because of it futuristic and high-tech design. One of the houses, the Mirror Cube, reflects the surrounding trees. You may be under it and not actually notice a tree house above your head. Talking about blending...Another tree house is a cabin and a third is looks like a huge bird's nest. Other than enjoy the awesome architecture, you can try Nordic skiing, snowmobiling and dog sledding.