Photos Of Rhinos In The Wild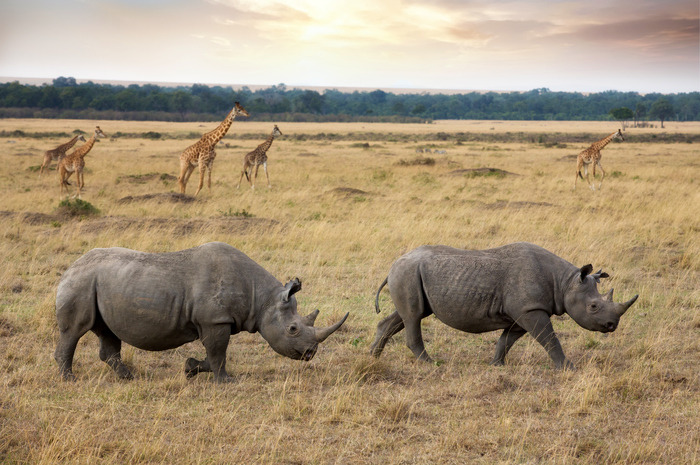 iStock
Photos of Rhinos in the Wild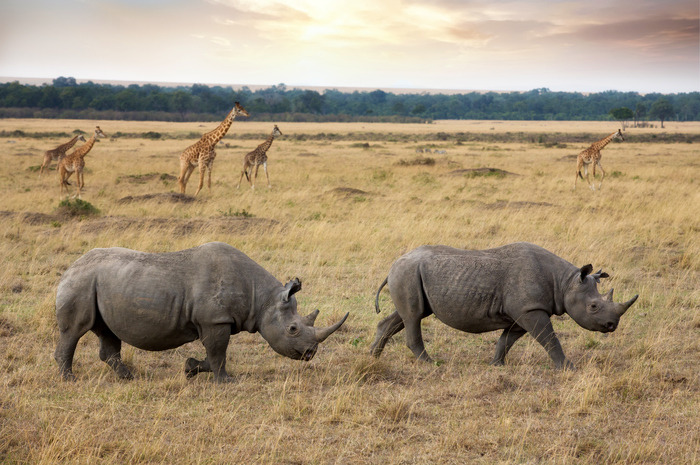 Rixipix / istock
All five rhino species are threatened with extinction. Due to concerted efforts by governments and dedicated conservationists, some populations have rebounded, but they are not completely out of danger.
The scarcity of rhinos today and the corresponding intermittent availability of rhino horn only drive the price higher and intensify the pressure on the declining rhino populations, according to Save The Rhino.
Poachers are now being supplied by international criminal gangs with sophisticated equipment to track and kill rhinos. Today, only 29,000 rhinos survive in the world, down from 500,000 in the beginning of the 20th century.
Rhino Mother and Her Baby in the Wilderness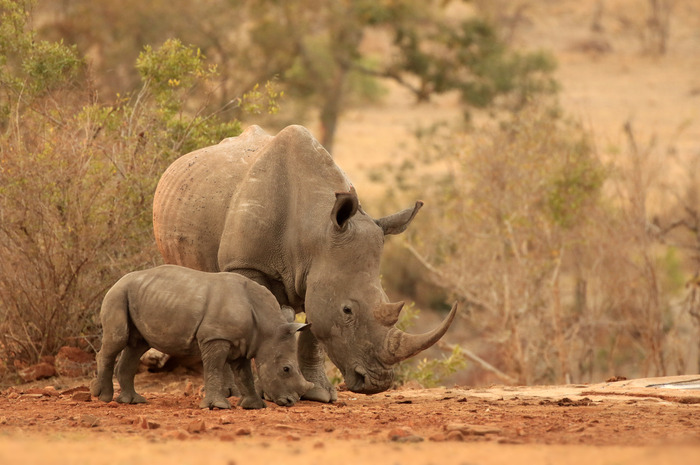 jacobeukman / istock
Rhinoceroses are large, herbivorous mammals that are mainly identified by their characteristic horned snouts.
Rhinos Running Away from an Elephant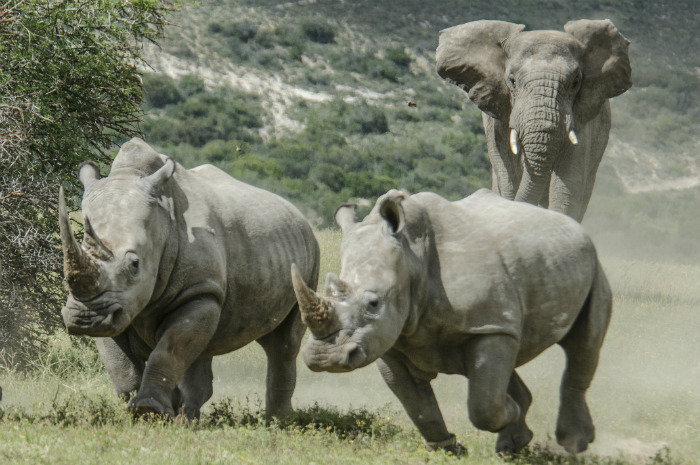 Bouterduplessis | Dreamstime.com
Elephants and rhinos usually don`t interact in nature, they would rather mind their own business, but this young bull was irritated by the rhinos and then chased them out of his space just to show that he is more dominant.
Rhinos Grazing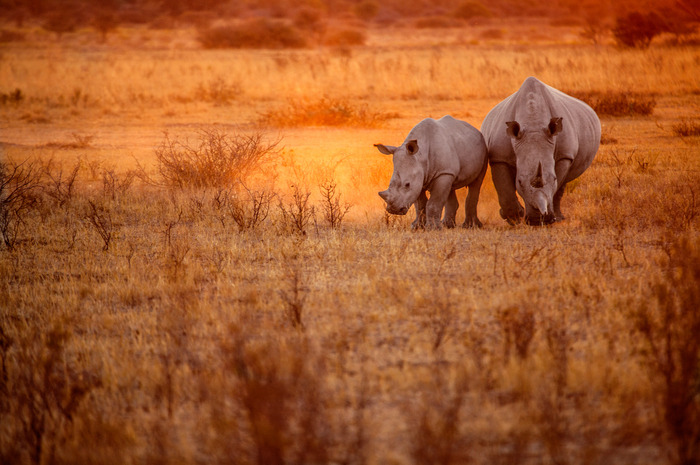 2630ben / istock
"Rhinoceros" comes from the Greek "rhino" which means nose and "ceros" which means horn.
Rhinos Drinking from Waterhole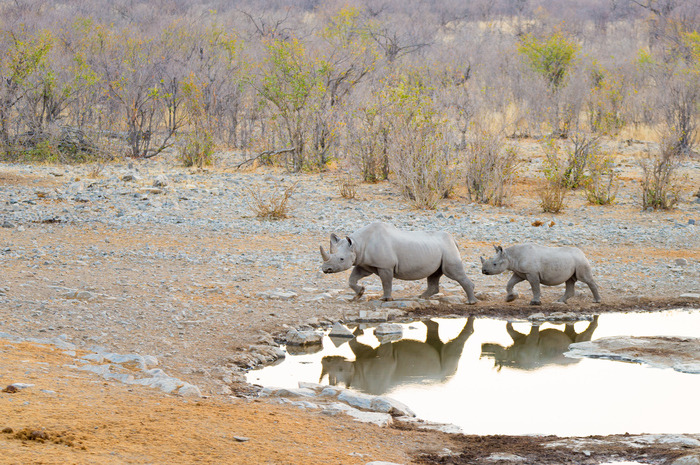 fabio lamanna / istock
There are five species – greater one-horned, black, white, Javan, and Sumatran – and 11 subspecies of rhino; some have two horns, while others have one, according to LiveScience.
Four White Rhinos Locking Horns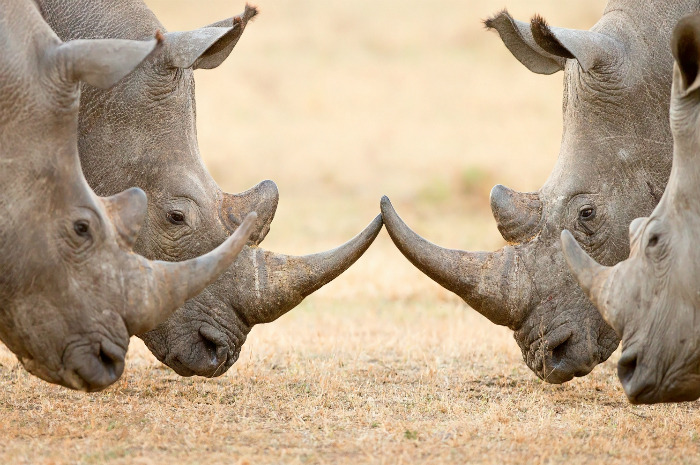 MariSwanepoel / istock
Today very few rhinos survive outside national parks and reserves due to persistent poaching and habitat loss over many decades, the World Wildlife Fund says.
Rare Black Rhinos at Sunset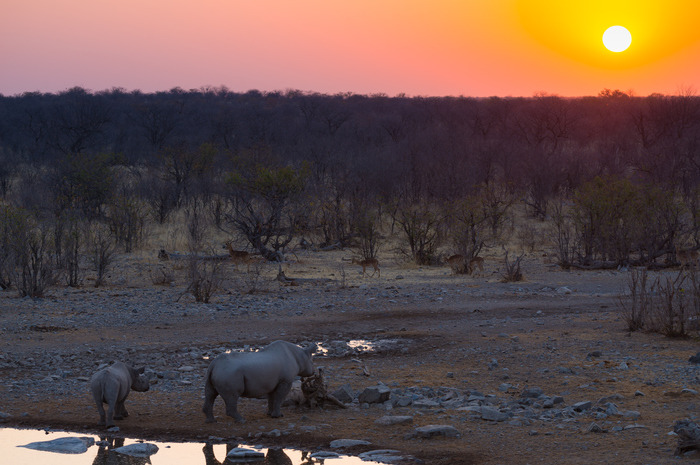 fbxx / istock
Wildlife safari in Etosha National Park, the main travel destination in Namibia. At the end of 2015, conservationists' best estimates were that around 30,000 rhinos survive in the wild, according to Saving The Rhino.
Rhino Reflection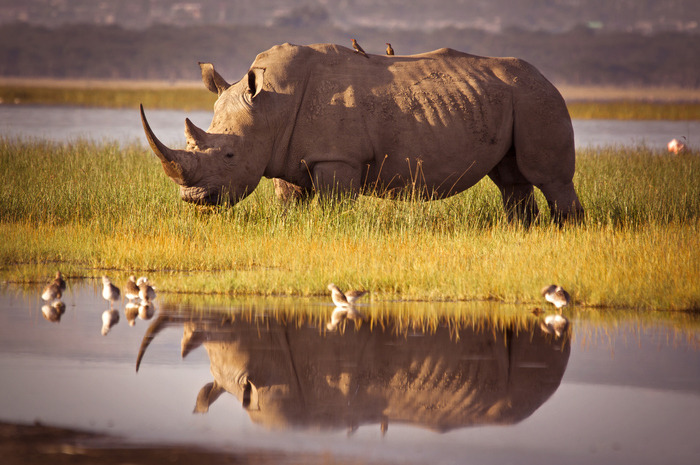 WLDavies / istock
A subspecies of the Javan rhino was declared extinct in Vietnam in 2011, the WWF says. A few Javan rhinos still survive on the Indonesian island of Java.
Baby Rhinoceros Kiss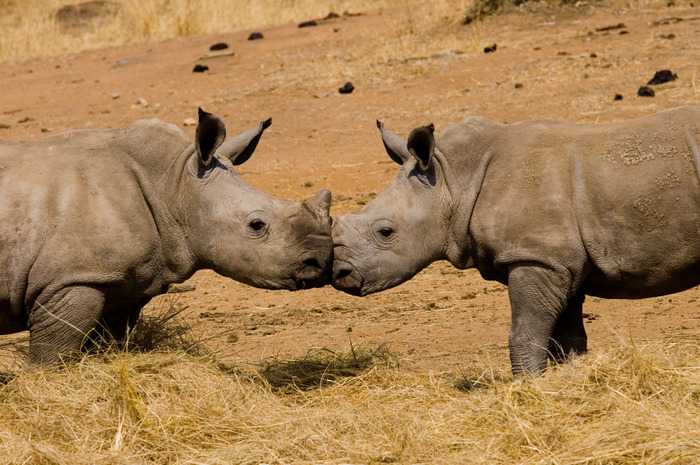 marcintomczak / istock
Black rhinos, Sumatran rhinos and Javan rhinos are "critically endangered," which is the list's highest risk category, according to LiveScience.
White Rhino in Nature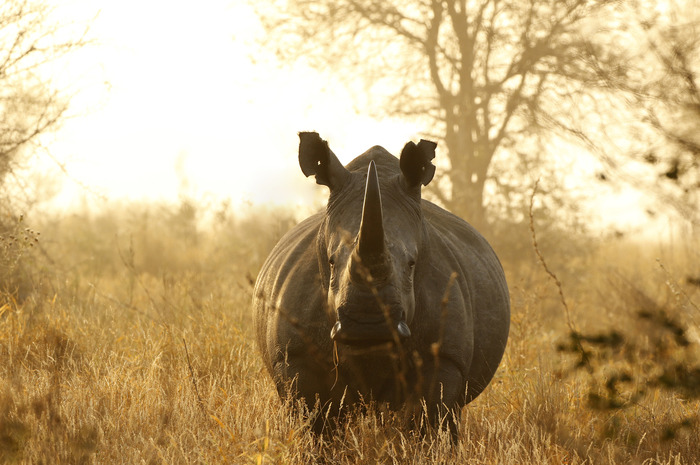 jacobeukman / istock
Rhinos' horns are used in folk medicine for their supposed healing properties. That's why the animals have been hunted so decades. The horns are also sold as trophies and decorations.
Hyena, Buffalo, Rhino and Zebra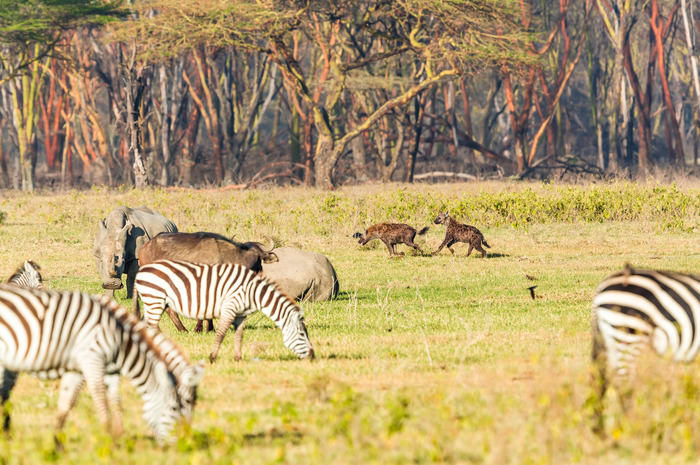 1001slide / istock
In Africa, southern white rhinos, once thought to be extinct, now thrive in protected sanctuaries and are classified as near threatened, according to WWF.
Rhino and Flamingos at Lake Nakuru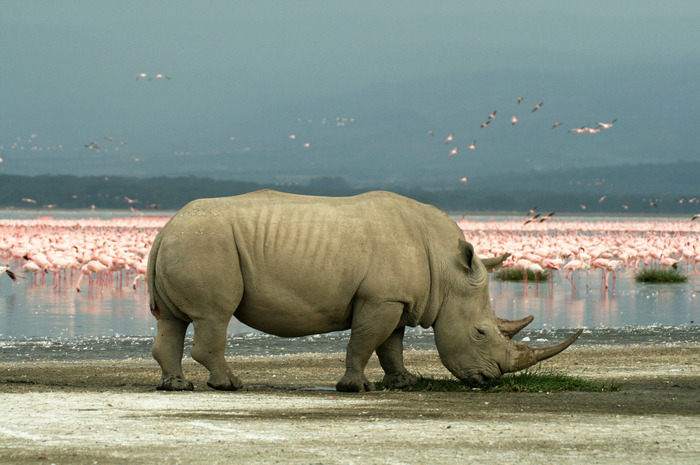 ColognetoCapeTown / istock
The powder from horns is added to food or brewed in a tea because of the belief they are a powerful aphrodisiac, a hangover cure and treatment for rheumatism, gout and other disorders, according to the International Rhino Foundation.
Rhino Mother in Kruger National Park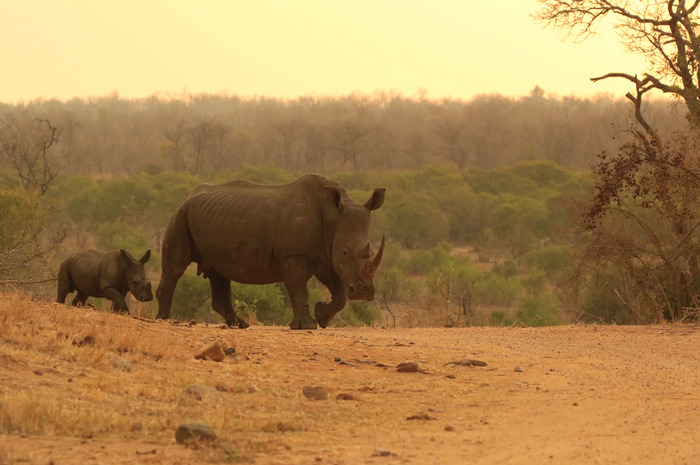 jacobeukman / istock
Rhinos and Baby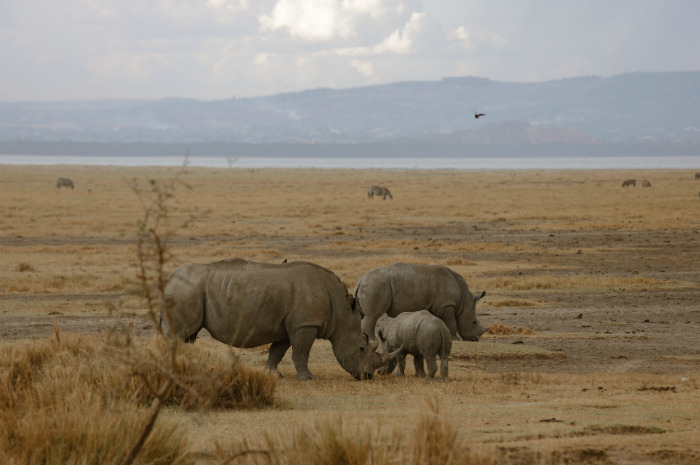 Jenhung Huang / istock
With natural breeding attempts nixed for the northern white rhinos, conservationists have turned to in vitro fertilization, according to LiveScience.
Sleeping White Rhinoceros Near Lake Nakuru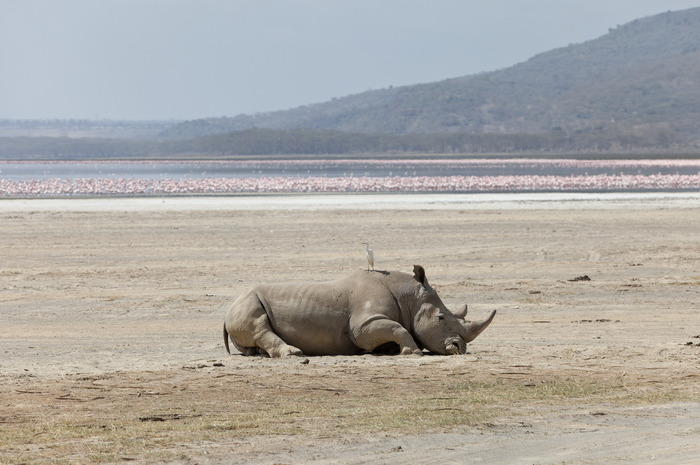 Saro17 /istock
Greater one-horned rhinos have made a comeback. By 1900, fewer than 200 animals remained, but the species now numbers more than 3,550 individuals in both India and Nepal, their remaining strongholds, according to Save The Rhino.
Roaming Through the Savvanah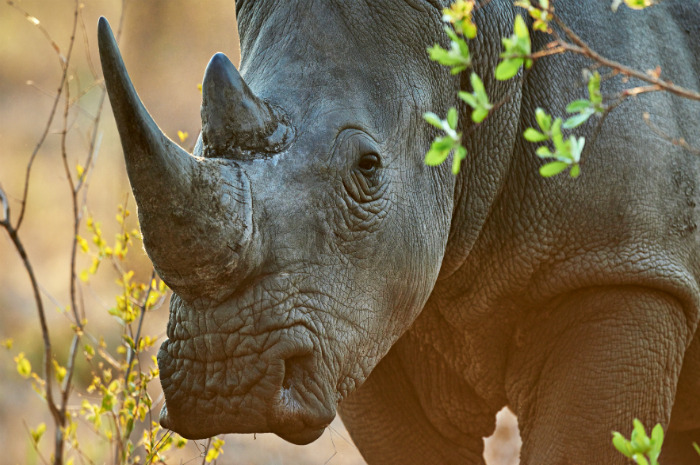 Yuri_Arcurs / istock
Sudan, the world's last remaining male northern white rhinoceros, died in March. There are now only two female northern white rhinos left in the world, one of which is Sudan's daughter, both living in captivity. They live in the Ol Pejeta Conservancy in Kenya.
Rhino Family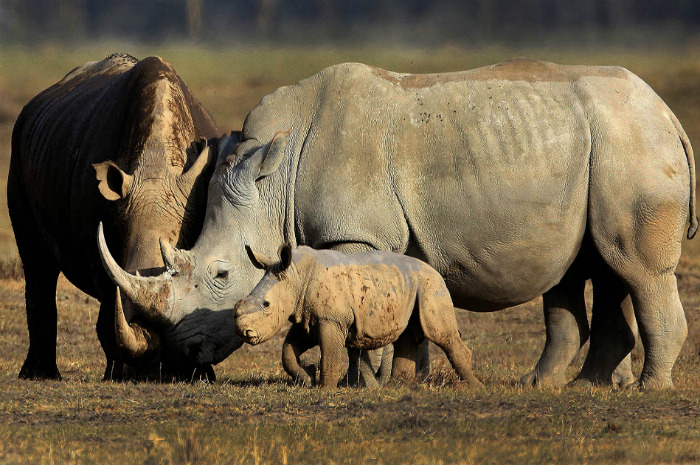 prasit chansarekorn / istock
Rhino poaching has escalated in recent years and is being driven by the demand for rhino horn in asian countries, particularly Vietnam, according to Save The Rhino.
Black Rhinoceros With Calf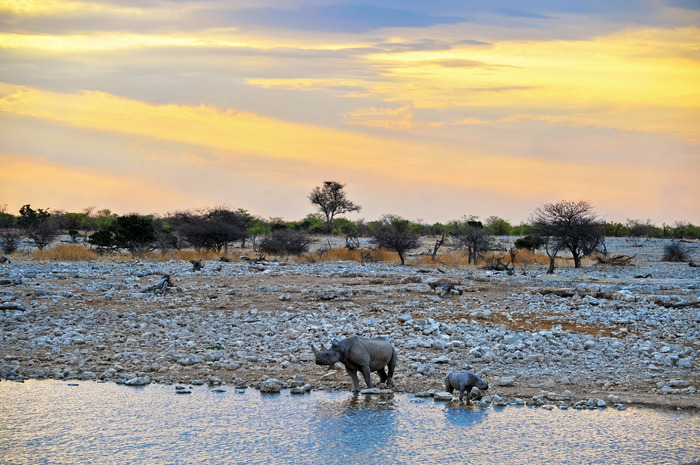 brytta / istock
Giraffe and Rhino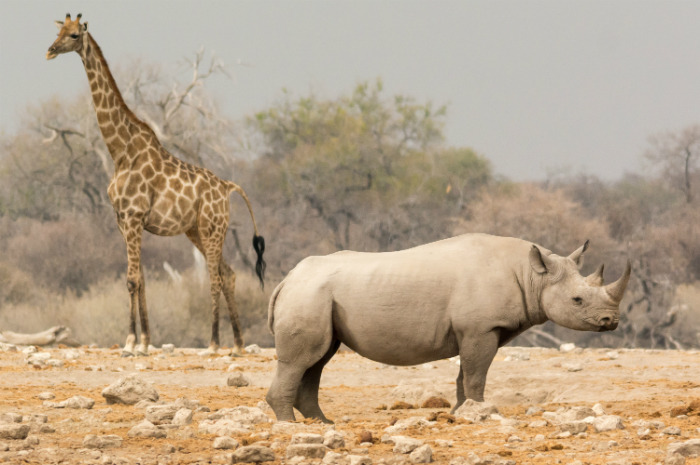 Friedemeier / istock
Sumatran rhinos went extinct in Vietnam in 2010 and in Malaysia in 2015, according to the International Rhino Foundation. Small populations of the subspecies survive in three national parks in Sumatra.
Sunset With a Group of Rhinos in Kenya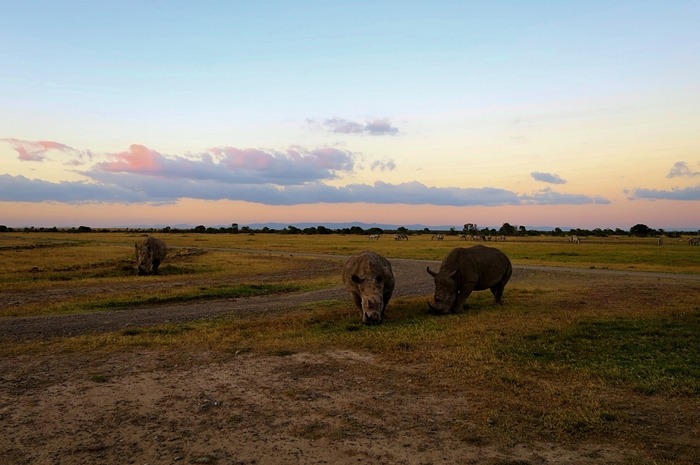 Anna Soer | Dreamstime.com
Two years ago conservationists captured a live Sumatran rhinoceros in the Indonesian part of Borneo for the first time. 
Two White Rhinos Standing and Rubbing Heads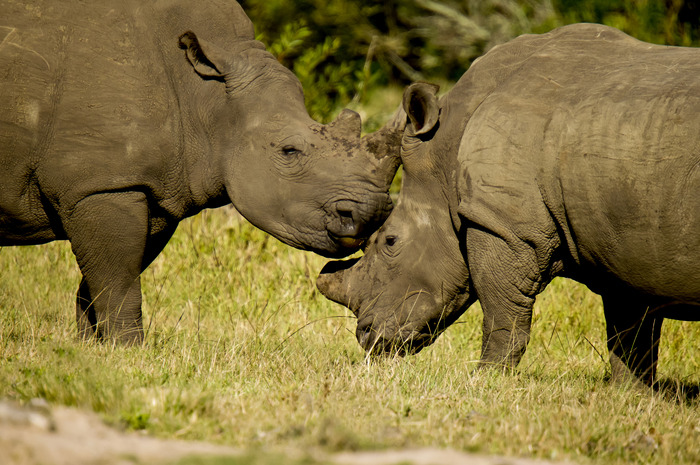 Michael Sheehan | Dreamstime.com
The protection of rhinos helps protect other species including elephants, buffalo, and small game, according to WWF.
Two Rhinos in the Wild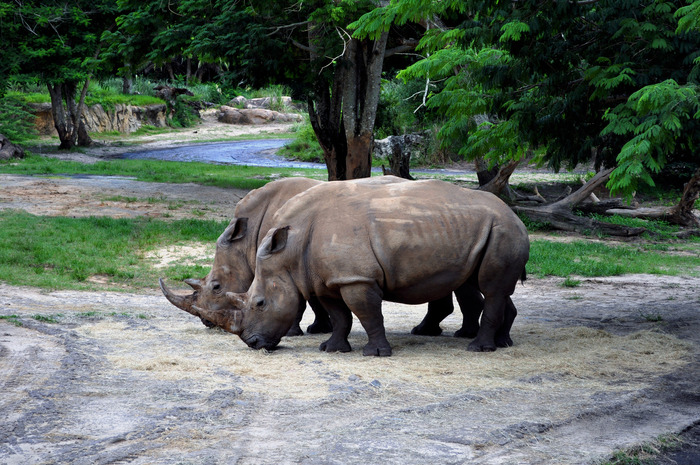 Fer737ng | Dreamstime.com
Rhinos are one of the "Big Five" animals popular on African safaris. They are also a popular tourism draw in places such as the Eastern Himalayas, the WWF says.
Two Rhinos Fight Among Themselves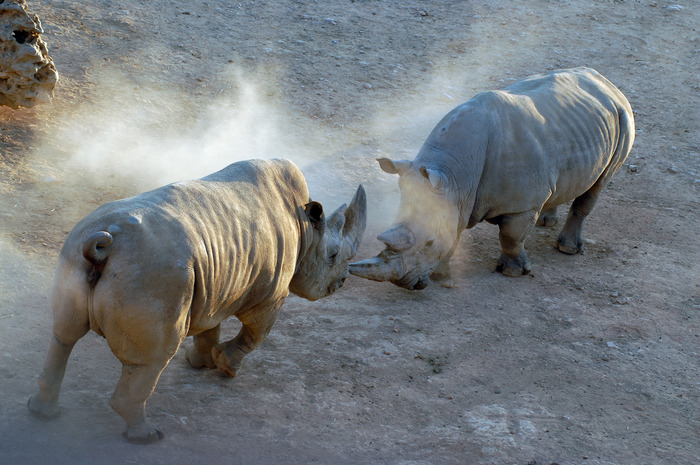 Mirrori | Dreamstime.com
This is a battle of huge animals in the savannah. They are probably fighting for territory.
Group of Rhinos in in Kenya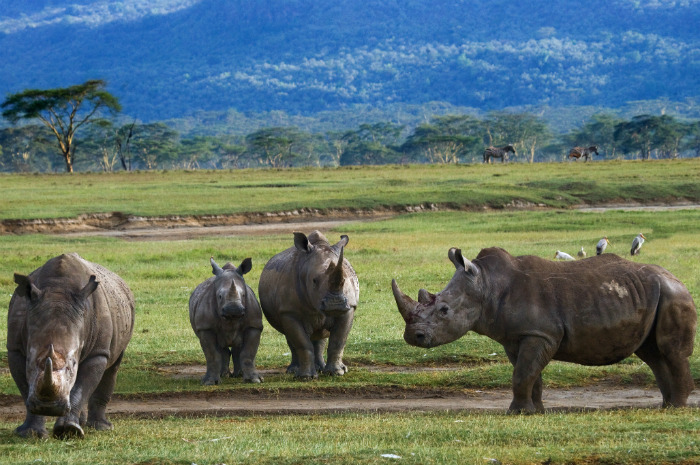 Andrey Gudkov | Dreamstime.com
International trade in rhino horn has been banned under the Convention on International Trade in Endangered Species of Fauna and Flora (CITES) since 1977 but demand remains high.
Rhinos Cooling Off in Water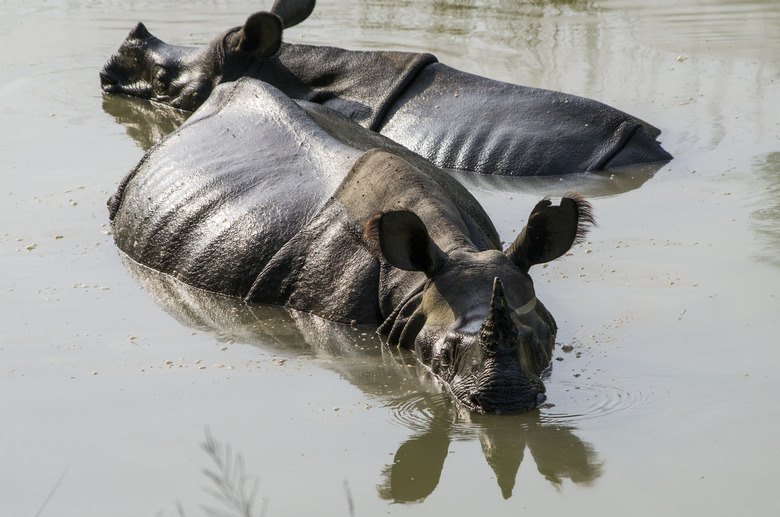 Yaju Shrestha | Dreamstime.com
These two are photographed at the Jungle of Chitwan National Park in Nepal.
Two Rhinos in Natural Habitat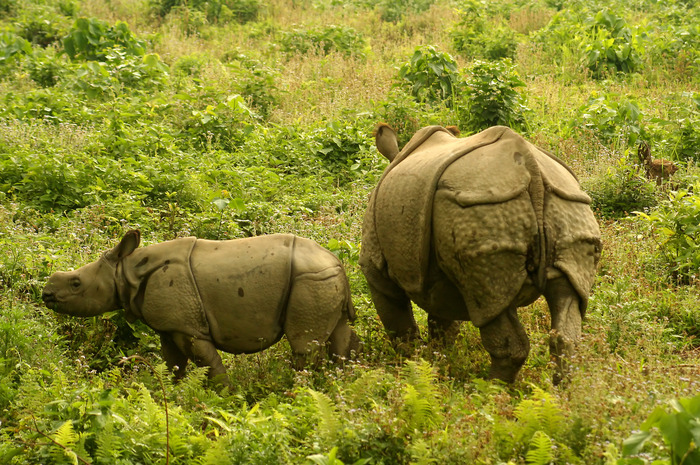 Paop | Dreamstime.com
The main markets for rhino horns are now in Vietnam and China where they have become a party drug as well, according to WWF. The newest belief in Vietnam is that rhino horn cures cancer.
Elephants Are Moving Past Rhinos in Kruger National Park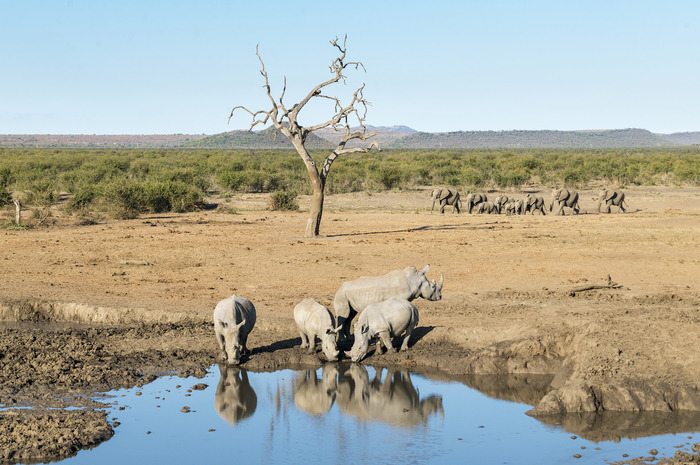 Michael Valos | Dreamstime.com
Remaining rhinos live in fragmented, isolated areas and are prone to inbreeding, as healthy genetic mixing is more difficult among smaller groups, the WWF says.
White Rhino Chatting With a Bird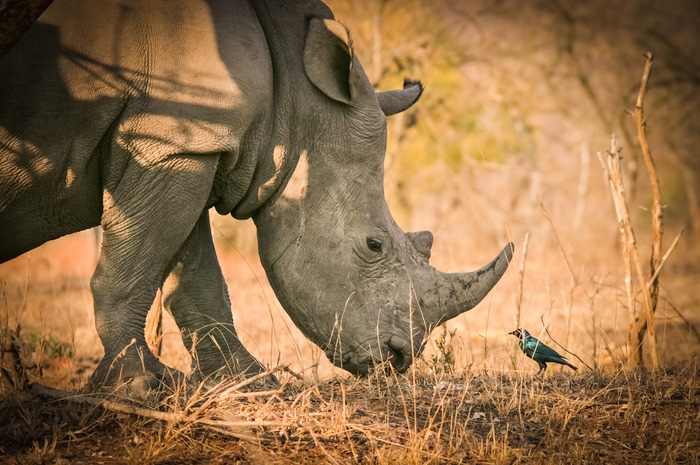 Shutterstock
The fact that human populations are getting bigger is also a problem. More people need more space which means more pressure on rhino habitats. As a result, the living space for rhinos is shrinking which only increases the risk of contact with humans.
Rhino in Front of Kilimanjaro Mountain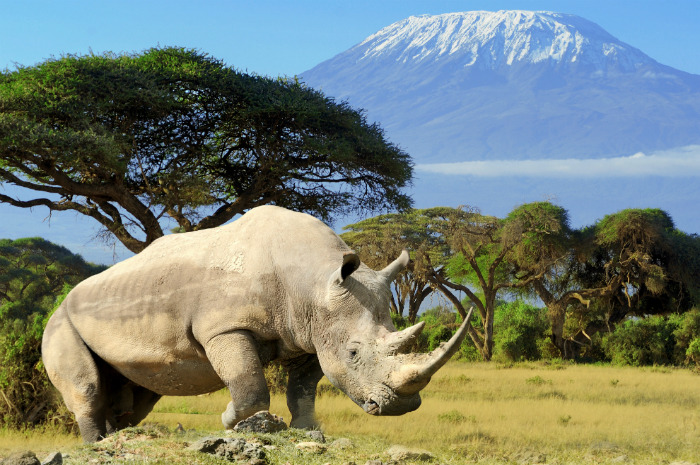 Shutterstock
This is in Amboseli National Park in Kenya. It is actually famous for its large elephant herds as well as the gorgeous views of Mount Kilimanjaro across the border in Tanzania.
A Loving Moment Between a Rhino and Her Baby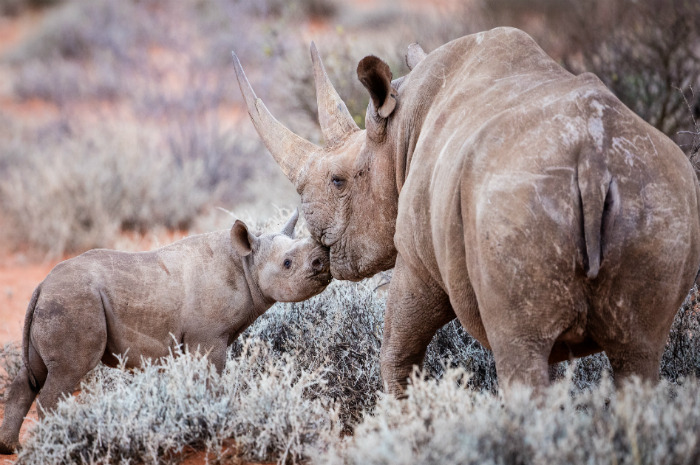 Shutterstock
The rhino calf is born without a horn. Its only protection comes from its mother, according to Rhinos Info. Male rhinos don't play any role in the raising of the young.
A Rhinoceros Grazing in an Open Field in South Africa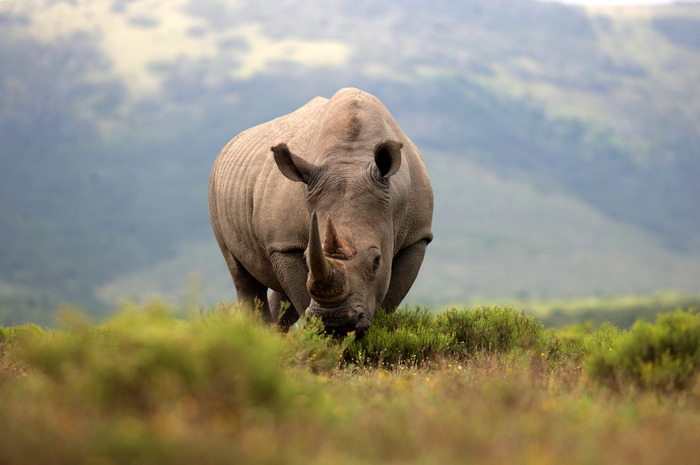 Shutterstock
The rhino population is ever-dwindling – they are being killed faster than they can reproduce. Raising awareness is on a global scale is key to saving them. There is zero medical evidence that rhino horn can cure any sickness.