The Wide Variety Of Outdoor Activities At This Southern US State Park Makes It A Must-Visit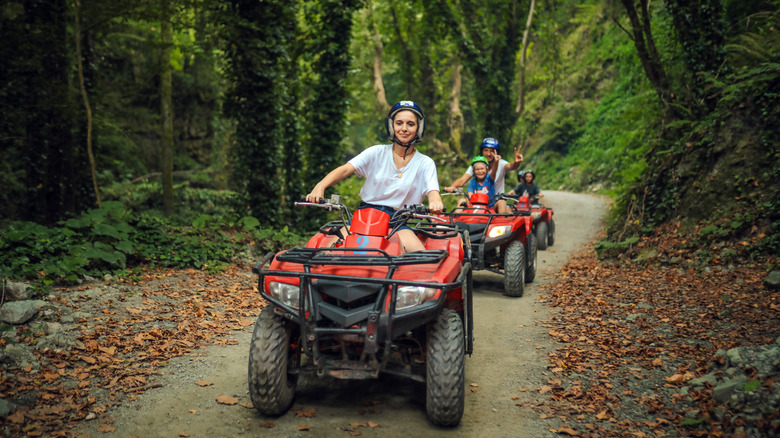 Burak Sür/Getty Images
State parks are an ideal place to delve into nature and get moving. You have beautiful sights to take in as well as an array of outdoor activities to choose from. Some parks have an especially wide variety of offerings, and Beavers Bend State Park in Broken Bow, Oklahoma, is definitely one of them. Whether you come alone, with friends, or your family, you and your group will find an activity that'll satisfy everyone.
An underrated adventure destination, Beavers Bend State Park opened in 1937 and has been a place of refuge for people looking to connect with nature ever since. Part of what makes the park unique is all the different adventures you can engage in: You can participate in numerous water activities that range from swimming to scuba diving, or you can explore the land via hiking or ATV riding, try your eye at birdwatching, and more. The next time you're looking for a fun experience in the great outdoors, think of Oklahoma and Beavers Bend State Park.
Options galore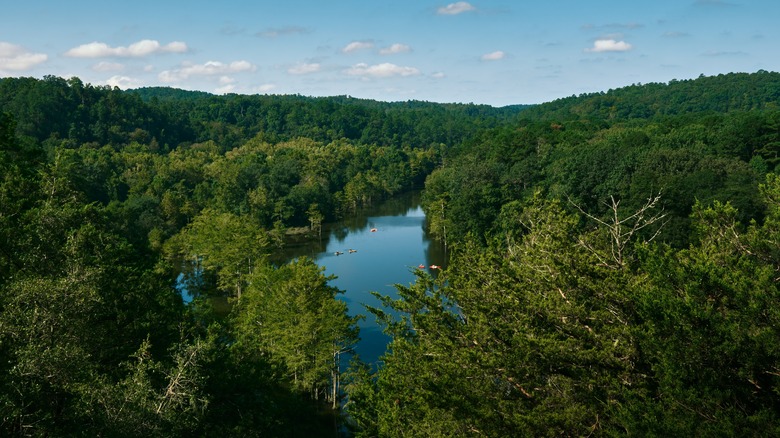 MRoald/Shutterstock
We'll start off with water activities. Broken Bow Lake is a large lake, measuring 14,000 surface acres, and has a shoreline that extends for 180 miles. It's also deep — 185 feet deep to be exact. You can scuba dive, but you have to bring your own gear. You can bring or rent kayaks and canoes. There are a number of rental services like Ambush Adventures, which lets you solo kayak 4 miles for $30, and Wild Goose Canoe and Kayak which lets you kayak 5 miles for $40, or opt to canoe 5 miles for $60. You can also bring power boats onto the lake if you're looking for a boating adventure. Fishing is also a great option.
If you'd rather stay on the land, you have plenty of activities to partake in besides the typical hiking and biking, although those are options as well. Horseback riding is a fun opportunity. Beaver's Bend Depot and Trail Rides offers one-hour rides through the state park as well as the opportunity to ride on a replica train. Riverman Trail Rides has a unique sweetheart ride, which includes wine, cheese, and a campfire in addition to trail riding. Alternatively, you can get a thrill by ziplining with Rugaru Adventures. Book in advance for an adventure that covers six different ziplines and lasts for about two hours. If you want something more laid back, spend some time out of the green for a game of golf at Cedar Creek Golf Course.
Details for your stay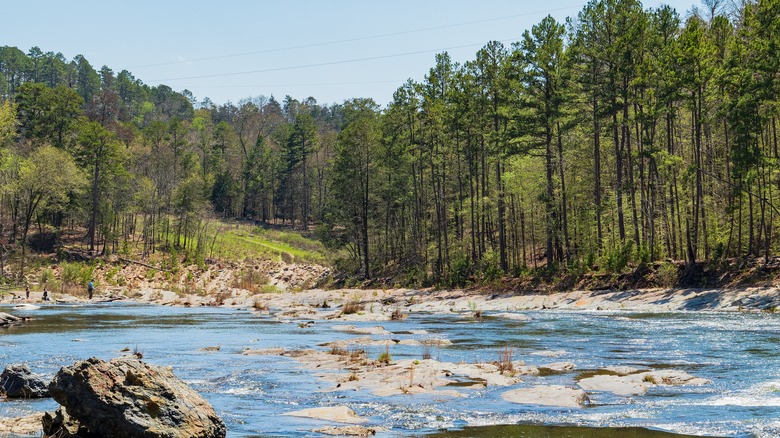 Kit Leong/Shutterstock
When you're sleepy and need to call it a night, you have options on where to stay. You can go rustic and pitch a tent, park an RV and camp, or choose one of the many lodging options for a cabin stay. Beaver's Bend Adventures offers luxury cabins that start at $245 per night. They have multiple options for you, whether you're a group of four or a group of 19.  Creative Escapes also offers luxury cabin getaways and has a 4.1-star rating from nearly 300 reviews on Google. If you're looking for something simpler, you can opt for Beaver's Bend Lodge, where you'll have beautiful waterfront views.
You can visit Beavers Bend State Park any time of the year. Summers are the busiest season, especially in July, so keep that in mind when you're looking to book your next adventure. If you're ready to get moving with outdoor activities, then this state park is perfect for you. Why wait? Book your next trip and look forward to the countless opportunities waiting for you.