This New York City Diner Is A Great Tourist Spot For Seinfeld Fans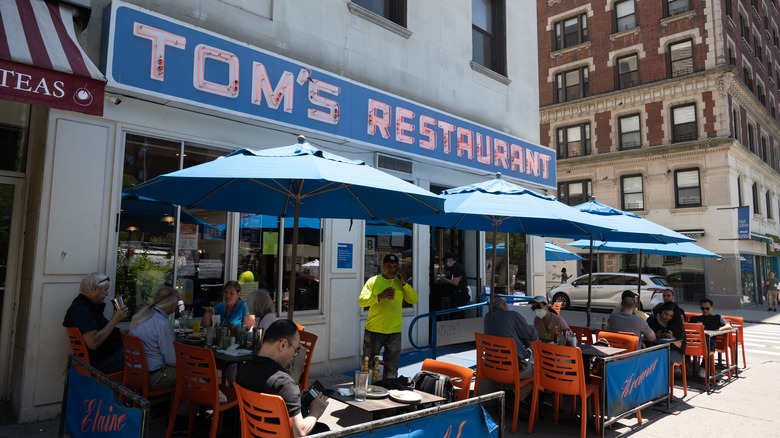 Anne Czichos/Getty Images
Twenty-five years after it aired one of the most-watched series finales in TV history, the sitcom "Seinfeld" still remains popular enough to inspire tourism. You can watch it on your tablet while traveling, since Netflix shelled out more than half a billion dollars for the exclusive streaming rights to it in 2021. And if you have the right channels in your hotel room, you might also see reruns of "Seinfeld" airing on TV Land and Comedy Central. Even better, though, if you're visiting New York City (where the show is set), is the experience of living a "Seinfeld" rerun of sorts at Tom's Restaurant.
Located at 2880 Broadway on Manhattan's Upper West Side, Tom's is the real-life restaurant that doubled for the fictional Monk's Cafe on "Seinfeld." Even today, you can sit in a booth here and enjoy conversations laced with wry observational humor like the show's characters. The sign for Tom's, on the corner of Broadway and West 112th Street, appeared in almost every episode of "Seinfeld" as an establishing shot for Monk's.
The "Tom's" part of the sign was usually left out of frame so that the viewer could only see the word "Restaurant" in big red letters against a blue background (as shown in the screenshot below). However, the sign still looks similar to how it did on the show, and if you're walking along the street in Manhattan, it's an instantly recognizable sight that might make you feel like you've suddenly stepped into the world of "Seinfeld."
Have your own 'Seinfeld' reunion at Tom's Restaurant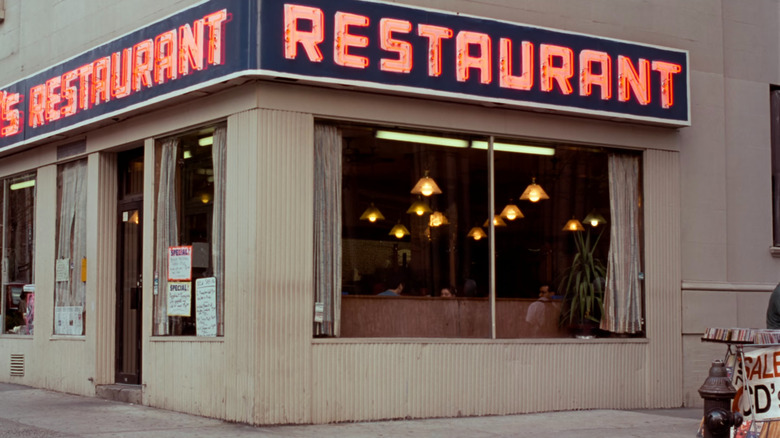 NBC/Netflix
Since the interior of Monk's Cafe was created on a California soundstage, the inside of Tom's Restaurant may look different than what you remember from "Seinfeld." However, in 2014, Jerry Seinfeld and Jason Alexander reunited at Tom's, reprising their "Seinfeld" roles as Jerry and George Costanza for a Super Bowl segment of Seinfeld's new web series, "Comedians in Cars Getting Coffee." This is the one episode of "Comedians in Cars Getting Coffee" that isn't available on Netflix, but Seinfeld posted it to his Facebook page, and it could provide some fun inspiration for your own Manhattan sightseeing. Just think of your trip to Tom's as your own little episode of "Travelers in New York Getting Coffee (at the 'Seinfeld' Diner)."
Besides coffee, Tom's serves sandwiches, breakfast food like bagels and omelets, and — most importantly for "Seinfeld" fans — salads. Yes, there's a big salad on the menu, just like the one in the classic "Seinfeld" episode of that name. It's billed as "Jerry's Salad," though fans may associate it more with the character of Elaine Benes (Julia Louis-Dreyfus), who memorably requested it as a to-go order. Tom's Restaurant does offer take-out, so if you want to just check out the exterior sign and then take some food back to your hotel room, you could do that. Or, since it's only about a five-minute cab ride away, you could also have a picnic in Central Park, the most-filmed location in the world.
Suzanne Vega, Tom's Diner, and other claims to fame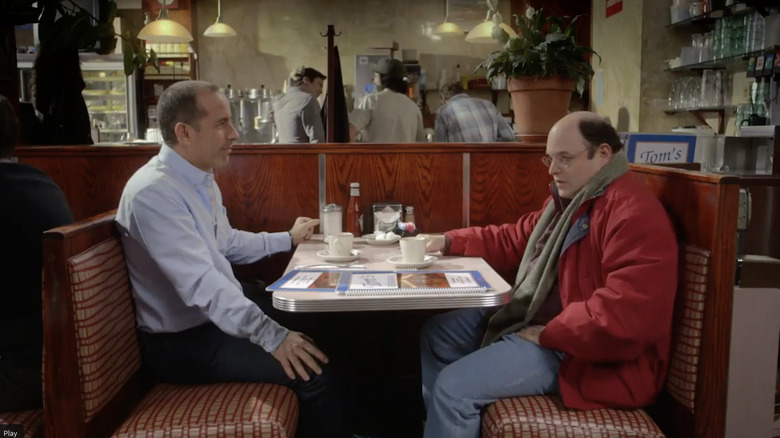 Sony/Facebook
Jerry Seinfeld and Jason Alexander aren't the only famous people to have dined at Tom's Restaurant. First founded in the 1940s by a Greek immigrant named Tom Glikas, the restaurant happens to be located in the off-campus Armstrong Hall, right downstairs from NASA's Goddard Institute for Space Studies, near Columbia University. Even before it appeared on "Seinfeld," Tom's was a popular hangout for college students, including singer-songwriter Suzanne Vega while she was attending the university's partner school, Barnard College.
The restaurant was the inspiration for Vega's 1987 song, "Tom's Diner," which became a Billboard hit when the electronic music duo DNA remixed it. The song immortalizes the restaurant with its opening lyrics: "I am sitting in the morning at the diner on the corner. I am waiting at the counter for the man to pour the coffee..."
Decorated with Cosmo Kramer paintings, Tom's still has a counter where you can sip coffee if its booths are full. Around the same time Vega was frequenting it, it also began entertaining future presidential candidates. When Barack Obama was attending Columbia University in the early 1980s, he would eat breakfast at Tom's. Years later, when Obama's 2008 campaign rival, the late Senator John McCain, was visiting his daughter, Meghan McCain (future co-host of "The View") at Columbia, his favorite thing to do was eat with her "at the 'Seinfeld' restaurant." It seems even politicians can't resist reliving TV history at this Manhattan diner.