This North African Destination Is A Great Spot For A Couples City Break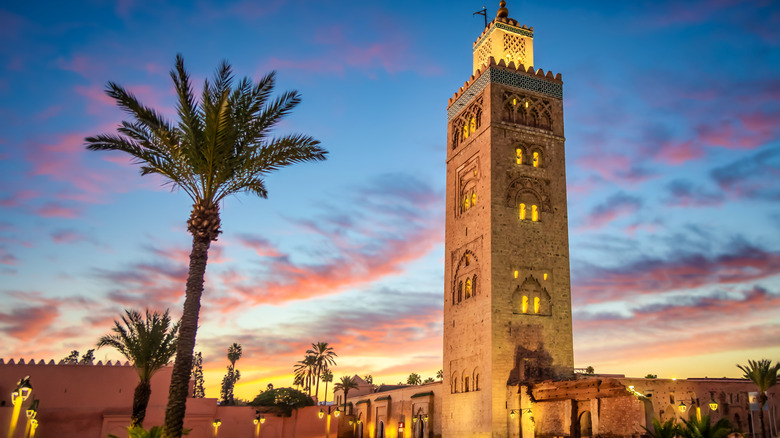 Eloi_omella/Getty Images
When one thinks of the best destinations for couples to visit, they might automatically jump to tropical, remote respites like the secluded Seychelles. Or, perhaps, they think of cliche romance cities like Paris or Rome. Not every couple wants to meet a stereotype when it comes to choosing where they travel. For our adventurous lovebirds out there, a city break is likely to itch your scratch much more than sitting and frolicking on a beach all day.
Insert Marrakech, Morocco, a chaotic yet historic city located in northern Africa. Marrakech is home to palaces, souks, museums, and luxurious accommodation without breaking the bank. Foodies will particularly love it here, as Moroccan cuisine is some of the best on the African continent. Suppose you and your special someone are looking for an adventure of a lifetime in a colorful, bustling city. In that case, it's time to forego the over-the-water bungalow resorts and head to the lively city of Marrakech.
What to do in Marrakech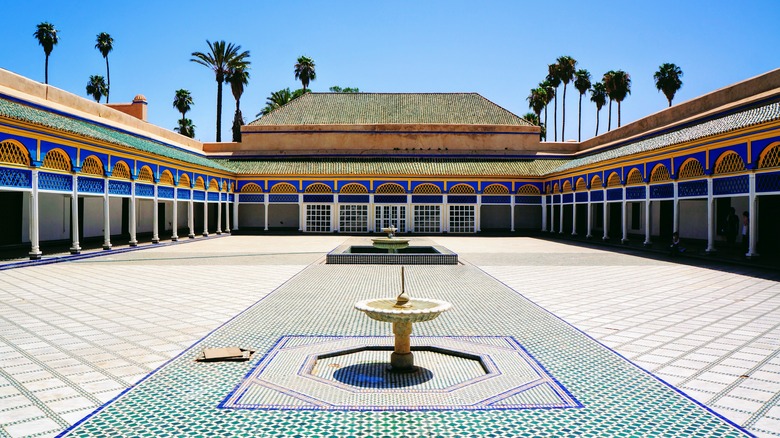 Wizard8492/Shutterstock
Marrakech is a bustling city with plenty to see and do. One of the top attractions in town is the Bahia Palace, a 19th-century palace well known for having some of the city's most jaw-dropping architecture. From intricate mosaics to a massive garden, no visit to Marrakesh is complete without stopping by Bahia Palace. If you want to impress your friends, family, and followers on the 'gram, you'll need to head to Jardin Majorelle. Adorned with blue pops of color in every corner, Jacques Majorelle, a French painter, created this photoshoot paradise, which is actually a botanical garden. 
Ready to shop 'til you drop? Souks are commonly found in northern Africa and throughout the Middle East, and Marrakech is no exception. Souk Semmarine is a great place to put those haggling skills to the test, so you can hopefully leave with some collectibles from your time in Marrakech. For a souk with a culinary twist, head to Souk Place des Épices to gander at all of the colorful Moroccan spices.
The city is also full of museums, making it an ideal destination for history buffs. For some of the best, head to Musée Yves Saint Laurent, Musée des Confluences, or Musée de Mouassine.
General tips for traveling to Marrakesh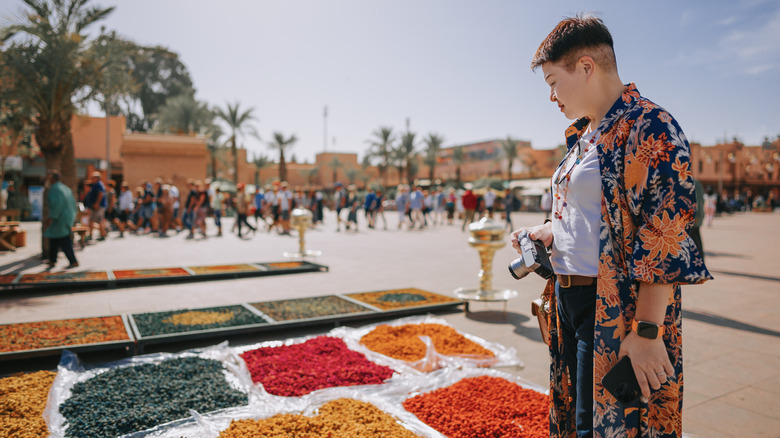 Edwin Tan /Getty Images
Aside from knowing where to go, some general tips will help you and your partner navigate through Morocco with a little more ease. It should be noted that Marrakech, while beautiful in its own right, is often viewed as a place that can be highly stressful for tourists. The atmosphere can be overwhelming, from the pushy street vendors to the intense traffic. Take everything with a grain of salt and practice patience. When you go to markets, never accept the first price offered, and try to negotiate with local vendors. Above all, trust your gut and know that most people are kind.
The local currency is the Moroccan Dirham, and luckily for most Western travelers, Morocco is generally a budget-friendly destination. Because of its affordability, accommodation doesn't have to break the bank here. Consider sleeping in a riad or a home with multiple stories and open-air sprawling courtyards, many of which have been converted to boutique hotels throughout the city. Some are as low as $30/night, but if you want to splurge for a nicer riad, try Riad Le Rihani, Riad Kasbah, or Riad Dar Assiya – Le Grand, all of which are, on average, less than $150/night. 
Despite being such a popular destination, there are no direct flights from the USA to Marrakech. Instead, consider flying via TAP Air Portugal, transferring through Lisbon or Royal Air Maroc (Morocco's national airline), and connecting through Casablanca.