Highly Rated Beaches For A Warm-Weather Christmas Vacation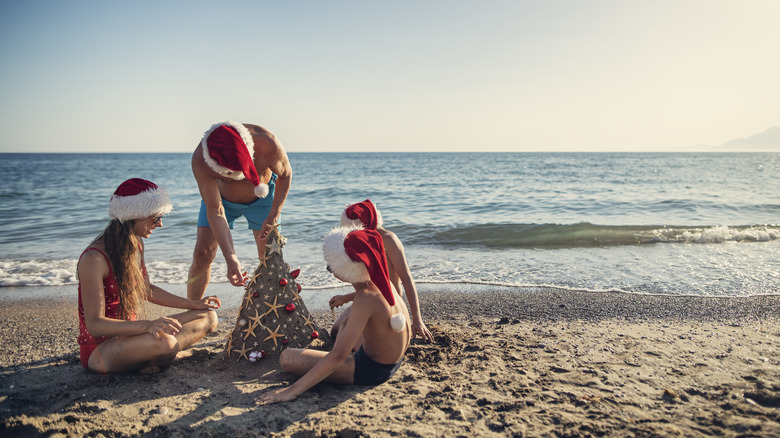 Imgorthand/Getty Images
Dreaming of skipping town this holiday season? You're not alone. For many, Christmas can feel overwhelming — family get-togethers, lame office parties, and endless celebrations can cause even the most festive-loving person to burn out. Heading off on vacation, especially if you're leaving the cold for somewhere sunny and warm, could be just the gift you need this Noel. From the silky soft strands of the Florida Keys to a black sand beach in Costa Rica to a private island in the Maldives, we found a slew of highly-rated beaches for a warm-weather Christmas vacation. All you have to do is pack your bags (and some mistletoe) and get ready to enjoy a laid-back holiday on the sand. Oh yeah, someone should probably tell your family you'll be AWOL. 
Wondering how we knew these beaches were worth visiting? We chose them based on first-hand experience, reviews from travelers who've been there, and the availability of Christmas-themed activities in or near the area. We also wanted to provide a good mix of locations that span the globe. Plus, we made sure that each beach is located in a place that is actually warm this time of year. Merry Christmas to you!
Seychelles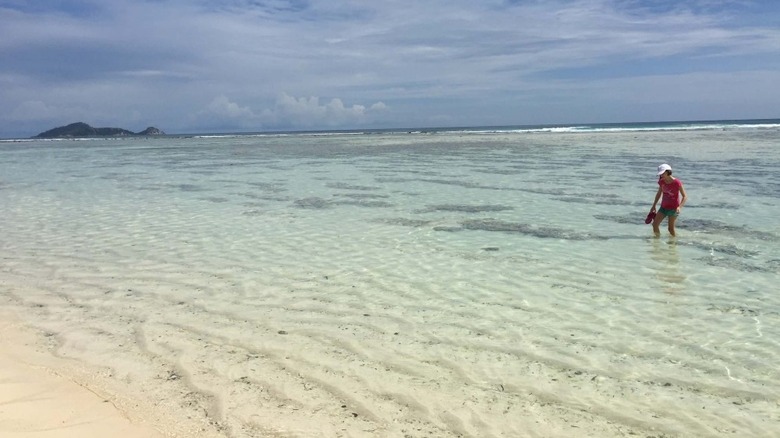 Shandley McMurray / Static Media
There's something magical about celebrating Christmas on an Elysian island in the middle of the Indian Ocean. Ringed by some of the world's most beautiful beaches and water so crystalline you can see marine life in detail while walking on the sand, this is a captivating place to spend the holidays. Be warned: Seychelles beaches are so phenomenal they will likely ruin beaches for you forever. Anse La Passe is a stunning beach on Silhouette Island, home to the luxe, all-villa Hilton Seychelles Labriz Resort & Spa. The third largest beach in Seychelles, visitors will at times feel as if they have the entire strand to themselves, especially when heading to the secluded beach just north of the resort's spa. The resort is primed for the holidays, complete with tasty meals and a Santa visit. 
La Digue is Seychelles' fourth-largest island and home to many of the region's most beautiful beaches. Anse Source D'Argent is so beautiful you may gasp involuntarily when you first lock eyes on its translucent waves and blush-ivory sand. Picture-perfect, this is the site of thousands, if not millions, of social media posts. Granite boulders add to the allure, and the shallow water makes it an ideal place to visit with children. Anse Intendance is another must-visit beach in the Seychelles. Set on the main island of Mahé, travelers say this beach is "quieter and more secluded" than the more popular Beau Vallon Beach on the same isle.
Grace Bay Beach, Turks and Caicos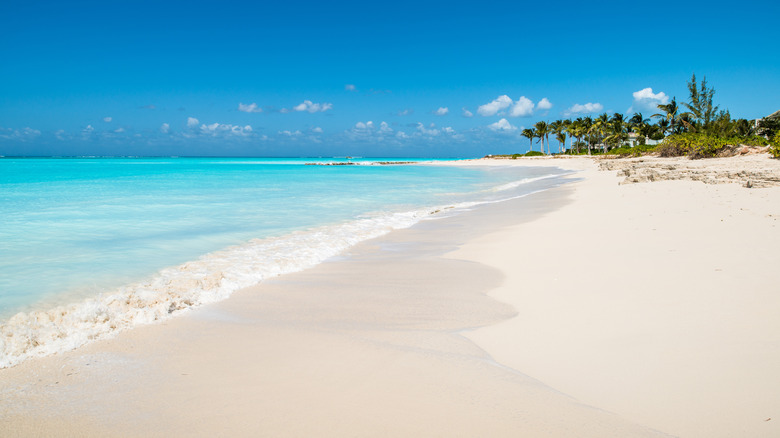 MevZup/Shutterstock
Grace Bay Beach is a traveler's fave. Located on the Providenciales island in Turks and Caicos, tourists say this is the best beach on the islands, if not the world. Over 3 miles in length, this soft, sandy beach is a hot spot for water-based fun. Traveling with kids? This is a perfect beach for families. A large barrier reef lies nearly a mile offshore, creating a protected area with surf that's calm enough to be enjoyed by children. The beach is lined by resorts and hotels that make the most of their waterfront status. 
Many, like The Palm Turks and Caicos, offer festive fun at Christmas time, including a special beachside dinner. And even more, resorts decorate their properties with impressive lights and holiday displays. December 26 plays host to the Maskanoo, a masquerade street festival with strong ties to African rituals. Expect colorful costumes, a parade, and plenty of great music, not to mention delicious food. If you're still ready to party, head to the beach on December 28. The annual post-Christmas Beach party boasts music, food, kayak, and sailboat races.
Nassau, Bahamas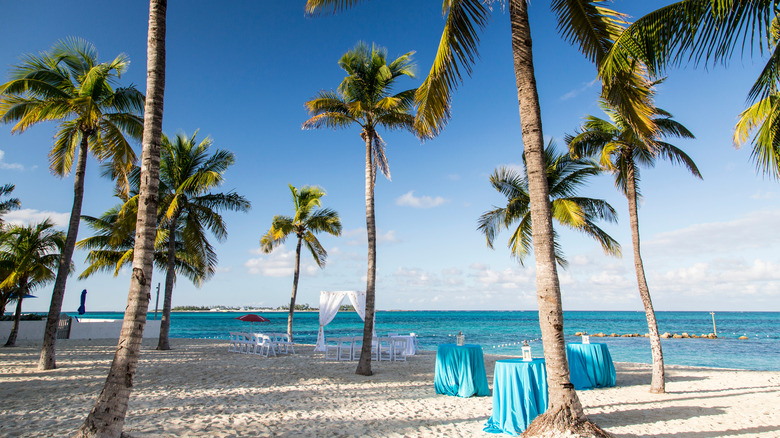 Alessandro Lai/Shutterstock
Whether you're planning to stay on Paradise Island or in Nassau proper, you're in for a treat –- this nation is packed with beaches so lovely you'll want to visit them all during your warm-weather Christmas vacation. The 2½-mile-long Cable Beach is beloved for its sugar-white sand and peacock-blue water. Cabbage Beach is another popular spot. This Paradise Island beach is 2 miles long, and visitors can rent sunchairs and umbrellas from the nearby beach club.
When it comes time to choose accommodation, visitors are spoiled for choice. Resort giants like the swanky Baha Mar and Atlantis Paradise Island Bahamas await families who appreciate multiple pools, private beaches, and fun activities. At Christmas, they offer a boatload of offerings like beachside flamingo parades, a holiday carnival, a carol concert, and holiday meals at Baha Mar. Atlantis serves a festive Christmas Eve brunch and Christmas Day dinner at Poseidon's table and an upscale Christmas Day dinner at Café Martinique. 
Santa is also on hand to greet kids in Atlantis Kids Adventures and watch movies with them in the Atlantis Theater. Junkanoo arrives on December 26 and again on New Year's Day. Envision a small-scale version of Rio de Janeiro's Carnaval, and you'll have an idea of what to expect –- brightly colored costumes, upbeat music, street parties, a parade, and tasty food abound at this beloved party. While celebrated throughout the Bahamas' 16 islands, the biggest Junkanoo can be found on Nassau's Bay Street.
Seven Mile Beach, Negril, Jamaica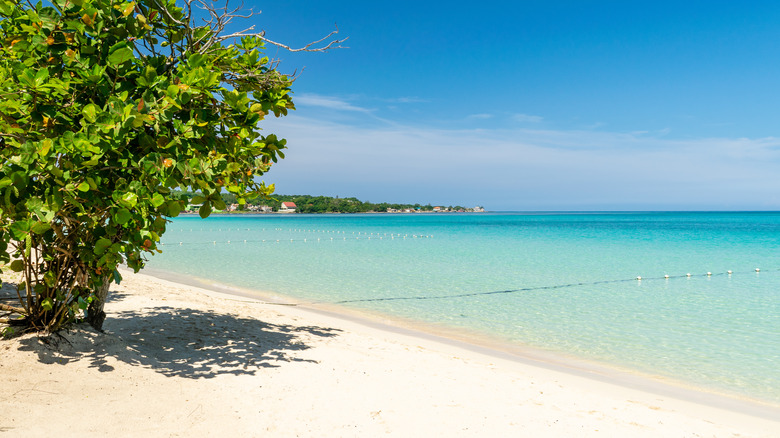 Debbie Ann Powell/Shutterstock
According to Tripadvisor Reviews, Seven Mile Beach is the best beach in Jamaica. Located in Negril, this lengthy beach features white sand, clear turquoise water, and gorgeous palm trees you've probably seen in a million photos. But you won't be alone -– in addition to many tourists who love to visit, the beach is lined by resorts, restaurants, bars, and locals offering parasailing and glass-bottom boat adventures. If crowded beaches aren't your thing, Bloody Bay is a quieter place. The water is relatively calm here and shallow enough that kids can walk out pretty far, making it an ideal family-friendly beach for a Christmas vacation. Everyone should visit Jamaica' at least once.
As for holiday feels, you'll find festiveness at Gran Market on Christmas Eve. Held in every major town in the country, shoppers will find plenty of gifts, holiday decorations, clothes, and more in the stores, and some spread out on sidewalks. Street dancing is expected, as is music that lasts well into Christmas Day. It's possible that Santa will make an appearance. 
Velaa Private Island, Maldives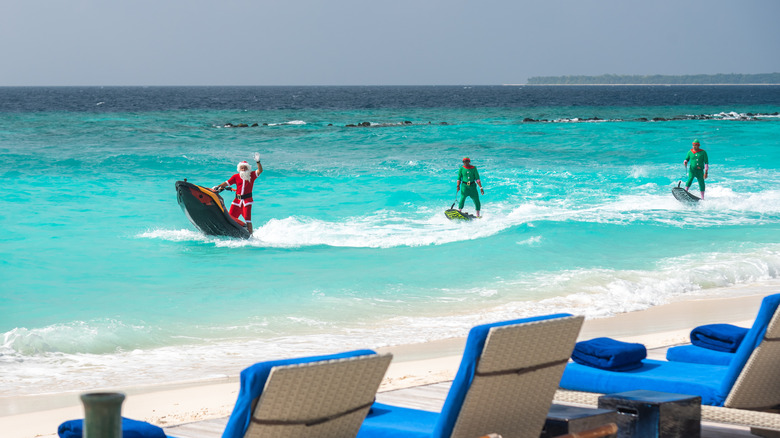 Velaa Private Island
You'll be forgiven for thinking you've arrived in Paradise when you step foot on the silky soft, white sand at Velaa Private Island in the Maldives. A bucket-list destination that will require some serious advance saving (the Maldives aren't cheap), this stunning resort is home to an equally gorgeous beach. When you're in the mood for more adventure, partake in the resort's super fun and high-tech activities. From flyboarding to electric foil surfboarding to a tandem jetovator, beachfront fun has never looked so cool. Not up for that much excitement? There are plenty of slower-paced things to do, like snorkeling, sailing, or playing tennis.
Fun holiday festivities include a Christmas Eve cocktail party and Gala dinner. Those arriving early can partake in the Gingerbread House Opening Ceremony (around December 23). It involves an unveiling of a large gingerbread house as well as spiced mulled wine and gingerbread cookies. Yum! Christmas morning wouldn't be complete without a visit from the most famous guest of all, Santa. The jolly old elf arrives with toys and great photo ops.
Key West, Florida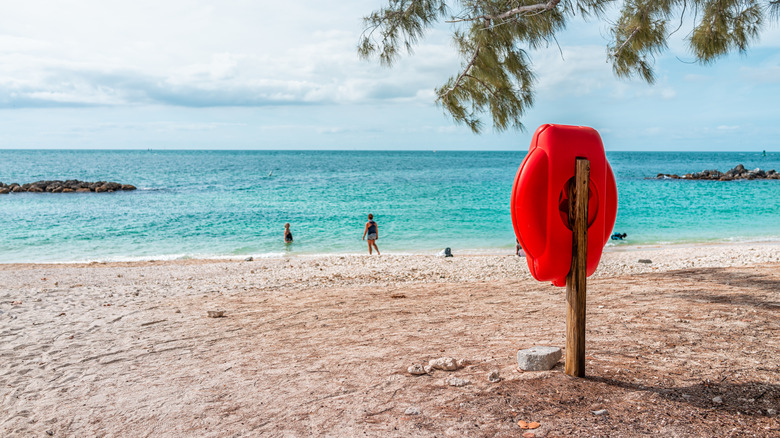 Krblokhin/Getty Images
There's a lot to love about vibrant and eclectic Key West. Home to the southernmost point in the United States, this Florida gem boasts highly-rated beaches perfect for a warm-weather Christmas vacation. According to Trip Advisor, the best beach in Key West is in Fort Zachary Taylor Historic State Park. In addition to offering fabulous sunset vistas, this beach is an ideal place to spend a day (or more). The clear water provides snorkelers an impeccable place to come face-to-fin with some of the area's loveliest marine animals. When you need a break, head to the wooded trails for a refreshing walk. Tourists can also enjoy touring the beach's namesake fort. Forgot your chair? The Chickee Hut rents everything from chairs to umbrellas to snorkeling equipment. Tip: wear water shoes. The beach is made up of coral and can get sharp underfoot.
As for celebrating the big day, adventure lovers should check out the Key West Christmas Ultimate Adventure H2.0. FURY Key West organizes this six-hour trip and includes a cruise on a catamaran, snorkeling, parasailing, jet skiing, and a banana boat ride. If that wasn't enough, tourists can play on over 3,500 square feet of inflatable water toys at the city's largest ocean water park. If you arrive early, the Old Town Trolley's Holiday Sights and Festive Nights tour is a must for those who enjoy ogling festive lights. It runs four times a night until December 23.
Waikiki Beach, Oahu, Hawaii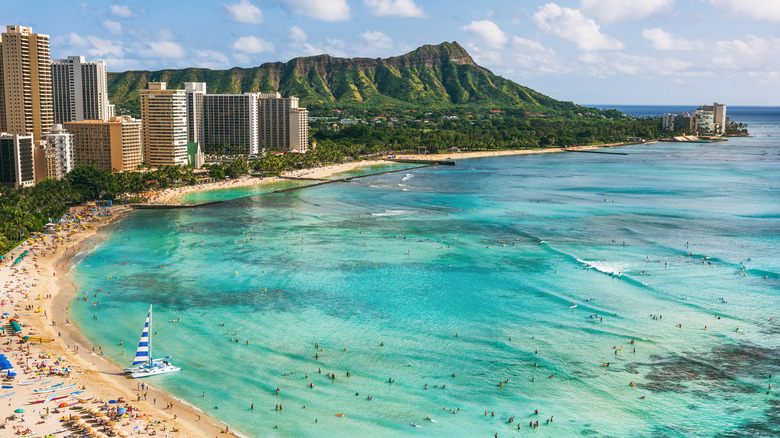 Maridav/Shutterstock
Visit Oahu for Christmas? Twist our rubber arms! Seriously, nothing says a holiday like a trip to Hawaii. Warm waves, pristine sandy beaches, and towering volcanoes make this one of the best places to visit for the holidays or any time really. Waikiki Beach is one of the most spectacular beaches in Hawaii. Located on the southern shore of the island, this 2-mile-long, family-friendly strand is a great place to spend your Christmas vacation. 
First, it's chock full of activities that visitors of all ages can enjoy -– from swimming to surfing to canoeing to sandcastle building to bodyboarding, you won't get bored. Technically, Waikiki Beach is made up of multiple beaches, including Duke Kahanamoku, Waikiki, Kuhio, and Queen Surf beaches. It receives over 4 million visitors each year, so be prepared for a crowd.
Festive things to do nearby include exploring the large displays at Honolulu City Lights. Keep your eyes peeled for Shaka Santa. He usually sits at Honolulu Hale. Tutu Mele (his wife) is there, too. The Hilton Hawaiian Village Waikiki Beach Resort hosts Breakfast with Santa from December 22 to 24. The Show Aloha Land is a family-friendly holiday wonderland you won't want to miss. It takes place at the Aloha Stadium and runs through December. Visitors drive through a lighted pathway as part of this unique adventure. They can also snow tube and ride a train through the "Tunnel of Joy."
Costa Rica, Central America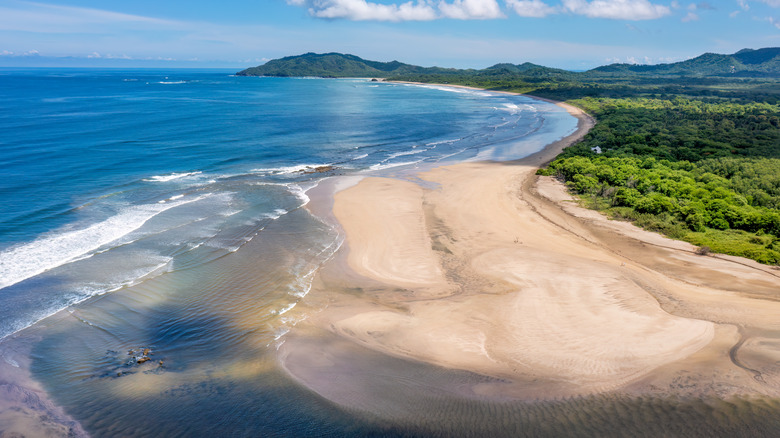 Caroline Brundle Bugge/Getty Images
With roughly 800 miles of coastline, there's no shortage of incredible beaches in Costa Rica, which come in different colors. Aptly named Playa Negra, this beach features black volcanic sand and sweeping ocean vistas. It's backed by a forest home to wildlife like howler monkeys. A great beach for surfing, Playa Negra is famous for its epic surf, but travelers also like to swim, snorkel, fish, and ride horses here. Set in the northern Guanacaste province, this is a must-visit beach in Costa Rica. Plus, its sand is definitely Insta-worthy. 
Playa Manuel Antonio is one of the more popular beaches known for surfing and parties. While beautiful, some travelers, like Sharon B on Tripadvisor, think there are "too many people" and "little shade." Arrive early if you're planning to visit. Tamarindo Beach is another must-see for surfers and those who enjoy a busy day of swimming, fishing, and water sports. 
Since the majority of Costa Ricans are Catholic, you can expect to find Christmas trees, lights, and life-sized Nativity scenes on display. You'll also taste delicious food on Christmas Eve (aka Noche Bueno) and Christmas Day. Tamales are the traditional holiday cuisine, but baked pork legs and Rompope (similar to eggnog) are also on offer. Book your Christmas vacation in Costa Rica at least four months or, better yet, at least a year in advance, as rooms go quickly at this time of year, especially if the hotel is near a beach. 
The Hilton Aruba Caribbean Resort & Casino, Aruba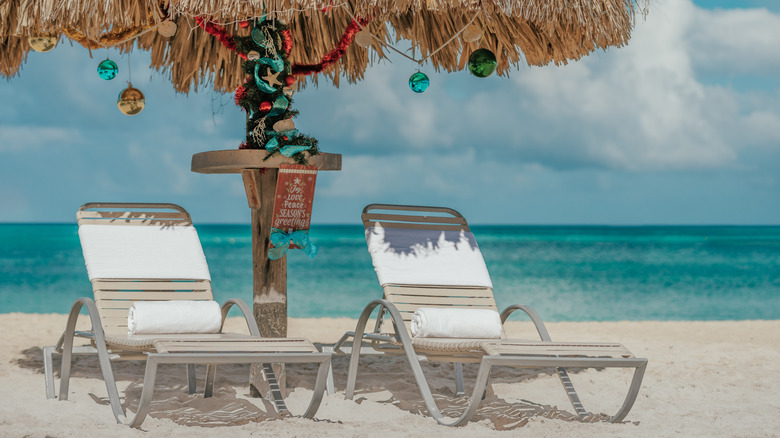 Hilton Aruba Caribbean Resort & Casino
When celebrating Christmas, The Hilton Aruba Caribbean Resort & Casino doesn't disappoint. This family-friendly resort fronts the largest section of Aruba's famous Palm Beach, which stretches for 2 miles past some of the island's most popular hotels, restaurants, bars, and shops. Christmas vacationers can swim, snorkel, and take romantic sunset walks on the soft sand. 
Back at the resort, kids get a chance to meet Santa's Elves as they deliver sweet treats at the pool on December 23. If you arrive earlier, you can catch Santa making s'mores on a beachside bonfire on the 20th. Guests of all ages are invited to make holiday aloe scrub on the 22nd and decorate cookies on the 23rd. Plus, Jolly Coffees and holiday spirits will be served at the resort, and special holiday menus are on offer. Told you they know how to do festive!
When you aren't participating in Yuletide activities, lounge in style on the resort's silky soft beach under a decorated holiday palapa or join in the Retrograde Ritual, which involves sunset yoga and sound bowl meditation. Did someone say, "om?" If traveling with a family, scope out your beach spot relatively early on Christmas Eve. Santa will arrive via jet ski at about 10 am. He only stays for an hour as he needs time to get back to the North Pole, obviously. It's a busy night for him!
The Virgin Islands, Caribbean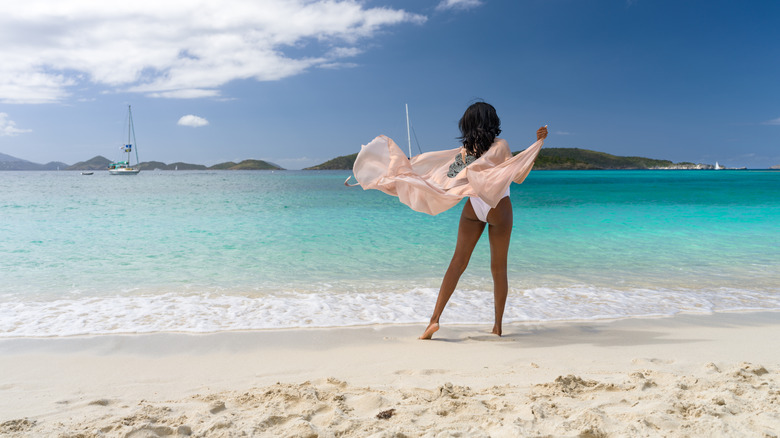 Cdwheatley/Getty Images
There's no doubt about it: the Virgin Islands are beautiful. Whether you visit the beaches of St. Croix, St. Thomas, St. John, or a combination of all three, you're in for a Yuletide of festive fun. The Crucian Christmas Festival has been held in St. Croix since the 1800s and runs from December 26 to January 6. Hosted in Frederiksted, visitors can dance to reggae music, admire the creative costumes in the children's and adult parades, and mow down on some tasty treats. Rainbow Beach is a highly-rated beach on the island, according to Tripadvisor reviews, and it only takes 10 minutes to walk there from Frederiksted's cruise port. This west-facing beach is ideal for enjoying a romantic sunset and boasts calm water, making it a fantastic family-friendly beach. 
Why not island-hop while you're in the area? St. Thomas is home to many striking beaches like Magens Bay and Sapphire Beach. St. John's top beaches include Trunk Bay Beach and Maho Bay Beach. Trunk Bay offers an underwater snorkeling trail. Maho Bay Beach, which is found on North Shore Road, is another popular place to go snorkeling in the Virgin Islands. Its nearby seagrass beds are home to some pretty impressive marine life, including sea turtles, conch, tarpon, and rays.
Cancún, Mexico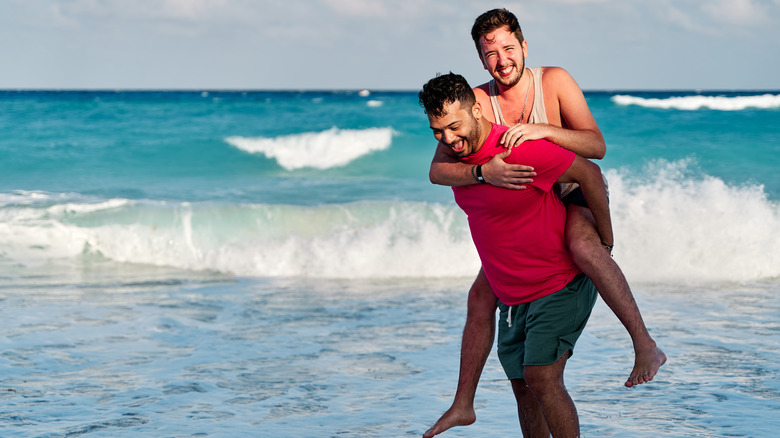 Daniel Catrihual/Getty Images
Cancún is the most visited city in Mexico, with 9.5 million passengers arriving at its airport in 2022. Its Hotel Zone (Zona Hotelera) stretches along the coast, fronted by a long span of white sandy beach and sparkling turquoise sea. More than 100 hotels are dotted along this 13-mile zone, along with shops, restaurants, and enough discotheques to keep you dancing until the wee hours. Las Posadas is celebrated in town from December 16 to December 24 to recognize the nine days of Christmas. This series of candlelit processions are held in honor of Mary and Joseph's journey between Nazareth and Bethlehem.
The most beloved beach, Playa Delfines, is devoid of the large resorts in the area, which is why some travelers find it so appealing. On Tripadvisor, Papayaved said this is "the best and cleanest public beach in Cancun." This reviewer also recommends visiting the El Rey Mayan ruins across the road. The beach has thatched roof palapas to provide shade. Be warned: If you're traveling with kids, hold on tight as the riptides and currents get strong. That's a good thing for surfers, though. If you're hoping to hang ten for Christmas, Playa Delfines is an ideal place for beginner and longboard surfers.
Thailand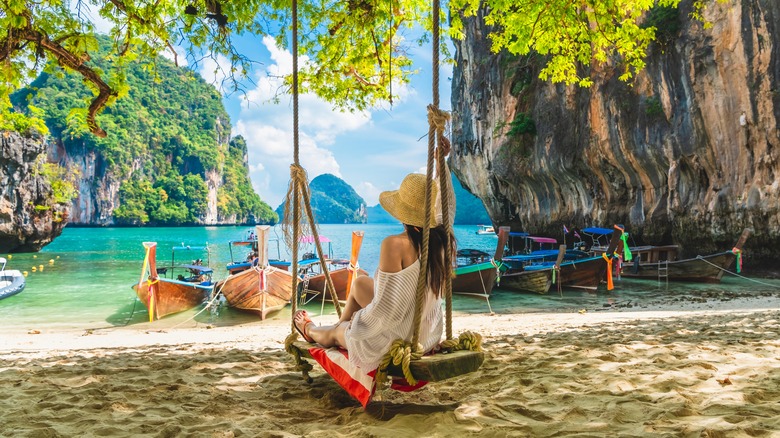 Day2505/Shutterstock
Ever seen Santa ride an elephant? You just might if you visit Thailand for a Christmas vacation. If you head to Ayutthaya (just north of Bangkok), you might even spy elephants acting as Santa (they sometimes deliver gifts to children). Talk about a memory-maker! While visiting Thailand, add the incredible beaches of Koh Samui and Phuket to your list. Koh Samui's Lamai and Chaweng Beaches top the list, offering soft, beautiful sand and aquamarine water. Koh Samui is also packed with resorts, which tend to fill up early, so plan your trip in advance if you want to score a good room for your Christmas holiday. Phuket's best beaches include Nai Harn Beach, which is so beautiful you might think you've stepped into a postcard. Kata Beach is just as lovely, and Banan Beach is a close third with fabulous views.
While not as festive as other destinations on this list (Thailand is primarily Buddhist, after all), you'll find decorations and fun activities at the plentiful accommodations. Kimpton Kitalay Samui is a luxe waterfront resort in Koh Samui, and it boasts an impressive Yuletide menu on Christmas Eve and Christmas Day. Phuket Marriott Resort & Spa, Merlin Beach, serves multiple festive feasts and buffets at the resort's restaurants on Christmas Eve and Christmas Day. They also have a Festive Beach Night Market, Little Elves Christmas Party for kids on the 24th, and an appearance by Santa Claus.
The Exumas, Bahamas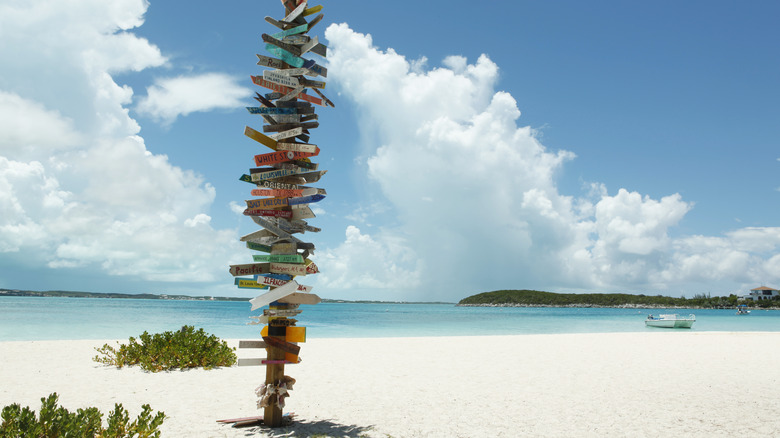 Valerie Loiseleux/Getty Images
Another Bahamian superstar tops our list of highly-rated beaches for a warm-weather Christmas vacation. Technically 365 islands ringed by beautiful beaches, the Exumas are well known for their secluded Cays, crystal-clear turquoise water, and swimming pigs (yes, you read that correctly). Speaking of swine, if you're hoping to see their adorable snouts up close, you'll have to cruise your way over to the secluded Big Major Cay. There are also plenty of tours available if you're staying in Nassau or the Exumas. Getting here by boat from nearby Staniel Cay will only take about 10 minutes. A lovely beach inhabited by roughly 20 pigs, the main thing to do here is pet the inhabitants and take lots of selfies. 
For those looking to dig their toes into uber-soft sand, head to Stocking Island, over a mile from George Town. As DannaMRay reviewed on Trip Advisor, this island's beaches offer "complete tranquility and relaxation x 1,000." How soon can we go? Coco Plum Beach is another bucket list destination for Christmas vacationers in Exuma. Located on the northeastern edge of Great Exuma (the largest island in the Exumas), you'll find the silky sand typical of the area as well as calm, clear water that's shallow enough to make it family-friendly. Get festive at Junkanoo on December 26. Similar to the fun event held in Nassau, the Exumas' colorful parade will take place in George Town.