Take In Incredible Atlantic Ocean Views At This East Coast State Park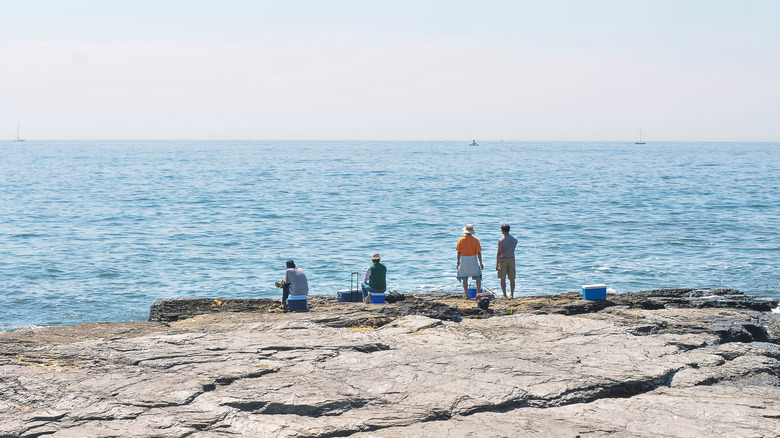 Phillip Sunkel IV/Shutterstock
Rhode Island may be the smallest state in the U.S., but for what it lacks in size, it makes up for in expansive, breathtaking coastal vistas. Head to the southwestern tip of Aquidneck Island for incredible Atlantic Ocean views and visit Brenton Point State Park. This 89-acre seaside gem is rich in both history and natural beauty. The state park is a former estate named after William Brenton, who served as Rhode Island's governor in the 1660s.
To make your way to Brenton Point, you'll have to cruise down the iconic Ocean Drive, a ten-mile road that runs parallel to Rhode Island's coastline. As the park's moniker suggests, Brenton Point is where Narragansett Bay — New England's largest estuary — meets the Atlantic Ocean. From sunrise to sunset, Brenton Point offers panoramic, uninterrupted seascapes that are photo-worthy. Surrounded by this magnificent scenery, visitors enjoy picnics, hiking, birding, listening to the waves, and kite flying on the coast.
The best views in Brenton Point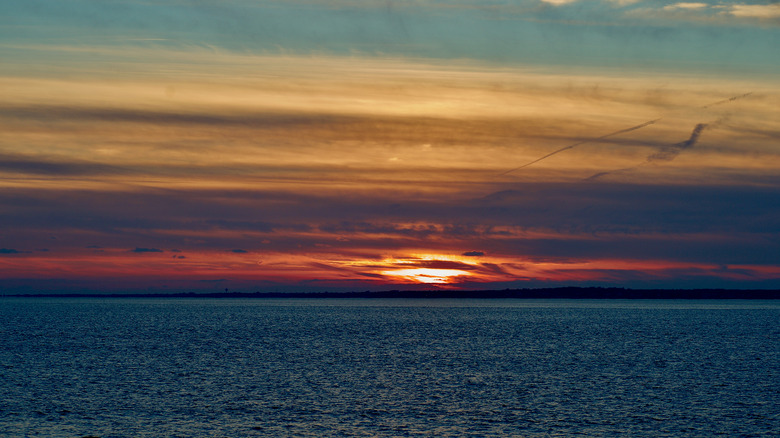 Robert P Horton/Shutterstock
There are many ways to appreciate the beauty of Brenton Point State Park. Right along the waterfront are benches ideal for relaxing and unwinding by the ocean. If the benches are all occupied, there is no need to fret: You can bring your own towel or chair and find a spot on the grassy field just off the coast. If you want to venture closer to the salty waters, there are certain areas in the park where you can (carefully!) climb down to the rocky shores. You'll have an even better view of the Atlantic and plenty of tide pools to explore there.
Walk along the Brenton Point State Park Loop for a stroll that takes less than 30 minutes. This 1.1-mile trail will lead you to the park's shores and take you through a lush, green area where you can glimpse the remains of historic buildings. Moreover, head to Brenton Point at dusk for an incredible sunset-watching opportunity. You can walk out to the shore or kick back in your car right off Ocean Drive to watch the skyline fade from a cotton candy hue to a blackberry purple.
More views in Newport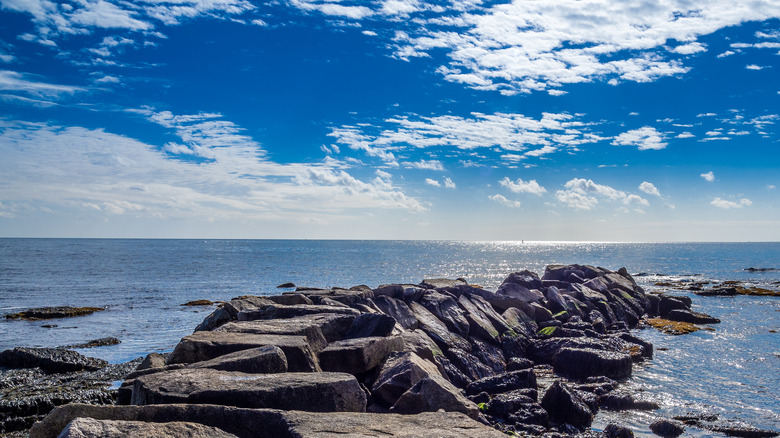 Aoldman/Getty Images
Can't get enough of the Atlantic vistas? Beyond Brenton Point State Park, Newport is brimming with sightseeing opportunities. Less than a mile from the state park, you'll find King's Beach, a coarse shore often used as a kayak and canoe launch spot. Head further down Ocean Drive to reach Gooseberry Beach, an ideal area to take in bay views while digging your toes into the warm sand on a sunny day.
After visiting some of the beaches near Brenton Point, put on your sneakers and venture out on the out-and-back Cliff Walk, a Rhode Island trail that combines stunning ocean views and Gilded Age mansions. The seven-mile route borders the coast, leading you to different observation points and unique coastal features of Newport. The path will take you past Sheep Point Cove and Belmont Beach, where you can observe surfers riding the waves. From Cliff Walk, you can also peer out at Lands End, a rocky peninsula that juts into the picturesque New England sea. All in all, Brenton Point State Park is a superb spot for a laidback, secluded beach trip on the Northeast Coast.