Visit This Overlooked Central America Town For A Beautiful Beachside Vacation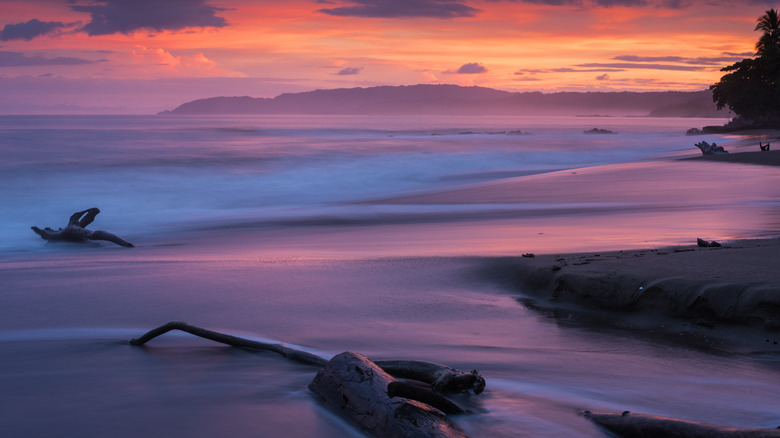 Matt Elliott/Shutterstock
Montezuma, Costa Rica is a low-key beach town that's often overshadowed by more developed destinations like Jaco or Tamarindo. The town itself is a blend of rustic and contemporary, where you can find traditional Costa Rican "sodas" (small family-owned restaurants) alongside chic cafes and boutiques. However, Montezuma's somewhat remote location on the southern tip of the Nicoya Peninsula away from major cities and airports could discourage some people from visiting. 
But this seclusion is exactly what makes it an ideal place to slow down and discover what Costa Rican pura vida — pure life — is all about: sweet strolls on remote beaches, fuchsia sunsets, tropical fruit drinks so refreshing they're like drinking liquid sunshine, the easy and warm smiles of the local people. With its bohemian atmosphere, endless beaches, and pristine nature reserves, Montezuma has an earthy vibe that appeals to ocean lovers, adventure seekers, and those who just want a break from modern madness. 
Montezuma's spectacular beaches
Sl_photography/Getty Images
Undeniably, the main draws in Montezuma are its heavenly beaches. Playa Montezuma, just north of the town's center, is a lovely crescent of sand that's ideal for sunbathing and swimming. Those craving a bit more solitude can continue walking north along the undeveloped coastline, with nothing but thick jungle on one side and pure ocean on the other. This is the kind of place where you feel like you're a million miles away from it all — because you are, sort of. 
Around 3km north of Montezuma, Playa Grande is another serene stretch of sand that's one of the area's best surfing locations. Further north still, there's Playa Cocalitos, where a small waterfall cascades into the ocean from the cliffs above. If Robinson Crusoe-type beaches are your deal, the walk from Montezuma to Playa Cocalitos and back may be the most incredible beach walk you'll ever take (unless you forget your sunscreen and water bottle — don't do that).  
The beaches south of Montezuma are also ripe for exploration. To access Playa las Manchas, walk around the headlands south of town at low tide. With its bright white sand and blue-green waters, this striking beach is ideal for swimming and snorkeling. However, swimmers should take care to avoid rip currents, particularly at the southern end of the bay.
Waterfalls and more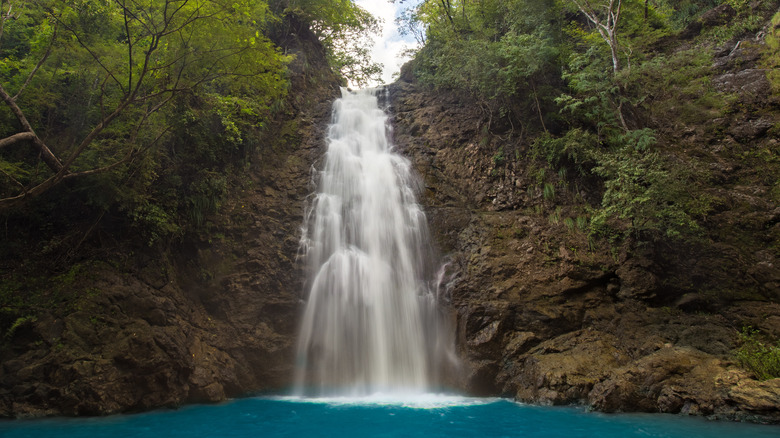 Jiri Stoklaska/Shutterstock
Aside from beaches, there's plenty more to see and do around Montezuma. Don't miss the trek to Montezuma Waterfalls, with pools that are perfect for refreshing dips on a hot day. Walk or drive .3 miles from town to access the trail and arrive at the first waterfall after about 20 minutes of hiking along a riverbed. The second and third waterfalls are accessible from the first waterfall via a steep set of stairs. 
A short drive from Montezuma, the Cabo Blanco Nature Reserve occupies the southernmost tip of the peninsula. As the country's first conservation area, it's a special place not only on the peninsula but also in Costa Rica. Nature lovers will appreciate its untouched beaches and magnificent tropical forest, which houses 150 species of trees. As an important seabird sanctuary, the reserve is also a prime spot for birdwatching. 
Montezuma is also a gateway for exploring the surrounding area, including a small island off the coast. Boat trips to the pristine Tortuga Island offer opportunities for the best snorkeling and scuba diving in crystal-clear waters, revealing a vibrant underwater world filled with manta rays, dolphins, octopuses, the occasional shark, and even humpback whales at certain times during the year. The boat trip from Montezuma to the island takes about 50 minutes. Whether you spend your days exploring the surrounding area or simply lounging around on the glorious beaches, a Montezuma vacation is a full-on immersion in pura vida.