Foodies Will Love This Underrated Italian Destination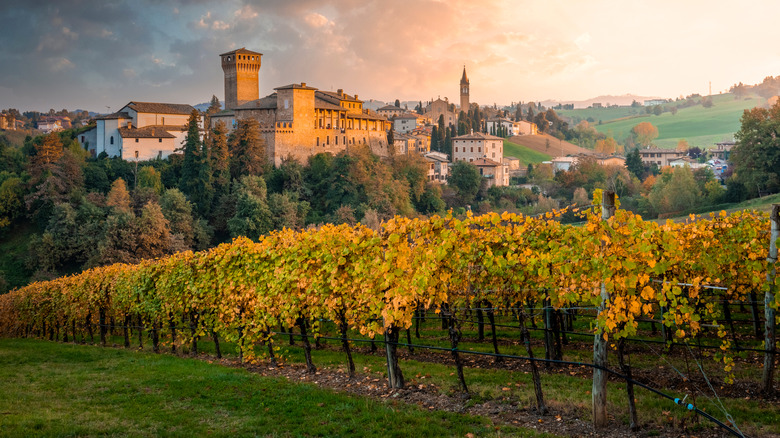 Stefano Termanini/Shutterstock
When it comes to Italian heritage, Modena is an iconic emblem. Nestled in Italy's Northern province of Emilia-Romagna, the city is praised for its vibrant opera scene and origin as a world-class luxury car producer. But let's skip to what's really important in this underrated Italian city -– the food. A morning pastry run or afternoon pasta craving is all it takes to discover how Italians express their creative passion. Cooking is an art dedicated to the senses. It's one the locals here have mastered, governed by fine-tuned palates and family recipes ingrained in their heritage, passed down through generations.
Every good and perfect dish made in Modena begins with a base of high-quality vegetables, cheeses, and proteins. A few simple ingredients are all that's needed for this underrated region to impress its visitors. Cheese lovers in particular will find their eyes opening just a little bit wider. A handful of fresh peaches and pears from the farmer's market pairs beautifully with morsels of crumbly, nutty cheese straight from the copper cauldron. Visit this epicurean capital for a culinary journey that will leave you never again craving food held to American standards.
What's native to Modena?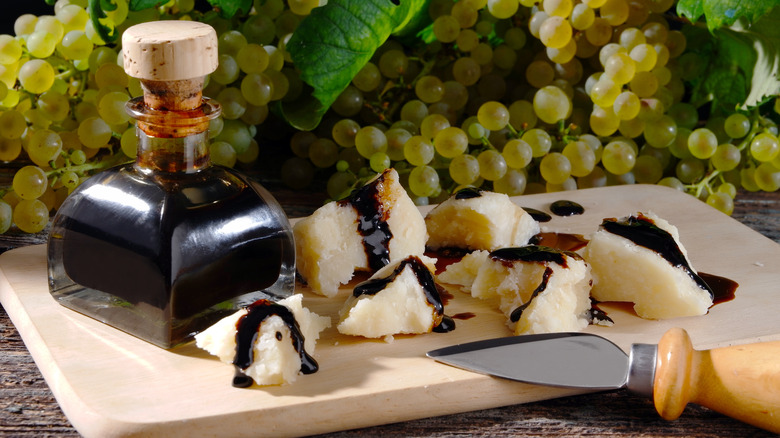 barbajones/Shutterstock
Most cities are lucky if they've garnered even one point of interest. Modena has three. It's the birthplace of balsamic vinegar, the capital of Parmigiano Reggiano, and home to an obsession with prosciutto. According to Italy Magazine, balsamic in Modena is the "king of vinegar" and an important part of the area's history. Unlike other products developed in this region, the art of producing Modena's balsamic vinegar doesn't begin in the kitchen; it begins in the vineyard. The quality of the grapes determines everything from the flavor to the aroma of the final product. Often, the secret to crafting a great balsamic vinegar rests within individual families. Following the harvest, the grape juice is boiled and aged in wooden barrels, resulting in a delicate, sweet aroma and bodied texture. It's a gift best enjoyed in spoonfuls after a well-deserved meal.
Cheese in Modena is such a coveted obsession the province even has a governing association to monitor its production. The Parmigiano Reggiano Cheese Consortium is responsible for ensuring the perfect craft of its region's product but also provides insightful tips and tricks on how this cheese is best enjoyed. It's believed the cheesy goodness was first imported by French monks during the Middle Ages, now mass-produced in this Northern region. The cheese-making process is a tedious and time-consuming ritual but results in a heavenly indulgence. The process begins with a cream-like substance warmed in a copper cauldron before being shaped into a mold and left to age for a minimum of 12 months.
Dine and indulge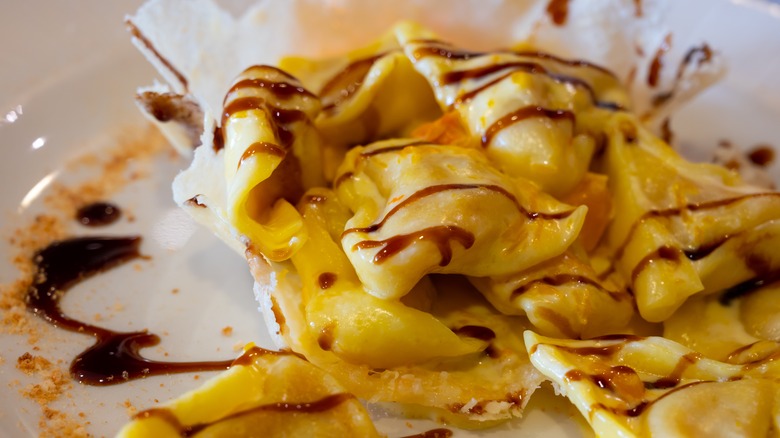 barmalini/Shutterstock
Less of a restaurant and more like Nonna's kitchen, Hosteria Giusti is a hidden jewel tucked away along one of Piazza Grande's cobblestone alleys. The real trick with this trattoria is securing a reservation at one of their four small tables squeezed among cases of cheese, balsamic vinegar, olive oil, and deli sides. Don't miss out on a thing when ordering. If you're traveling with a crew, make a few careful selections off one of their tasting menus to sample a little of this and a little of that. Zampone (stuffed pig) and pumpkin tortellini are just a few of their house specialties.
Artistic secondi and high-end a la carte tastings are what garnered Osteria Francescana its three Michelin star status. Their menu pays homage to its native heritage through dishes with quirky monikers. Be bold in your dinner decision when you request the "Eel swimming up the Po River" or "Little piggy [that] went to the market." Of course, nearly every dish embodies Modena's obsession with cheese — they even offer five ages of Parmigiano Reggiano in differing textures and temperatures. One thing is certain — it's a meal that brings out the best of Italian's foodie scene.